Shopoholic is a brand new E-commerce theme from Templatic that works with WooCommerce. It will let you build a beautiful and user-friendly online shopping website.
We live in an age of information technology and global connectivity. These days online presence is a best way to get your business noticed. Getting your business on the internet is also a very wise way to expand the scope of your business with a marginal investment.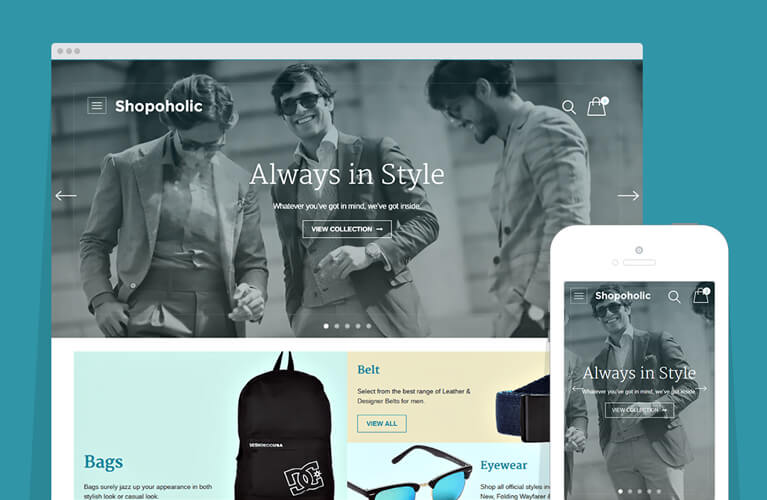 Minimal investments and maximum profits, aren't these the goals of every businessman? Our Shopoholic woocommerce theme has been designed with that mission in mind. The theme has an attractive design and is easy to use, maintain and customize. Actual product management is powered by WooCommerce. It's a tried and tested platform with thousands of users. It's good… it's really good!
Clear and precise product description on shopoholic woocommerce theme
For E-commerce websites, product presentation matters a lot. Your potential customers will love it if they get a clear idea and complete information about a product they are viewing on your site. Hence, the product page is designed rather carefully to avoid ambiguity and confusions, letting your customers clearly understand what they see.
Think beyond the local boundaries…
Local boundaries just don't exists in today's world where you can send a product on the other side of the world. Just imagine what you can do by setting up an online shop? You can save money on employment and can attract buyers from locations all around the world. You can also extend your business without any further investment, no shop maintenance, no closing on weekends, no closing at night.
Some of the key Shopoholic features
Professionally designed front-end.
Sort by and filter options on the category page.
A quick pop-up view of your cart in the header and eventually on every page.
Easy cart and checkout facilities for your customers.
WooCommerce maintenance of the products and billing functions.
Mail facilities for the various business deals.
Beautifully organised categories on the homepage.
Clean design that focuses on products.
Clearly accessible pricing and shipping information.
WooCommerce coupon functionality.
Attractive and pleasing homepage design.
Very easy to setup, can be used by non-technical persons without a problem.
Comes with guaranteed Templatic support and updates.
It's been a while since we last released an E-commerce theme so Shopoholic was a truly fun project to work on. If you have any questions about the theme please use the comments section below and share them with us.
Contact us with your questions, take a test drive or Purchase Shopoholic