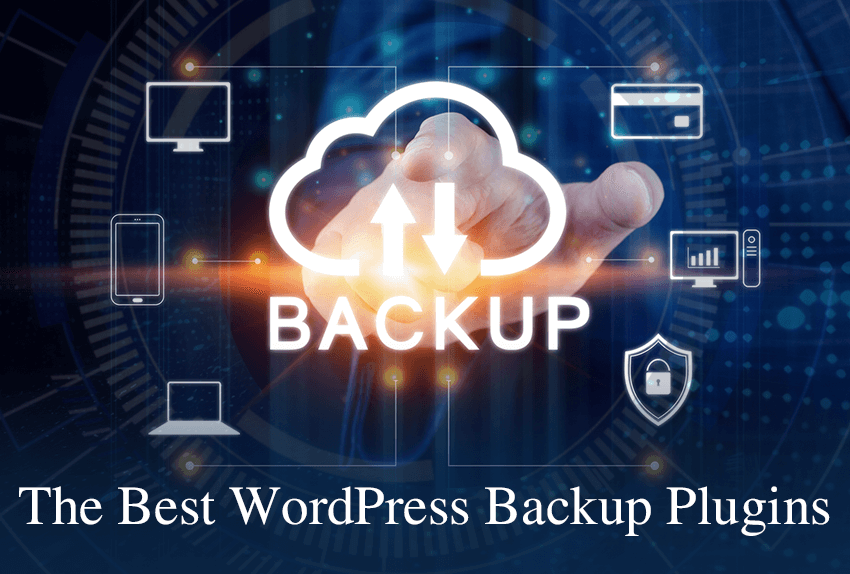 Do you know how important making a backup is? In this article we'll be listing the best WordPress backup plugins so you can restore your website just in case you need to.
In several previous articles we gave advice, tips and made tutorials on how to create certain functionalities on your WordPress website. We even did a WordPress CMS migration from one hosting to another. Before starting any task, in every article did you notice that we always mention that you make a full backup of your WordPress website, including the WordPress database? Despite this, many people still do not know how to make a backup or do not know which tool to use for that purpose. That is why today we will describe the best WordPress backup plugins for your site.
WordPress is today the most popular CMS that powers almost half of all the world's websites. That's why it's crucial to have a backup in case your website stops working. There can be many reasons, but the most common reasons are hacker attacks, hosting server failure and user error. If you have a backup, you can restore your website to a functional state in just a few minutes.
Why use a WordPress backup plugin?
As we already know, WordPress is an open-source CMS, which means that the source code can be viewed by anyone. In this way, vulnerabilities can be found that will help a potential attacker to carry out an attack and harm your website. If you use shared hosting, someone else can have an infected website, and in this way it can cause problems on the server and harm your website too, even though it is not your fault. If you use one of the backup plugins that we will list then your website will be functional very quickly, with minimal downtime.
How to choose the best WordPress backup plugin for personal needs?
There are several features that you should pay attention to when choosing a backup plugin. Primarily, I would mention the ease of use. Choose a plugin that has a good interface and is easy to configure. In this way you will be sure that you have correctly used all the options that the plugin offers. Another feature that your plugin should have is automatic backups. This means that full and incremental backups will be executed at certain time intervals that you define. In this way you will always have a fresh backup of your website. The third feature that is very important is the possibility that your backup plugin store backups to a remote location such as Google Drive. In this way you have ensured that you have a functional website even if your hosting server completely stops working and all data is deleted from it.
Below we will describe some of the best WordPress backup plugins that have the options we listed above.
1. UpdraftPlus
One of the best and most famous WordPress backup plugins is UpdraftPlus. It is used by more than 3 million websites globally, and among them are large companies such as Microsoft, Cisco, NASA, NBA and many others. This plugin has a very friendly user interface and is suitable for beginners. It is also possible to create automatic backup jobs. This is a free plugin, but it also has its own commercial version that offers many additional options such as tools for website migration and creating incremental backups.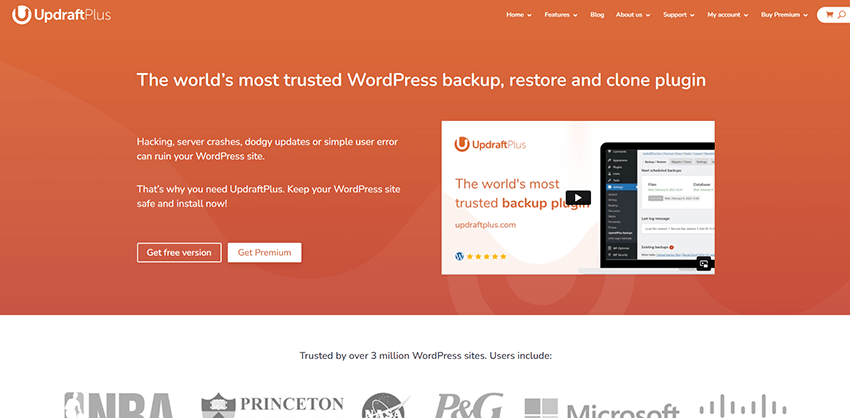 Pros:
– Very easy to use;
– The free version has many options;
– Offers creation of automatic backup jobs;
– Offers backup to cloud storage.
Cons:
– Demanding users must purchase the commercial version, the free version is limited for complex tasks;
– During the creation of the backup your website is very slow.
UpdraftPlus is a great plugin, and since it has a free version we recommend that you definitely try it.
2. Jetpack Backup plugin
You can be sure that this plugin is excellent and stable because it was developed by Automattic, the company that created WordPress. Jetpack Backup is an excellent tool for creating backups and offers the creation of automatic backup jobs, storing backup files in remote locations such as Dropbox or Google drive. In addition to these backup options, this excellent tool will scan for malicious software, adjust various types of security, performance and marketing tools.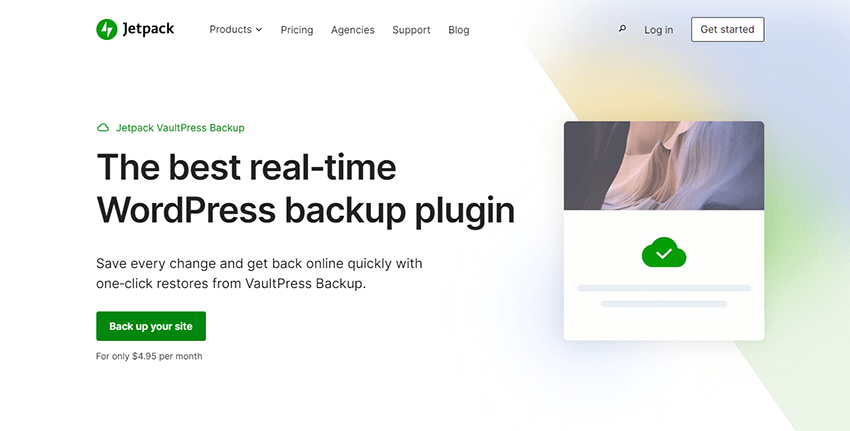 Pros:
– Very reliable and high-quality solution from a high-quality author;
– Offers automatic backup and scanning for viruses and other threats;
– Very easy to use;
– Possible to store backup files on Google Drive or Dropbox.
Cons:
– The price is not acceptable to all users;
– No free version;
– To use any function you must have a subscription.
Jetpack Backup is an excellent plugin that is worth buying if you want multiple security solutions in one plugin.
3. Duplicator
Duplicator is one of the most popular backup plugins. Users mostly use it to migrate their website to another hosting server because it works great with full backup of WordPress files and database. However, this is not its only purpose. This excellent plugin has the ability to make full and incremental backups that you can store locally, but also on cloud services such as Dropbox or Google Drive. There is also an option to create automatic backup jobs, and a simple and clear interface allows you to create a backup in just a few clicks.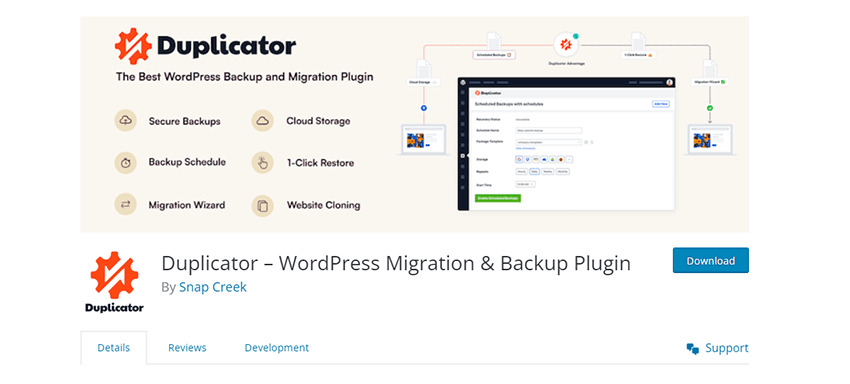 Pros:
– Good interface and very easy to use;
– Ability to create full and incremental backups;
– It is possible to create an automatic backup job;
– Store backup files on the cloud including Dropbox and Google Drive.
Cons:
– The free version is quite limited;
– Creating backup jobs is not primary purpose, it is more oriented towards website migration.
Duplicator is an excellent plugin that you will surely use if you decide to switch to another hosting provider and migrate your website.
4. VaultPress
VaultPress is another great backup solution, and this plugin is now part of Jetpack. This means that you will not only use this tool for backup, but also for other advanced security tasks such as scanning for malware, SPAM defense, automatic file repair, site migration and many more useful things. The user interface is really good, and for every task you do you will receive detailed reports and logs.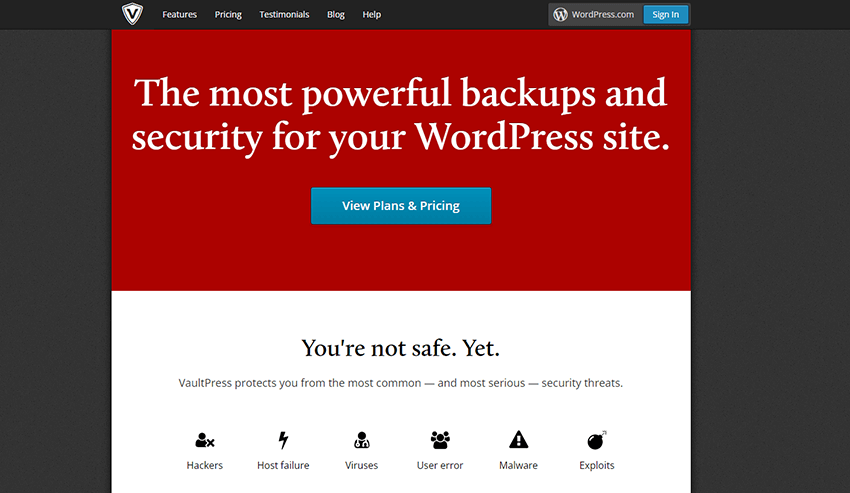 Pros:
– A reliable tool from a respectable author;
– Creation of full and incremental backups;
– Virus and malware scan;
– Very easy to use.
Cons:
– Limited free version;
– Free plugin is no longer supported for new customers;
– The price is not acceptable to all users, especially small websites.
VaultPress is an excellent backup plugin that is now part of the Jetpack tool, and besides backup it offers a lot of other security solutions.
Conclusion
Choosing the right backup plugin for your website can be a tricky task. Before choosing, you must clearly define your wishes and goals. Today we've described a few backup plugins that we've tested and that we think are great. Each of them has some unique characteristics, advantages and disadvantages. Every serious WordPress admin must have a backup plugin in their collection, and it's up to you to decide which one to choose. We hope our list of the best WordPress backup plugins will include one that you will find suits your needs.