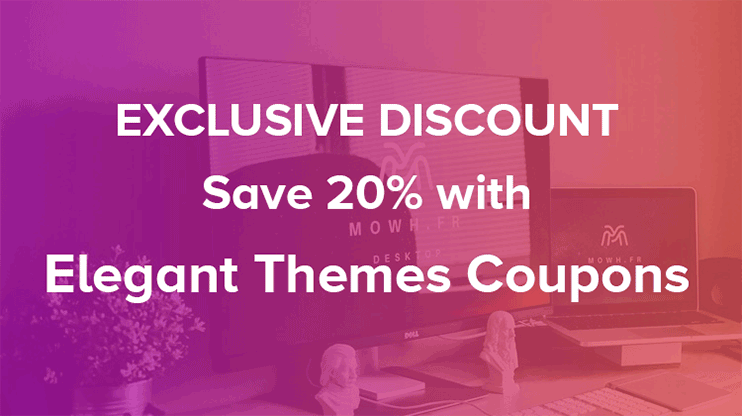 Elegant themes is one of the best places to look for Premium WordPress Themes and Plugins. Their themes are beautiful and crafted with the easiest backend options. You can create a website using their themes even when you are not technically skilled. The elegant themes coupon codes and the discount offers will help you buy their awesome themes at a discounted price.
Elegant themes is a trusted WordPress themes provider and have a large customer base of over 437,820 happy customers. Their store currently features 87 WordPress themes and some really useful WordPress plugins like the Divi page builder, Monarch Social Media Sharing plugin,  and the bloom email opt-in and lead generation plugin.
Elegant themes is better known as the maker of the Divi WordPress Theme. Elegant themes Divi is a flexible, multipurpose theme and its highlight is the drag and drop page builder. The flexible sections and movable elements make it possible, to completely redesign the theme as per your choice.
 Elegant themes coupon codes: WordPress themes and plugins at the best price
Looking for some beautiful themes to get started with your next web development project? Elegant themes has some really beautiful and feature rich themes under different categories. However, there is no way to download a single theme and use it.
You are required to join the club membership that allows you access to all their themes. Their club membership price is $89 and you can use all their themes and plugins for one year.
Alternately, there's the best deal that allows you to get lifetime access to all these Elegant themes at $249. With the Elegant themes deals and special offers, you can get access to their products at a discounted price.
Before we learn more about the latest deals and special offers on Elegant themes products, let's have a look at what it has to offer.

Get 87 WordPress Themes from Elegant themes at the price of one theme
As mentioned earlier, Elegant Themes is one of the most popular WordPress theme providers. The 88 different themes at Elegant themes are of different categories and unique customizable designs.
Be it a business theme, eCommerce, magazine, portfolio, multipurpose, etc. there are themes for all your needs at Elegant themes. The Elegant themes discounts and offers are applicable to:
Affordable Business Themes from Elegant themes
WordPress eCommerce themes from Elegant themes
Elegant themes for best Magazine WordPress Themes
Blog and personal themes from elegant themes
Working deals on WordPress Multimedia themes
20% 0ff on Divi WordPress Theme with this Elegant themes coupon code
Divi is a wonderful multipurpose theme from Elegant themes. Elegant themes Divi has evolved to be one of the most popular and best-selling WordPress themes.
It features a fully functional flexible page builder to create pages with easy drag and drop options. So you can create pages and design of your choice using the drag and drop options.
The Divi WordPress Theme is completely flexible and can be used to create different types of website. It is completely multipurpose. Even the backend options to customize the theme are intuitive and easy to understand.
You can join Elegant themes to access the Divi WordPress Theme at $89 along with other 86 themes and the best plugins by Elegant Themes.
Elegant Themes Coupons: The Divi Builder flat 20% Discount
The success of the Divi WordPress Theme was attributed to its flexibility and drag and drop page building features, besides its great design. So they encapsulated all those page building features into a plugin so that it can be used with different themes.
So, the Divi builder plugin has the page building capabilities and versatility of the Divi WordPress theme. The Divi builder is one of the most powerful WordPress page builders with 46 pre-designed yet customizable page modules.
Besides, you can also add the custom CSS code easily with the available option. It has some of the best features like saving custom modules for reuse, copying or duplicating elements, undo, redo, etc. Moreover, you have the full control of managing spacing and padding of every element on your page.
The Divi builder costs you $89 as the club fee. And you get access to all their WordPress Themes and plugins along with the Divi builder.
Save 20% extra with the Divi builder discount coupon 
Best deals on Monarch Social Sharing plugin
Social Media is a powerful marketing tool if you use it wisely. Monarch is a WordPress plugin to organize and optimize social media sharing options of your pages.
With Monarch, there are so many alternatives to where and how you want your social sharing icons to appear. You can choose the icons, position of the social sharing widget and its animation.
You can also choose when you want the social media icon tray to appear. Also, the social media elements appearing through Monarch are elegantly responsive.
Monarch provides so many options and variations of designs, and you can make the choice as per your requirements.
Monarch from Elegant themes is optimized for speed and lets you manage everything through easy options available at the backend. And just to make sure that your pages are performing as expected, you can check the statistics of overall social media sharing.
While Monarch social sharing plugin can't be purchased, you can join their club and own some of the most beautiful themes, the Divi builder and also avail 20% off with the exclusive Elegant theme coupon.
Exclusive discount coupon for Bloom WordPress plugin
Bloom from Elegant Themes is yet another plugin with lots of options, for email subscriptions.
Want to procure a list of people interested to know about your latest products or information about a certain subject? The Bloom WordPress plugin from elegant themes is designed just for that.
It is a tool for beautifully and persuasively presenting the email opt-in form on your pages so that the interested users can key in their details for receiving your emails.
You can decide when and on which activity the opt-in form pops-up. You can even choose and manage the form design from hundreds of available templates.
The opt-in forms can take data for any of the 16 supported automatic email marketing services like Aweber, MailChimp, HubSpot, Mailpoet, etc. The elegant theme promo code lets you own this plugin, along with 86 Elegant themes and Divi builder at a 20% reduced price.

Elegant themes coupon codes for Site-wide Discount on Divi, Divi builder, Bloom & Monarch WordPress theme
There's no Divi Theme discount code that you can apply at checkout. However, you can get the Divi theme at the discounted price, as well as all 86 other themes for a year at a nominal price of $89.
Save more, on any purchase from Elegant themes. Because generally, the price of feature-rich and professionally designed premium WordPress Themes ranges from $49 to $150. So considering the price of a single WordPress theme available on the internet, Elegant themes provide a package of all their themes in that price. At $89 per month, you get access to all their themes (including their super successful Divi WordPress Theme) and very useful plugins like Monarch, Divi Builder, Bloom, etc.
So basically, save up to 80% on Elegant Themes, pay for just one theme, and get access to all 86 beautiful WordPress themes.
If you are a web design agency and are supposed to create websites for different companies, this package of WordPress themes is perfect for you. Also as an independent website developer, you can accelerate and beautify your website development with this package at just $89 per month.
Additionally, you can get 20% off on their club membership with this coupon code, get all the themes and plugins at $70 instead.
Elegant Themes lifetime access discount deals
You might be wondering if there is a lifetime access coupon for Elegant themes? Elegant themes provide you a package of 86 themes and plugins like Divi builder, Monarch, and Bloom at $89 per year. But if you want to use their products for more than that, you can choose their lifetime membership plan.
At $249, which is a one-time price, you can get access to all the Elegant Themes plugins and themes for a lifetime. It is a one-time price and there are no renewal fees, and you get lifetime support and free updates without paying extra.
With the Elegant themes coupon from Templatic, you will get a 20% extra discount on lifetime membership at Elegant themes.
Elegant themes Discount coupon to save 20% on Lifetime Access Membership. 
Elegant Themes: Pricing, Support, Documentation and best deals
The pricing plan of Elegant Themes is simple. You can access all their beautiful WordPress themes at one price at $89 per month.
Elegant themes provide you the best offer as they let you own all of their feature-rich WordPress themes at the price of only one theme.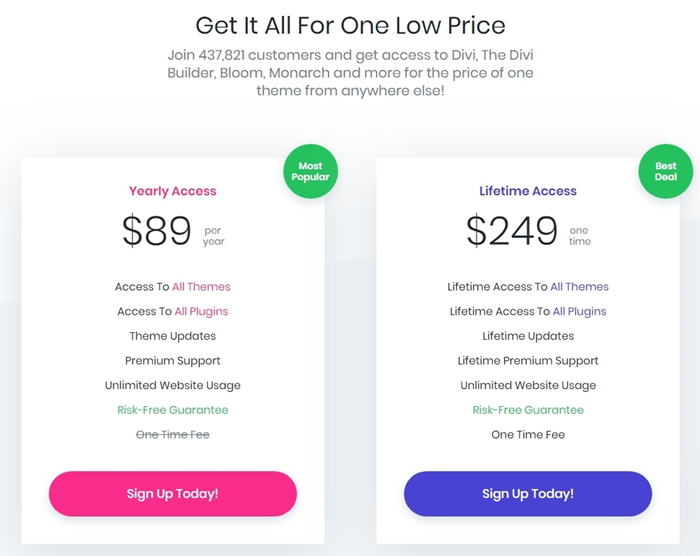 For the latest Discount on Elegant themes coupon codes, exclusive deals & offers, you can head to the Elegant Themes.
Get 20% off on Elegant Themes Products
Planning to take your business online with one of the Elegant themes products? Grab this discount deal, save 20% on your Elegant Theme products with this special deal. Click the link below to get the Elegant Theme discount.
Get Exclusive Elegant themes Divi Discount: Save 20%
Time to pick up your favorite Elegant themes products with these exclusive discount offers
You get the best themes at the best price at elegant themes when you join their theme club. This the lowest price for 86 themes at just $89. That is exactly what you pay for a single theme when you purchase it form some other place. Moreover, you get an additional discount of 20% with this Elegant themes Divi coupon.
Grab this Divi theme discount, the best offer on Divi builder, Monarch, and Bloom to create your website with the best design and features. 
Also Read: Divi builder Review-  How good is the drag and drop page builder to create your website?