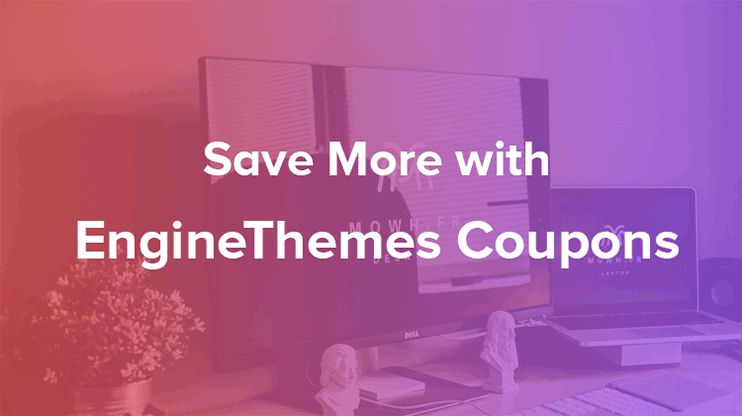 If you are looking for some WordPress directory themes at best price, you should have a look at the EngineThemes. They are providers of the premium quality directory and hotel themes that you can easily use to create your website. At EngineThemes you can buy the best Directory themes at an affordable price. Besides, with the EngineThemes coupon, you can get these beautiful themes at an even lower price.
The themes at EngineThemes are simple, elegant and straightforward. Moreover, they are really easy to use. Besides, they have some very thoughtful pricing packages that you can use to create your website on your own.
WordPress themes from EngineThemes: coupons, discount, and special offers
EngineThemes has 11 beautifully crafted WordPress themes and most of them are directory based themes. These themes can be used by anyone to create their own directory website on their own.
The themes at Engine Themes are affordable and easy to use. You won't need any professional help to get your website created. Instead, you can just do it on your own. Play with the options available at the backend of your website and create a website of your choice using them.
You can buy the best Directory WordPress Themes at EngineThemes at the best price using the EngineThemes Coupons. Before we proceed further, let's have an overview of the kind of products available at EngineThemes.
While EngineThemes don't have hundreds of themes and multiple theme categories. But they do have feature-rich and easy to use directory website templates that you can use for creating your website.
And the best thing is, their pricing is affordable and they have some super saver packs that can help you get a 50% off on EngineThemes. Let's have a look at some of the best WordPress themes from EngineThemes theme store.

Discount on DirectoryEngine from EngineThemes
Create massive directory websites with the DirectoryEngine theme. With the DirectoryEngine WordPress theme, you can start your listing based WordPress website in minutes. It also has some interesting monetization features to let you earn through your WordPress directory.
This is a multipurpose listing directory template that you can use for multiple purposes. You can create a listing based website, a places directory, an events portal or a business listing website. DirectoryEngine is crafted to be SEO friendly so that you get enough organic traffic. DirectoryEngine WordPress theme for online directories is easy to use and comes with maps integrated.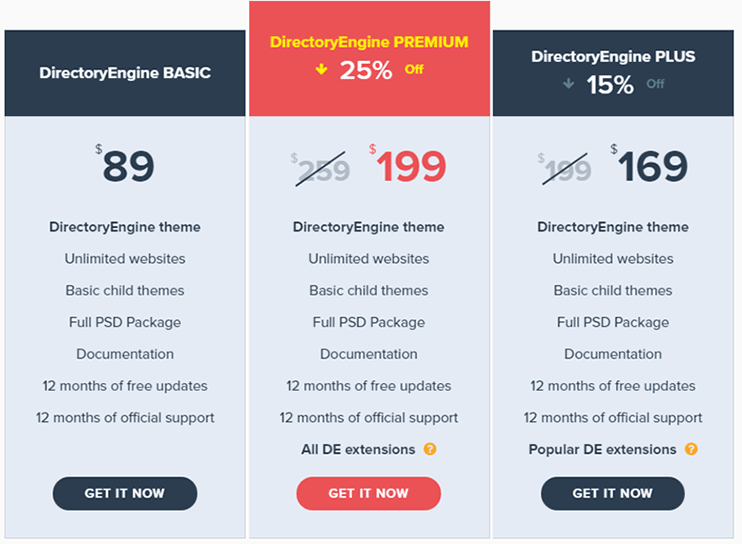 The DirectoryEngine WordPress theme can be purchased at $89. Here, you get the theme, one year of updates and support. However, if you want to integrate some plugins into your directory website you can buy them in a combo pack with the DirectoryEngine Theme.
Special Discount on the JobEngine theme
A focused Job Directory theme where the users can post the jobs and the candidates can search for it. JobEngine theme from EngineThemes makes creating and managing job portal websites very easy.
The JobEngine is a complete job board WordPress theme with all the exciting features like Job posting, job search, resume, ajax loading, job post slider, etc. The JobEngine WordPress theme is highly customizable, easy to use and lets you manage the massive job data and resumes easily. Besides, the theme has multiple payment options and is SEO friendly. The JobEngine theme comes with frontEnd customization methods that you can use to make your website look and work the way you want. The theme comes with many great features.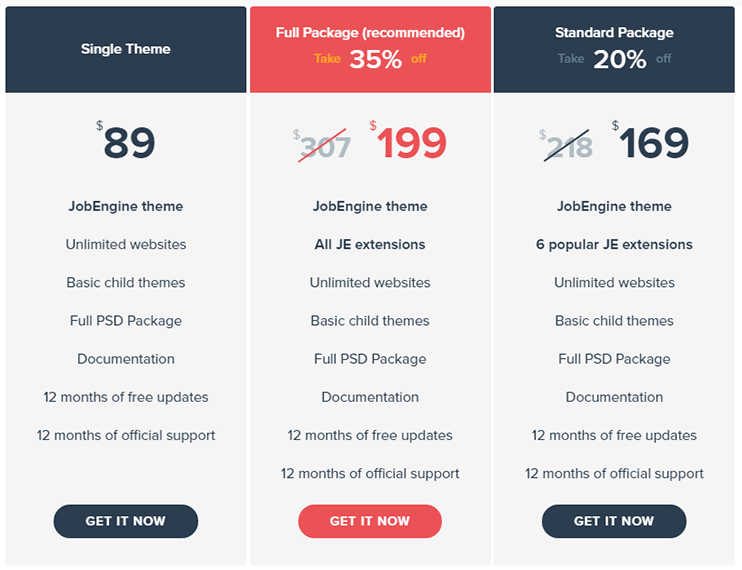 The JobEngine theme can be yours at $89. However, you can get the JobEngine theme as a part of the EngineThemes Powerpack at a combined 35% discount on 4 EngineThemes. For Job board, you should also consider the FreelanceEngine and the Microjob engine.
Get the JobEngine WordPress Theme at $89. To buy the theme with of its 6 most favored extensions, you can get a 20% off on the total price. If you wish to buy the theme and all the extensions for JobEngine, you can get it at just $199. So you can save up to 35% on JobEngine and it's extensions.
Save up to 22% on the MicrojobEngine WordPress Template
MicrojobEngine from EngineThemes is an elegant WordPress theme for creating micro job websites or a freelance marketplace. MircojobEngine is highly flexible and customizable. So you can create a website of your choice easily. MicrojobEngine can be purchased individually at $89. But you get a 22% discount when you buy MicrojobEngine with its popular extensions.
Exclusive deals on ClassifiedEngine and other themes at Engine Themes
If you are looking for a WordPress theme to create an online marketplace, you should have a look at the ClassifiedEngine WordPress Theme. You can use the ClassifiedEngine theme to create a classified website of different niche. For example- A car classifieds website or a general purpose Classifieds WordPress website.
The ClassifiedEngine is designed to SEO friendly, flexible and very easy to use.
Buy ClassifiedEngine at just $89 at EngineThemes. Besides, you can go for the combo offer and save 20% off on ClassifiedEngine and the five best ClassifiedEngine extension. Get the ClassifiedsEngine theme with all the add-ons in a combo at $169. So, you can save up to 35% on the ClassifiedEngine and all its extensions.
Get EstateEngine and all extensions at up to 25% off on the original price
When you choose to buy extensions along with the themes at EngineThemes, you can get the theme and extensions at a 25% discount on the total payable amount. As I have mentioned above, the offer works on all the popular WordPress themes from EngineThemes. Similarly, you can save up to 25% on ForumEngine, QAEngine, HotelEngine classy, HotelEngine Comfy, DinningEngine, etc.
Add more features to your website with the EngineThemes extensions
The WordPress themes at EngineThemes are directory based and a directory website has no limitations. The WordPress themes at EngineThemes come with all the basic theme features included but to add more, interesting features you can use the EngineThemes extensions.
The extensions are in form of advanced features dedicated to a particular WordPress theme. They are the payment gateways or some modules for marketing, or a better user experience. For example, There is an extension called JE custom fields for JobEngine that you can use if you want to add Custom fields to your JobEngine website. Similarly, for the DirectoryEngine theme, there are different extensions for payment processors that you would like to include into your website.
These extensions can be purchased as per your requirements. Always remember that the extensions are enhancements and extra modules that you can add to your website. Otherwise, the themes come with all the features and functions required by them. The extensions at EngineThemes are priced at as low as $19 per add-on.
Besides, you also have an option to buy all the themes and plugins at one price and save up to 25% on your package purchase at EngineThemes. No EngineThemes coupon is required to avail this discount.
General pricing, special deals, and the EngineThemes Coupon
A single theme at EngineThemes is priced at $89. So you can buy individual directory themes from EngineThemes like DirectoryEngine, JobEngine, ClassifiedEngine, etc. at just $89 per theme. However, you can buy the full theme package that includes the theme and all the required plugins.
Besides, you have the option to buy the theme in combination with all its plugins at a discount of 25%. You can either choose to go for the package where you pay $159 for the theme and 3 of the most popular extensions. By doing so you can get a 15% off on EngineTheme. On the other hand, you can buy the complete package with all their themes and plugins at $189 where you can save up to 25%.
The power package that saves 44% on EngineThemes without any EngineTheme Coupon
The power package gives you ownership of four best directory themes – The JobEngine WordPress theme, ClassifiedEngine Theme, DirectoryEngine WordPress theme, and the FreelanceEngine WordPress theme.
This is the best deal if you want to create and manage multiple directories at one. This package provides you 4 top directory niche themes. And you can get 44% off on purchase of JobEngine, ClassifiedEngine, DirectoryEngine, and FreelanceEngine by purchasing this package.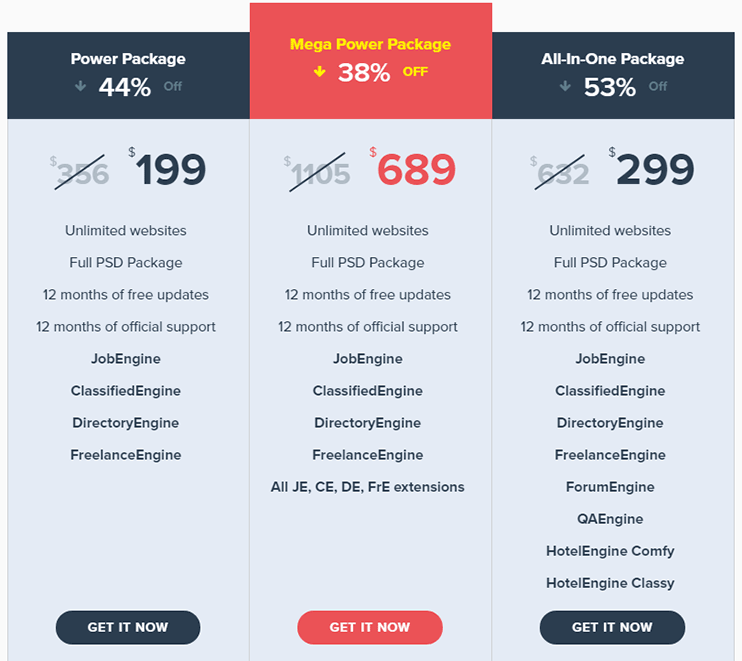 Get up to 38% off on the directory themes from EngineThemes and all the extensions
Get access to the best of WordPress themes with this super saver package. With this package, you can save 38% on DirectoryEngine, JobEngine, ClassifiedEngine, and FreelanceEngine. Additionally, you get access to all their extensions. Therefore, you can create your directory website with all the advanced features without buying every single extension separately.
Save more than 50% with the All-In-One theme package
Get 53% off on the All-theme-pack where you get access to all their brilliant WordPress theme at one price. Along with their best WordPress Directory themes, you also get access to all of their extensions. In short, you get 53% off on all EngineThemes products.
Does the Engine have a lifetime access offer?
Engine theme doesn't actually have a lifetime access offer where you can use their products with active updates and free lifetime support. But there are these affordable combo packs with up to 50% discount. Once you buy a WordPress theme from EngineTheme, you can use it for as long as you want. Once purchased, you can update your theme up to 1 year. After one year, you can still use your theme without updates, but if you wish to update it, you must renew your subscription.
Time to create your own website using the EngineThemes Coupon
EngineThemes surely has some of the very best WordPress directory themes that you can use to create your online directories. They are affordable, easy to use and come with a documented theme guide that you can use to set up your website on your own. Additionally, you also have the EngineTheme support to answer your questions regarding their themes.
And the best thing is – EngineThemes has some pricing packages that can help you save on EngineThemes purchase. Especially if you want to create more than one kinds of online directory website, the discounted packages at Engine themes can help you save up to 50% on your WordPress theme purchase. So are you ready to start creating your website with EngineThemes?
Go to EngineThemes
Also read: The types of directory websites to earn passive income this year?