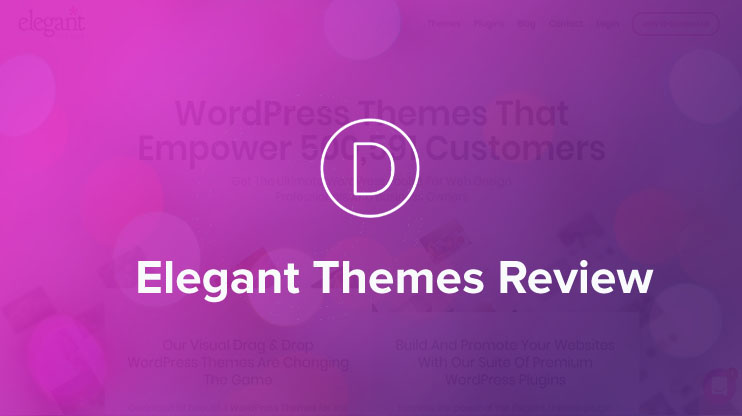 This is an unbiased review of Elegant themes to help you choose the best WordPress themes and plugins for your project. It is a brief overview of what kind of products Elegant theme provides, pricing, support policies, etc. 
Elegant themes, undoubtedly, is one of the most popular WordPress theme providers. The Elegant theme is a store of 88 beautiful themes and 4 proficient plugins.
Now if you are looking for WordPress themes, you will most certainly come across one of the Elegant theme products. They have different niche themes with sleek design and user-friendly features to create your site.

Elegant Themes: 87 Themes @ Price Of 1 + 20% off
Get the best of Elegant Themes. Simply click the following link and you will get 20% discount
Their themes and plugins can be used by anyone, regardless of the level of their technical skills. So whether you are new to WordPress and trying to create your site on your own, or a WordPress expert looking for a feature packed theme for your project, the themes from Elegant themes are ideal for you.
Let's dive in to know more about the Elegant theme, its services and how good it is to create your site.
Elegant themes Review: An overview
The Elegant themes have established itself as one of the best WordPress theme & plugin providers. They stand out because of the quality, flexibility, and affordability of their products.
Elegant themes were started by Nick Roach, in his college apartment as an individual project. Now it is a team of more than 70 WordPress enthusiasts working from different countries.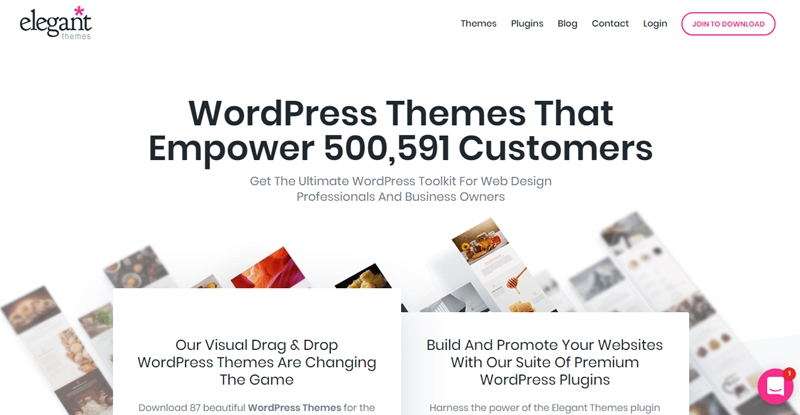 They have been in the WordPress world for about 10 years, delivering quality WordPress themes and plugins. The themes by Elegant themes power over 500,000 WordPress websites.
87 Elegant WordPress Themes
The Elegant theme has been around for a decade now, and it surely has established itself as one of the best WordPress theme providers.
The elegant themes gallery of WordPress themes has 87 niche as well as multipurpose WordPress themes. All these WordPress themes are responsive and professionally designed. They come with easy dashboard options to control how your site looks and works.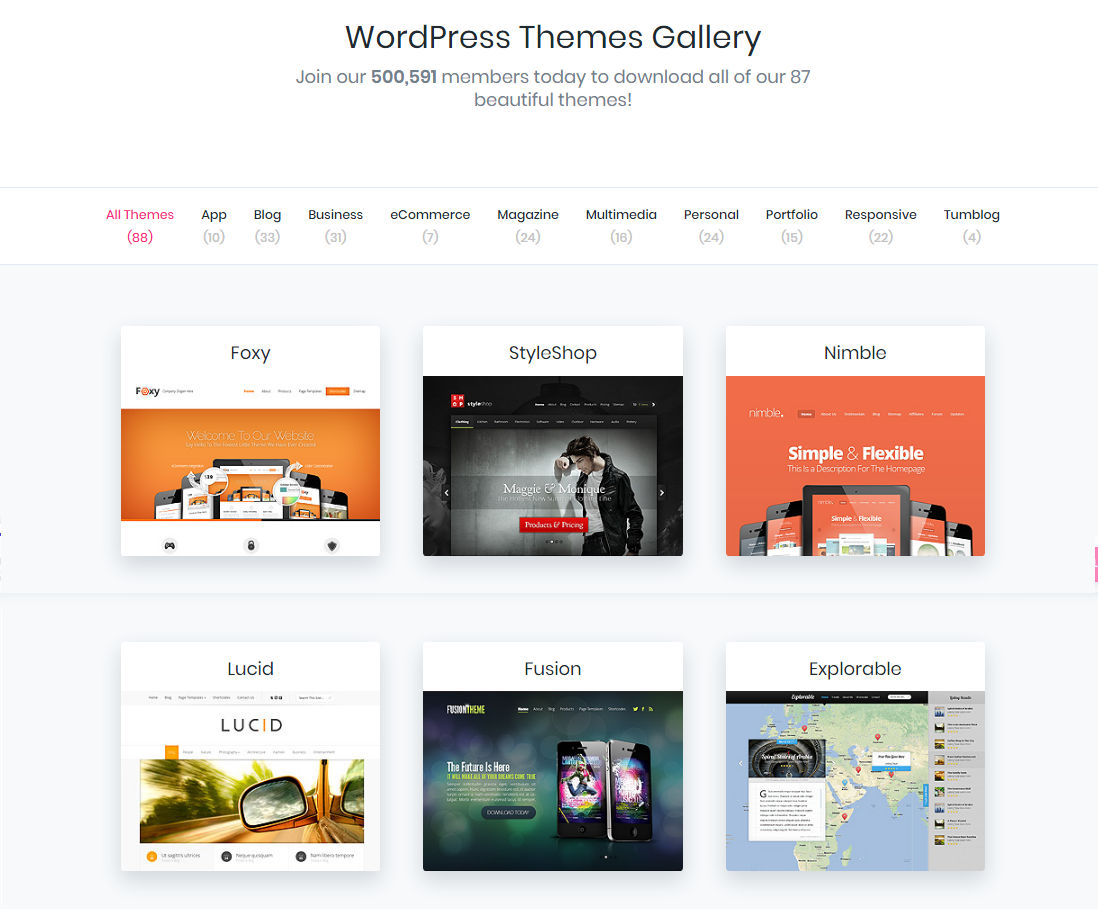 Therefore, the Elegant WordPress themes can be used by anyone. Even if you have never created a website before, the themes by Elegant themes can help you easily create a site on your own.
Also, these themes are crafted with SEO friendly code, so that with SEO optimized content, your website can rank well. All these themes are under different categories and can be used for a varied niche.
One of the very best is the Elegant themes Divi Multipurpose theme. Besides, there are eCommerce themes, Magazine themes, portfolio themes, Business and multimedia themes at the Elegant theme store.
If you are looking for a niche theme, you will most likely find a theme that perfectly suits your subject at the Elegant themes WordPress theme store.
WordPress plugins by Elegant theme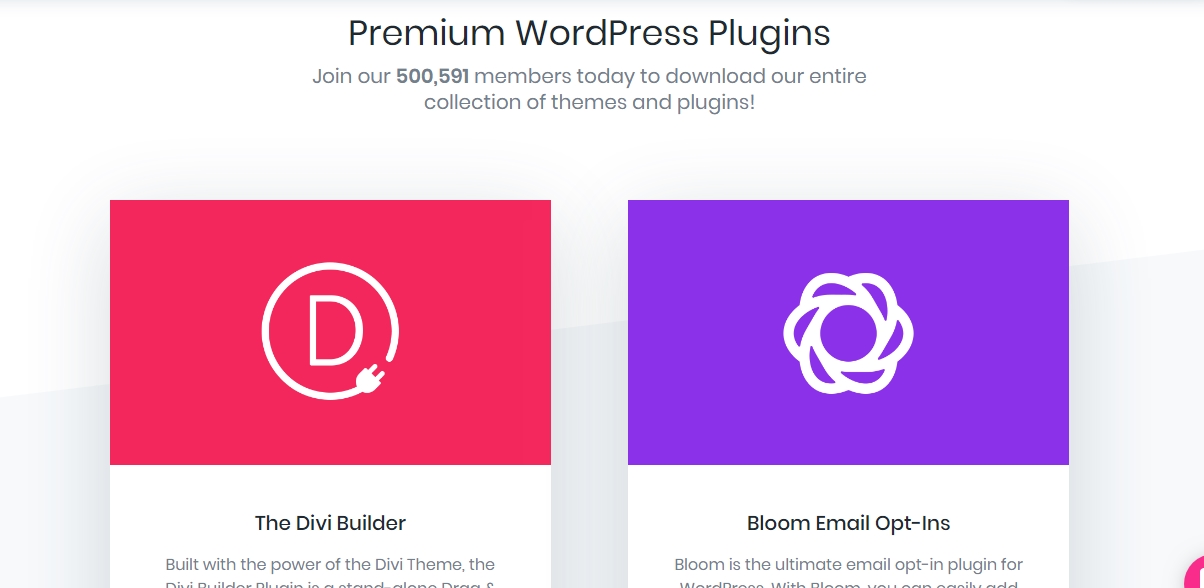 Besides feature packed and beautiful WordPress themes, Elegant themes also has 4 premium plugins for your WordPress website.
Divi The drag & drop page builder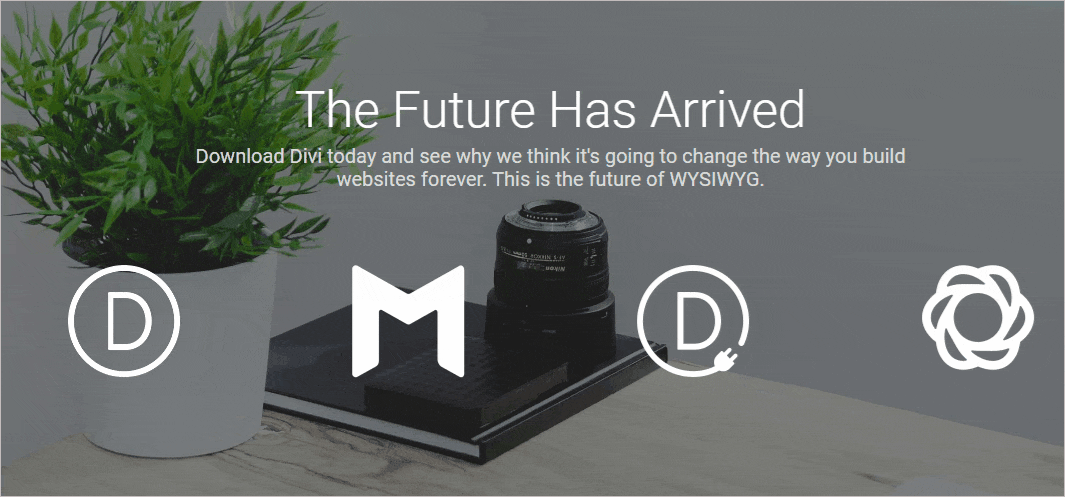 A drag and drop page builder that makes page building with WordPress a breeze. With 46 dynamic page building modules, you can create pages with different styles and content. Divi builder works with almost any WordPress theme. Divi builder is amongst one of the best and most used page builders.
With the Divi builder, you can get as creative as you want. It is easy to use even at the beginners level. It also allows you to save your templates so that you can reuse it later. Also, the ready to use templates and demo are great to get started with.
Bloom: An E-mail opt-in Plugin by Elegant themes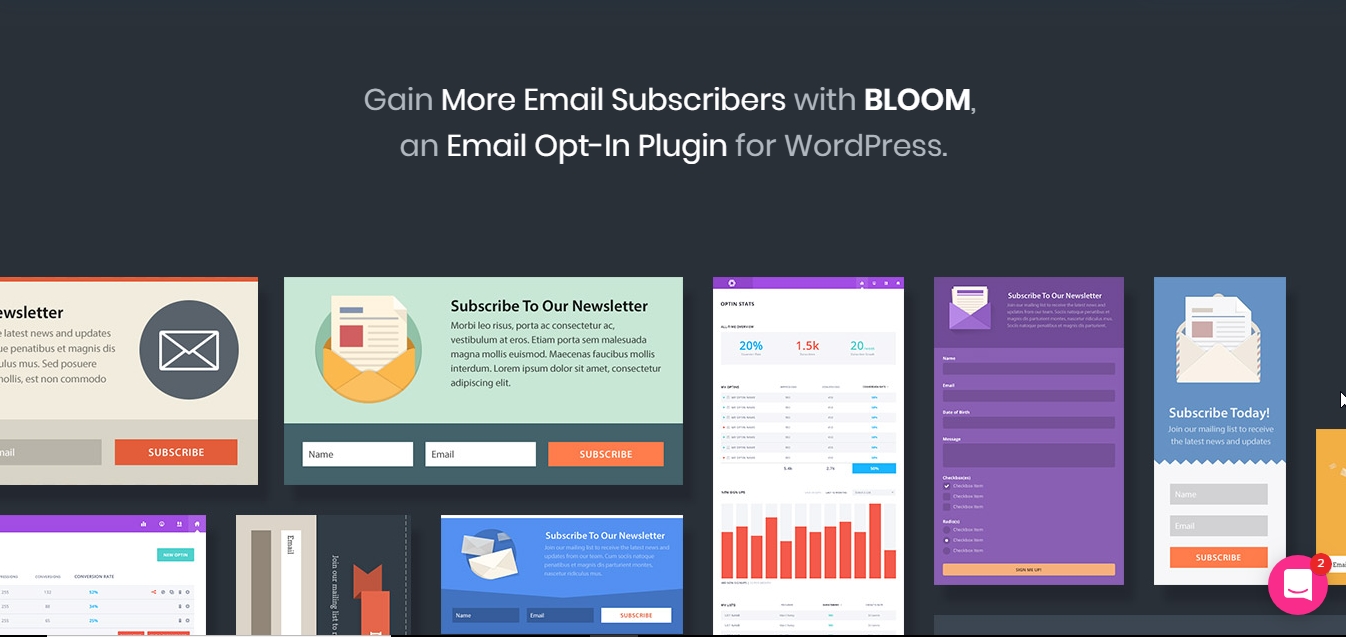 This plugin from Elegant themes is the marketing tool you need for your WordPress website. It intends to help generate leads through e-mail opt-in features. So if you want to convert your site visitors and want them to stay tuned with the help of email newsletter, bloom helps you with the prompt to pursue them.
The Elegant theme's Bloom plugin lets you choose from the 6 different styles for the opt-ins. Also, it allows integration of 16 popular email marketing tools like Aweber, MailPoet, MailChimp, etc.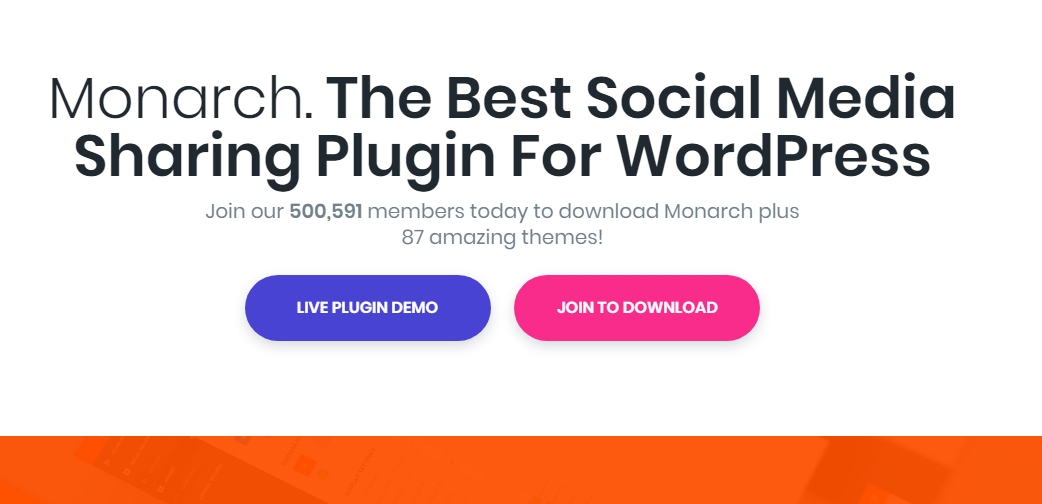 Monarch by Elegant Themes: Social Media Sharing plugin
So this plugin will help you promote your pages and posts through social media. Even if it is a simple plugin that enables easy sharing of your WordPress blogs, it is one of the most important. Because social media marketing is hands down the best and the easiest way to reach large groups of people with similar interests.
With Monarch plugin from Elegant themes, you can choose from over 35 community networks sites, including all of the popular ones like Facebook, Twitter, Instagram, etc. You have the options to set their location, behavior, etc. In short, this plugin from Elegant themes is a complete social media package for your website.
As you must have noticed, all the plugins by Elegant themes are in fact for the most important features in your WordPress websites. These plugins can help any kind of website, or any subject to generate lead and traffic, or build beautiful pages.
The plugins are not sold separately. You can get the access to these plugins as a part of the full package of all the Elegant themes WordPress plugins & themes, at a nominal price.
Elegant themes Divi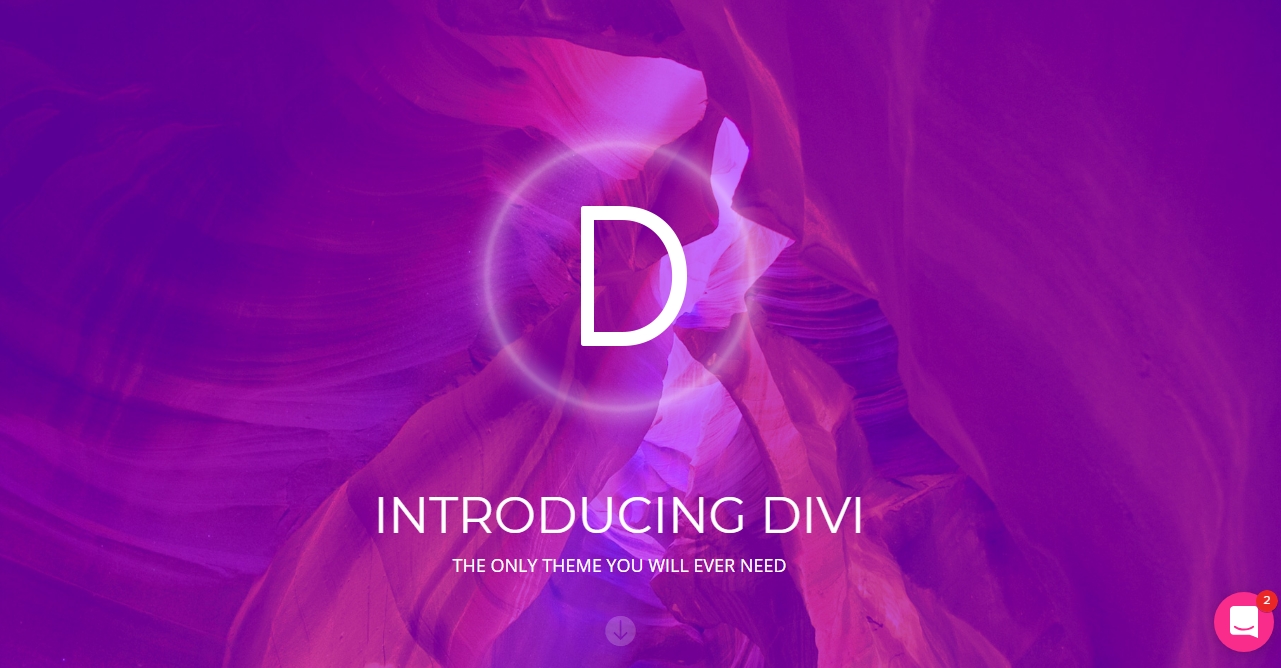 Divi is the flagship product of Elegant themes. Launched back in 2013, the theme is one of the most versatile WordPress themes.
Divi was first introduced as a multipurpose WordPress theme with a drag and drop page builder. The highlight of the Elegant theme Divi WordPress theme is its flexible page builder. Its flexibility made the theme completely multipurpose & very easy to use.
Besides, there are different features like elegant theme gallery module and different content modules that you can use to create persuasive and informative pages for your users.
Now the Divi builder is available as a stand-alone plugin so that you can use the powerful page building option with any theme you want.
Elegant themes Pricing
What makes the Elegant theme stand apart from the rest of the theme providers is its package pricing. You get all the themes and plugins by Elegant themes at a single price by subscribing to the club membership package.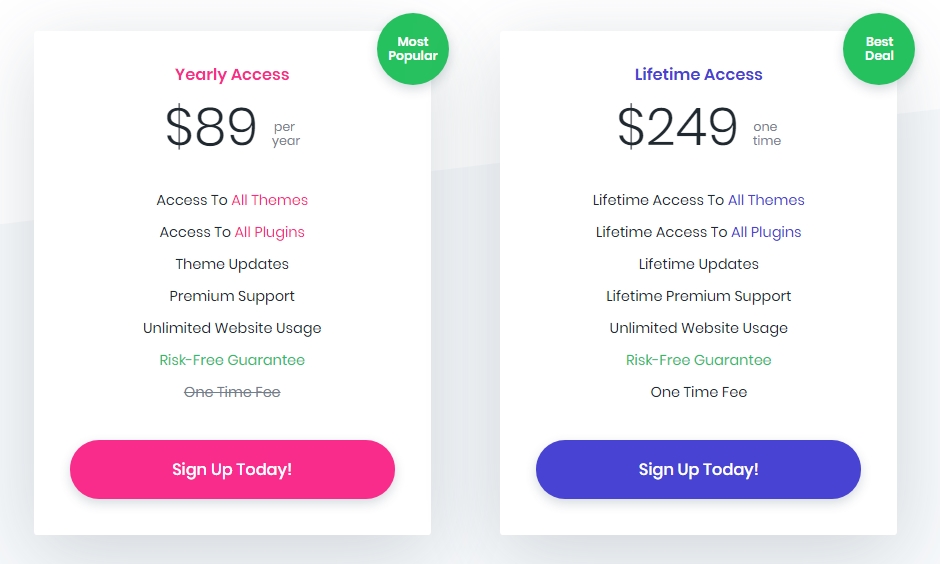 Get access to all their themes and plugins for $89 annually. Also, you can use each of the themes on multiple websites as there is no restriction on the number of sites you can use the themes for.
So instead of one theme, you get access to 87 brilliant themes (including elegant themes Divi WordPress theme)and utility focused plugins at the price of just a single theme. Good deal, isn't it?
On the other hand, there's also the Lifetime access plan if you want to use their themes and plugins for more than a year. You can pay the one time fee of $249 and use the Elegant theme products forever.
This is the best deal for you if you want to create multiple websites or use the same theme on different sites. Especially for agencies and individual looking for multiple themes should benefit from this deal where you pay for one theme and get access to a package of 87 beautiful themes.
Also, you can cancel your membership, or change the plan anytime you want!

Elegant Themes: 87 Themes @ Price of 1 + Get 20% off
Get the best of Elegant Themes. Simply click the following link and you will get 20% discount Get Elegant themes at a Discount and save money.
Elegant themes support & updates
The team behind Elegant themes is always there to help you. The Elegant themes support service is known for its prompt support and handing the queries professionally to help the Elegant theme users.
To help you set your website on your own, they provide you access to the theme documentation with the step by step mention of how to use the theme's different options.
Moreover, you can also submit your question as a support ticket using the contact form and get a prompt reply from one of their support engineers.
Their themes are regularly updated & improvised. Whenever a new version of WordPress is released, their themes are quickly checked and updated to maintain the compatibility.
Elegant Themes Review: Final Word
The Elegant theme is one of the leading WordPress theme companies and is constantly evolving by launching fine & innovative every now & then.
The possibilities are unlimited when you use the Elegant themes product. They are beautiful, feature packed, affordable and easy to use.
You can earn through your website made with any of the elegant themes WordPress templates by placing ad banners anywhere you want. You can use Google AdSense, or similar services, or place a simple image or video to display advertisement on your website.
Moreover, the themes by Elegant themes come with a professional and flexible design. They are crafted with an SEO optimized code, come with contact forms and are performance optimized. 
So with the affordable elegant themes pricing, you get 87 professionally designed themes (including the marvelous Divi theme & the Divi builder) at the price of just one, with expert support is the best deal you will find today.