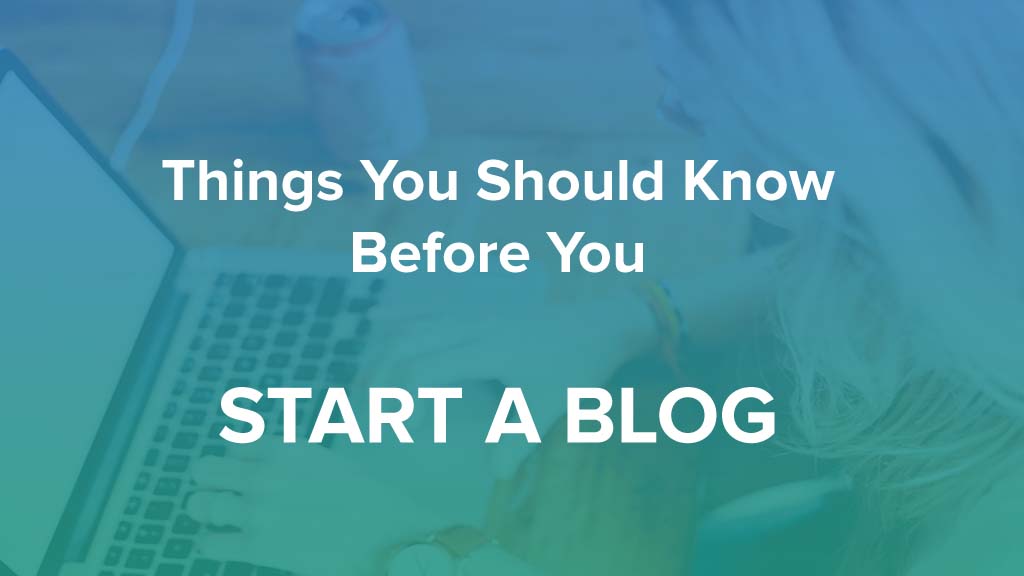 With all the blogging platforms and DIY software available on the internet, you can launch a professional looking, feature-packed blog in minutes.
However, it's not just about launching a blog website. Starting a blog means much more than just getting a blog site live.
If you want to start but are not sure where to begin, you must start with some fundamental things about blogs.
Because the internet is exploding with blogs and content in different forms. So if you want to make an impression on the internet, with all the competition around, you need to follow a systematic plan to create and promote your blogs.
Note: This blog post is part of the "Blogging for Beginners" series.
Let's get started right away! Here are the 16 things you should know before you start a blog.
A successful blog needs your time, efforts and commitment
Good things take time & persistent efforts. And it is exactly what a successful blog needs.
If you want to launch your blog website and start blogging, you must be prepared to give it some time and your best efforts.
It may take a while before your efforts start to pay off. Till then, you should continue with regular efforts and persistence. When you are starting your blogging venture, the first thing you must keep in mind, that your blogs take time to be discovered.
You have to understand that your article cannot get thousands or even hundreds of hits in a day. You start slow, and if you see embarrassing results on Google Analytics, don't be discourages.
That is just how your favorite blog with thousands of hits a day started. The image below shows an example of the first one year when we started with our blog. The graph clearly shows how slow the progress was.

All it takes is patience and persistence before you start seeing unexpected results & improvements.

Choose a great niche before you start a blog
Do you have a clear idea in your mind about what you want?
If yes, then good.
If no, then start thinking about what you want to write.
However, if you are not sure about it, decide before you start.
A planned and clear idea about the niche of your blog can help you with many things:
1. Helps you find a suitable domain name.
2. Helps you plan the future content strategy for your site.
3. A well-defined niche helps visitors understand your site properly.
4. You can decide the keyword, know about the competition, and easily learn new things about your
Instead of going for multiple subjects, you can instead focus on a clear, well defined and straightforward topic for your blog.
It is also recommended to choose a blog niche you are confident for. Example, we started our SlashWP blog because we knew well about WordPress themes.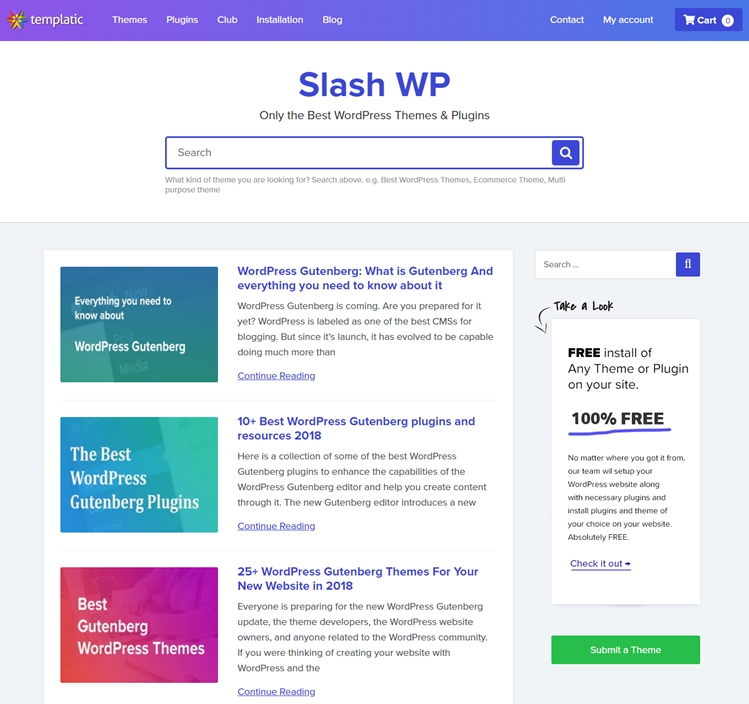 You will need a good design for your blog
A good design for your website is essential to start a blog. Even though it is always emphasized that great content is what actually matters, we cannot overlook the importance of blog design.
If you are using WordPress to create your own blog, you will have plenty of options for your website design. There are different themes for different purposes.
For example, pre-designed WordPress themes for health and beauty blogs, WordPress themes for non-profit blogs, etc.
Such WordPress blog themes come with strategic designs for your niche. Based on your requirement, you can choose a free or premium WordPress theme for your new blog.
There are many factors that you must consider while choosing your blog site design. First of all, go for a design that focuses on content. You need a design that helps you easily highlight the important pages, posts, and links right on the homepage.
Because when it comes to a blog site, most of the traffic will land directly on your post page, without going through the homepage. So choose a template with a blog page design that can accommodate important links to reduce exit rates.
Here is an example of our Smart Blog WordPress theme with an engaging blog page.
The sidebar, footer, above the footer area, etc. are all equipped with different navigation links for the user to quickly switch to the next article on your site. It is important to keep all your motives in your mind while you design a blog.
Each of your posts will need keyword research, refreshed efforts
Besides combined efforts for promoting your blog, once you build your blog site, you must be prepared to spend the research time in each of your posts.
You will be required to, first of all, research and knowledge about the current topic of discussion is your domain. Based on it, you can decide the title of your blog, after evaluating what users want to read, and which topic is easier for you to rank.
Once you decide on what to write, the next research will be about the keyword, the subtopics, etc. Ultimately, writing a single blog post can be considered as an individual project.
And not to forget the promotional tasks for each of your blog, once it is published.

A good content can only take you places if it is properly promoted
Okay, you have great content on your blog, but how will people know it, if you don't tell them?
Promoting your blog isn't going to easy but when starting a blog, you have to be prepared for this part too.
When I started blogging, I realized there are three main parts of blogging:
Research & Analysis: Where you find a suitable subject to write, research it, analyze the competition and decide on the title, keywords to follow, the structure of your post, etc.
Blog writing: When you actually put your plan to action, draft, proofread and publish your post.
Promotions: And finally, the post-publish task where you think of ways to promote your post/website. This is the traffic acquisition phase to make people aware of your site.
The promotion has to be an undeniably important part of your blog publishing schedule. There are multiple ways to promote your blog but the most common ones are:
Promotions through social sharing:
Social media is the best way to release your content to the group of people with similar interest.
In this age of social media and online networks, you can connect to your audience through platforms like Facebook, LinkedIn, Quora, or online forums.
At the initial stage, you can start by sharing the snippet of your post on Facebook with a link to it. Here's an example of how we have used Facebook to tell about our How to create an author's website?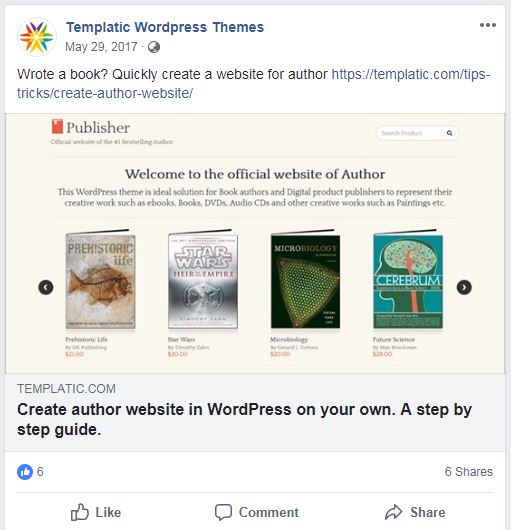 And this twitter post about our product launch can be about the new blog post that you recently published.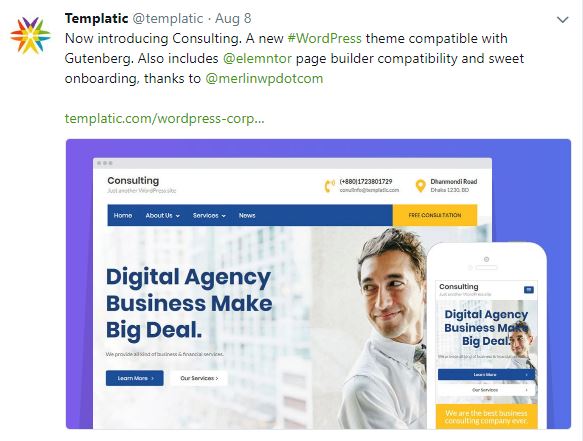 Social media can work magic for your promotional campaigns. There are some very nice tutorials for social media marketing for your blogs, like this one from Neil Patel. Or you can outsource this through some social media marketing service.
Advertising your blog
Social media promotion is mostly free unless you decide to go for a professional social media marketing campaign by hiring SMM experts.
However
, another way to promote your blog is through Google Ads. If you want fast results, then this is the way.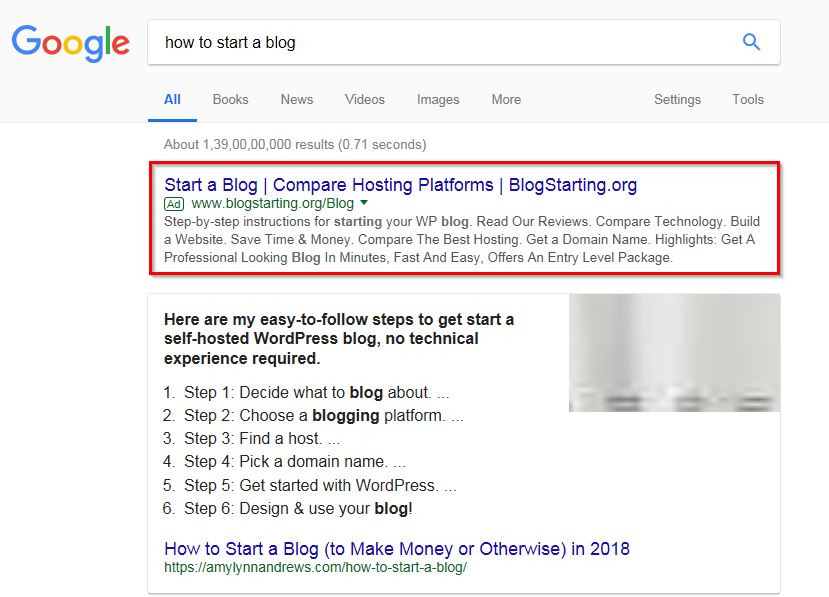 The PPC campaigns are good for your new blogs until
eventually
, they start gaining the deserved attention and traffic
. Here's a link to the Google Ads homepage if you want to get started.
Optimizing for organic search
The ultimate way to attain and retain traffic on your blog is by search engine optimization. It is something you have to take care of right from the beginning.
You can optimize your WordPress blog with the help of the little tips and tricks that you can easily find online. Here are the Backlinko guides for SEO optimization, as well as tips to increase traffic on your site.
Before you start a blog, properly decide on the niche, that you think you can ace. Also, decide on the keyword you wish to go after, one with less competition and high search volumes, and most importantly, one perfectly fits your blog.
A well-optimized WordPress theme can help you create an SEO friendly blog site easily. Also, there are tons of other small tricks that can ultimately help you grow your traffic organically.
Besides, the ones mentioned here, there are multiple ways you can improve the traffic on your site. Once you start with your blog promotions, you will eventually learn more and more about which tactics work for you and which doesn't.
To survive the competition, you need to learn SEO basic
Doesn't mean you have to be an SEO expert, but you must at least be aware of the basic SEO rules before you launch your blog.
For best SEO tips, you can search the internet and YouTube and follow the videos by SEO experts that can guide you with basic SEO you can follow for your blog.
SEO is a vast subject. It involves different sections of your website: the design, the meta information, the content, etc.
However, learning basic SEO for your blog's optimization shouldn't be a problem because you will learn while you go. But be sure to know a bit about SEO before you get started.
Here are the best articles to get started.
If you are going for a WordPress based blog, we highly recommend using the Yoast SEO plugin that can help you SEO optimize your blog content.
Content is definitely the king!
Readers are prime for your blogs. They don't really care about anything else but the quality of your content.
If you are spending a lot of time on research, properly organizing your content and providing your readers with fresh, relevant, to-the-point content.
Good blog run on one principle: Fresh & quality content that provides some value to the users.
Also, consistent posting on your blog is a way to slowly develop your reader base.
Watch the internet and there are thousands of tips on dos and donts for your blog. But regardless of any tool and technique you use, only quality content can help you win your reader's heart.
So when you start writing, you can think of your blog in terms of "What value your blog/article will provide to the reader? Will it answer their questions? Will it help solve them the problem at hand? Is it resourceful to them? etc."
Ultimately, make sure that your articles can be helpful to your readers in some way or the another.
Also, don't forget to put those share icons on your post so that impressed users can share it, and your content can easily reach the audience of similar interest.
Advertise subtly
Once you start a blog, you can start working on your blog monetization. Your blogs can make you money and the easiest way to do so is by displaying advertisements. You can display advertisements through services like Google AdSense. Or ask your sponsors to provide you with ad banners to display at different parts of your site.
It's good to show advertisements on your site, but don't overdo it. Make sure that the advertisements on your posts, pages do not overshadow the content on your pages.
You may choose from different sections of your post to place advertisement. For example, The sidebar, within the content text, in the header, above feature, etc.
Here's an example of how we have used the sidebar section of our blog, to accommodate an advert. This helps provide our readers with distraction-free reading, while also draws attention to a value offer we are currently running.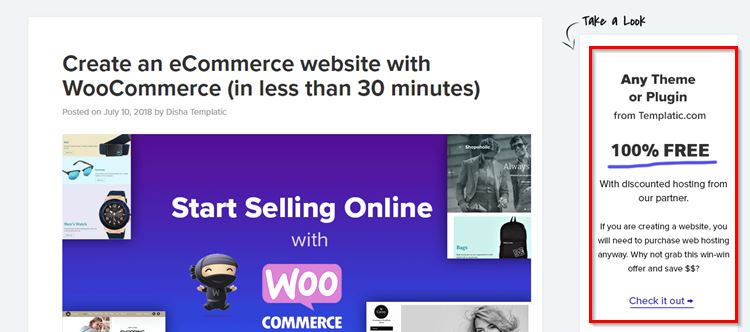 While advertisements on a blog is a very deep subject, there are two main factors that you must consider:
The advertisement should be placed somewhere it gets maximum exposure and user attention
While you strive for max user attention, make sure that your content is not disturbed because of advertisements.
Deciding on the advertisement media, and advertising space on your blog, need to be a thoughtful decision.
Besides, some advertisements with multi-media content that may make your pages load slower or overlap your content.
Services like Google AdSense etc. has made it really easy to advertise through your blog. You have to be careful to see that advertisements on your site don't negatively impact the reader's experience on your article.

You can learn a lot from your competition
There's a lot of inspiration when you look around. And the best source of inspiration for your blog can be your competition.
As they are already playing in your domain area, they have a better idea and experience. You must not imitate them, but you can visit their site and note down things that you like about them.
Who are your competitors?
When you start a blog, you must understand your competitiors and find out what they are actually doing.
Competitors for your blog are those who are most read & popular among your target readers. The competitors are those who are already ranking for the keywords you want to rank for.
It is important to know the strength of competition and find out the areas where you can do better than them.
Learn from them
While competitive analysis is crucial for any kind of business, you must remember that at last, it is the quality of your posts that actually matters.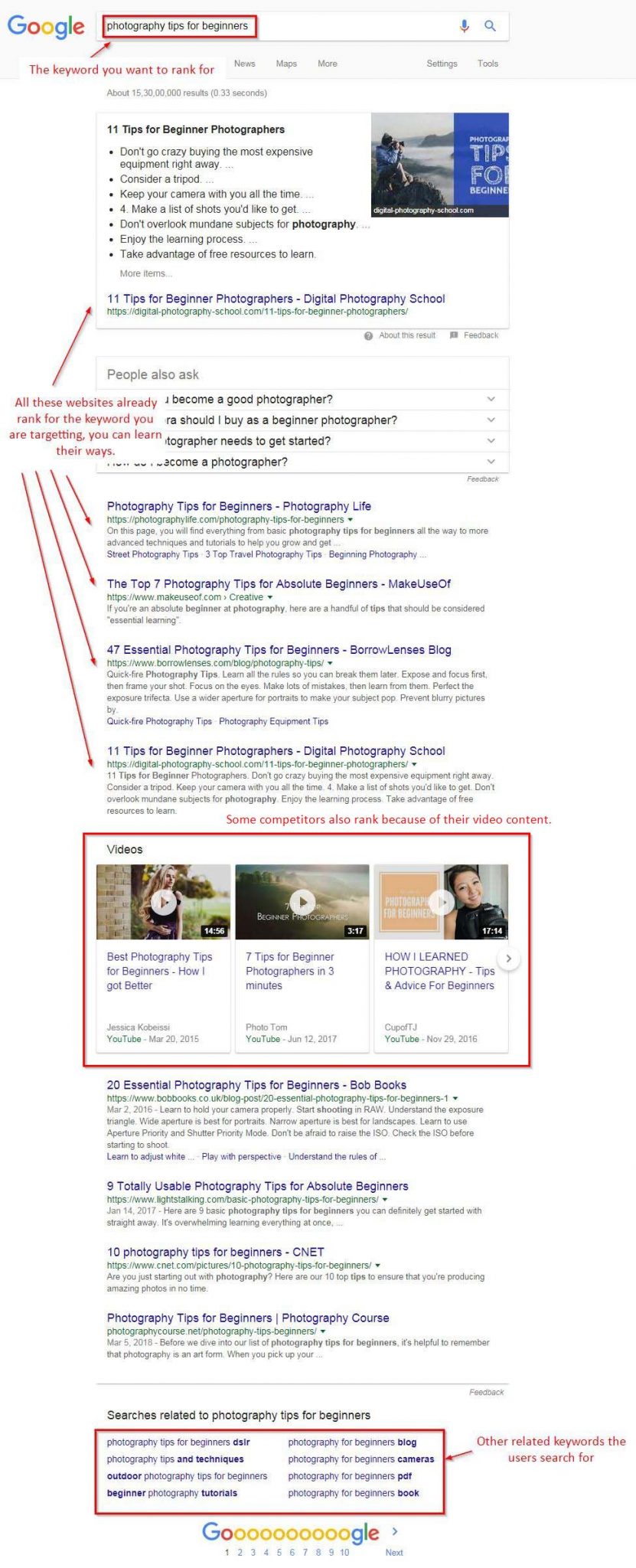 Your ultimate goal while watching competition is not beating them, but to improve yourself.

Quality beats quantity
Consistent posting is strongly recommended, but in doing so, don't fail to pay attention to the quality of the content you post.
It is okay to publish one, in-depth post in 3 days than to publish 3. Because the users ultimately want answers to their questions and they don't care if you do it by 3 different small blog posts or with just one deep post.
Even though it is important to keep posting new content to keep the readers engaged, you must ensure that the quality of your posts is only the best.
Pay attention to the structure of your posts. Make it interesting and insightful by using subtitles and highlighting important facts. You can use multi-media content like images, videos, GIFs, etc.
Using a different form of content can prove to be very helpful for readability. For instance: Use tables, graphs, lists, etc. wherever required.
Also, external as well as internal linking for swifter user experience is recommended.
In the end, the readability & usability of your post is what matters to the users. Blogs are not just about writing long-form content, presenting your content to engage the user and instigate user action is a skill you would like to master.

Work on your social media presence once you start a blog
Social media is one of the best ways to promote your blog, and for a successful blog, you cannot miss this chance.
So when starting a blog, you should
simultaneously
start working on your social media presence too
. Make sure you have a social handle for your blog for different social media.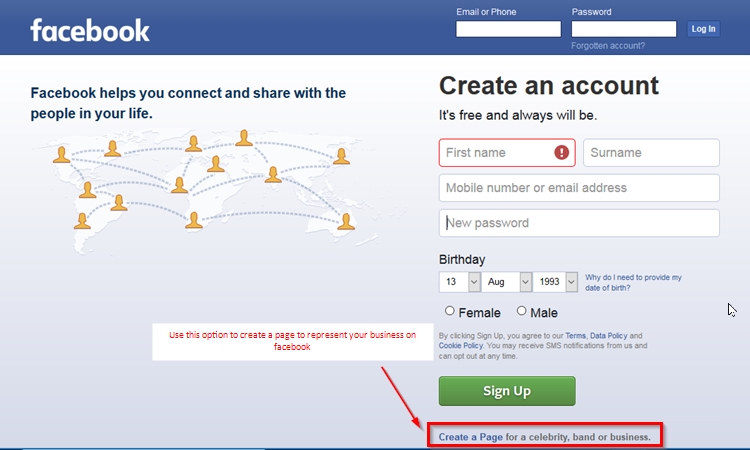 First of all, start by creating a social media profile for your blog.
Sign up at Facebook, Twitter, Instagram, etc.
Secondly
, use different tactics, share posts, pictures, etc. related to your niche and work towards a strong following
.
When you have attracted enough followers, you can start promoting your blog online through various social platforms to reach people with similar interest
.
Properly
and
subtly
plan your call to actions
If you are blogging with an intent in your mind then you must work the way to promote your cause on your website.
The purpose can be anything: promoting your book, promoting a product, or encouraging people to sign up for your online counseling program
.
Whatever your purpose is, you must keep it in your mind all the way through designing, choosing the domain name, etc
.
Only a well-planned call to action can convert your users.
And planning CTA sections means, planning its position on the page, brainstorming catchy headlines, content, etc
.
Investments to start a blog
Like any business, blogging too requires you to invest both: your time and money.
There are many free blogging platforms like WordPress.com, Tumbler, Blogger, etc. These platforms are so easy to use. Just enter your email & register, enter the particulars about your blog, and start writing articles.
So these platforms pretty much let you get started in moments. No need for hosting, domain name or spending time on setups. However, free blog platforms are not very beneficial when it comes to professional blogging.
If you want to start blogging professionally than these platforms are not for you. You need to look for a secure efficient host, a relevant domain name.
Both these are the basic requirements to host any kind of website. Moreover, blog sites are relatively simpler, and the hosts like Bluehost and others offer WordPress optimized hosting for the best performance at an affordable price.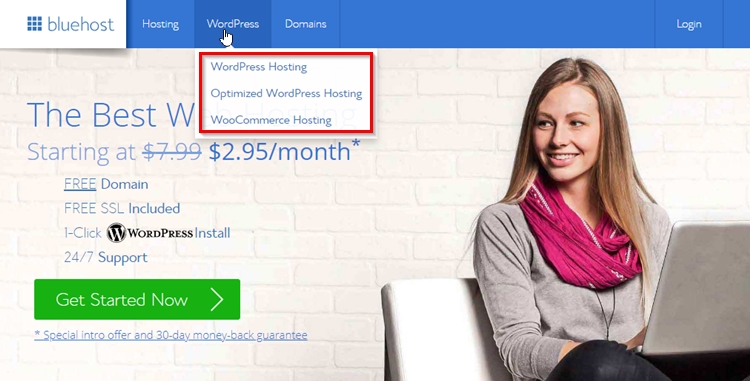 Also, depending on the blog platform you choose (recommended: WordPress), you will need to spend a little more on the theme, etc. However, there are abundant WordPress blog themes available for free. Check out the free blog themes at our WordPress theme store.

Write your own thing. You cannot copy!
Well, I bet you already know that but just a subtle reminder that YOU CAN'T.
Both Google and your users will eventually abandon your site if you can't compose your own content. The main pitfalls of copied content are:
Google penalties: Anyone can easily report copied content to Google. Not just the site owners, but any user can do that.
Negative impact on your readers: What's the point of coming to your site when you are serving them with the same information they read somewhere else.
And why would you even want to copy?
The whole idea of blogging is about creating and providing useful information to your readers.
To actually make your readers happy, you must present your visitors with your own vivid ideas, share your experience and tell an original story.
Copied content does no good to you or your users. If you are allowing multiple writers to submit their posts on your blog, you can use some plagiarism checker to ensure that the content is unique and original. One of the best is Copyscape.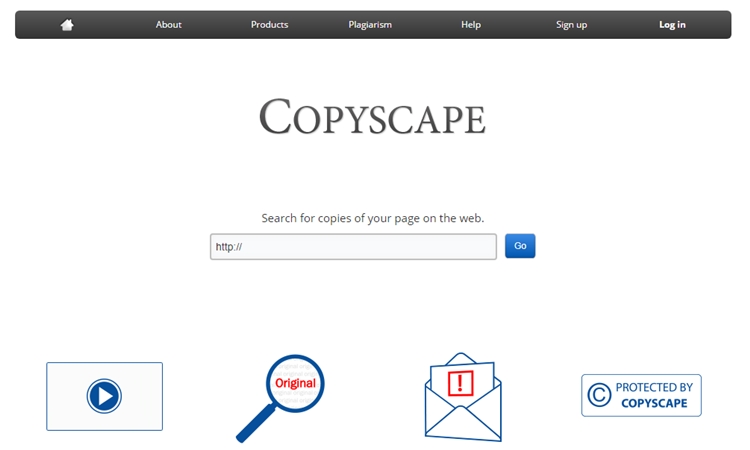 Be prepared for the regular maintenance your blog needs after you start a blog
It's not like once your blog site is up and running, all you are required to do is keep publishing new posts. When you start a blog on WordPress, it becomes easier to maintain since it's already made for blogging.
Websites need maintenance, even blogs do. After a while, your blogs need a little cleanup and maintenance.
The maintenance routines can be different for blogs of a different niche, built on different platforms. Before you start a blog, you must know that blogs, like any other website, needs maintenance.
Blog maintenance typically includes:
Removing the outdated content from your blogs
Replying and managing the comments on the blog
Updating the software used for your blog (WordPress, WordPress theme, plugins)
Backing up your site
Security check for malware
Working on speed optimization
Google Analytics report observation to find out weakness and strengths
Working on the weak sections of your blog
Besides, there are many other routines that you will have to perform, from time to time, to keep your site working flawlessly.
Each of your posts will need keyword research, refreshed efforts
Besides combined efforts for promoting your website as a whole, you must be prepared to spend the research time in each of your posts.
You will be required to, first of all, research and knowledge about the current topic of discussion is your domain. Based on it, you can decide the title of your blog, after evaluating what users want to read, and which topic is easier for you to rank.
Once you decide on what to write, the next research will be about the keyword, the subtopics, etc. Ultimately, writing a single blog post can be considered as an individual project.
And not to forget the promotional tasks for each of your blog, once it is published.

The key is writing for your audience
You must write for your readers, not the search engine, not to beat the competition but just for your readers. This way you will be able to publish content that has some value for the users. Also, present your content in such a way that your visitors enjoy reading on your site.
SEO, keyword optimization, etc. is important, but ultimately it's your readers that matter. Once you have a following of happy readers, it becomes easier to conquer the SEO ranks too. Moreover, you must listen to the user opinions. Let them voice out their opinions through comments and make it a habit to regularly respond to them.
Do everything that can make your blog more interactive and resourceful for your users. Over time, you can even conduct surveys to find out what users like and what they don't about your blog.
Time to start a blog now
The points mentioned above were for absolute beginners who want to share their ideas with readers on the internet and start a blog.
Even though I have tried to cover all the basic points that matter for a beginner, there's always a space for some more knowledge.
If you have any suggestions, tips or tricks, or reference to an article that can help our readers, you can share it with us by leaving a comment below.