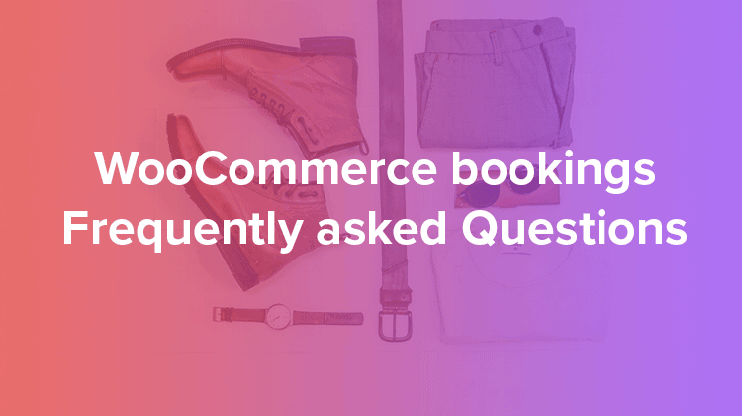 If you are creating an online booking website and confused about where to start and what to do, here are some of the frequently asked questions, answered! So, read on to gain some confidence to start on with your online booking system.
Q – How can you use WooCommerce Bookings for appointments and reservations?
WooCommerce bookings is an eCommerce add-on for WordPress that runs with WooCommerce. It is one of the best alternatives for creating website with booking and appointments.
When you want to create websites with WordPress and WooCommerce, there are multiple plugins and add-ons that you can use to enhance the functionalities of your website.
For instance, if you want to create a photography portfolio, you can use the Envira photo gallery, if you wish to create eCommerce website, you can use WooCommerce and for events management, you can use the Events calendar plugin.
For including booking facility in your website, you can use the WooCommerce bookings plugin. It comes with all the features that you need to create websites enabled with bookings, appointment, and reservations. With the options and settings, you can create different offers and booking packages and let the visitors buy them online. Just install this plugin and create a bookable product. It is intuitive and easy to use.
Q – What is the best platform for creating an Online booking system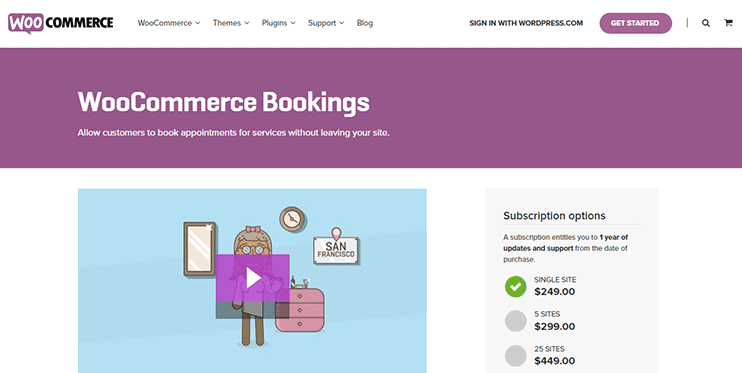 There are many free and premium platforms with tools and plugins that let you create online booking system. Each and every platform come with unique features and different level of ease of use. So while creating an online booking system, you have to be very careful.
However, one of the best option to do so is by using WooCommerce – The best and free eCommerce plugin with WordPress. With the premium plugin WooCommerce Bookings, you can create wonderful online booking systems.
Q – Is WordPress capable of handling and managing booking systems? Is it safe?
WordPress is one of the most comprehensive systems that you can use to create any type of website. Though initially it was developed as a blogging platform, it evolved as one of the most user-friendly platforms to create feature rich websites. WordPress is
The best thing about WordPress is that due to its popularity and large user-community. There is a number of independent community forums where you can find answers and discussions regarding various topics. Moreover, there are these premium plugins and tools that you can use to enhance the functionality of your website.
One of them is WooCommerce that is a powerful eCommerce plugin to turn your basic WordPress website into a full-fledged online shop. The best thing about WooCommerce is that it is highly flexible. With WooCommerce there are various other add-ons designed to work with it. For example – To sell subscriptions, you can use WooCommerce Subscriptions. For bookings, you can use the WooCommerce bookings.
All such plugins are premium plugins crafted with care to ensure the security of your transactions. Just like WooCommerce bookings, they too are efficient and flexible. You can change the settings and use the available options creatively to sell bookings online.
So WordPress, with WooCommerce bookings(or any other plugin for booking) can obviously handle bookings very efficiently. It lets you create websites of your choice and provide the services you desire in an easier way.
Q – Will WooCommerce bookings allow direct/automated booking management?
Yes, WooCommerce bookings is a premium and efficient plugin that allows direct booking, without admin intervention. All the visitors need to do is choose the available dates for their booking and complete the payment process. The booking for unavailable dates won't be processed by the system itself.
Q – What are the common types of websites that you can create that using bookings
WooCommerce bookings is one of those powerful plugins that work with WooCommerce. The WooCommerce plugin itself is a feature rich, and with WooCommerce bookings installed and active, you can create bookable products. So, whether you want to create a website that allows online appointment booking, or a hotel booking website where people can book the room of their choice, you can do it with this plugin.
WooCommerce bookings come with well-planned and organized options. You can create the bookable blocks. You can just set the value of the blocks and allow the customers to have their say on the number of blocks they want to book. Or you can have the bookable block pre-determined period. For example – an appointment for a spa treatment lasts for 2 hours, so you can let the visitors book the fixed blocks of 2 hours. You can also assign the number of blocks It can be hours, days, or months. For instance, you are creating an appointment booking website for your clinic. So you can create a bookable block of hours. When you create it for a resort, you can have a bookable block of days. For booking hostel rooms, it can be of months or years.
Some of the WordPress plugins that can help you create booking websites
Hotel/hostel booking websites
Resort booking website
Online reservations system
Appointment booking system
Q – Where can I find the Best booking WordPress themes?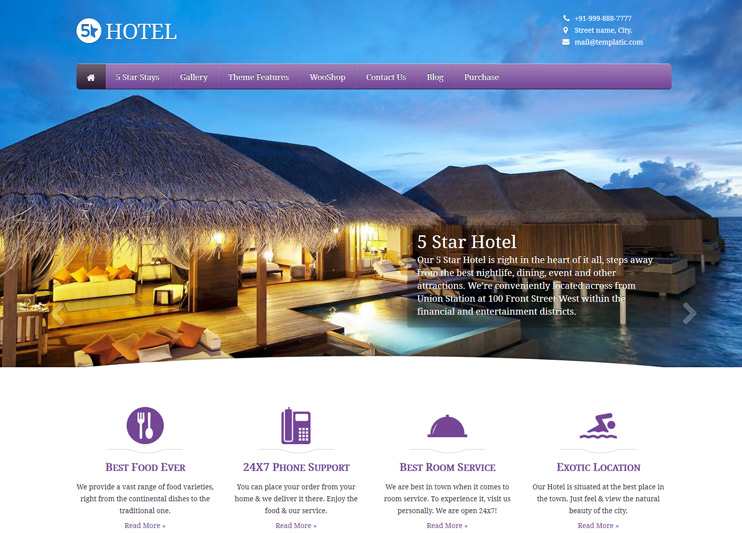 WordPress has emerged as one of the best website builders and so there are lots of people around the world contributing and helping it to grow. A number of theme providers craft free as well as premium WordPress theme providers. These providers create themes with a different purpose and that can be used to create a website with different subjects.
With WordPress being people's favorite platform to create e-commerce websites, there are abundant themes available in the market that you can download and use to create your online booking systems.
Here is a list of the best online booking WordPress themes.
Q – Can I process Cancellation and refund through WooCommerce bookings?
Cancellation and refund are one of the most important features of an online booking website. It is as important as bookings itself. Whenever you create a website that allows online booking, you must allow cancellation service. Even though it is not a compulsory feature, allowing cancellation and refund is a good practice. Most of the online booking services allow that and it will mostly work in your favor.
Creating bookings website with cancellation feature is easy too. Most of the best booking plugins for WordPress allows you to choose if you want the booking to be canceled or not. You can also set parameters as to how long before the booking date, can the customers cancel it.
With WooCommerce bookings, you can do that very easily. You can decide for each and every bookable product if it is cancel-able or not!
Conclusion
Here are some of the questions that users mostly have regarding WooCommerce bookings. This plugin makes it so smooth to create an online booking system. However, if you ever feel more confused about the subject, you can refer the WooCommerce bookings documentation for more information.

Signup now to get our discount – only $2.95/month.
Templatic Themes fans get a special low price when hosting with Bluehost. Click here to signup and claim this deal.