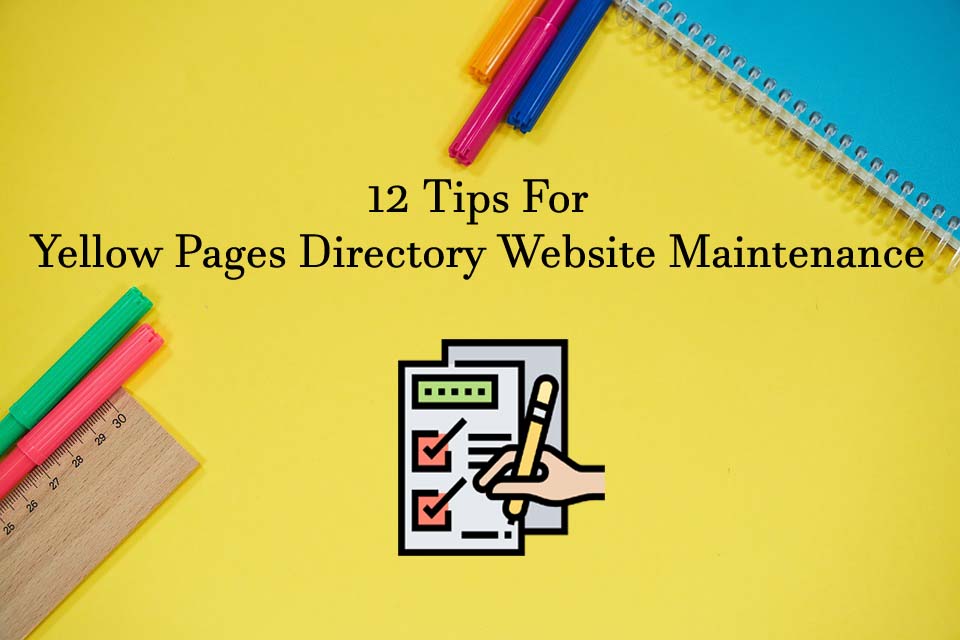 You have your Yellow pages website online, here are the regular Yellow Pages Directory Website Maintenance routines to keep your site functioning well enough.
A yellow pages website is feature packed and not as simple as a business or blog website.
Therefore, maintaining a yellow page website, will also require more efforts. But at initial stage, you may not be sure of what are the routine tasks to keep your yellow page site going effectively.
Here are the top 12 maintenance routines that you must follow at the initial stage, to effectively manage and maintain your yellow pages website.
Keeping your site Regularly Updated
Your yellow pages website is not a simple business website with static pages. It will lose it's meaning if it is not regularly updated with new yellow pages listings and content.
To keep up with the other yellow pages websites, you need to keep it updated.
Remove unnecessary content
As much as it is important to add new content into your website, it is also important to remove the old, unnecessary content for your site.
You have to regularly check for unnecessary, old content that doesn't add value to your website and get rid of it. This frees your website's memories & improves user experience.
Spam protection
You have to make sure that spammers don't fill up your website with unnecessary data. Since there are different tools that can help you protect your website from spam, you can easily integrate such feature into your website and create a spam free website.
Database optimization
Over time, with constantly adding and removing data from the database, your database get fragmented. Also, a database cleanup will help you remove unnecessary tables for the deleted features, pages, etc. removed.
Database optimization helps you reduce the database memory space which in turn results into efficient query fetching. Therefore database optimization also helps you improve the performance of your website.
Image optimization
A yellow pages website generally has many images for each listing. Un-Optimized images may alarmingly slow down your website.
Well, if you are using WordPress for your Yellow Pages website, you can use one of the image optimizer plugin to speed up your website.
Remove unnecessary plugins
Too many plugins on your website, can slow it down. The plugins can even conflict with each other and cause problems on your site. Therefore, don't stack up your website with too many unnecessary plugins. And keep a watch on your site, and remove unnecessary plugins, by deleting them.
Also, whenever installing plugins on your website, you must make sure that plugin is from reliable source. Plugins from unreliable sources can cause security problems on your site.
SEO audits
To survive the competition, you need to make sure that your website ranks well on the search engine. Search engine optimization helps you gain organic traffic on your site.
Regular SEO audits to make sure your pages are SEO friendly and the visibility of your site for different keywords is must for a successful yellow pages website.
Managing categories
Categories play a very important role on your yellow pages website. The categories can help your visitors easily find the yellow page listing of your choice.
The yellow pages websites are information rich and you should take care that the listings are differentiated by proper categorization.
Trend/competition observation
Your yellow pages directory website maintenance routines should also include trend observation and competitive analysis to make sure you are not lagging behind.
Competitive analysis helps you find out the areas where you need to work on your site and thereby make sure
Backup and Security
Never forget to regularly backup your website. The backups are life saver for your website in times of emergency. Even when your website is under repairs, you can restore one of the latest backups meanwhile.
There are many backup plugins, and also security plugins that can help you with the security of your website. You can use tools for 2 factor Authentication on your site, reCaptcha, anti-brute force, anti-malware security features into your site.
Page Speed analysis
Speed is one of the most important factor for SEO as well as user experience. Sometimes the culprit of poor performance of your website is the slow page loading.
A tool like Google Page Speed insights can help you find out if the page speed is good enough. It also helps you find out what elements of the page are slowing down your website.
Google Analytics
Google Analytics is a very efficient tool that helps you track the traffic source and rate on your website. It's a must have for any type of website.
For your WordPress based Yellow Pages websites, you can configure Google Analytics and find out the performance of individual pages on your site.
Wrapping Up
The ones mentioned in this article are the basic maintenance routines for your Yellow Pages Directory WordPress website.
Along with those, you must also try to promote and advertise your Yellow Pages website to make sure that your yellow pages website gets the deserved traction.