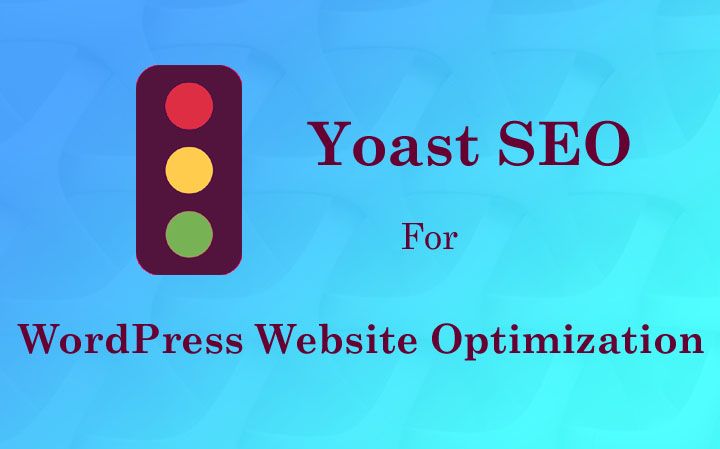 Not everyone is an SEO expert, and but good for us that there are SEO tools to help.
WordPress is an SEO friendly CMS, you can start with WordPress to create brilliant websites optimized for Search Engine. But what about the content you add the individual pages that you create?
There has to be some way you can assure that the content & pages you are creating on your WordPress websites are optimized for SEO and have the chances to rank among the competitors.
The WordPress SEO plugins are built for this purpose. And Yoast is one of the best and most popular WordPress SEO plugins.
In this article, we will discover what Yoast SEO does and how it can help you to optimize your content and pages.
An Introduction to Yoast SEO
There are different SEO plugins with diverse features. Yoast SEO comes with one of the widest set of features among them and lets you manage the SEO of your website easily.
The features range from content management, keyword optimization, Internal linking, readability analysis, etc. All these features ultimately contribute to optimizing your website.
Yoast SEO lets you work at a page level, to specify the keyword, and see that the content you entered is in accordance with the keyword you choose. Not just that, it lets you many other things, check if your copy is not too difficult to read, if you are not using a keyword that you have already used before, check if the images have alt tags, etc.
Yoast SEO has a free and premium version that you can easily install in your website just like any other WordPress plugin. We have been using Yoast SEO for our blogs and tried both – the free as well as the premium version. In a later section in this post, we will see what extra features you get with the Yoast SEO premium subscription.
Yoast SEO plugin can be downloaded for free from the WordPress plugin respository. It has more than 5 million active installs that clearly shows how popular it is among WordPress users.

Yoast SEO features
The Yoast SEO Premium as well as the free version of the plugin is a bundle of many useful SEO features. These features are a gift for anyone who wants to blog but is not very sure about how to optimize the blogposts.
These features range from keyword optimization, to image alt tag, to the meta description and slug management. Yoast SEO lets you check that the content you write checks the basics of SEO and is in accordance with it.
The beauty of this plugin is – it is very easy to use. The suggestions by Yoast SEO are simple. It will tell you to "include the main keyword in the first paragraph of your copy", which you can easily do. This is increase the relevance of the keyword for your copy and assures the readers that the topic they have been looking for will be covered in the article.
Even the free version of this plugin has the feature of letting you develop XML Sitemaps functionality, set breadcrumbs, canonical URLs to avoid duplicate content, and setting the template for title as well as meta description for consistency among the pages/posts.
The following are some of the most important features of Yoast SEO plugin:

1. Optimize your page for the keyword
The first step in writing an SEO based copy is deciding the keyword you want to go after. You can use different keyword research tools to find out a keyword to target with your content.
Once you install Yoast SEO, it will add a small section at the end of your WordPress page (below your text editor) to help you optimize your website.
Here, you can add the focus keywords and it's synonyms. Yoast SEO insists on using different words closer to your main keyword so that your copy sounds legit. Your keyword will naturally be repeated in your page, but besides that using different synonyms makes it easy for the readers to understand.
Lets you enter the main keyword
Optimize the page for it
Helps you ascertain that the keyphrase is used in somewhere in the subheadings too
Check the density of the keyphrase
Lets you enter the synonyms (LSI)
Checks keyphrase in the title and that its position
Helps you see that the keyphrase is included in the meta description too
Checks keyphrase in the slug
Sees that the keyphrase is distributed evenly in your content
Makes sure that the keyword is never used before in your website. So, two of your pages don't compete with each other
Lets you optimize your page for more than one keyword [Yoast SEO Premium Feature]
2. Related Key Phrases
We have seen that Yoast SEO allows you submitting the focus keyword and it's synonyms to help you create a copy that is both – easy and natural to read by humans, as well as by search engines.
But besides that, it also lets you add related key phrases. Here, you can add keywords that are not necessarily the synonyms for your focus keywords. In fact, they are the words that are loosely connected to your focus keyword.
For example: Your main keyword is "Directory theme", its synonyms are "listing based theme", "Directory template", etc.
But the related key phrase can be words like: "make money online", "Map based website", etc.
These are the words not directly related, or specifically related to our keyword "Directory theme", but those are the words that you will most probably talk about, when talking about a directory theme.
However, related key phrases aren't treated as one of the major points to decide the SEO status of your copy by Yoast. But it is advisable to add and optimize your copy to make it more comprehensive and see that you don't miss the points.

3. Readability Analysis
One of the most interesting aspects of Yoast SEO is that it beautifully lets you analyze how reader-friendly your page/post is.
Over the years, I have come to realize that everyone out there appreciates good readability instead of using difficult words to make your article look sophisticated. It doesn't just work that way!
The simpler the better. What matters at the end of the day is – the depth of your content, and how it is  delivered without stressing out the readers.
Yoast lets you manage the same. It checks the content structure and rates the readability of your page/post on the basis of many different factors.
Makes sure that the content is properly distributed under the sub-headings.
Checks if you are not using passive voice more than a limited percentage. It makes your copy difficult to read
Detects occurrence of consecutive sentences to make sure there is variety in the content.
Helps you ensure that your paragraphs are not too long, which can make your informative content seem boring.
Too long sentences are bad too. Readability analysis helps you detect if you are using too many too long sentences.
The advanced features of Yoast SEO premium even recognizes word forms and allows you to optimize your content for related key phrases too.
There are different tools like Hemingway editor, readable, etc. that lets you check the readability of your site. But Yoast's readability analysis brings in those features right into your WordPress editor. No need to take your content to and fro to check it's readability, or risk the formatting by using some other app/online service to check the readability of your content.

4. Images on the blog
There are two main things you should take care about the images on your website that affect it's SEO.
The size of image
The alt tag for the images
Yoast SEO lets you check the alt tag for the images. First of all, it insists on adding images on your page. This doesn't just make your content interesting and easy to process, but is also good for the SEO.

Once you add images, you have to make sure that the alt tag is applied and it includes the key phrase. If you fail to do so, Yoast SEO will notify you.

Note: Also make sure that the images that you use on your copy, are optimized. Images that are not optimized  can slow down your website which results in bad SEO score. Here's a list of best image optimization plugins for WordPress.

Yoast SEO Premium Features
Yoast SEO, for free has the SEO features that helps you take care of your content on your website. While Yoast SEO premium comes with some advanced features to further manage your site's SEO structure.
The following are the Yoast SEO premium features that for an advanced level optimization of your website.

1) Redirection Manager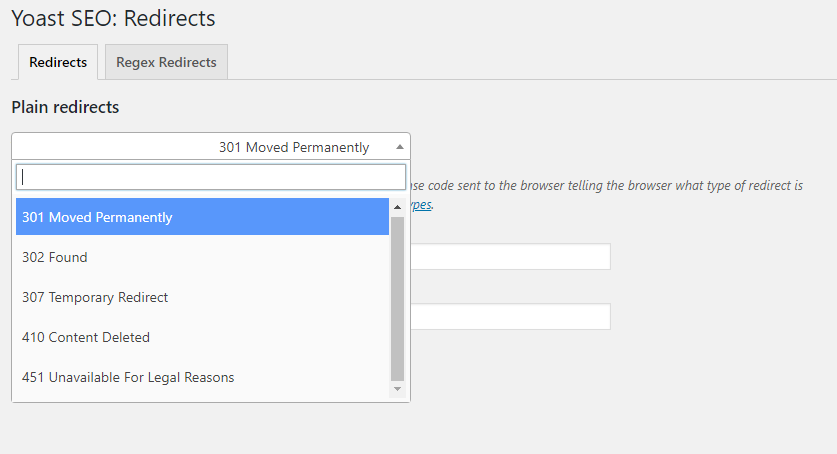 Yoast SEO premium comes with a redirect manager that eliminates the requirement of programmers to help you with redirection on your website.
Because when constantly updating your website, you will definitely need a redirection manager, or help of programmer, when you delete a page, change the slug, etc.

With Yoast SEO premium, will automatically take care of the redirection when you change a slug.   It also lets you add a redirect, or update the automatically added redirected URLs as per your requirements.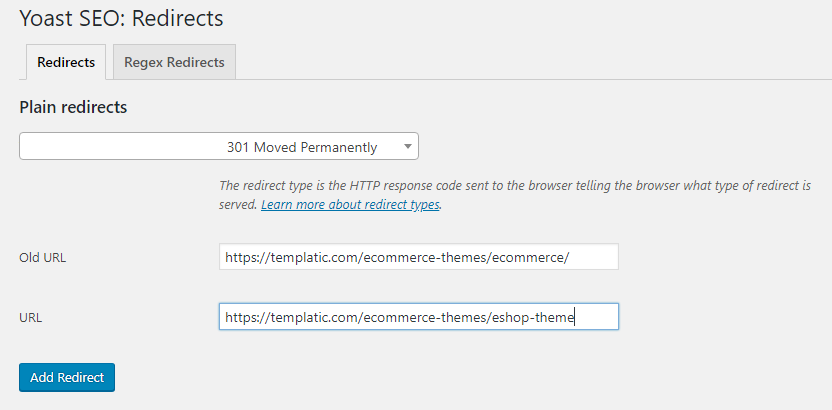 Redirect Manager by Yoast SEO Premium

2) Internal Linking Suggestions
Links on your page are  important. Both internal and external links on your page matter a lot.
Yoast SEO premium will show you a dialog of the related articles on your website so that you can interlink them. It is always a good practice to interlink the posts/pages on your website. This makes finding the content easy.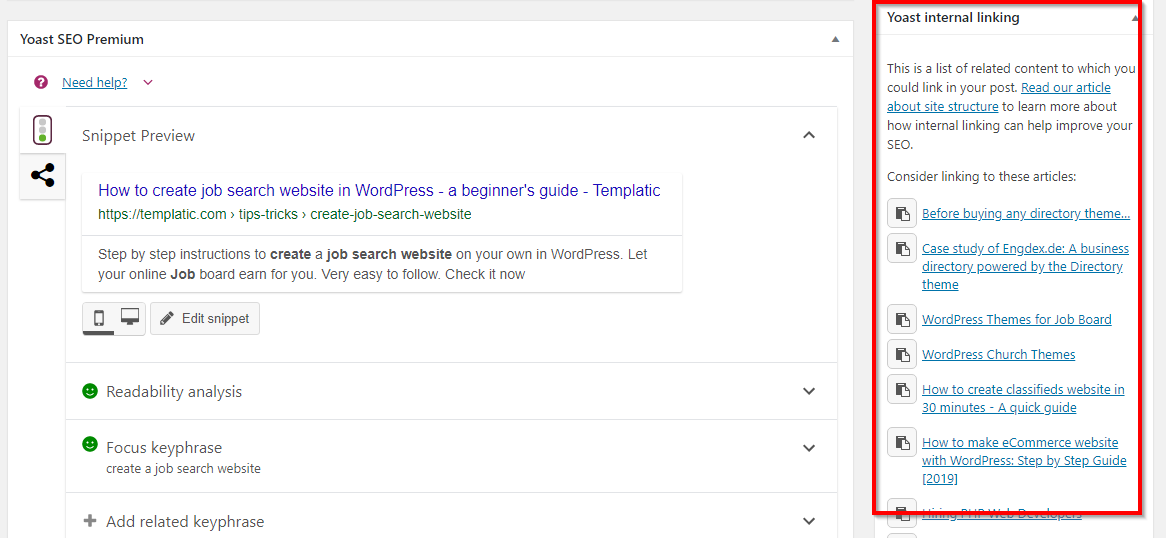 Good interlinking can help you in many ways. It will make your existing post/page more relevant to your visitors by providing them the links to other related articles. Since the interlinked articles are inter-related, they will certainly prove to be useful to your readers.
So, properly interlinked articles will not only help SEO but can subsequently help you display more of your content to your readers.
Yoast SEO premium will come up with a smart list of articles, that you would probably want to include into your post, making it easier to interlink on your website.

3) Social previews
We are all aware of the role of social media in delivering the ideas and message to a large group of people. This is why, social media plays a major role in SEO as well as digital marketing.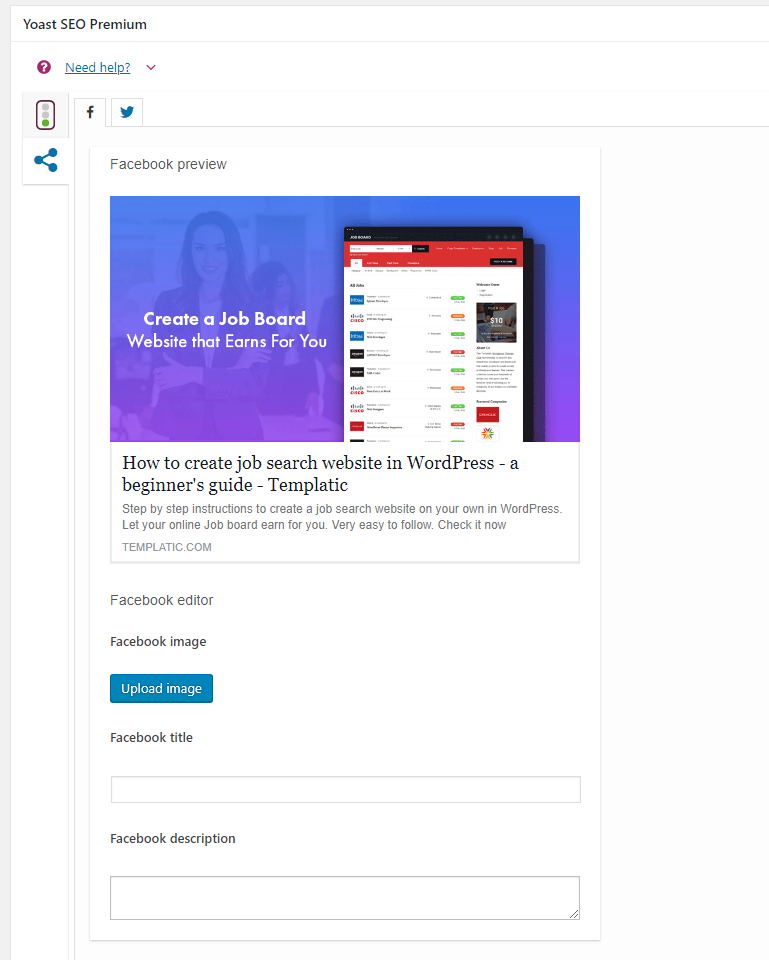 With Yoast SEO premium, you can prepare your post/blog for social media sharing. You can upload an image, specify a title and even describe your post with a short description.

4) Stale Cornerstone Content filter
You can mark your page/article as cornerstone content. The cornerstone content is the most important content on your website. So you have to make sure it is updated regularly to keep it current and up to date.

Yoast SEO premium will remind you to do so with it's Stale cornerstone content filter. It helps you notice such content and check it at least twice a year.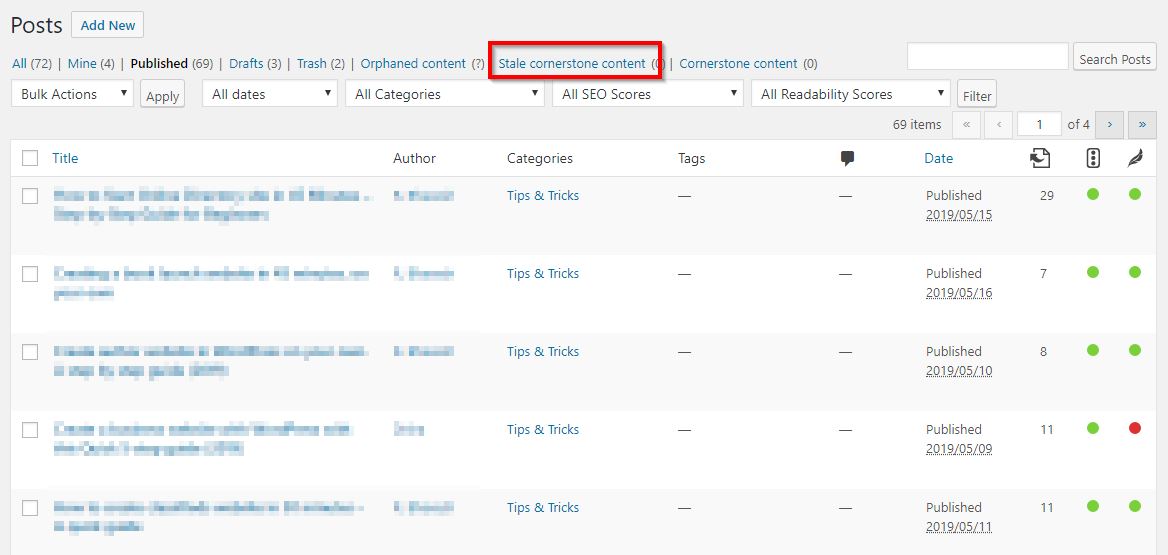 5) Advanced context detection: Similar Word Forms in your post
One of the smart features of Yoast SEO is that it allows you optimize your page with proper utilization and placement of synonyms, related key phrases and word forms.
This will help you build a content that becomes more relevant due to the use of different synonyms and word forms, and adding related key phrases. Not just it helps you detect these words, it also helps you make sure that they are distributed well in your page.

6) Orphaned content
Google mostly rates websites for their content. But what if you have content on your website, that is not contributing to your site in any ways.
Over time, when you repeatedly update and change the content, content structure of your website, there are chances of accumulation of orphaned content.
This is simply the post/pages, that are not linked to any other page/post on your website, which makes it impossible for the visitors as well as Google to find it on your website.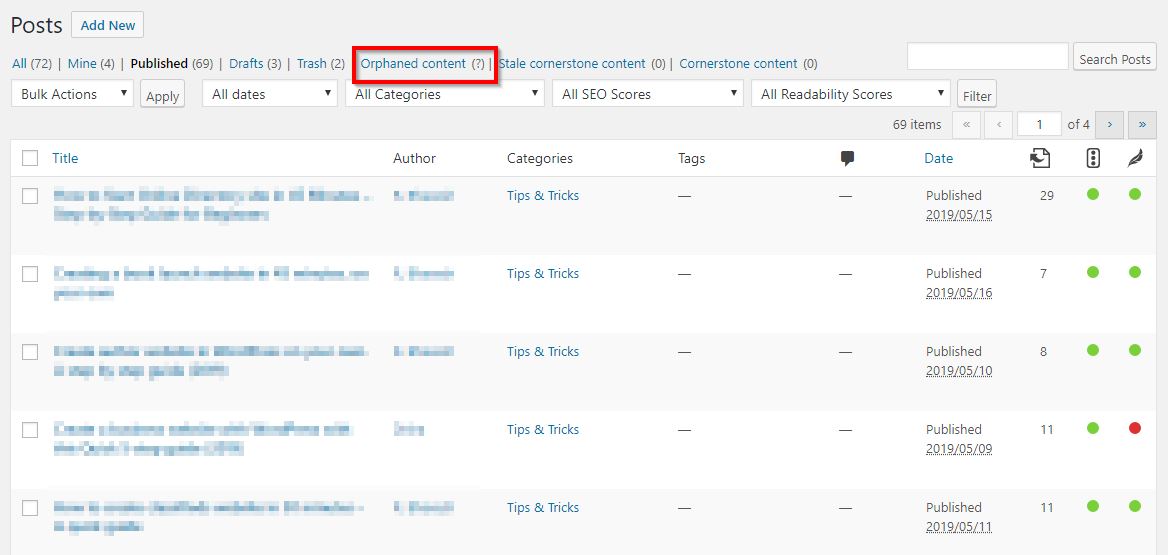 Yoast SEO premium finds such pages for you, so that you can use this content for your website.

7) Support
Yoast SEO premium promises you with a 24/7 support if you ever run into a problem.
Besides there are other features that allows you to use the plugin without seeing advertisements and export the keywords.
They will also show a list of 5 phrases that you use repeatedly in your page. This helps you make sure that these phrases are somehow related to your focus keyword so that it helps making your content relevant.
Final Words
SEO is a composed of different elements that contribute to the overall ranks of your website. There are many factors involved.
Yoast SEO helps you particularly with content optimization and on page SEO. Therefore, it is absolutely recommended for Pro bloggers as well as beginners.