Creating an Online Classified website?Here is the list of some of the best WordPress classified themes. They have wonderful designs, amazing features, flexible options and unlimited uses.
These are Classified themes and they obviously have the basic inbuilt feature of posting and displaying ads. Besides, they all come with their unique features and customization options.
So, if you are searching for a best-classified theme of 2018 to start a classified website, we have a list of best options for you. Check it out now!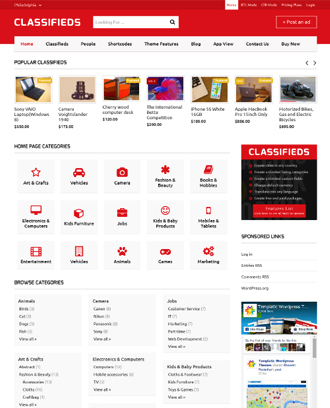 Want to create a classifieds website on your own?
Here's a step by step tutorial on how you can use WordPress to create your dream classified website. From registering a omain to site maintenance.
We've got you covered with some actionable tips on how to create and maintain your ad posting portal.
Learn with the guide or watch the video now.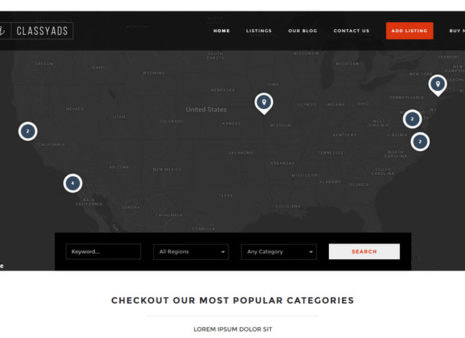 ClassyAds - Classifieds Directory WordPress Theme
ClassyAds is a modern Classified listing WordPress theme for 2018. With the easy options and flexibility, you can create a desired classified website in minutes.
For eCommerce features, the theme integrates with WooCommerce. It also supports WP Job Manager. So the theme can be used to sell commodities as well as job listings too.  For location awareness, the theme integrates with the google maps.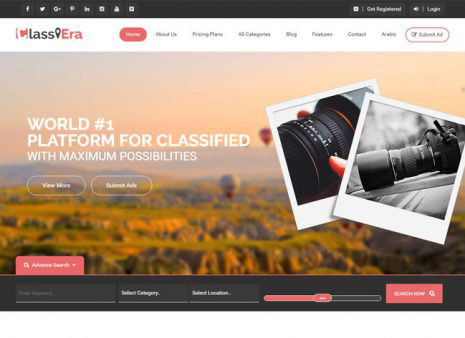 Classiera – Classified Ads WordPress Theme
Classiera is one of the best classified themes for WordPress to create outstanding Classifieds WordPress site. It allows you to choose from 6 homepage layouts.
The theme is tightly integrated with Google Maps. This is a complete WordPress classified listing theme. A classiera website supports video ads too.
For the visitor's experience, this theme comes with an advanced search bar. Classiera comes with PayPal integration for accepting payments through your website. It is SEO optimized.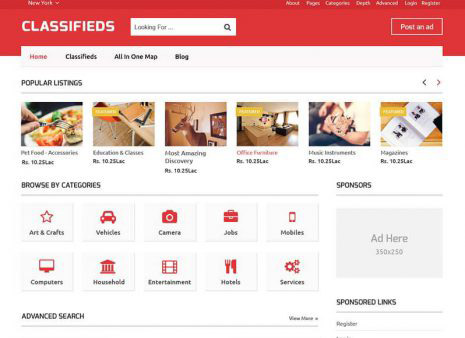 If you want to create a complete classifieds directory website where people can post ads as well as view advertisements, here's the solution.
Templatic's classifieds WordPress theme is, in fact, a complete WordPress directory theme portal in minutes. In addition to that, it is so easy to use that even if you've never used WordPress, you will be able to create and manage your own ad posting WordPress website. 
The theme helps you earn using the monetization options. You can change colors, customize and make it look and work just the way you want.
More Details / Download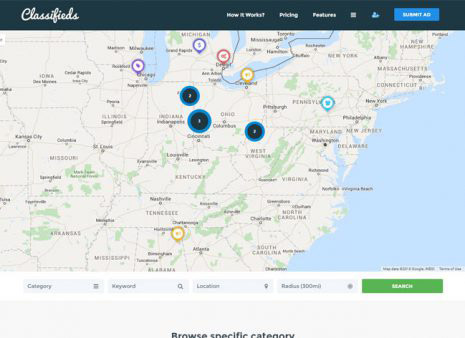 Classifieds is a comprehensive and one of the best wordpress classified themes. With all the features and options, you can create a website of your choice easily.
Classifieds is performance optimized to ensure that the speed is not disturbed with even thousands of ads. This theme supports geolocation search features. The ads will be posted with auto-expiration dates.
The theme also supports category wise custom map markers. Classifieds is WooCommerce ready and supports multi-currency. It also supports RTL languages.
More Details / Download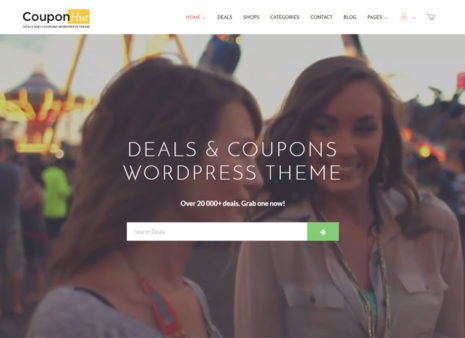 CouponHut - Coupons & Deals WordPress Theme
Coupon hut is a coupon and deals WordPress theme. It has a minimal and very clean design.
The theme comes with an inbuilt page builder. With this theme, you can create 2 type of deals - Coupon and Discount.
The theme has the facility of registration for the members. the theme comes with pre-designed page templates you can use directly in your website. For minor CSS changes, you can also use the custom CSS editor. Coupon hut is SEO optimized too.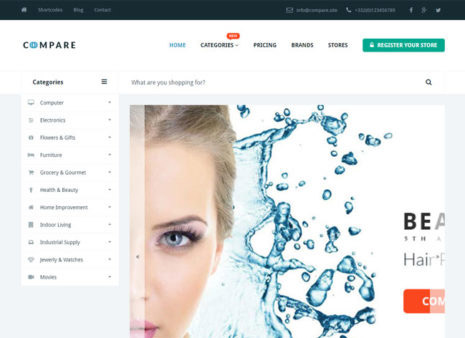 Price Compare - Price Comparison WordPress Theme
You can use this theme to create a website that compares various products. The theme has a beautiful design that looks great on every device.
The Price Compare theme is performance and speed optimized. You can make money through this theme by creating an affiliate program. Price Compare comes with an inbuilt monetization system.
With PayPal, Stripe and other payment options, you can enable monetary transactions. So, the theme offers ajax search option. Price compare can also be used to create a website in RTL mode. It is SEO optimized too.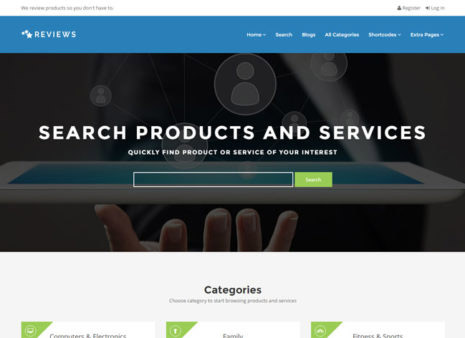 Reviews - Products And Services Review WP Theme
Review is not exactly a classified theme but it is a product review theme that can be used as a classified website with the eCommerce features.
The theme can be used to create a website in 2018, that compares and reviews a product. It can also show where the product can be bought from. So, before buying a product, the users can refer its feedback on your website.
It comes with custom widgets and page templates.  The theme have easy table options, to let you create pricing tables. The theme can be used to create a website in RTL language too.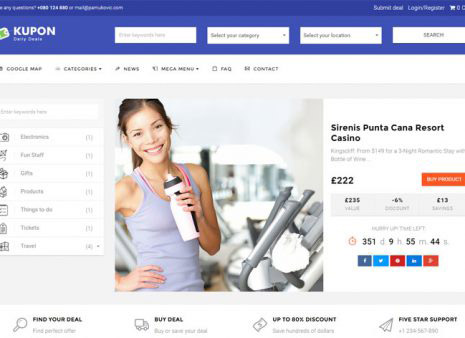 Group Buying Theme Daily Deals Marketplace - KUPON
Kupon Group buying WordPress theme. It is beautifully designed and has easy options to create a website of your choice.
Without any external plugin need, the theme can be used to create a classified website. It can also be used to create daily deals, coupon/Voucher, or a shop website.
It allows front end users to submit their deals and even edit it. For creating PDF vouchers, you have to install  The theme integrates with the WooCommerce plugin, to let you have the ecommerce features in your theme. The theme comes with the Flexible Redux framework options.
You may also be interested in these articles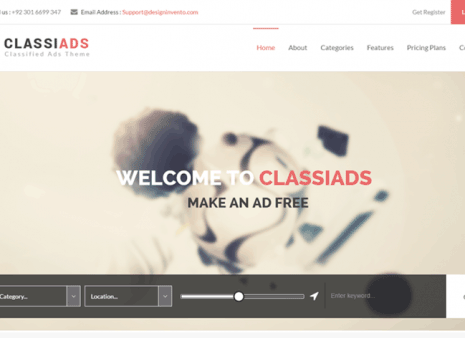 Classiads - Classified Ads WordPress Theme
Classiads is one of the elegant and flexible classified theme for WordPress. The theme has a clean and modern look and easy options to create your website. It supports GeoLocation.
There are two homepage versions of the theme. Classiads has an intuitive and powerful theme options panel. Create membership plans on your website.
This theme also allows front end submission listing. If you want to start forums, you can use the bbPress plugin with this theme. For accepting payments on your website, PayPal can be integrated. Classiads is SEO friendly too.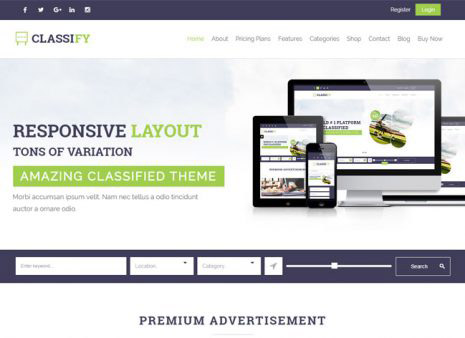 Classify is a feature rich Classified WordPress theme. It comes with GeoLocation support and unlimited customization options.
Classify comes with different homepage styles. It supports video ads. The theme hasPayPall built in. ForeCommercee features, you can use the WooCommerce plugin.
With Classify, you can create membership plans and allow front end submission of ads. This theme has an inbuilt email alert facility. The code is clean and well commented, so you can  extend or update it easily.
More Details / Download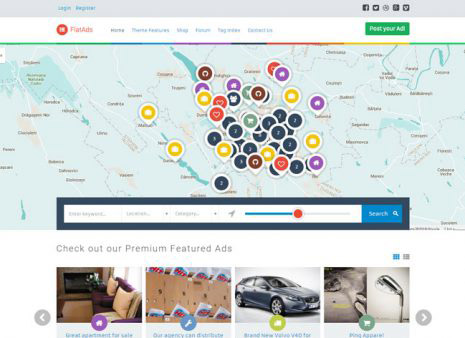 FlatAds - Classified Ad Listing Theme
Flat Ads is a directory classified theme. Here classified ads are added as a directory listing.
It tightly integrates with Google maps and GeoLocation facilities. The theme supports custom fields for categories and subcategories.  With the help of bbPress plugin, you can start a forum on your site.
The theme is also compatible with the WooCommerce plugin. For facilitating monetary transactions in the theme, you have inbuilt PayPal. Flat Ads is SEO optimized. To make the changes in the theme, you have an advanced and powerful theme options panel.
Even though this is not a ready to use Classifieds website template, you might like to opt for it if you want a fully flexible classifieds directory.
The theme allows you to create custom post types with unique fields, to accept submissions under different categories. Directory and its set of child themes and add ons, provide you all the flexibility to create a niche specific classifieds website or general purpose classifieds website.
More Details / Download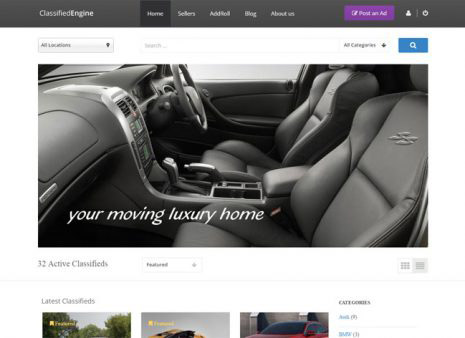 Classified Engine comes with beautiful design and amazing features. The theme is designed to let you monetize by posting ads on your classifieds website.
You can create your pricing plans with time duration. The users can post a review, share the ad or directly send an inquiry message. The theme allows map on the website. For changing the look of the theme there are easy and intuitive options.
Some of the options are available at the front end itself. The theme comes with PayPal integrated and supports some other popular payment gateways too. Classified Engine is SEO optimized.
More Details / Download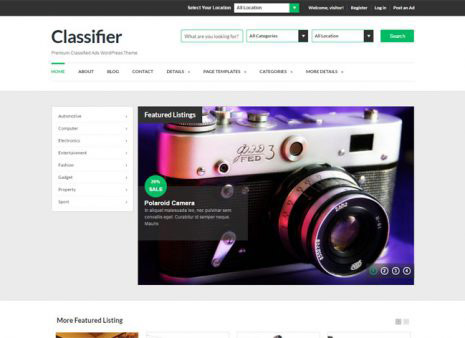 Classifier is a WordPress Classified theme to let you create a feature rich and fully monetized classifieds website. It has a clean design and vast customization options.
With the membership options, you can create and display membership packages. The theme can be used for free or paid classified ad submission. The Ad detail page is well designed and comprehensive.
For enabling the social network on your website, the theme is BuddyPress compatible. The theme comes with some page templates.The theme takes care of SEO management too.
More Details / Download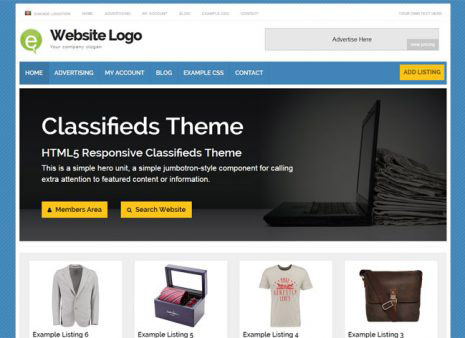 WordPress Classifieds theme is a feature packed theme to let you create a classified website. It is flexible and comes with easy and vast administration options.
You have more than 30 child themes with different designs to choose from. You can built your custom registration forms with custom fields. With this theme, you can restrict the site content and allow access to the determined membership level only.
There are specific areas for advertisements that you can use for making money. The theme also has good features to create and print receipts. WordPress Classifieds theme is compatible with most of the popular WordPress plugins.
More Details / Download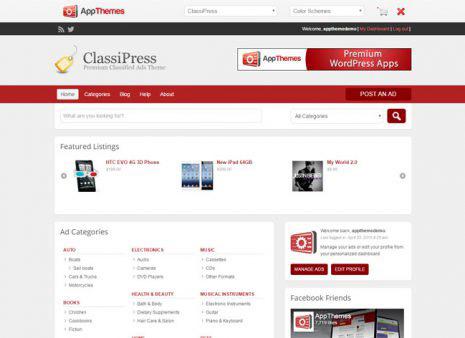 ClassiPress - Classifieds WordPress theme
ClassiPress is one of the best WordPress classified themes. It comes with many monetization options. It is a cleanly designed theme.
The homepage of the theme is highly customizable. With easy options, create the pricing plans. You can also customize the submission form with the custom fields. The theme allows you to create membership packages too.
The search option in the theme included search autocomplete and suggestions.  The code of the theme is clean and can be easily extended. ClassiPress is SEO optimized.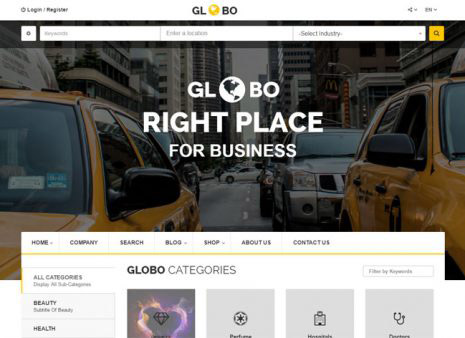 Globo - Directory Listings WordPress Theme
Globo is a directory listing WordPress theme and amazing WordPress classified listing theme for 2018.
It comes with Stripe and Braintree and PayPal, and supports all the credit cards. The theme comes with a flexible Redux options framework panel. It also comes with a frontend dashboard for managing listings without visiting backend.
Create subscription plans and allow your visitors to subscribe them. It also supports recurring payments. Globo also supports WooCommerce.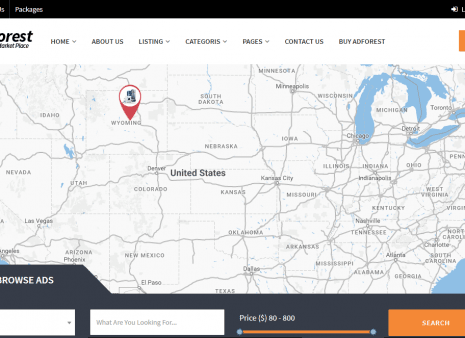 AdForest - Creative Classifieds WordPress
AdForest Premium Classifieds Ads theme to start off your online classifieds business. With this theme, you have enough customization options.
This theme is eCommerce ready with WooCommerce compatibility. It comes with multiple customization options and comes with classifieds icons that you can use to decorate your website and make it look absolutely professional and tailor made. Besides, it includes a powerful search functionality.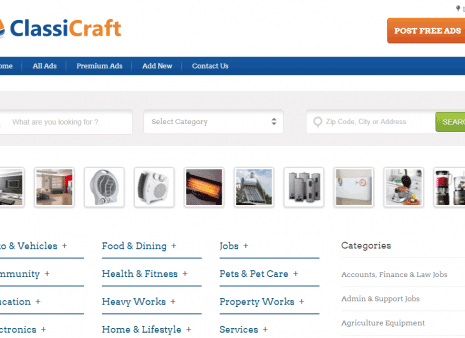 Classicraft - WordPress Classifieds theme
Classicraft is a WordPress classifieds website template to start your own online marketplace. Create a multipurpose Classified website with this theme and generate some passive income.
The theme comes with multiple monetization options. Use your creativity with the inbuilt features to improve the usability of your website. With the inbuilt payment processing systems, you can start accepting payment right away.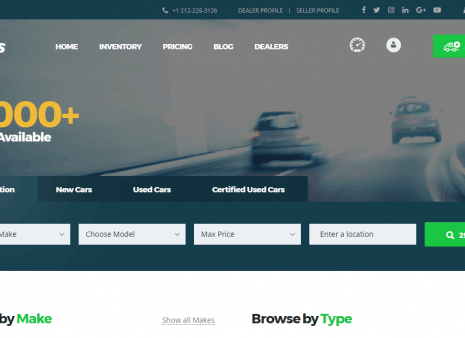 Motors - Multipurpose Classifieds template
This is a classifieds website template that can be used for various niches. It can even perform as a fully fledged multi purpose Classifieds website.
You can easily integrate PayPal into your website and start accepting payments. The theme is feature rich. With all those vast and varied features, the theme is still really easy to use.
Conclusion
We hope this list helps you find your best WordPress classified listing themes for 2018. Customize it and create a blockbuster WordPress classified website.
With these Classified WordPress theme, you have multiple ways to start making money online. So, grab your favorite theme and start creating your website now!