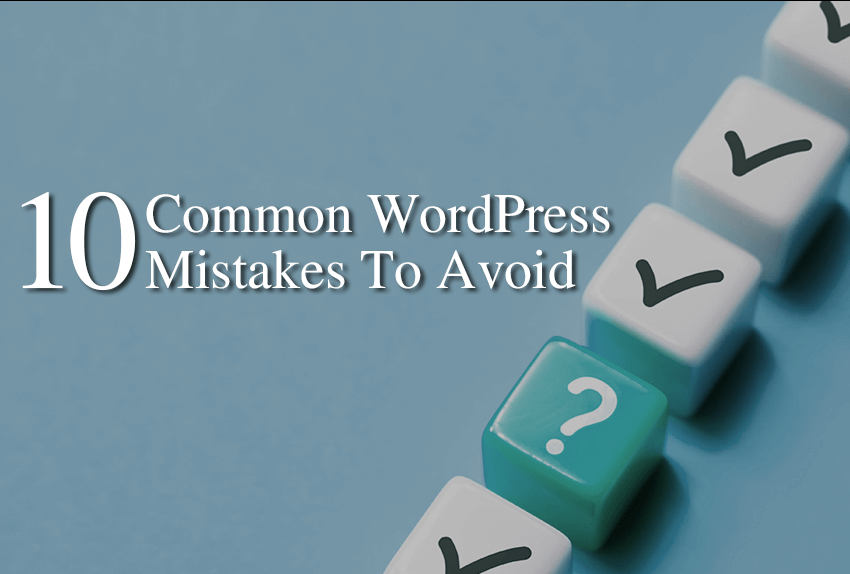 To keep your website healthy and protected against hackers, this article covers the top 10 common WordPress mistakes to avoid.
Millions of websites use WordPress since it's very easy to use and offers endless expansion opportunities with plugins. This makes it the most popular CMS system in the world by far. If you were to look at the percentage, almost 50% of all world websites are based on WordPress. Since this popular platform has a great user interface and a lot of customization options through plugins, it is a very common choice for both beginners and experienced users. Due to its popularity, WordPress is also the target of many hackers. You can avoid some of the common mistakes below to protect your website and to also make it faster.
As with any other platform, there are common mistakes that WordPress users make which can significantly lower a website's performance, security. That's why we decided today to write about 10 common WordPress to avoid by doing very simple things.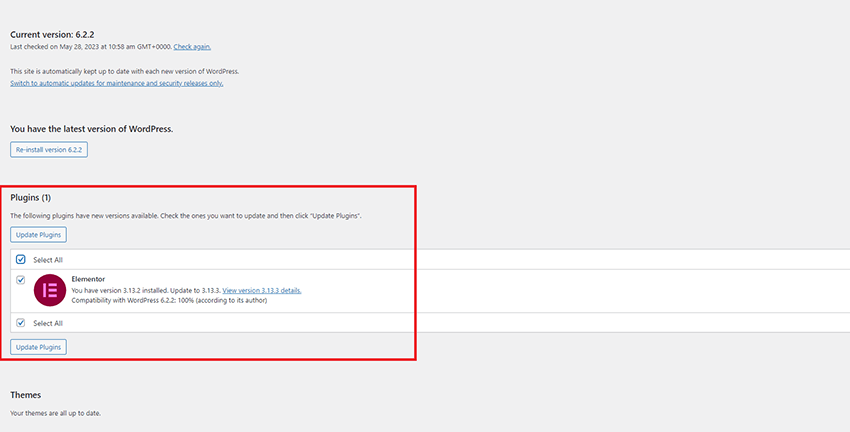 1. Not updating WordPress when you should
One of the most common mistakes that WordPress users make is ignoring WordPress updates (on time). Updating the WordPress core, themes and plugins is a key factor in maintaining the security of our website. Most often, updates address certain vulnerabilities, bug fixes, and make new functionality. If you do not update your WordPress files, there is a chance that your website will become an easy target for hackers. This is because runs on WordPress core, theme or plugins code that has known vulnerabilities and you have not updated your website. Before starting the update you should check if your theme and plugins are compatible with the version of WordPress you intend to update to.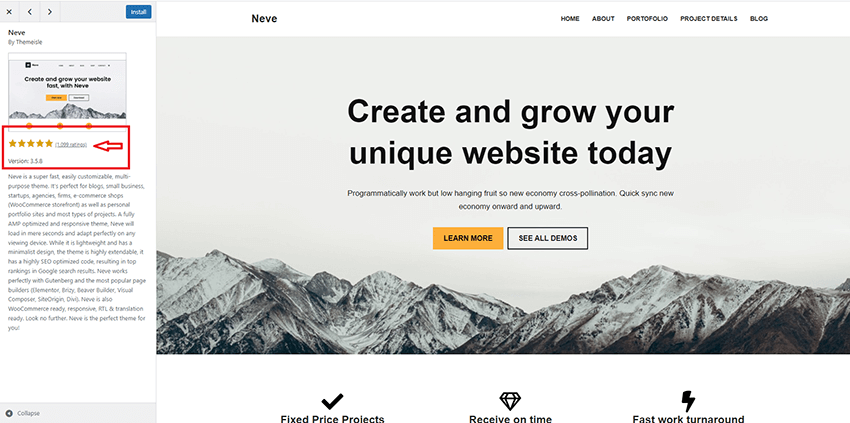 2. Not choosing a good theme or plugin
This is another common mistake made by mostly inexperienced users. Choosing a bad theme and plugins can have disastrous consequences for your website. Besides having slow loading times, compatibility issues and bad user experience, bad themes and plugins are a big security issue.
The best thing to avoid issues is to always to look at user reviews, ratings, check if there are regular updates before installing a theme or plugin. Choose themes and plugins that have been tested, fit your design ideas, have regular updates and good customer support. Always make sure that any theme or plugin you install or even try has a decent number of active installs. Only this way will you have a functional website in the long term.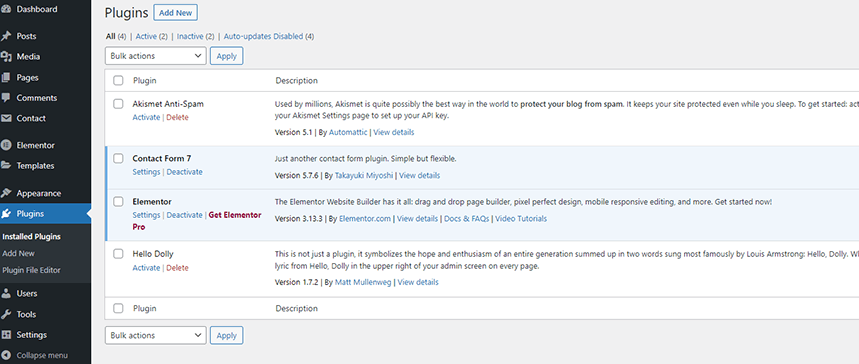 3. Installing too many plugins
Another common mistake made by WordPress administrators is installing a large number of plugins. We all use plugins and we need them to extend the functionality of our website, but installing too many plugins will slow down a website more than you think. Having too many plugin might also cause conflicts with each other and breaking your website or causing certain function to stop working. Each plugin you install consumes a certain amount of hosting resources and thus slows down your website and spoils the user experience. In addition, there is always a chance that one of those plugins is vulnerable and you open the possibility that your website will be an easy target for hackers.
If you look at the image below, you can see that you can have a fully functional website with only a few installed plugins.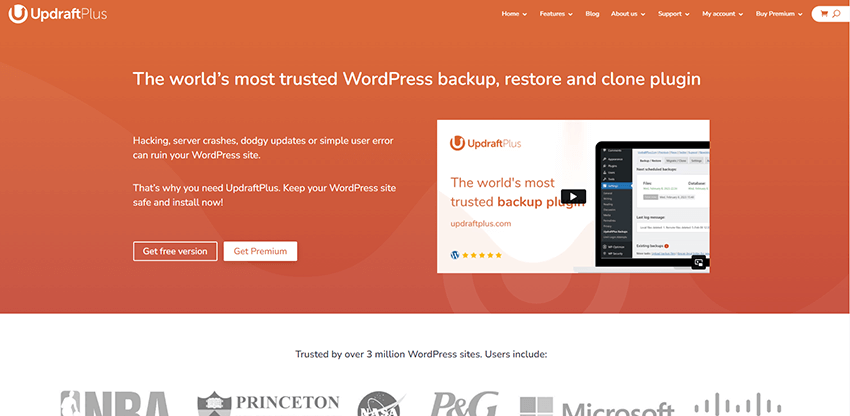 4. Not making regular backups
Creating a full backup of your website is a process that every serious WordPress administrator does regularly at short time intervals. If you don't have a backup, you risk losing your website due to any errors caused by a bad plugin, theme, hacker attack or hosting provider mistake (they can happen) too. If you have a full website backup you are then able to restore your website to an operational state in just a few minutes.
Many good hosting providers such as Bluehost or Siteground offer you automatic backups on a daily, weekly and monthly basis within their hosting packages. Backups are not available on all hosting packages – always check with host first. However, we advise you to install one of the numerous backup plugins and to make a manual backup at least once every seven days. For security reasons, it is advisable to store backup files in multiple locations such as local drives, cloud, storage drives, and the other similar locations. One of the best backup plugins is the UpdraftPlus WordPress plugin. It is a commercial tool that also has a free version that will be enough for you to make a backup of your website.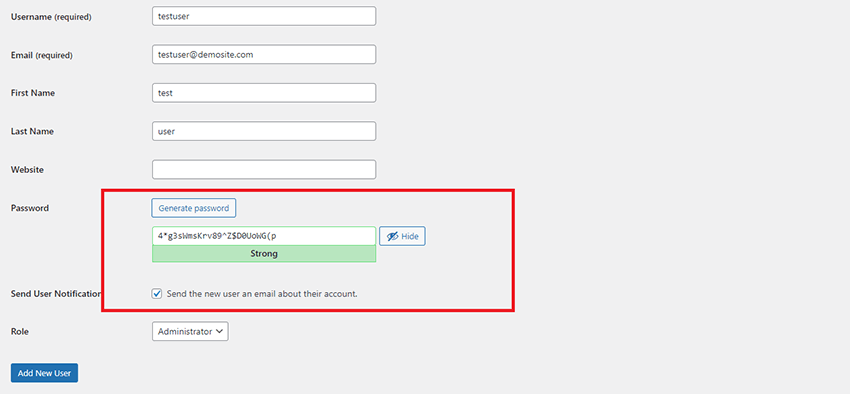 5. Not Using strong passwords
Another but very overlooked common mistake is the use of a weak passwords. Statistically, the largest number of attacked websites happened because a user with administrator privileges used a very weak password. It is easy for an attacker to take control of such a website and do sometimes irreversible damage.
For this reason we recommend using strong random/generic passwords that consist of a combination of upper and lower case letters, special characters and numbers. These passwords are impossible to guess. Additional security is if you use two-factor authentication. This means that the owner of the account will have to enter an authentication number to be able to log into the account. The Wordfence plugin offers 2FA as part of its security functions. In order to activate 2FA, you can go to the plugin's "Login Security" section in its settings.
In the image below you can see what a secure password looks like. You can of course create longer passwords if you like. Always store your password in a safe place (offline). Never save your passwords in your internet browser, because that also represents a certain security risk.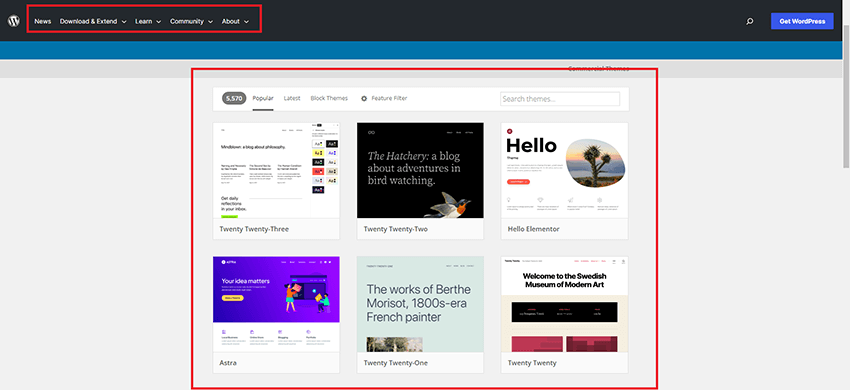 6. Not having organized website content
Pages with poorly organized content have less traffic and very short user retention. The reason lies in the fact that a lot of unorganized content can confuse users and make it difficult for them to find the content they came to your website for. Do not create more categories than necessary because you will have unnecessarily cumbersome navigation an therefore you'll be defeating the object of organizing your content by categories.
Try creating an intuitive menu to make sure visitors find the information they're looking for, and that way you'll improve the overall user experience. It is important to note that websites with well-organized content have a much better SEO ranking than other websites. As an example, you can look at the WordPress official website, which has perfectly organized content without having an excessive number of menu items. As you can see, it's easy to navigate and get the information anybody visits the website for.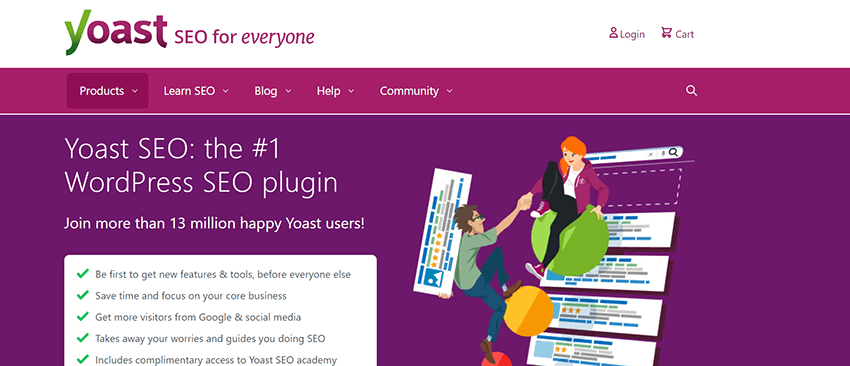 7. Not taking SEO optimization seriously
One of the main mistakes many WordPress admins also make is to neglectSEO optimization. Optimizing your website for internet search engines plays a big role in your website's visibility and traffic generation. The higher the traffic, the higher the chances of conversion, whatever you are selling, promoting or writing about. When we talk about SEO, it is important to pay attention to:
– Meta tags – you must have unique meta titles for each page, as well as keywords. In this way, you have instructed internet search engines how to interpret your content and position it better;
– XML sitemap – this is a structured map of your website's content that will make it easier for Internet browsers to scan the content;
– Submitting to Search Engines – This involves submitting an XML sitemap to major internet search engines such as Google. The goal is to achieve efficiency in indexing your website. There are certain Google Search Console tools that will help you with this task.
– Keywords – keywords must be relevant to your content. There are many quality online tools that will help you identify keywords and improve your content quality and search engine rankings. One of the most famous tools for this purpose is SEMrush.
– Creating unique content – unique and quality content should meet the needs of your target audience. This kind of content is shared more on social networks, has a higher number of visits and will therefore be better indexed on internet search engines. Yes – content is still king!
One of the best SEO tools out there today is Yoast SEO which has tons of options including XML sitemap creation, SEO score of content and much more.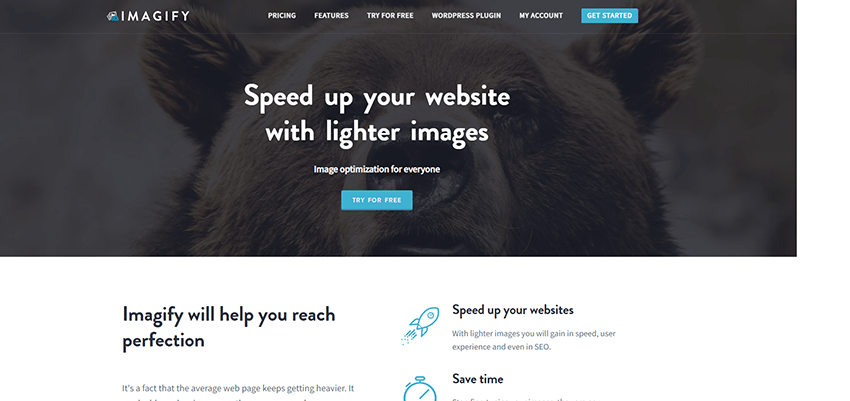 8. Not optimizing images
Large and un-optimized images significantly slow down your website. Slow loading websites directly affects the overall user experience on your website which in turn will affect your SEO ranking. There are many WordPress tools that can reduce an image's file size without any noticeable loss of quality. One of the best image optimizers is the Imagify plugin which offers the possibility of automatic image size optimization.
Although Imagify is a commercial tool, there is also a free plan that will allow you to optimize up to 20MB of images each month for free. In this way your website will become much faster and more efficient, and your users will be much more satisfied.
A way of optimizing your images for free is to optimize images before uploading them to your website. You will find plenty of free image optimization websites online.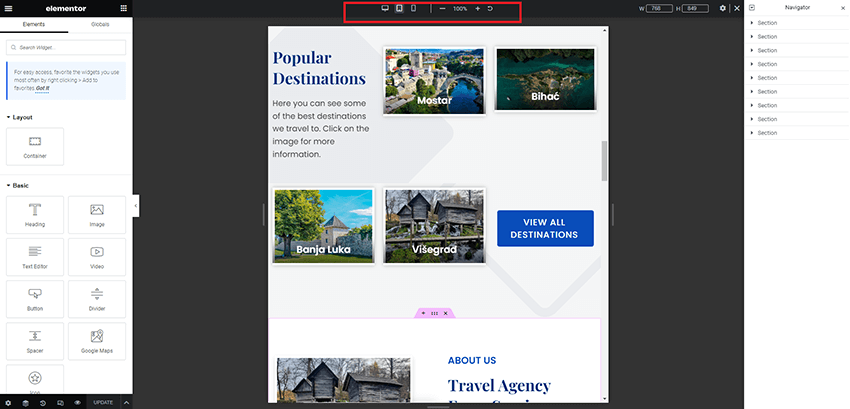 9. Not having a mobile friendly website
Nowadays, most of the internet traffic takes place via mobile devices. That is why it is extremely important to have a website that will display correctly on all devices, regardless of screen size. Pages that are not optimized for mobile devices have a higher bounce rate, a lower SEO ranking and a worse user experience. There are several things you can do to have a responsive and mobile friendly website. The most important thing is to use a responsive WordPress theme that will adapt to any screen size. Once you've found a theme that matches your criteria, be sure to test it on different devices. Check the fonts, size of buttons and functionality on mobile devices. In this way you will improve the user experience and your SEO rank on internet search engines.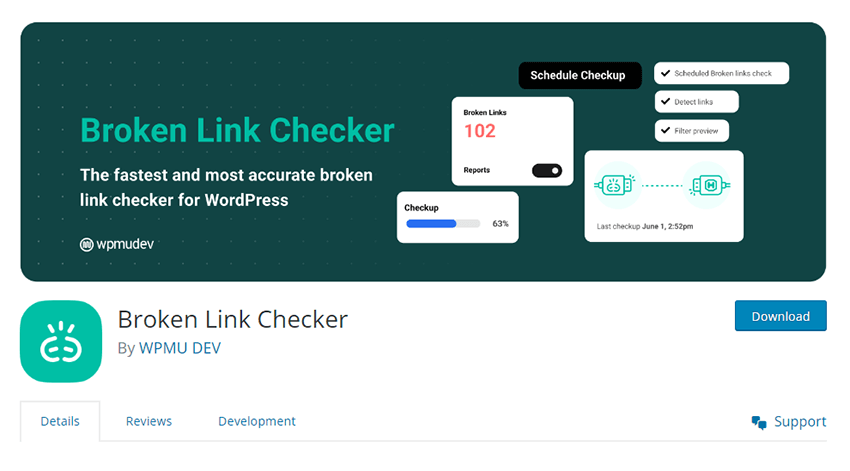 10. Not performing regular maintenance
If you want to always have a functional website, you must develop a certain maintenance routine. Over time, things happen on your website that need to be corrected or cleaned. In this way you will maintain the functionality and security of your websites.
There are a few things you can periodically check on your website:
– Broken links – check if your website has broken links. There are many good WordPress plugins that will make it easier for you to complete this task. One of the most famous plugins is Broken Link Checker. In this way, you improve the user experience and SEO ranking of your pages;
– Database optimization – over time, your database is filled with data that is completely unnecessary, but consumes the resources of your hosting server. Most often these are SPAM comments that you can delete manually or use some of the tools like WP Rocket that will do this job in just a few clicks;
– Regular update – in order to keep your website healthy, you must regularly update WordPress core files, themes and plugins. Before updating, check the compatibility of your theme and plugins with the latest version of WordPress. Each update solves certain bugs and vulnerabilities, introduces new functionalities and improves the overall security and functionality of your website. Before doing any update, be sure to make a backup of your website and database;
– Content administration – make sure to always add new content using best practice standards. Delete old content or information that is no longer valid. In this way you will attract more visitors from a specific target group.
If you check these tasks often, you will ensure that your website remains safe and functional in the long term, and you will provide your visitors with an excellent user experience.
Conclusion On The 10 Most Common WordPress Mistakes To Avoid
WordPress is the best platform that offers endless possibilities for content creation and growth. In this article we explained 10 most common WordPress mistakes to avoid. By avoiding these mistakes you can create a great website that will be secure and functional in the long run. Do not forget that investing time and effort in website maintenance is very important. In this way you will constantly improve performance, protect your website from potential threats and improve user experience. If the site is well maintained it will attract and retain visitors, but it will also rank better in internet search engines by directing organic traffic to your website.