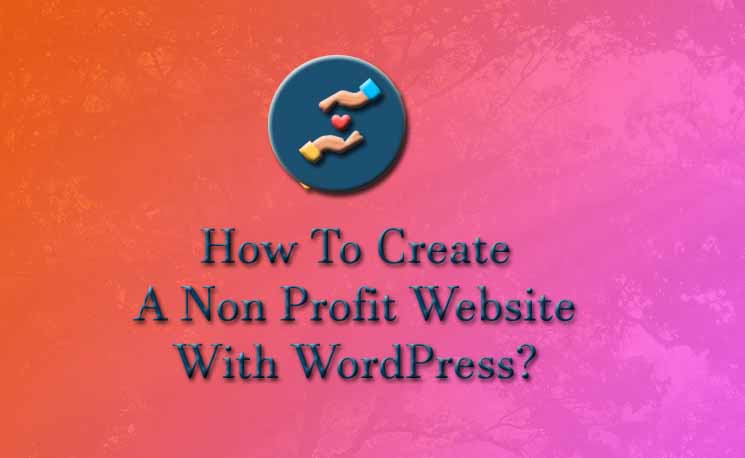 Do you want to create a non profit website but are not sure where to start?
Creating a new website may look like a lot of work, but it can be done in a simple, organized way if you choose the right tools.
For creating non profit websites within your budget, there are abundant platforms to choose from, but we recommend WordPress.
How good is WordPress for Non profit websites?
WordPress is great!
For not just Non-profit websites or blogs. WordPress is a very dynamic CMS that you can use to create almost any kind of website.
There are several reasons why we recommend using WordPress for creating Non-profit websites. Overall, WordPress is a simple and really easy to use tool for creating modern, responsive websites.
It helps you save time, efforts and it is very affordable to build websites with WordPress. Besides that, the following are few of the many reasons to choose WordPress for your non-profit websites.
It is Free and Open Source
Hundreds of non-profit themes available
WordPress is really easy to use
Managing websites built with WordPress is really easy
Page builders to create almost any kind of page to deliver your message
The ability to create responsive and mobile friendly websites
It is an SEO friendly platform
WP is a social media friendly website building platform
WordPress comes with inbuilt blog you can use for content marketing
Customizing websites with WordPress is generally very easy
WordPress can handle any size of the website
You can find help in many forms when using WordPress
There are many monetization options with a website built with WordPress
How to get started?
WordPress lets you create advanced, professional looking websites easily. For creating a non-profit website – the following are the basic steps you need to follow:
Get the Domain name
Look for a reliable WordPress optimized hosting service
Get the theme
Install and activate the theme
Edit the existing content with your original one
Create effective pages with images & media to inspire people
Setup the donation pages and payment gateways
What will be the difficulty level?
WordPress is for everyone..
Non technical people with absolutely no experience in building websites can also use the platform to create beautiful websites without technical assistance.
Creating a website with WordPress is absolutely easy. You can create and maintain complex websites on WordPress without writing a line of code.
The hosting services nowadays come with a quick start option for WordPress. So, you have to login to your hosting account and select WordPress to get started. It will automatically install WordPress and present you directly with the WordPress setting options to let you name your site, select the language, etc.
Next, all you are supposed to do is to install the theme which is almost like a ready to use website. We recommend using the premium WordPress Non-profit themes that comes with support and well documented user guide. You can follow the instructions in the theme guide and use the intuitive options to create beautiful personalized websites, easily.
On the other hand, if you are a programmer – WordPress is Opensource. You can easily integrate a new feature into your WordPress theme by adding to the theme files, or simply by updating them.
So regardless of your technical skills, you can easily use WordPress to create a non-profit/fund raising website in just minutes.
Church Theme for Non-Profit Websites
At Templatic, we work to build WordPress themes that are professionally designed, SEO friendly and easy to use. Most of our clients are business owners who wish to create and maintain their own websites.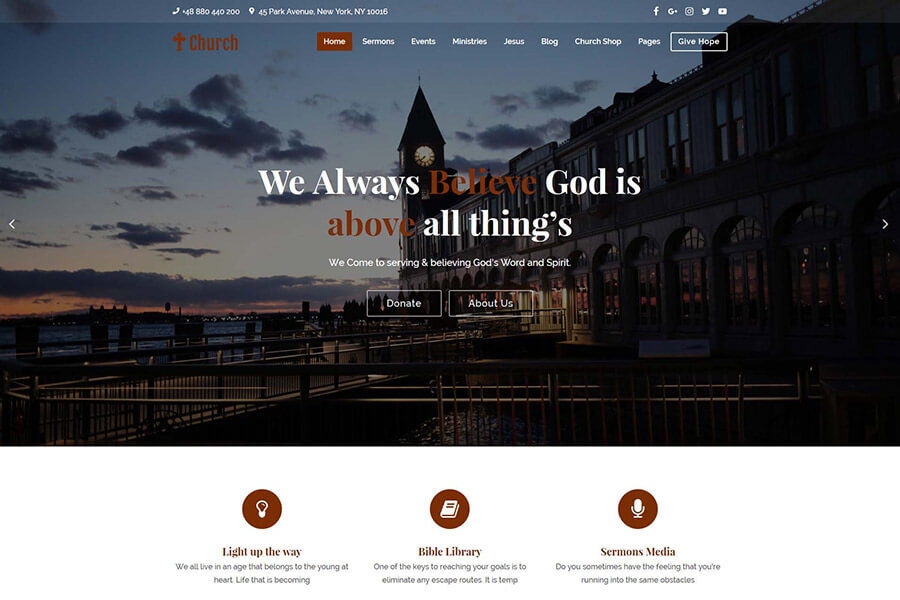 With the simple options to manage the themes, the documentation and support, it is possible for anyone to create their websites. For creating non-profit websites, we have the Church Theme.
The church theme – can be used for multiple purpose:
To create a website for church
For creating a website for any non profit organization
To create a crowdfunding website
For a non profit website to accept donations
To create a site for any other religious place – temple, mosque, shrines, etc.
Ultimately, the church website can be used to create almost any kind of non-profit website. Whether it is a simple non profit blog, or a non profit website with eCommerce features. You can even build a non profit website with events and donations.
Whether you are a technical expert with a lot of experience in programming/designing and website building, or a technical newbie, having no idea on where to start and how to start.
Also, the theme is great to get started on the internet because it is really easy to use. You will be able to create pages with the design you want with the Elementor page builder.
The drag and drop page builder is fun to use. And for the beginners, it gives many opportunities to create the pages of their imagination without bothering about the coding process. It is all drag and drop. Choose the screen element and drag it on the page where you want it to appear.
Moreover, the theme has inbuilt donation features so you can create a website for some cause and accept donations for it. With Church theme, there are events, eCommerce, AdSense support, etc.
So using it for your non-profit purpose is simple. You can get started right away with the combination of the most efficient tools offered by the Church theme.