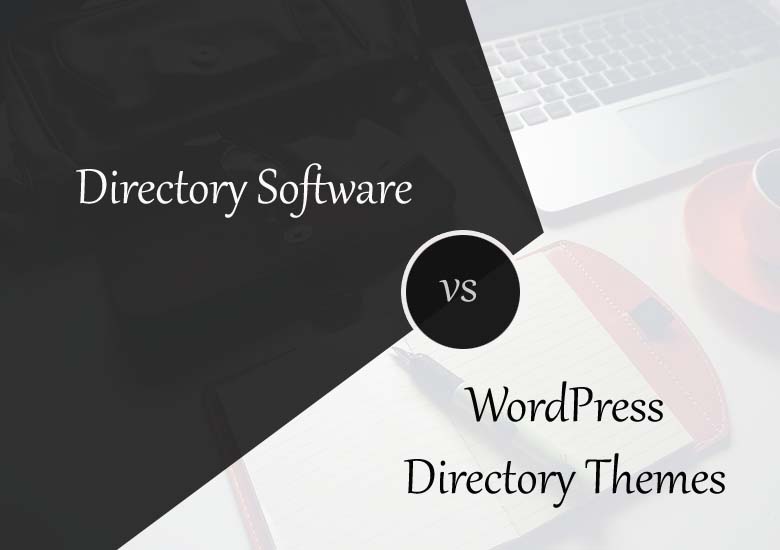 Starting a directory business online? Here is the Directory Website Builder VS WordPress Directory Themes comparison you should read before you get started.
Directory website builders as well as CMS like WordPress, are a gift for the people who want to own an online directory.
Whether you are a technical expert, or a person without little to no technical expertise – you can always build with these platforms.
These platforms for creating awesome directory websites are designed to save time, efforts and even money.
Getting your directory website created using these directory platforms is easy and affordable. Most popular ones are – The Directory software to create directory website, and WordPress Directory theme for online directories.
Today, we will discuss the difference between the two: Directory Website Builder VS WordPress Directory Themes. But before that, let us try to understand what these platforms are.
Directory Website Builders
Directory website builders or the directory software, are the platforms specially designed for building directory websites.
As mentioned earlier, they can be used by both: programmers/developers, as well as the non-technical people. These platforms come with inbuilt options & tools to let you create your directory website without writing a line of code.
Such directory software can be compared with the website builders like Wix. Just like other website builders, you just need to create an account/sign up, choose the optional packages/services and start building your website. No need to look for hosting separately.
Directory WordPress Themes
When you use a website builder, you have limited options. These options are those offered by the platform. But when you use a directory theme – there are unlimited options.
WordPress is opensource and you can easily tweak the WordPress theme files to make your website look and work the way you want.
For using a directory theme instead of a directory software website builder, you will have to look for a host. But this gives you not only the feature to choose the best hosting with different features for your website, but also the ability to change the host at any time when you need to.
There are many beautiful directory themes out there, and here's the list of the best Directory WordPress themes you can use to create your directory websites easily.
Now let's start the comparison of the directory software as well as the directory themes, based on the following    criterion:
Pricing
You must definitely have a budget in mind when you decide to start with an online directory website. That might be one of your considerations, when choosing a directory platform.
Directory software as well as WordPress directory theme – both have a wide difference in their pricing as well as pricing patterns.
Directory software or directory website builders offer you hosting platform as well as website building platform, so their are a bit pricey. But a directory WordPress theme requires you to pay only for the theme. So the price is comparatively low and not monthly subscription based.
However, both the platforms, the directory website builder as well as the directory themes, have different pricing packages for different users.
Directory website builders generally charge you on monthly subscription basis.
Page building
If you are a beginner and maintaining a directory website, than a page builder is a very useful tool for your website.
The page builder is a tool that will let you easily construct new pages with beautiful layouts in your WordPress website. These page builders are flexible and come with abundant options to create pages without touching a line of code. The directory themes either have these page builders inbuilt, or they support such page builder plugins to be integrated.
A directory website builder may or may not come with a page builder. But what it would offer for sure – is the ability to choose from multiple templates and the ability to customize them.
On the other hand, WordPress page builders come with drag and drop features to create beautiful pages with just a few clicks. The page builders are affordable, easy to integrate and makes your task of directory website building a lot easier.
Monetisation opportunities
Directories are complex websites that need more efforts & time to manage and maintain. Therefore, it is natural for directory owners to expect something in return for the efforts they put in.
And mostly all the directory websites are launched with the intent of making passive income online. Majority of Directory websites are created as a means of online business.
Both, the directory website builders and the directory themes – are therefore designed keeping monetization in mind. As the primary facility of making money through directory websites, mostly every directory platform comes with a flawless front end submission module.
Besides, there can be many other features like advertisement banner posting, and so on. Both of the platforms, do come with all the simple money making features inbuilt.
Well, the monetization options with the Directory builders is limited to the features the platform offers. While with the flexible and customizable directory themes, there's no limitation on what you can do with your website.
In the directory themes, you can integrate a plugin, or tweak to add a function and start making money through your website.
Scalability
Once you start your online directory, you must have the freedom to choose if you want to expand (or even shrink) your website.
With the directory platforms like edirectory & brilliant directory, you can easily upgrade your plan with growing website. For additional features, you can choose to integrate the add-ons.
But this possibility of your website to expand is dependent on the ultimate scope of your directory platform. If the platform doesn't allow the feature you want, the scope is limited.
On the other hand, WordPress theme does not limit the scope of your directory website at all. The WordPress themes are highly customisable, and for even more features you can edit the core files and easily make your website look or behave the way you want.
Ease of use
The directory software is easier to use as compared to the directory theme. The directory themes too, are easy to use but in a different way.
A directory software is a ready to go platform, just register, login and start creating your website. The whole procedure is different with the directory themes. You have to handle the installation of the theme & any plugins you want to use with your WordPress theme.
The directory software lets you change how your theme looks and behave just by using simple, intuitive options withing the software. Similarly, different directory themes may have different options panel, and different settings but it is usually very easy to use.
Moreover, we must not forget the support as well as documentation. Whether it is the directory software, or a directory theme – whichever you choose, you must make sure that they have the processes well documented and the support has positive review.
Installation and customization
Starting a directory with the directory tools and modern platforms is easy. When it comes to installation, the directory software doesn't require any installation processes.
You can just sign up, choose a template and start editing it to create your online directory. You don't even need to worry about hosting, uploading your site in the hosting space, hosting security, etc. It is all handled by the directory platforms.
When using directory theme – there is a short and easy installation process. Additionally, you need an efficient host to host your site on. You need to procure host, install the theme either by uploading it through FTP or cPanel options.
The customization opportunities for your directory website depends on the theme or directory software. Therefore, before you choose the platform for building your directory website, you must look for how much customization
Flexibility
When we talk about flexibility – it is flexibility in terms of design as well as features. A flexible platform for creating your directory website allows you the freedom to easily change the scope and limitations of your directory website.
The Directory software for building websites is flexible up to an extent. But it's flexibility is limited to the features of the directory software.
I have mentioned multiple times in this post itself – "There's no limitation of what you can do with your WordPress directory theme". It's the same when it comes to flexibility of your website.
If you are using a directory software, you can integrate the addons to add more features to your website. The addons are limited to those offered by the platform. But when using directory theme to build your website, you have plenty of options (in the form of plugins) to do more with your website.
Payment processing
If you are allowing paid front end submission on your website than you will need a smooth payment processing system into your website.
Payment processing is one of the most important features because it helps you collect the payments right through your website.
Mostly all the directory platforms – the directory website builders as well as  directory themes – come with inbuilt payment processing systems.
However, depending on your area of operation, supported as well as preferred payment processing, you can raise a pre-sales question, or check the detail before you subscribe to a directory builder or buy a directory theme.
Who wins: Directory Website Builder VS WordPress Directory Themes?
If you want simplicity, you can go for directory software. These are great to get your directory website online in just minutes, without any installation procedure at all.
The directory software platforms do allow you to setup a directory website with basic features and then add new features as and when required. The directory website builders, are really easy to use and are for you if you want to create a directory website effortlessly.
On the other hand, the directory themes are easy to use too. But they do need you to look for a hosting platform, an installation process exists, even though small and simple.
But you must choose Directory if you want an independent website, want to look for your own hosting, and  include more by programming, newer features into your website.
Browse the best directory themes