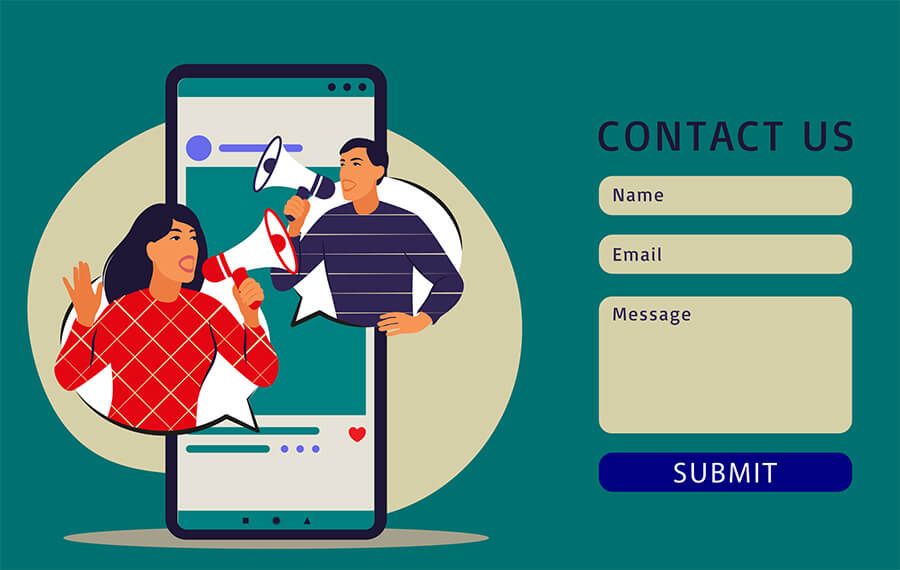 Communication is the key to success. You need to be available to your visitors and answer all inquiries related to your business. In this article, we have included the top 5 contact form plugins for WordPress that you can use. One of the most important ways to communicate with your visitors is a communication through your website's contact form.
If you want to set up a contact form on your WordPress site and you don't know which of the many plugins to choose, then keep reading. In this article we will review the 5 best contact form plugins for WordPress out there. We will write down their specifics, options and we will leave it to you to decide which one is best for your website.
1- Formidable Form Builder
We put the Formidable Form Builder WordPress plugin at the top of this list. This is one of the best contact form plugins on the market. You can use this plugin to make all kinds of forms, from the simplest to very custom forms. In addition to contact forms, you can create surveys, quizzes and any type of form to interact with your visitors.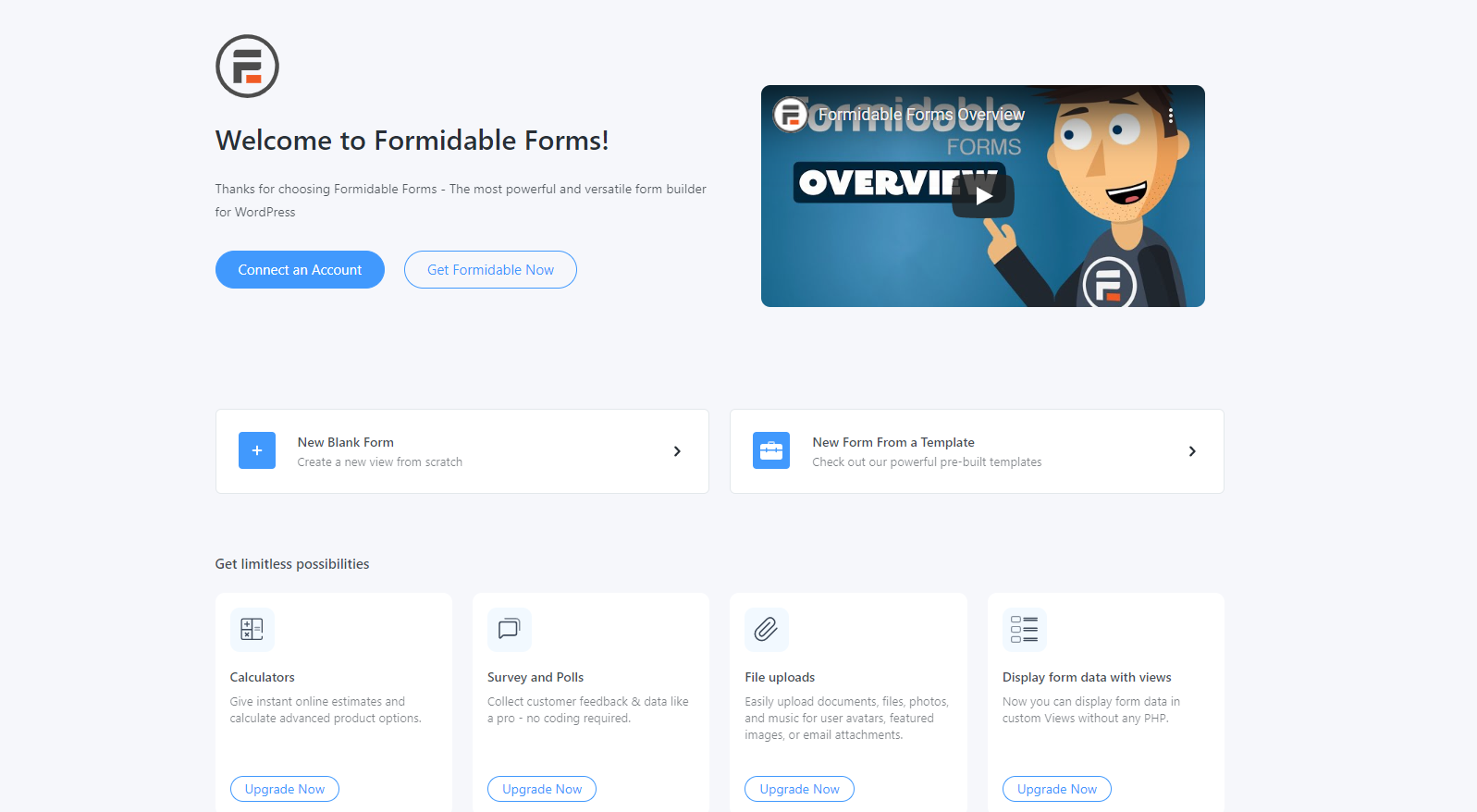 This fantastic plugin has a great interface that is very clear and adapted to absolute beginners. Forms are made on the principle of drag & drop, and you can make various surveys, quizzes, payment forms, registration forms, calculators, various marketing forms and much more. This is the best plugin for creating complex and highly customized forms. It is important to note that after installing the plugin you can create forms from scratch, and there are also hundreds of ready-made templates that you can use. Some of these options are only included in the Pro version of the Formidable plugin.
The creators of this plugin have made an effort to make a great product that does not burden the resources of your server, so it is very fast and reliable. All forms are responsive and will look great on any screen size and on any device.
All data that a user enters using the form is stored on your database so you can subsequently access and analyze it or plan your business activities based on the data you have collected. If you do not want to save the data then it is important to note that this plugin is GDPR compliant and offers the option to turn off IP address tracking and to disable data saving.
Formidable Form builder has a great styler for form design. It is possible to completely customize any form to match design of your web sites, and this process takes just a few clicks.
This plugin can create surveys. You no longer have to use other services in order to create perfect survey or poll. For each survey you will have very detailed reports that visually look very nice. You can create your own charts according to the fields you are interested in. You can use all the reports to analyze the data collected, and you can display all the data on your site and make it available to everyone.
When we talk about ordinary contact forms then we will say that Formidable Forms can make any type of registration or contact form. Numerous integrations are available, so you can send all data to any other service using the API functions.
Have you ever wanted to create a form that will allow you to charge for a product or service, or receive money? Formidable Forms is a great plugin for this task. It offers the ability to create a payment form with custom fields, and is fully integrated with Stripe, PayPal and Authorize.Net payment gateways.
By now you could find out that Formidable is a great plugin which can create any type of form or contact form. Did you know that this is the only plugin on the market that offers integration with the WooCommerce platform? That's right, you can create a form with custom fields and a product configurator for WooCommerce to extend the standard options and layout of your online store.
We mentioned earlier that this plugin can create different types of calculators. So for example financial institutions can use a mortgage calculator, in the fitness industry you can use a BMI calculator, then there are booking cost calculators, price calculator, bid calculator and more.
If you are tired of the classic WordPress login or registration page, then using this plugin you can create a great form for registration and user login.
This great plugin has many more options that we haven't mentioned. The free version is limited and can be found within the WordPress repository. For all the options and prices offered by the PRO version visit the official website.
2- WPForms
WPForms is another great contact form builder. Just like the previous one from this list, WPForms has a drag & drop builder and a great user interface that will be great even for absolute beginners. You can use predefined templates to create login, registration, payment, contact forms, all in just minutes.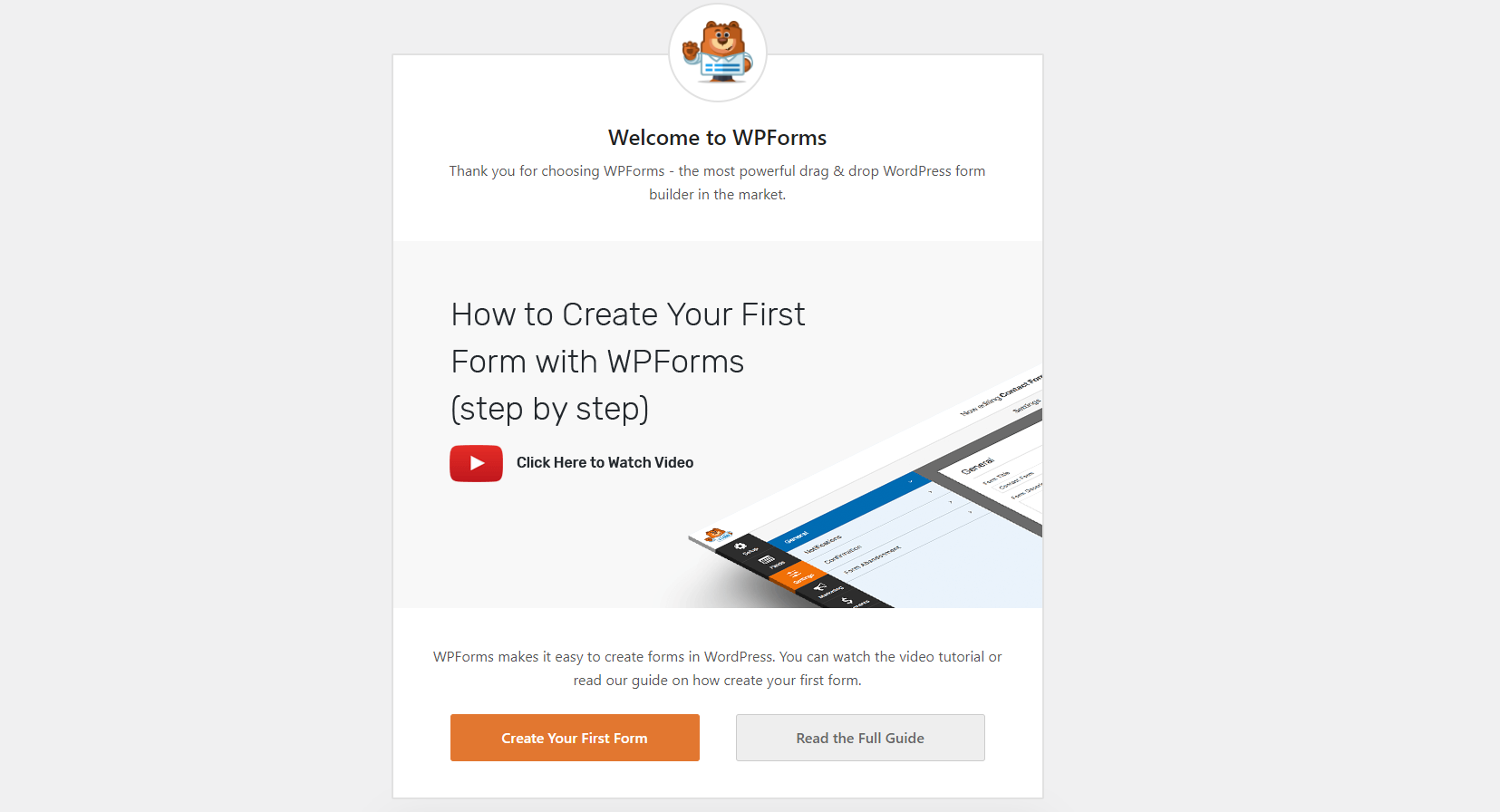 This plugin was created in 2016 and today is used by more than 2 million web sites. There are two versions, the free one that you can get from the WordPress repository (WPForms Lite) and the PRO version that you can get after payment on the official website.
If you have decided to try the free version of this plugin, immediately after installation and activation a menu will open in which you can choose which type of form you want to create. WPForms lite offers blank form creation, simple contact form, newsletter form and suggestion form. Once you have selected what type of form you want to create, the application interface will open, the form fields you can use are available on the left, and the layout of your form is on the right. All options can be customized and edited according to your needs. A great drag & drop builder allows you to add custom fields, edit them and create your first contact form in just minutes.
WPForms PRO contains more than 300 pre-made templates that you can use in your projects. All contact forms can be embedded on any page, and the creators of this plugin take care of SEO so this is one of the most SEO friendly plugins on the market.
It is important to note that WPForms does not affect your server resources, and all forms you create are responsive and will display great on all screen sizes and on any device.
You can integrate forms with email marketing service or with your product and service billing pages to easily charge for services from your users.
This great plugin can make great polls without having to use the services of an expensive poll creator. After your visitors vote you will have excellent interactive reports where you can customize the graphs, export them or make them public on your site if there is a need for your visitors to see poll results.
Many people use WPForms to create feedback forms, online petition forms, survey forms and many more. There are a lot of pre-made templates for polls available so you can display polls on your site in just seconds.
If you are tired of classic WordPress forms, then using WPForms you can create your own forms such as custom WordPress login form, registration form, post submission form, address book contact form and many more.
Initially, the WPForms plugin was conceived only as a contact form plugin, but due to market demands it has grown and become a tool that can create any type of form. The most common forms that users create are payment form, donation form, registration form and online booking form.
If you have SSL on your site and want to accept payments, then WPForms is a great plugin that will do the job. There are integrations for Stripe, Square and Authorize.Net payment gateways so you can accept payments directly on your site.
This is one of the few plugins that offers the creation of very nice custom form landing pages that look like Google Forms.
All forms you have created can be edited using section dividers, HTML blocks and Custom CSS. There is also support for Elementor and Divi page builders so embedding forms is no problem.
Some of the most important features of the WPForms plugin are SPAM protection with the possibility of integration with hCaptcha and Google reCAPTCHA; GDPR friendly – turn your forms into GDPR friendly in just a few clicks; Form templates – hundreds of pre-made templates for your projects; Multi-page forms – you can split each form into multiple pages and set the progress bar so your visitors know their progress; Offline forms – your visitors can fill out the form, and then submit after the internet connection is restored; Webhooks – the ability to send data from the contact form to another service.
In order to expand the functionality and capabilities of this great plugin, creators have made many integrations with other services. Accordingly, WPForms can be integrated with PayPal, Stripe, Square, Authorize.Net, Mailchimp, AWeber, Campaign monitor, GetResponse, Constant contact, Drip, HubSpot, ActiveCampaign, Sendinblue, Zapier, Salesforce and many others.
With all the listed options and features we advise you to definitely try this plugin.
3- Ninja Forms
According to the authors of the Ninja Forms plugin, this is the most user friendly WordPress contact form builder. It is intended even for inexperienced users who are new to the world of WordPress. What sets this plugin apart from the competition is the great support you can get even if you use the free version of this plugin.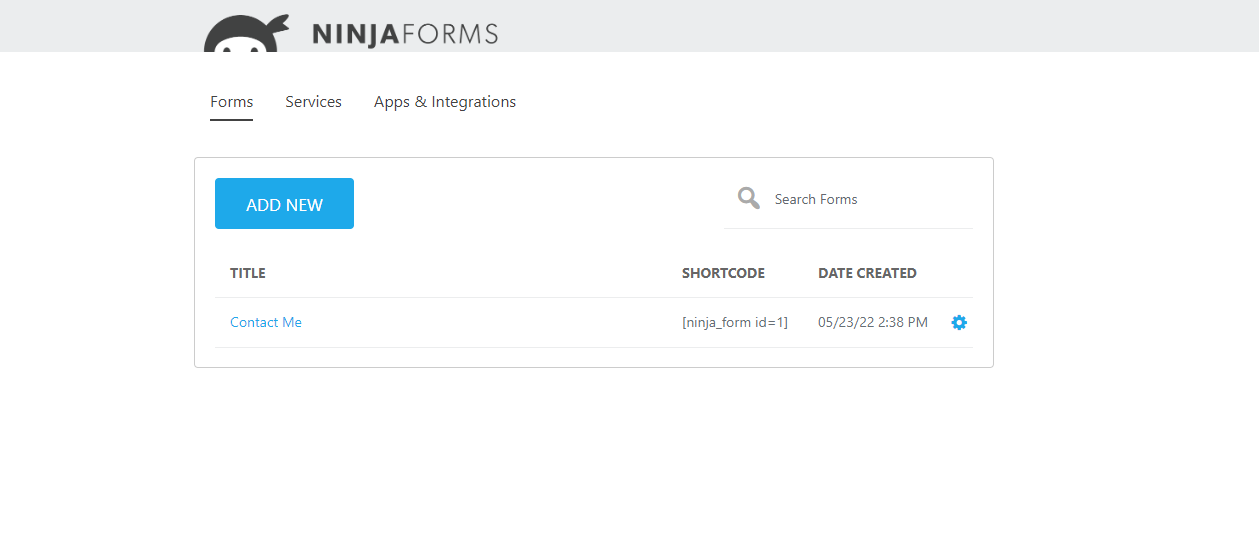 Using this plugin you can create multi page forms, conditional forms and any forms you like. Drag and drop builder will help you create great and functional forms without any coding.
Any form can be converted into an upload form, you can very easily allow users to upload any type of files such as PDF, Microsoft Excel files and others.
Just like the previous plugins from this list, you can create great forms to accept payments directly on your site. There are integrations for several different payment gateways.
Sending emails to your subscribers and managing lists has never been easier. Ninja forms has integrations with some of the best email services such as MailChimp, Constant Contact, Campaign Monitor, Salesforce, Zoho and many more.
After installing this plugin, a menu for creating a new form opens. However if you don't want to create a form from scratch you can always use one of the many predefined templates. All templates are sorted by categories so you can easily find the contact form, registration form, application form, PayPal form and the others. It is important to note that all forms are GDPR friendly. They are also fully responsive and will look great on any device or any screen size.
What users of this plugin highlight as advantages are drag and drop form builder, a lot of field types, regular updates, great support, fully responsive and mobile friendly forms, SPAM protection, the ability to export and import forms.
We mentioned earlier that the Ninja Forms plugin can be integrated with various services in order to make your site do what you want. However, most integrations are available only in the PRO version of this plugin, and integrations are available for PayPal, Stripe, Elavon, Recurly, MailChimp, Constant Contant, Campaign Monitor, Active Campaign, AWeber, CleverReach, MailPoet, ConvertKit, Emma, EmailOctopus, Help Scout, Salesforce, Zoho, Insightly, Capsule, PipelineDeals, OnePage, ClickSend SMS, Twillio SMS, Slack, Trello, Zapier.
If you do not know how to make your first form or have a problem using one of the listed services or integrations, you can always contact the excellent customer support to help you complete the job you wanted.
Since this plugin has a free version we recommend that you try it.
4- HappyForms
HappyForms is one of the simplest contact form plugins out there. A very clear interface and ease of creating forms are the reason why this plugin should be chosen by beginners or less experienced users. Apart from the fact that you can create any type of form, this plugin protects against SPAM, offers a live preview when creating forms, and if you have any problems when creating forms or working with the plugin then you can contact awesome support. The plugin has great support whether you use the free or paid version.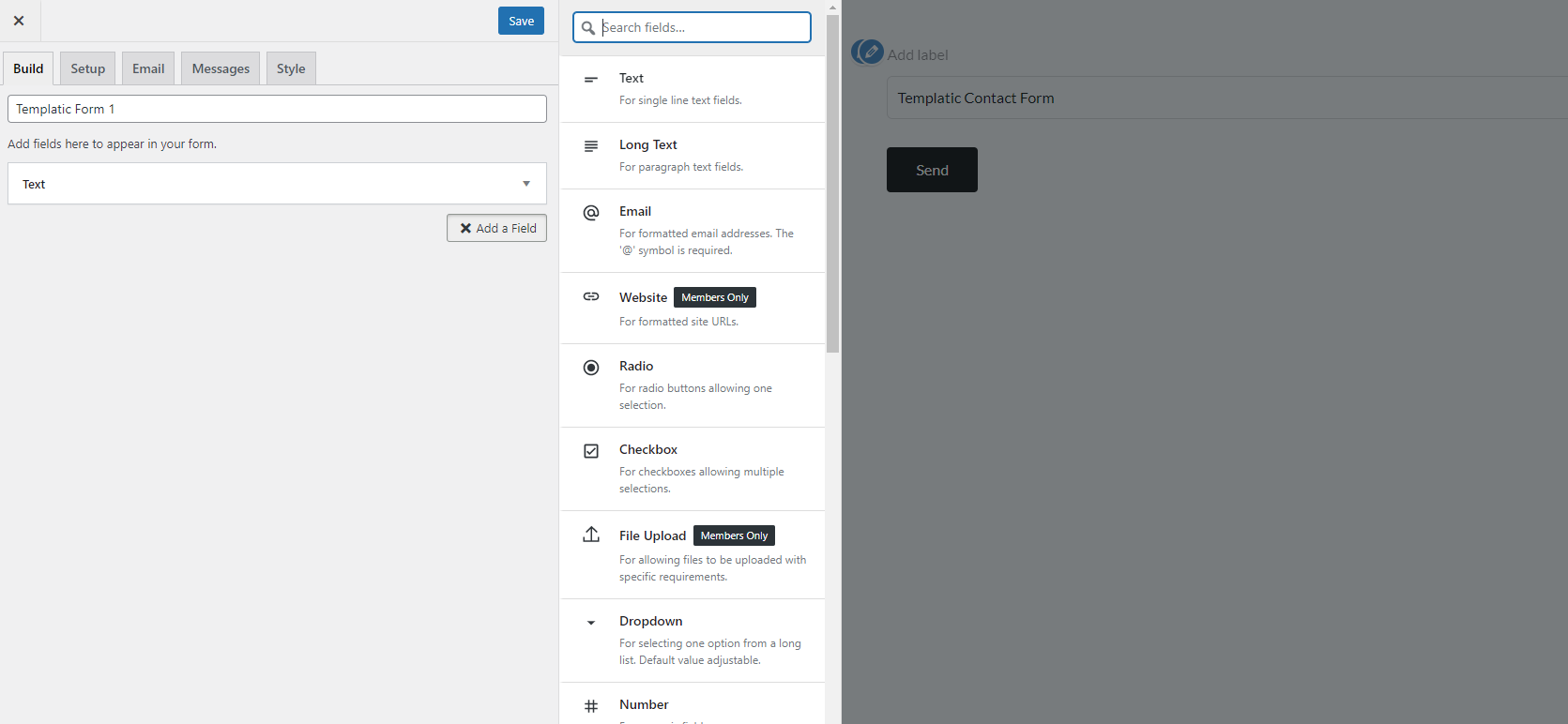 The HappyForms plugin has a great drag and drop form builder. The moment you create a form you have a live preview, and forms can be added to any page, post or widget area using a simple shortcode. If you want to display more forms on the same page, this is also possible. All the forms you create are fully responsive and display nicely on smaller screens. If your design requires it then you can make multi-column layouts with a single click. Once you have made your first form, you can easily duplicate it. With just one click you can activate SPAM protection, and all forms are GDPR ready.
There are some limitations in the free version of the HappyForms plugin. If you are not a demanding user then the free version will meet all your needs. The fields that contain the free version are:
– Short answer – you can use this field to enter data such as first and last name
– Long answer – message input field
– Email address – a field in which the visitor must enter his/her e-mail address if he/she wants to send a message
– Multiple choice – you can add a checkbox and allow visitors to make multiple selections
– Single choice – you can add a radio button so visitors can make only one selection
– Dropdown – if you have long lists this field is great
– Number – a field provided for numeric values ​​such as phone number
If you opt for the premium version, you will get all the options that this plugin offers, and these are:
– Access to all form fields
– You can allow visitors to upload files to forms
– After form is submitted you can redirect visitors to any internal or external page
– Create great multi-page forms with progress bar
– Google reCaptcha SPAM protection
– Allow visitors to save responses
– Automatic log IP address of visitors
– Excellent surveys that show real-time results
– Very fast customer support that will solve any problem as soon as possible
We have listed just some of the premium options that this fantastic plugin offers, and for more details you can visit the official website. We must note that this plugin offers the best value for money of all. There are 3 membership packages that will satisfy even the most demanding users.
5- Simple Basic Contact Form
Last on our list of best contact form plugins for WordPress is Simple Basic Contact Form. I left it last because this is a completely free WordPress plugin and there is no PRO version. You can download it from the WordPress repository and enjoy its options.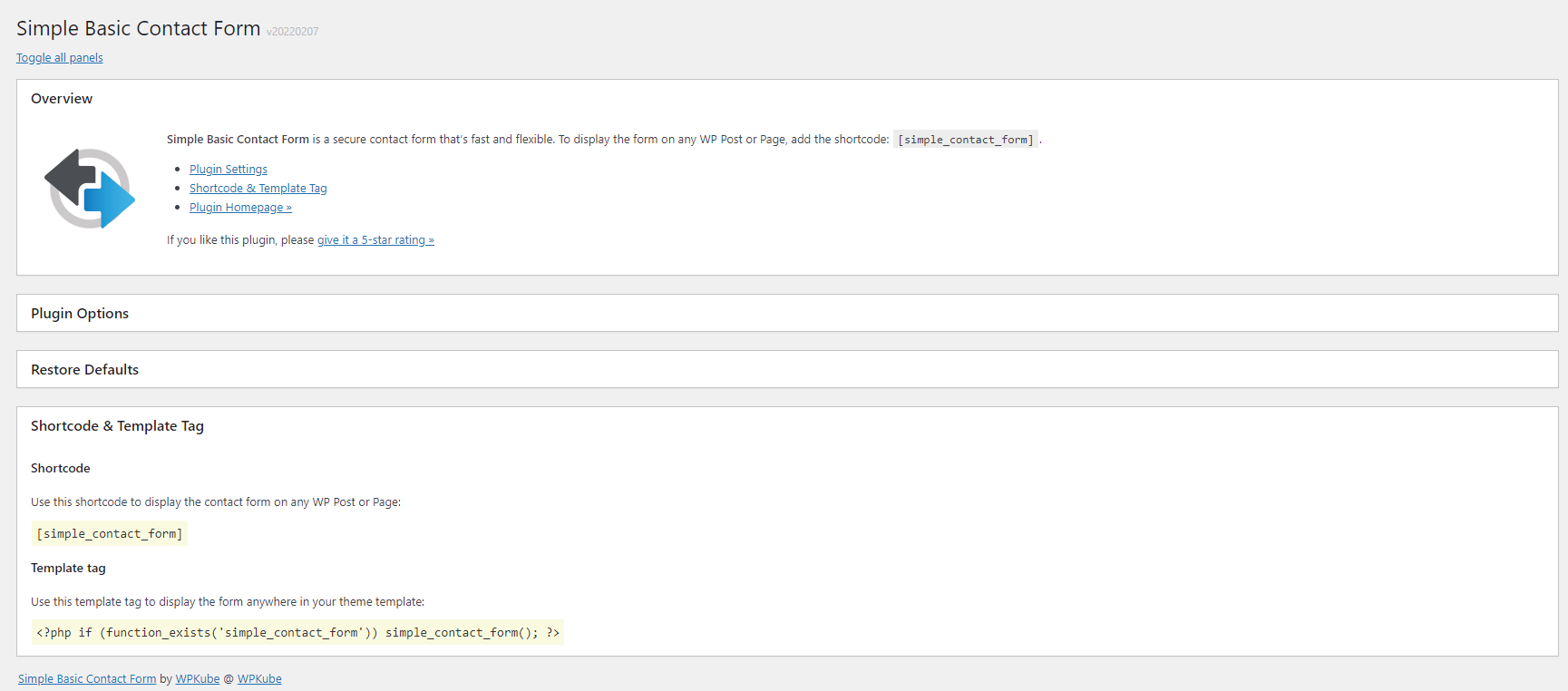 While this is a free WordPress plugin it doesn't lag too far behind the premium tools we listed earlier. This plugin is very small, does not take up much space, does not consume your server resources, delivers clean code, and is very easy to use. If you are a beginner who cares about having a simple contact form on web site, then this plugin will satisfy all your needs. You do not have to spend money on any of the commercial tools.
The creators of this great plugin have made an effort to create a contact form plugin that gives you the ability to display the form anywhere using a simple shortcode or template tag. You can send excellent well-formatted plain text messages. You can completely customize each form within the layout of your pages using the plugin settings. There is integrated SPAM protection as well as protection against malicious code.
When we talk about the core features of this great plugin then we will list the best ones:
– You can send a carbon copy of every email someone sends using your contact form
– Ability to style the form using custom CSS to match the design of your pages
– Template Tag allows you to display the form anywhere within your theme, and shortcode allows you to display the form on any page, post or widget area
– you can customize the confirmation message, and that message can contain e-mail content
– you can choose whether to use PHP mail () or WP wp_mail ()
Although this is a free plugin, its authors take care of security so this plugin contains:
– anti-SPAM captcha that you can turn on or off as needed
– protection against malicious code, infected software, bad bods and other threats
– customizable error messages that will make the user to fill in the required fields correctly
This plugin is very fast thanks to being built with the WP API. If you use custom CSS then that code is loaded only where the form is displayed. The plugin works completely without JavaScript, and contains information about the sender such as IP address, host and agent. All form fields can be completely rearranged, you can add your own field captions, error messages and success message.
Since this is a completely free plugin we advise you to try its functionalities.
In this article we reviewed the 5 best contact form plugins for WordPress. If you want a good plugin that you can use to create demanding forms and surveys then you will probably have to resort to some premium/pro solutions. If you are not a demanding user and want a simple contact form to communicate with your visitors, then the free Simple Basic Contact Form plugin will be great for you. All plugins from the list have their free versions, therefore we advise you to try them all and then choose your favorite.