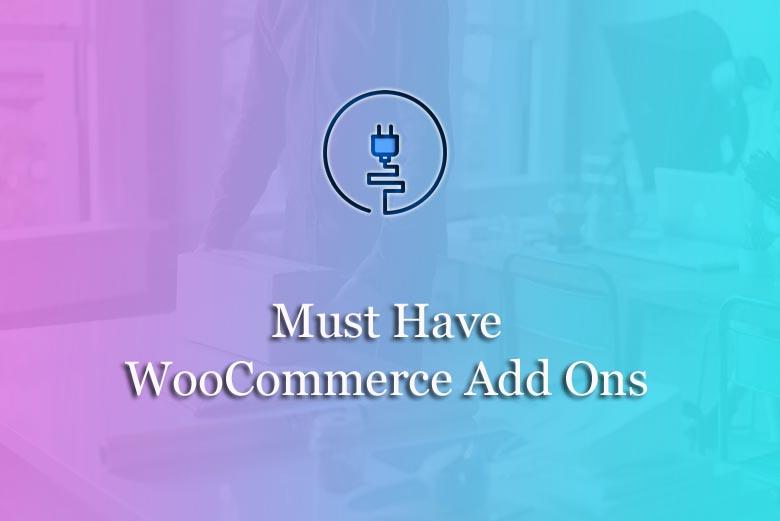 Here are a few hand picked WooCommerce plugins and add ons that can help you create an Online store with advanced features for optimized performance and better conversion.
With the available platforms and options, you can easily create an Online store. But as the competition is intense, only an online store with the best user experience can keep you ahead.
WooCommerce sure has all the eCommerce features, but the plugins mentioned in this list will help you with a few additional facilities on your WordPress based eCommerce website.

Extra Product Options and Custom Product Add-ons for the WooCommerce plugin provide 16+ different custom product field types. You can easily customize your WooCommerce product pages and let your customers personalize their purchases. Add, edit, delete, duplicate, and modify the custom product fields based on your business needs. Custom product options like text boxes, radio input, drop-downs, color picker, date picker, and some others are there to explore.
Dynamic fields feature and custom price fields serve as a wonderful experience for users. File uploading options are there to increase your sales conversion rate. Easy to use and well-performing. Comes with a user-friendly interface.

Plugin Details Get Hosting Theme Store
Wishlist on an eCommerce website is one of the most desirable features for the buyers. It helps the buyers to save the products they are interested in and buy them later.
This feature on your WooCommerce website will surely help improve the user experience on your wooCommerce based eCommerce website. The requirement of this feature depends on the type of theme you choose. While some themes have an inbuilt feature of the wishlist, some don't. If your WordPress eCommerce theme doesn't support the wishlist feature, you can use this lightweight plugin and add the feature to your website.


Plugin Details Get Hosting Theme Store
Google Analytics is a wonderful tool from Google to help you track and analyse the traffic on your website. Similarly, WooCommerce Google Analytics tool will help you track your visitors, and provide you with important statistics and reports about your WooCommerce based store.
This feature is important for you to keep track of your traffic and plan better for your website. You can track the inputs and reports of different sales policies, different periods and that can ultimately help you plan for the future offers on your eCommerce website. This plugin is really easy to use and integrate into your website.

Plugin Details Get Hosting Theme Store
Your buyers might insist on getting proper invoice and payment slips with their orders. This is what this WooCommerce addon helps you do. It will automatically create and add an invoice to the order confirmation email. Or you can allow your buyers to download their invoices through their account profile on your website.
And sure you can edit the invoice using the HTML code, to make it completely professional, add your store details and personalize it as much as you want. The plugin supports many languages to create the invoices, in case you are trying to localize your business.

Plugin Details Get Hosting Theme Store
A fully functional and effective WordPress eCommerce website is bound to have products with variation. The variation can be weight, color, or size. In this case, you can use this plugin to create attractive variation swatches on your product page.
The most popular eCommerce websites use the variation swatches to create attractive and user friendly product page interface. You can choose the shape, square or circle for the product swatches using this WooCommerce addon.

Plugin Details Get Hosting Theme Store
Customer reviews on your WordPress eCommerce websites leaves a positive impact on your buyers and add to the user experience. This plugin helps you set an automatic review reminder for customers who recently made a purchase from your store.
The review form is informative for enhanced customer review, trust badges, etc. This is a very useful tool for creating a positive impact and creating a product page.

Plugin Details Get Hosting Theme Store
This is a WooCommerce plugin is a package of several useful features into your WordPress eCommerce website. There's a bulk price converter to increase or decrease the price of products at large. Currency change and exchange rates,
At an advanced level, this plugin supports price based on User Role, Wholesale Price, and setting price as per a given formula. There are a number of useful features that this addon comes with. It even includes PDF receipts, and shipping invoice. There are so many features for custom emails, enhanced shipping and order management features, cart and checkout features, etc.
Booster for WooCommerce has a group of all the useful features for creating an enhanced experience of shopping for buyers and even adds ease of management and more features for you as a store admin.

Plugin Details Get Hosting Theme Store
One of the first steps towards enhancing the user experience on your online shopping website, is to create better search feature for the buyers. This WooCommerce addon will enhance the simple WooCommerce product search by adding the Ajax Search feature. It will help buyers with an advanced search with live suggestions.
With the advanced algorithms, the results provided are as accurate as possible. Even the results are presented in an organized format. The first matching categories are displayed at the top and then matching products. It is a light weight plugin and you should sure include it into your website if you want better search features into your website.

Plugin Details Get Hosting Theme Store
When talking about the Global online stores, or an eCommerce website operating over different geographical locations, you will need multiple currency support. This plugin helps you show Price Based on Country for WooCommerce.
So you can sell the same product in multiple currencies based on the country of the buyer. It automatically detects the country of the buyer and shows the currency accordingly. You can choose to automatically calculate and set the price by applying the exchange rate or you can choose to set it manually. It will also let you add a country switcher to your website as you see on most popular eCommerce websites that ships to multiple countries.
You may also be interested in these articles

Plugin Details Get Hosting Theme Store
This is one of the most interesting plugins for the WooCommerce product page. As the name suggests, this addon for WooCommerce lets you create different tabs to display information on your product pages.
You can choose what information you want to be displayed through the new tab. The new tabs you create will be displayed on the individual product pages to the right of the default "Description" tab.
Enhance your WooCommerce Shop Now!!
All these plugins work for WooCommerce based eCommerce websites. Most of all these tools are free and very easy to use.
So all you need to create your eCommerce website now is a beautiful and clean eCommerce theme. This eCommerce WordPress theme based on Elementor page builder helps you create effective and conversion optimized online stores in minutes.
It is flexible and multipurpose. You can use it to create a niche online store, to sell digital or physical products or to create a multipurpose store with multiple categories. With Elementor designed pages, you can totally redesign your pages and make them look and work just like you want.