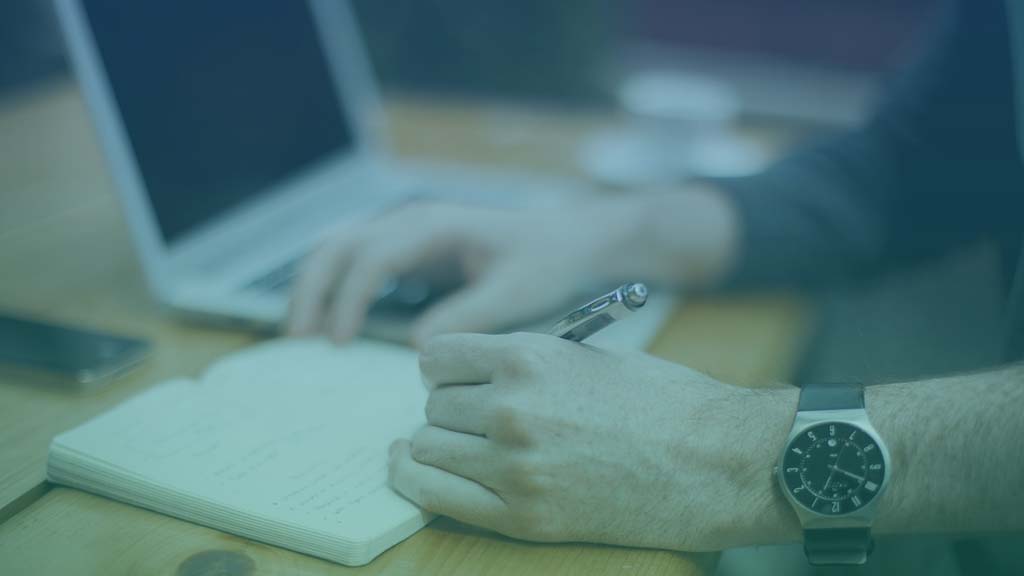 Writing a blog is hard work, promoting it is equally difficult. In this article we will discuss the best blogging tools for beginners to handle blogging more efficiently.
However, there are certain tools that are built to make it easier for you. There are editors that guide you write reader-friendly and grammatically correct content for your users.
Also, there are tools for making your blogs more appealing by adding persuasive headlines, meaningful stock images, SEO optimize and promote it.
Note: This blog post is part of the "Blogging for Beginners" series.
All these tools are great for beginners to get started with. They are free and helps you enhance the quality of your blog.
1) Grammarly: Grammer checker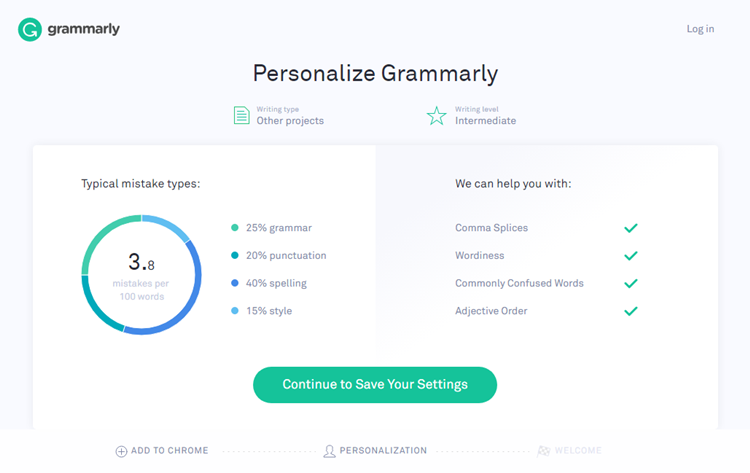 As the name suggests, this Grammar checker tool that lets you check the grammatical errors in your copy.
Grammarly is available as a free chrome add-on. For advanced features, you can switch to Grammarly pro version.
It helps you improvise your writing by suggesting corrections wherever necessary. When you are a blogger writing your heart out, you need not care about Grammar with Grammarly installed.
The main functions of Grammarly are:
Grammar checking
Suggests proper punctuations
Error-free writing
Suggest word substitutes for quality writing
Grammarly Chrome add-on works with almost all the input areas of your browsers. However, the among many awesome features, there's just one downside to it. If you plan on writing your article with Google Docs, Grammarly doesn't work with that.
But for your WordPress blog, you can use the WordPress editor instead. It gives you all the editing options as well as lets you draft the article if you are not writing for publishing purpose.
Grammarly is a free, user-friendly and very useful writing tool for bloggers. It helps you proof-read quickly and create a reader-friendly article.

Ginger is similar to the Grammarly tool, it detects Grammatical errors and spelling mistakes in your article. This tool is too available as a Google Chrome addon.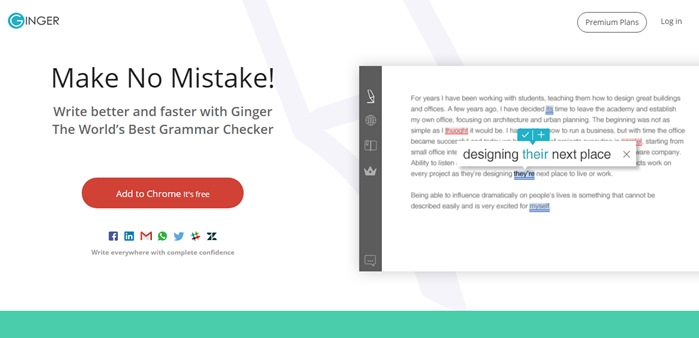 This tool too has a premium version where you can buy the premium product with more features. The Gingerly tool also helps you get rid of repetitive words in your statements.
It provides you insights on what synonym of the word can help make the statement more effective by reducing word redundancy. The built-in dictionary constantly checks for the statement's validity and suggests corrections wherever required.
Besides, Ginger can also help you with translation in over 40 languages. Ginger jas three premium plans for those who want advanced features. You can buy it at $29.96/month, there's a Quarterly plan at $41.97 the best one at $89.88/year.

Hemingway is one of my favorite editing tools. While Ginger or Grammarly checks grammar for your article, Hemingway is determined to help you check on the readability.
Hemmingway editor is free, and you can access it at hemingwayapp.com
You can just open the web interface and start writing there. The blog readers will certainly enjoy being on your site when you deliver your message in a swift, uncomplicated method.
The Hemingway editor suggests easier alternatives for difficult words and highlights the statements that are difficult to read. The most difficult statements are highlighted so that you can try to make them easier. You can either break the statement or shorten it.
It also alarms you about the use of passive statements, because active statements are suggested for better readability. Also, it highlights adverbs, so you can avoid it wherever possible. All these features are available with the web interface of the Hemingway app.
However, with the Hemingway app, you cannot save your work. That feature is available in the desktop version of the hemming way app.
This premium version runs as a desktop software, available at $19.99.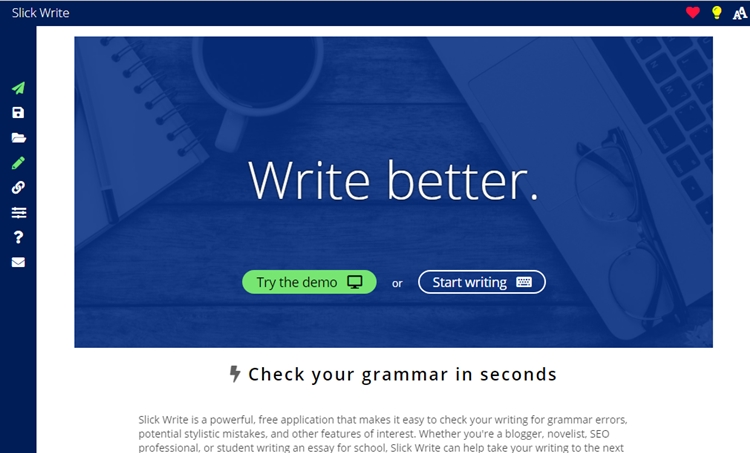 Slick write is also an online editor for proofreading your article. You can either use the editor to write your article using the Slick Write web editor or upload your written article into the editor.
Unlike Hemingway app, the slick write lets you save your work, that will be saved as a text document. Moreover, the statistics section of this editor shows you the graphical representation of your text article.
Besides, there is also a feature to combat your writer's block with the word association feature. You can just enter the word and will show the association options to choose from.
The Slick write is a feature-rich tool for enhanced writing. You can use their Chrome and firefox addons to easily submit your work to slick write.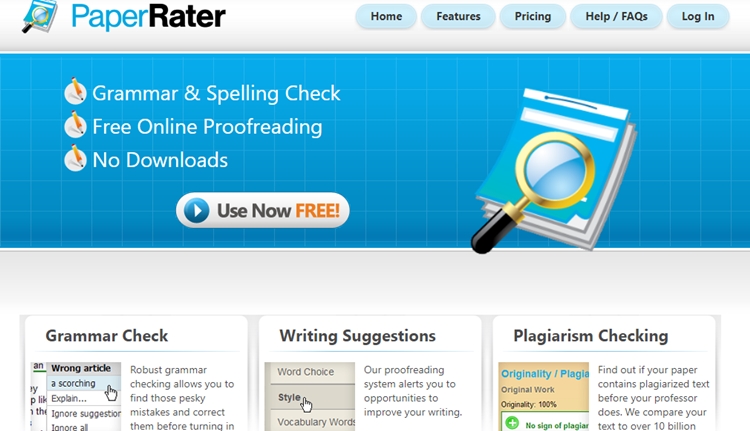 PaperRater is a tool for spelling check, grammar check, and plagiarism detection.
The scoring system can help you self-evaluate
the readability of your article.
This editor lets you upload your pre-written copies in form of word documents, or notepad or Wordpad files
.
PaperRater is free and for advanced features, you can also go for a premium version. One of the best things about PaperRater is that it is
extremely
fast.
It helps you find the mistakes in your writing and correct it real time with the available suggestions
.
There is also a Vocabulary builder option for those who
are interested
to use different synonyms of a word
. You can either use the free web interface of PaperRater or choose their premium plans of $7.48, monthly or $47.70 annually.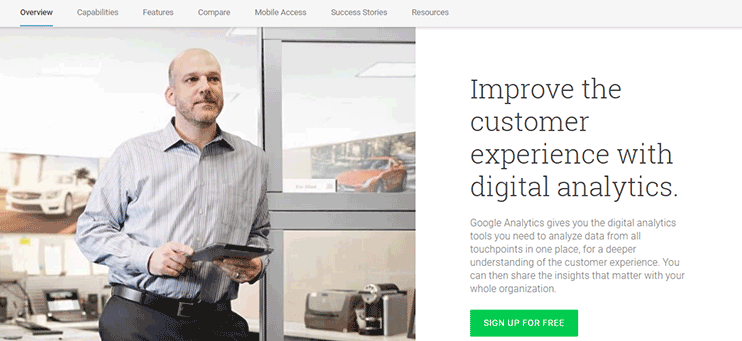 Once your blog is live, you would like to know if it is getting any views or not. Google Analytics can help you find out, what kind of traffic your site is getting.
Google Analytics is a comprehensive analytic tool that comes with many advanced tools to track traffic and draw insights. However, for beginners, it can help with the following features.
Shows best and poorly performing pages
With the help of Google Analytics, you can easily find the best and the worst performing pages of your website. This report can help you identify the poor pages that need modification.
Moreover, you can also evaluate the page style and patterns among the pages with maximum traffic and apply the same strategies you used on those pages on the poorly performing pages.
Shows the total number of visits for a duration
This shows the actual picture of how your website is performing and how many people are actually reading your blogs. Google Analytics gives you precise reports on the total number of hits for each individual page for the specified duration.
Amazing comparison features
Google Analytics also lets you compare the performance of your site during two different periods. For example, you can compare the performance of the current week with the week at the beginning of the year. Tracking progress and the success of your campaigns get easier with this feature.
Shows you insights on demographics
Know your audience with the Google Analytics Demographics reports. When you know your audience & know their interests, you can write exactly what they would love to read.
Other high-end features for advanced reports about the traffic
The ones mentioned above were some of the very basic features of Google Analytics. Besides them, there are many advanced features that you can use like events tracking for your special marketing campaigns, campaign management, etc.
Google Analytics is free and easy to use the tool. Once you start using it and start finding out the weak as well a powerful factors about your blog, you can strategize and plan your path ahead easily.
Here is how you can use Google Analytics for WordPress. You can even integrate Google Analytics report into your WordPress dashboard, and much more using the Google Analytics plugins.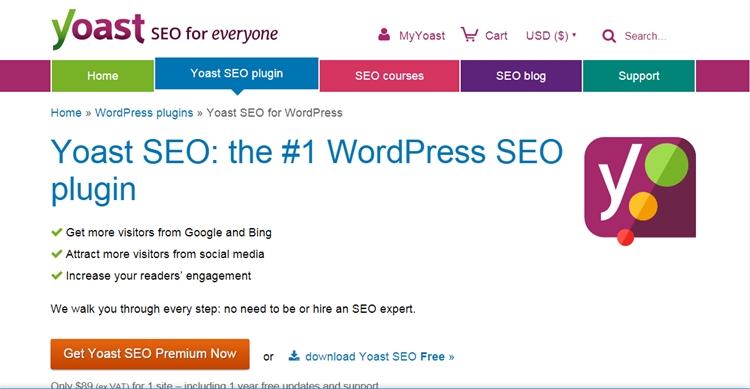 Yoast SEO is a very simple and easy tool to make your WordPress blog or page, SEO friendly. This blogging tool is available as a WordPress Plugin and it should work well with almost any of the WordPress theme.
Yoast lets you set the keyword, manage slug, etc. With the keyword set, it allows you to optimize your copy for that keyword. Besides, it also provides reports on the readability of the document.
It is a lightweight and simple plugin that helps you optimize every single page and post of your blog website. Read full review here.

Prepostseo plagiarism checker is specially designed for bloggers, and webmasters to check content of blogs, articles and web content. It is the best online plagiarism corrector tool for students, webmasters and content writing professionals. With this anti-plagiarism software, you can generate online reports and share it with your clients and within the content department.
It's a free online plagiarism detector tool for bloggers that helps them to find out any mistakes in their writing and make it more unique and readable. Now you cannot post a mixture of plagiarized content and unique content in your blog. That is not possible. According to the new algorithms, Google will detect this as plagiarism, and as a result, your keyword position will down. This means that the sites only having quality content will rank. This tool help bloggers to detect plagiarism before posting it on the site.  The main functions of this plagiarism tool are.
Generate Free Plagiarism Reposts
100% Safe and secure plagiarism tool
Check spell mistakes and grammar errors
100% free to use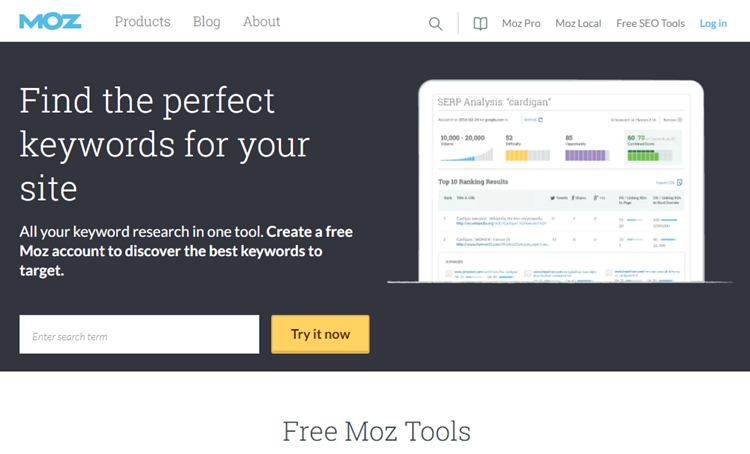 All the tools mentioned above help you improve the readability and user experience. The Moz tools help you optimize your copy for the search engine. It is one of the best blogging tools for keyword research and analysis.
It helps you decide the keywords for your new articles. Moreover, once the article is published, you can also check your post's performance for the keyword using the MOZ tool.
If you are writing for SEO purposes, you can use this tool to know the statistics about the desired keyword. It helps you plan the keyword for your article, and thereby write focused content on your site. It shows you the search volume, Level of difficulty to rank for it, and opportunity for your keyword.
Besides, there are many other MOZ tools that you can use to make sure that the efforts you are putting into your blog are not going in vain. There are various tools for link building, evaluating on-page metrics, etc.

10) Email marketing tools
There are multiple ways through which email marketing can help your blog. Not only it helps you promote your blog, it is a great tool to stay in touch with your existing readers. There are multiple blogging tools that you can use for email marketing.
you may spend a lot of time in publishing content on your blog, but that won't work unless you find ways to promote your blogs. You can use the email strategy to alert your readers about a new post, to make them aware of new resources, to promote your product or services, etc.
For WordPress, there are different tools that can help you with email marketing for your blogs. Some of them are listed below:
Different newsletter plugin comes with different features. Also, you can decide the frequency of mailing, the type of emails and its content based on your blog's requirement. If used wisely, the email marketing campaign can yield amazing results for your website.

11) Stock images
A blog can be more intuitive using the Stock images. These are not really blogging tools but important accessories for your blogs that make it easy to understand for the readers.
Stock images help you make your blog more expressive and less boring. Simple text content doesn't appeal enough, but the one with images or videos can make the same text content more meaningful and intuitive.
Whenever you blog, make sure you are adding enough screenshots and or gifs to make sure your content is easy to understand for your users.
Other than that, you can use stock images to represent your purpose. There are many websites that offer you royalty free stock images that you can download and use on your site without attribution:
Some of them are
Otherwise, you can also go for some premium stock photo site like Shutterstock and avail fantastic discounts on their subscriptions… Also use some image optimization plugin to make sure that the images of your blog don't slow it down, while retaining the high quality.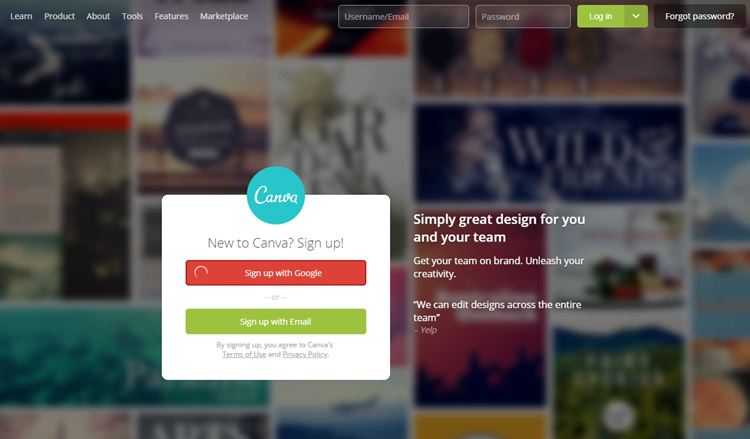 If you are new to blogging you might not be able to create professional looking blog images on your own.
Sometimes you might have a clear idea on how you want your blog banner to look, but the mental image cannot be transferred to an actual picture until you are a Photoshop expert.
The Canva tool is totally free and can be used with registration. It lets you create beautiful customized banner images for your website.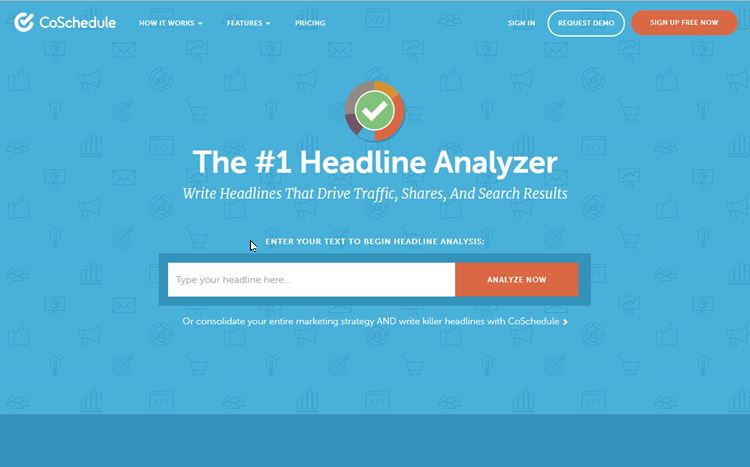 The headlines play a major role in your copy must be catchy and designed to attract user attention. So it is necessary to get your headlines right.
There are multiple articles on how you can optimize the headlines of your content to make it more engaging. However, this one online tool can help you write persuasive headlines. This tool hands you a complete analysis on what makes your headline stronger.
If you want to set an effective call to action section along with your blog, you can use this headline tool for your CTA text.
Time to get started now
All these tools mentioned here, lets you optimize your blog, promote it and ultimately help it towards being successful.
Because with unlimited blogs online, only the finest quality can lend you the first place. And several blogging tools can help you achieve it.
Besides these tools, there are ample other tools, techniques, and resources, that you can use to make your site more interesting and engage your users.
What is your favorite blog tool? If there are any other tools that you have used for your blogs, you can share your experience with us.