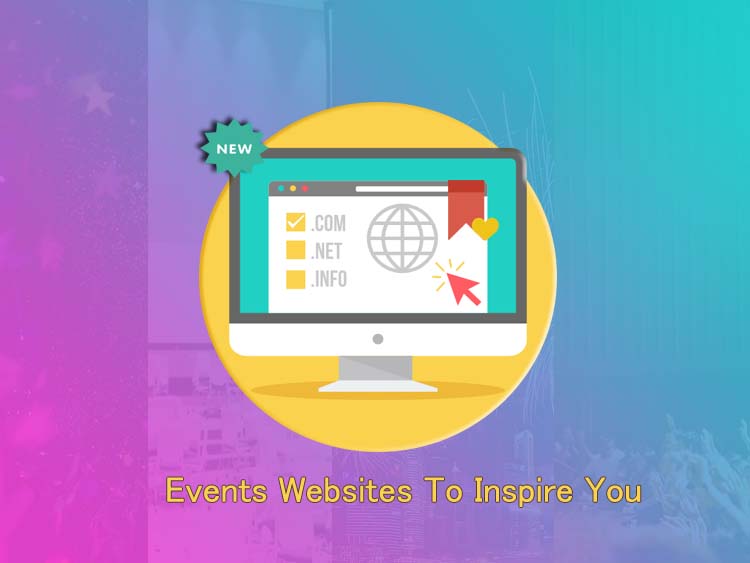 Starting an events website and looking for some inspiration? Here are 5 beautiful event websites and what they are doing to keep themselves on top.
Creating an event website can be a lot of work – deciding the platform, planning on the type of event website you need, starting with the research, and gradually moving towards website building.
Before you start, here are the top 5 event websites you should have a look at. So, spend a few minutes on each of these websites and observe the way they work, their design, and the content.
Each of the below-listed websites is built on a different concept. And regardless of what the intention of your event website is, they all have something or the other for you to learn from them.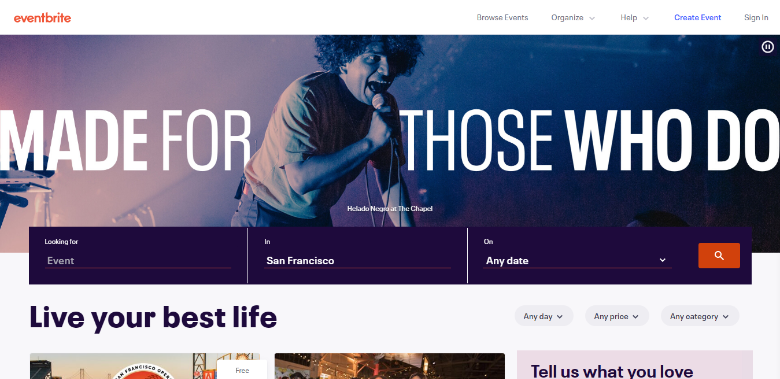 If you have been searching for an events website or even an events theme, you must have come across the name "Eventbrite" as it is one of the best in the niche.
Eventbrite is an events portal to manage events, or what you can call an events directory – Where the owner of the event can promote their events, and the event-goers can look for the upcoming events.
What they are doing right: The accessibility of the website is great. Registration and ticket selling feature too. Their website features a lot of events under different categories. The home page is very intuitive and the placement of the homepage elements is really effective.
Do you want to create your own version of the event portal? Learn how to create a website like Eventbrite with WordPress.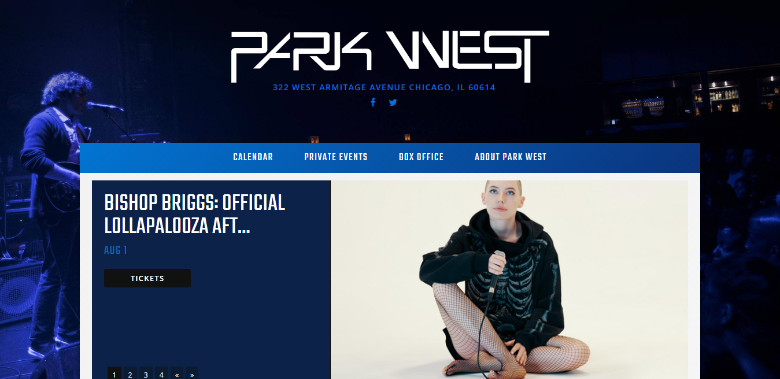 There are different types of event websites and this one is for a venue for events. The website provides information about the Park West Event concerts and special event facilities.
What they are doing right: Very unique page design with smooth navigation and intuitive screen elements. The dark-themed website displays the event lists and ticket prices right on the home page.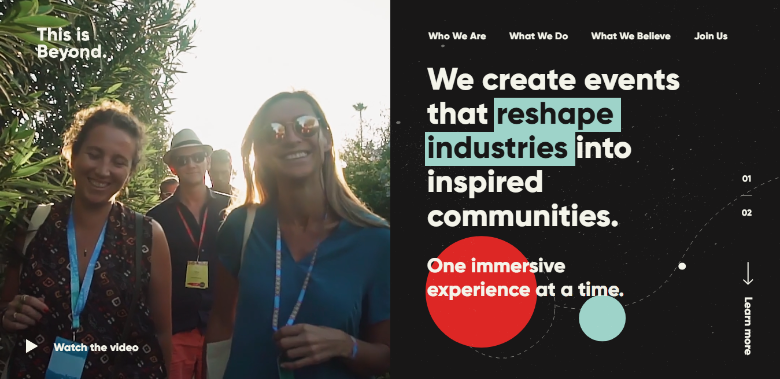 This is an event company's website with a great design and all the information you need. It has a menu that is short and direct – "Who we are" & "What we do". And that is all you need to know before you consult them for further information.
It is a small website and they've carefully not stuffed their website with a lot of information that might confuse the visitors. Not to mention, the video/text banner is brilliant.
What they are doing right: What is worth learning from thisisbeyond.com is the subtle way to deliver the message, without overloading the visitors with the information they don't care about. Besides, the design is brilliant, and so is the content.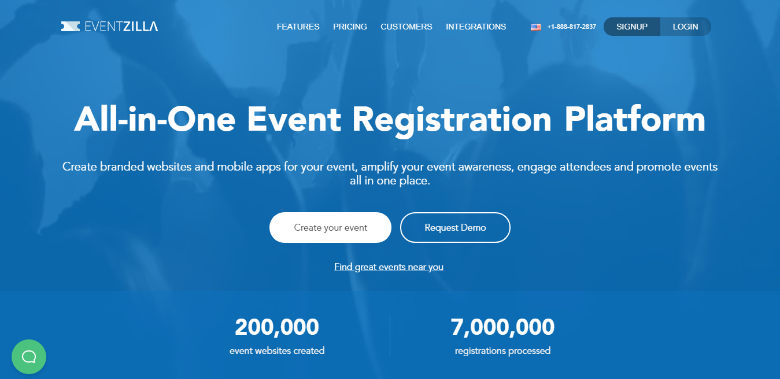 EventZilla is an all-in-one event website. It helps people with event registration and ticketing tools. This website provides a cloud-based service that helps event organizers to get in touch with a larger number of event-goers.
Eventzilla helps with event registration and online ticket selling. It is a very economical solution for event organizers to promote their events. For the free events the platform offers free services, and for the paid events, it's $1 for every registration.
What they are doing best: A central platform for the event organizers, a beautiful concept of an"online event management software". Simple design.

This is a website for business conferences and community meetups. There's a full-screen overlay menu for navigation to the details and a dark themes design.
The website has used different content forms to deliver different messages. Besides, there are videos, counters, and meaningful images to make sure the visitor understands their concepts easily.
What makes this website eye-candy are the soft colors, the smooth animations, and the video header.
What are the best features for a successful event listing website?
All the above-listed Event websites come with a common set of features:
Attractive homepage
First and foremost, a good design, especially that of the homepage, is very important. This also means that your events portal should not just be good-looking but also be very intuitive.
Flawless navigation
The navigation on your website should be smooth allowing the visitors to easily flow through different pages, effortlessly. All the important links should be highlighted.
Paid front end listing submission
The visitors wanting to list their events on your website should be provided with an easy way to do so. The options should be clear and easy to use.
Easy submissions
This includes easy payment processing, an intuitive and easy-to-use submission form, a preview feature, etc.
Filters and search options
For the event-goers, the search features should allow the visitors to quickly find the listings of their choice. This also includes proper categorization.
Clear content
Content on your website, whether in form of pages or posts, or events should be optimized with good images, and make sense to your visitors. Interesting content is what keeps the visitors coming back to your event portal.
What will you need to create such an event website for yourself(With WordPress)?
There are not many things that you need for a perfect events website. Let's start with a list of what you need for your event's website:
1)Domain name and Hosting: You will need a unique domain name to represent your website and a hosting service to host your website on the internet. You can use a domain registrar and hosting service provider like Bluehost to create your website.
2)WordPress Event Directory theme: To build with WordPress, you will need an event directory theme that will come with a pre-designed page designed and programmed features to let you easily and quickly start your events directory.
Have a look at the Eventum Directory theme to create amazing and fully functional event websites with WordPress.
Extra: Plugins: If you want additional features in your website, like a custom contact form, a caching or backup plugin, a translation, or an eCommerce plugin, you can add them as WordPress plugins.
What you don't need when creating an events website with WordPress
Monthly fees: WordPress is free and open-source. There is absolutely no platform fee. Whenever a new WordPress version is released, you can even download it for free. The only fee you will need to pay is the theme's price and that is a one-time expense.
Technical expertise:: You don't have to be a programmer or graphic designer with a lot of programming knowledge to use the WordPress themes. So you can Do It Yourself with the recommended references and documentation available with the theme.
Hired programmers: The WordPress Themes are pre-programmed to perform different functions. So the requirement of hiring technicians to develop features for your website is completely eliminated. But at the same time, if you want to have a feature available with your existing theme to be altered, you can hire programmers to do so.
How an event website help you earn online?
An event directory website, like any other online directory, can be set up as an online business. Even though such websites need time and effort in the beginning stages, they can help you earn massive profits in the future without further investments.
The main features to let you monetize your city events portal
Paid Event submission
This is obviously the main feature and one of the most common ways these events websites make money. You can create different pricing packages and allow the visitors to submit their event listings by filling up a simple form.
The pricing packages can have different prices and a number of allowed submissions. For example, there can be a "Single Delight" package, that allows submission of a single listing, at $100, with a validity of 2 months. This is ideal for someone who just wants to submit one event listing on your website. On the other hand, there can be a package called "SuperGold" where one can submit 6 listings for $500 with a validity of 2 months. This kind of package is good for event organizers looking to promote more than one event on your website.
After selecting a package, the visitors can pay and proceed to make the submission through a pre-designed event listing submission form. Our Eventum theme supports paid listing submissions through the front end with a pre-designed form. To retain the flexibility, you can easily add or remove the fields from this form using the custom field settings.
There can also be a category-based event submission where the event submission can be free or paid depending upon the category of the event. For instance, if you want to charge the most for entertainment-based events like music festivals and concerts, and allow free hosting for charity-based events, you can easily do so.
You can set a different prices for different categories. Therefore allow cheaper submissions for a few event categories that can help you populate your website by attracting more submissions.
Event ticket selling
Another feature that can help you earn through your events portal is by allowing the event organizers to sell tickets or passes for events on your website. This is also a very common feature for the events portal.
By allowing the sale of tickets, there are two ways to make money. You can either charge the event owners a fixed price for an added feature to sell the tickets or your website, or you can charge commission on ticket sales.
You can either install a plugin that allows this feature, or you can simply use an eCommerce plugin like WooCommerce to allow ticket sales.
Sponsored advertisement banners
Displaying advertisement banners on your WordPress website is one of the easiest ways to earn online, not just through an events portal, but also through any other kind of website. You can simply use different areas of your website, like the sidebars, or the area just above the footer, or in between the content, to display targeted advertisements.
These advertisements can simply be posters in form of images, video,s or graphics. Or you can subscribe to some service like Google AdSense to display advertisement banners and get paid on per click or per-impression basis.
Featured events
If there are event owners who want their events to be highlighted on your website, you feature the events on the homepage and the event category page and charge them extra for the same. These events definitely get more traction than ordinary event listings. The price of such featured images can be as high as double the normal event listing.
Online store with an eCommerce website
Another way to make money through your events website is by starting an eCommerce website along with it. There can be a separate website in association with your event website or it can be just a sub-section of the same website.
When using WordPress, you can simply start an events website by integrating the free eCommerce plugin called WooCommerce. With this plugin, you can start selling digital as well as physical products such as party props, event goods, merchandise, etc.
Affiliate Income
If you are also maintaining blogs with your events website, you can easily make money by adding affiliate links to your website. First of all, we highly recommend maintain blogs and keeping your events website enriched with unique, relevant, and useful content.
Then, you can start affiliate marketing whenever you wish by reviewing products, or by creating content that redirects users towards the affiliate link.
Conclusion
So in this list were some of the best event websites and some tips and techniques for you to achieve a similar website to start your online event portal.
Thankfully, today with the available options and tools on the internet, it is so easy to create and manage an events website with professional features.
Also read: