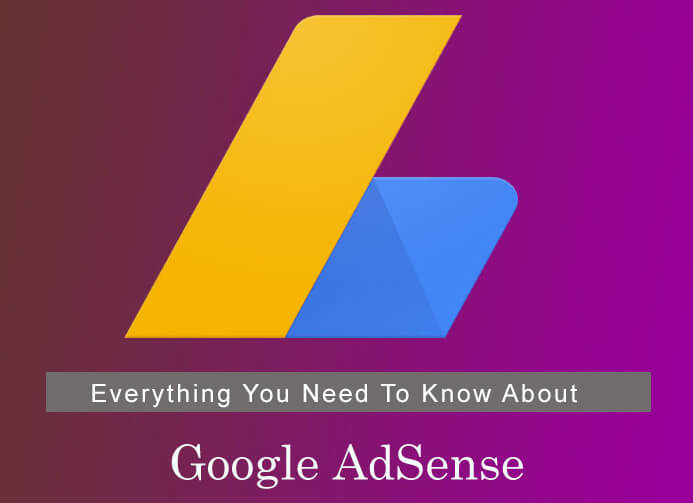 Considering Google AdSense to monetize your web traffic? Here's everything you need to know about Google AdSense.
When it comes to monetizing your website traffic, there are so many ways. But one of the easiest is by displaying advertisement banners.
AdSense is one such service from Google, that helps you make money through your blog/business website, by displaying targeted, selected advertisements to your audience.
Google AdSense can be used by anyone, on a website built with any platform, to generate revenue without actually getting in touch of the advertisers.
In this post, we will see what Google AdSense is, and how you can use it on your own blog to start earning easily.
What is Google AdSense & How it works?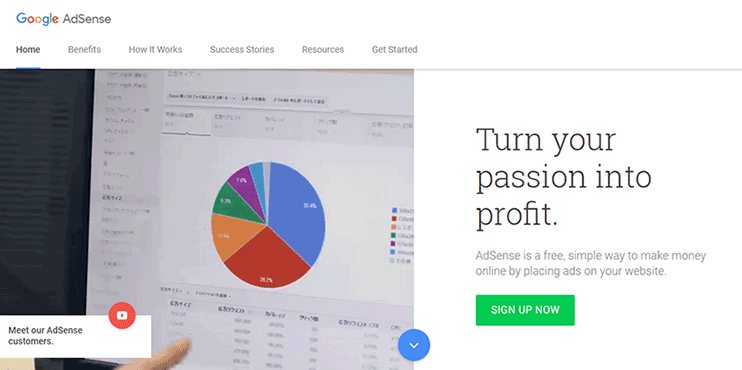 Google AdSense is a smart advertisement network to display advertisements on your website. These advertisements are in the form of text, images, videos, etc and are governed by Google.
This can help you generate revenue on either a per-click or per-impression basis.
Google AdSense, is basically a service, that serves relevant advertisements on your website. So, you can place the ad blocks on your website. Initially, they allowed only 3 blocks per page, but now you can place as many as you want.
You just have to paste the Javascript code for Google AdSense where you want the advertisements to be displayed. It's simple and easy. With that code, Google AdSense will start displaying advertisements based on the cookies so that the shown advertisements make perfect sense to your readers.
Static Advertisement banners Vs Google AdSense
The traditional model of advertising needs you to approach advertisers or wait for some sponsors to approach you, to display their advertisements on your website.
When you finally find such an advertiser, they pay the website owner to get promoted through their web pages. A static image or video banner advertisement is placed on the site.
Each user visiting your website will now see the same advertisement, even when visiting your website twice, thrice or for 10th times, even when the advertisement doesn't mean anything to him.
This is the old model, and it is still prevalent. Actually, sometimes static advertisements do make sense.
But to find advertisers, when you have just started your website, and want to take time to focus on your content is very difficult.
So services like Google AdSense are perfect for bloggers and small business website owners to display ad banners and start making money.
You don't have to wait for sponsors to approach you, or go to them asking to advertise on your website.
Where do Google AdSense get the Advertisers from?
"Okay, I don't have to worry about where and how to find the advertisers? Google AdSense will do that for me. Great! But where do Google AdSense get these advertisers and advertisements from?"
Well, this is naturally a question that could come to your mind once you know how Google AdSense works.
The answer is "Google Ads"
Just like all of the bloggers who want to display relevant advertisements on your website, there are also business owners who want to reach people through targeted advertisements.
Just like it's difficult for a blogger to find a sponsor who wants to advertise on his website, it is difficult for an advertiser to find, approach and deal with different site owners to display their advertisements.
Google solves the problem for both of them!
Those businesses who want to advertise can enroll in Google's Advertisement delivery service through Google Ads (previously known as Google AdWords).
Therefore, here we have two of Google's services working concurrently, to build an advertising network as well as to provide an advertising service.
Google Ads for those who want to advertise through Google ad networks
Google AdSense for those who want to host the advertisements
'How Google Ads works?' is again a whole new topic. We'll write about it too, someday soon, and share the link right here!
How Google AdSense Works:
You subscribe to Google AdSense advertising network
Place ad blocks on your page where you want to show the advertisements
With a JavaScript code, the relevant advertisements are fetched
Google AdSense shows the advertisements that makes sense to your visitors
To advertise through Google AdSense, you can use Google Ads
The results of Google AdSense are remarkable. The advertisements really make sense. Since they are targeted and not a random or static banner, the engagement and conversion is better too.
Google knows almost everything, even what kind of advertisement your visitor wants to see. It doesn't disappoint!

WordPress and Google AdSense
We have reached a technologically advanced era, where website building, making money through them, and the use of these technologies is not just limited to the webmasters or the technical people. (Aren't we already excited to see what the future holds?)
Anyone, with limited or no technical expertise, can go online. WordPress is one such platform that make website building a breeze.
See how easy it is to create the following websites with WordPress.
You can create professional looking, fully functional websites through WordPress, in just minutes, on your own, and without touching a line of code.
WordPress is free, opensource and very easy to use. Even though it can be used to create any kind of website ranging from a full-fledged online Directory to eCommerce websites, to a business website, it is an excellent platform for bloggers.
Therefore, with WordPress, you can easily create your websites, and manage them, and even earn through them using Google AdSense.
However, there also exists a self hosted version of WordPress(WordPress.com), that doesn't support Google AdSense.

Adding Google AdSense to your WordPress websites
As mentioned earlier, WordPress makes website building and managing really easy.
You can create a site, manage it, maintain it, and earn through it, without professional help.
To earn through your WordPress websites, you can easily integrate Google AdSense to it. There is some special AdSense WordPress theme designed to work flawlessly with Google AdSense. But Google AdSense can be integrated into any WordPress theme easily.
You can do this easily once you sign up for Google AdSense. After signing in, you can navigate to the ads section and get the code for displaying Google Ads on your website.
You can copy this code to apply on your WordPress. To do so, you need to create an ad widget and place it anywhere you want.
1) Log in to your WordPress dashboard, navigate to widgets
WordPress widgets are a block of content/features that can be placed at different parts of your website (classified as widget areas).
Therefore, login to your WordPress dashboard, and navigate to widgets as shown in the image: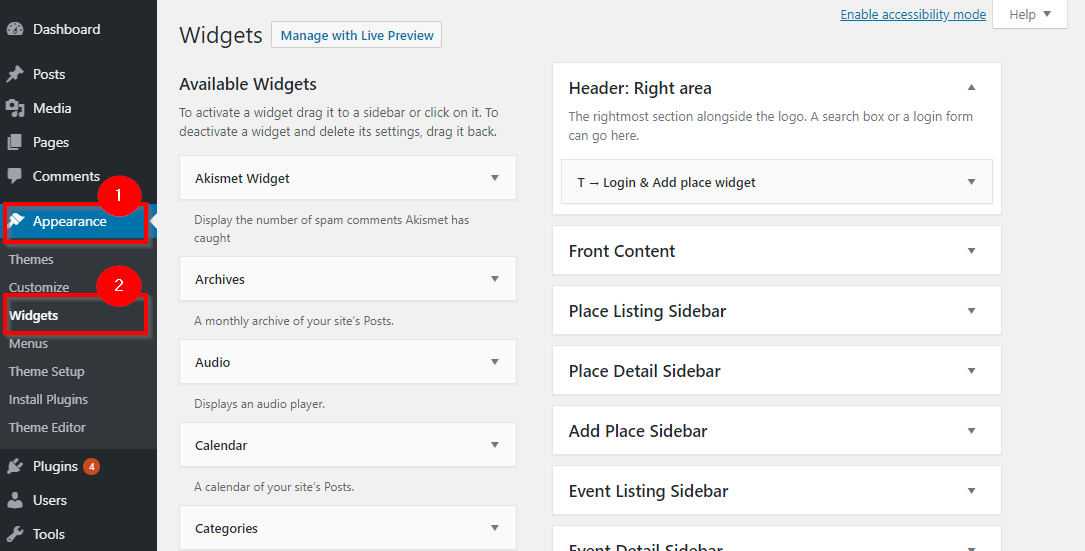 2) Select the text widget
The 'text' widget allows you to place formatted text/html code anywhere on your WordPress website. This same text widget can be used to paste the Google AdSense code to display advertisements on your website.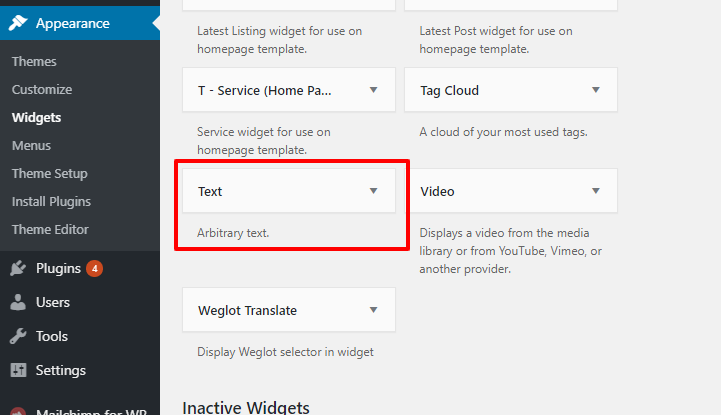 Some advanced WordPress themes come with a design optimized for Google AdSense Advertisement blocks and they may come with a special advertisement widget, where you can paste the advertisement code.
3) Paste the Google AdSense code
First, decide the part of your site where you want to paste the code. Do you want to display advertisement in the header, or above the footer, or in the sidebar area?
For example, you want to display an advertisement in the sidebar area. So just drag the text widget and drop it into the sidebar widget area.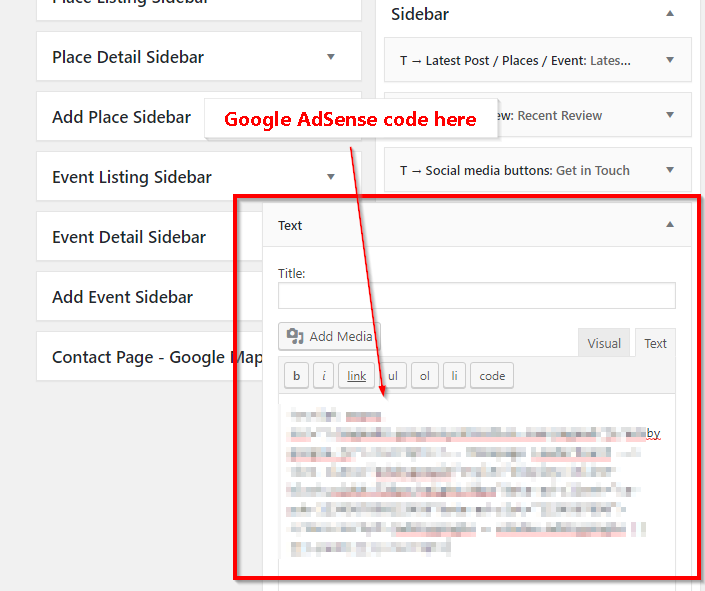 You can now set the title and paste the Google AdSense code here.
Google AdSense Alternatives
The services of Google AdSense are the absolute best. It is easily the best ad network out there. But sometimes, you might still want to have a look at the Best Google AdSense alternatives.
The reason for looking for a Google AdSense substitute can be many
Difficulty getting your AdSense account approved
Your AdSense account got banned
Somehow, you are not satisfied with Google AdSense
You want to use a different network for some other project
Just for the trial purpose
Or maybe you are looking for Google AdSense alternative just for the sake of your curiosity. You might want to know if there are other services that do the job.
Actually, there are some services that you can use instead of Google AdSense. The following are the alternatives for Google AdSense:
Media.net: An advertisement network by Yahoo! and Bing. They have ad types similar to Google AdSense.
AdSterra: One of the Google AdSense alternatives with features mostly similar to it. The interface to use it is simple, and serve over 10 billion ad impressions per month, covering about 190 countries.
Amazon Associates:  Make money by promoting the products of world's largest eCommerce store.
These three are the closest Google AdSense alternatives. If you search enough, you will find hundreds of different alternatives and methods to make money through your website.
However, I recommend sticking to Google AdSense and not doing anything that gets your account suspended or banned.
Basic tips for using Google AdSense
Google AdSense is a tool that makes your lives easier. It has some fantastic features and lets you earn effortlessly.
However, below are a few tips for using Google AdSense to make money through your website.
1) Follow the rules
…..and don't get banned
Google AdSense doesn't tolerate cheating. It is tempting to earn more through advertising and you might start thinking of ideas to earn through some tricks. But Google recognizes when you break the rules.
Some of the things that can get you banned by Google AdSense are:
Artificially clicking your own advertisements
Tweaking the Google AdSense code
Using Multiple Google AdSense accounts to display ads on same page
Buying traffic for your blog with Google AdSense
There are many other things you must take care while using Google AdSense to earn through your blogs. Here are the guidelines by Google AdSense.
2) Don't make it all about advertisements
You have to understand that the visitors on your website don't come for the advertisements. So when placing advertisements on your website, make sure that it does not compromise the value that your page provides to your readers.
Insist on creating pages that display advertisements subtly while proving to be useful for the end users.
3) Proper placement of the Ad Blocks
Where you place your advertisements is really important. With flexible web designs, you can place advertisements almost anywhere on your website.
You can show advertisements in the header, before and after the content area, in the sidebars, in the footer, etc.
While it is important to ensure that your advertisements are placed on the prominent places of your website, you must also take care that they are subtle and don't unnecessary overshadow the important content.
For this, you should try different combinations to find out what works best for you. Also, make sure you are not violating the placement policy of Google AdWords.
4) Don't forget about quality content
Google is smart, your readers are smart too. They can spend a minute on your website and tell what your intention with the content is.
If you publish spammy, useless content, or plagiarized content, then your website will suffer.  On the other hand, Good content drives traffic and is great for SEO.
Not taking care of what your audience actually wants can be your biggest mistake. You must make sure that your website is updated regularly, with interesting, unique and engaging content that provides some value to your users.
5) Responsive design
We have reached the era where the use of smartphones to access websites, and other web applications have drastically increased. In this situation, it is very vital to take care of your mobile users.
Not just for AdSense, but for any web application or website, always use responsive designs. If your Google AdSense advertisements are not responsive and mobile-friendly, they will result in the disruption of the design, cause overlaps and may render useful text inaccessible, which is very annoying for the users of your website. Therefore, responsive is a must.
6) Google Analytics + Google AdSense
It makes no sense to keep experimenting and not paying attention to the results. To track the effectiveness of your Google AdSense advertisement campaigns, link it to Google Analytics.
This helps you to get the AdSense data in your analytics dashboard. Here's the guide on how to link the Analytics with AdSense.
Wrap Up
There are a number of ways to monetize your traffic and make your website profitable.
Google AdSense is the easiest way if you stick to the rules. It can be very profitable if used wisely.
However, your first concern should be acquiring and maintaining traffic. Once you have enough traffic and you start experimenting with Google AdSense, you might just find an optimal way to convert the traffic.
Have you ever used Google AdSense or Google AdWords? If yes, then don't hesitate to share your experience and drop a piece of advice for our readers.
Further reading: Google Analytics for WordPress: A Definitive Guide.