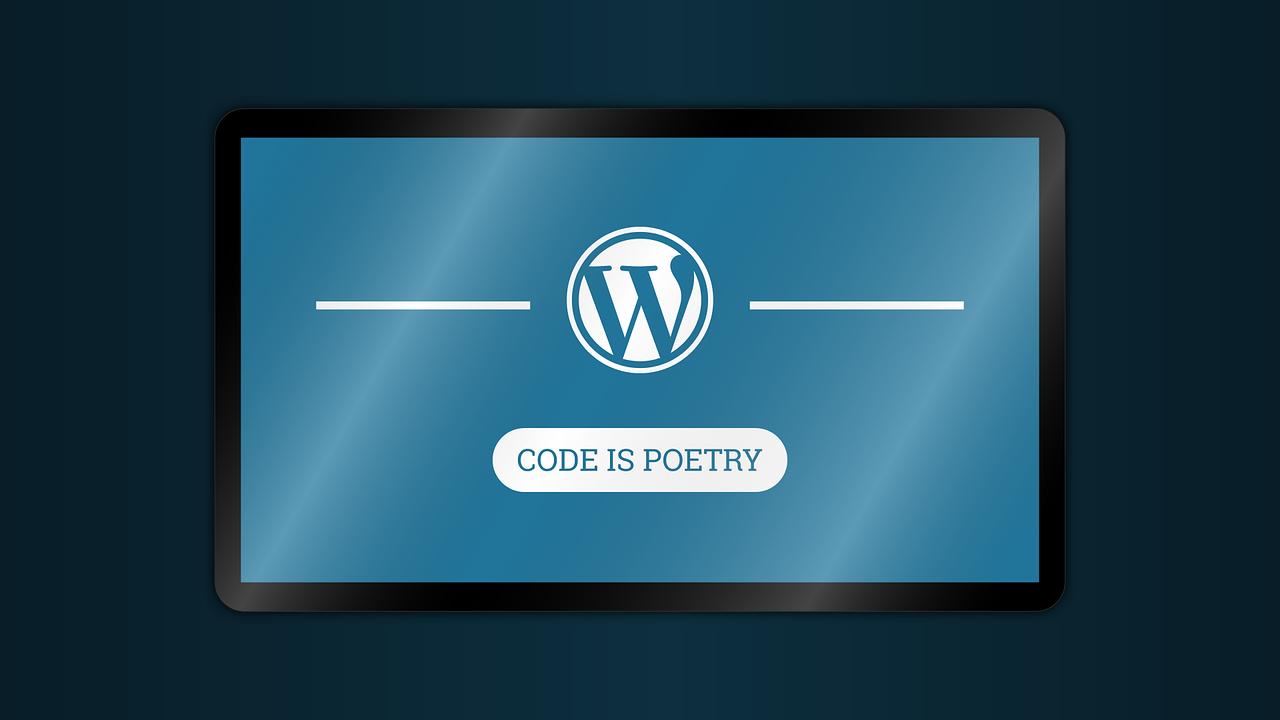 What should you rely on to create your brand new blog site? A WordPress.com VS WordPress.org comparison. 
If you are looking at platforms for blogging, WordPress is your way to go. WordPress is a CMS developed especially for those people who want to share their stories with the world through the internet.
Of course, WordPress can do a lot more than just blogging. WordPress can be used to create the simplest business websites like a plumber's or a dentist's websites, as well as for creating multi-dimensional and complex sites such as online directories.
The primary advantage of using WordPress for website building is that it is really easy to use. You need no technical expertise to build your site with WordPress. It's simple to use, just use the inbuilt options to create a beautiful site on your own.
So even when you think of establishing a blog as a side hustle, or as a hobby idea, a WordPress site is really easy to build and maintain. The framework remains the same, but the deployment will differ based on whether you choose WordPress.com or WordPress.org.
Using WordPress has many advantages:
Simplicity: Is A Virtue. And that's true for WordPress. Even one glance at WordPress' dashboard is enough to make you realize that there are well-defined and enough options, and no overwhelmingly complex settings or unnecessary features.
Extensible: You can easily add new features to your site, with the WordPress plugins and add-ons, anything is possible. You can change your mind and decide to add or remove features to your site as and when you want.
Themes (Design + Features): All you need to do to create a website with WordPress is to find a suitable theme. The best of WordPress themes come with design and features built in with enough customization options.
Inexpensive: Depending on the options you choose with WordPress, there can be some cost, but it's never as expensive as some other website builders, or having your website designed by experts. WordPress is an affordable option.
Easy to use: Everything is easy when it comes to WordPress, building your site, integrating a theme, managing your website, adding or removing new content or features. WordPress is for business owners and non-technical people to create and manage their websites.
Flexible: WordPress is flexible and can be used easily to create websites with a wide range of features and capabilities.
WordPress.com VS WordPress.org
There are two options of WordPress platform that you can use to create a blog or a website.
WordPress.org: Allows you to download WordPress as a software and install it on the host to create a website.
WordPress.com: Is a SAAS platform that allows you to create a website by creating an account and choosing from the options to build a free website, or that with some premium features.
Building a website with WordPress.com
WordPress is one of the most flexible CMSs, and the self-hosted platform is great to start blogging for FREE.
To create a website for free on WordPress.com, follow the steps listed below:
Navigate WordPress.com. Click on start your website.

The next step will display an option to get started with your website. If you don't have an account, you should create one. There are options to manually create an account or a social login option to use your existing account with Google or Apple.
  The next step will be to confirm your email address by clicking a link provided to you by an email.This will log in into your account.
You can click on 'Create site' to get started with your WordPress.com website.
 You can start by naming your site.
 Next step is choosing a domain name. Just key in your desired domain name or your keywords in the search bar and the suggestions related to it will appear.For a completely free blog site using WordPress.com, it will host your site as a subdomain, the domain name will look something like:
Next, you can choose a design from the available templates. You can choose a template from the available ones, or start with a blank canvas and build your site as you go.
 The next step will allow you to choose the features that you want for your WordPress.com website. However, all of the features mentioned here are paid and the sole purpose of this step is to suggest you a plan that best fits your requirements. If you want to create a site for FREE, just click "skip for now". If you want to go for a paid plan, you can choose from the available features and it will suggest a plan.
This screen will display all the plans that you can choose from (along with a FREE option). The free plan will have advertisements displayed on your site, and limited storage, moreover the domain name will be a subdomain and display wordpress.com as a suffix before your chosen domain name.There are premium plans with custom domain, more storage, and advertisement free sites and many other features.
That's it. Your site is ready now to be edited and you can start updating it with your data now.
Editing your WordPress.com site
The modern website are all based on page builders, and WordPress.com allows you to use their inbuilt page building options to edit your site. The editor is a front end editor, with WYSIWYG editing options.
We highly recommend you take the tour of how the page builder works by clicking "Try it out!".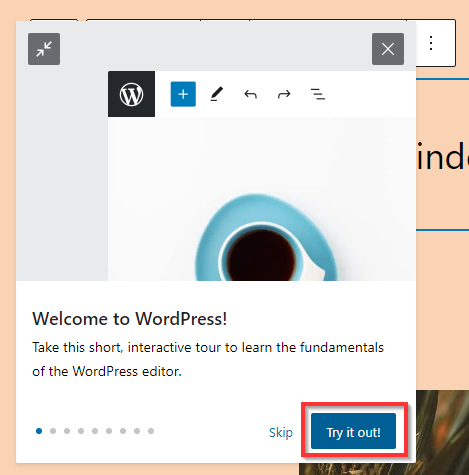 There are also a lot of styling options available on your WordPress.com site. The features of editor and ease of use is quite satisfactory considering that it is a free site, and a free platform to share your stories.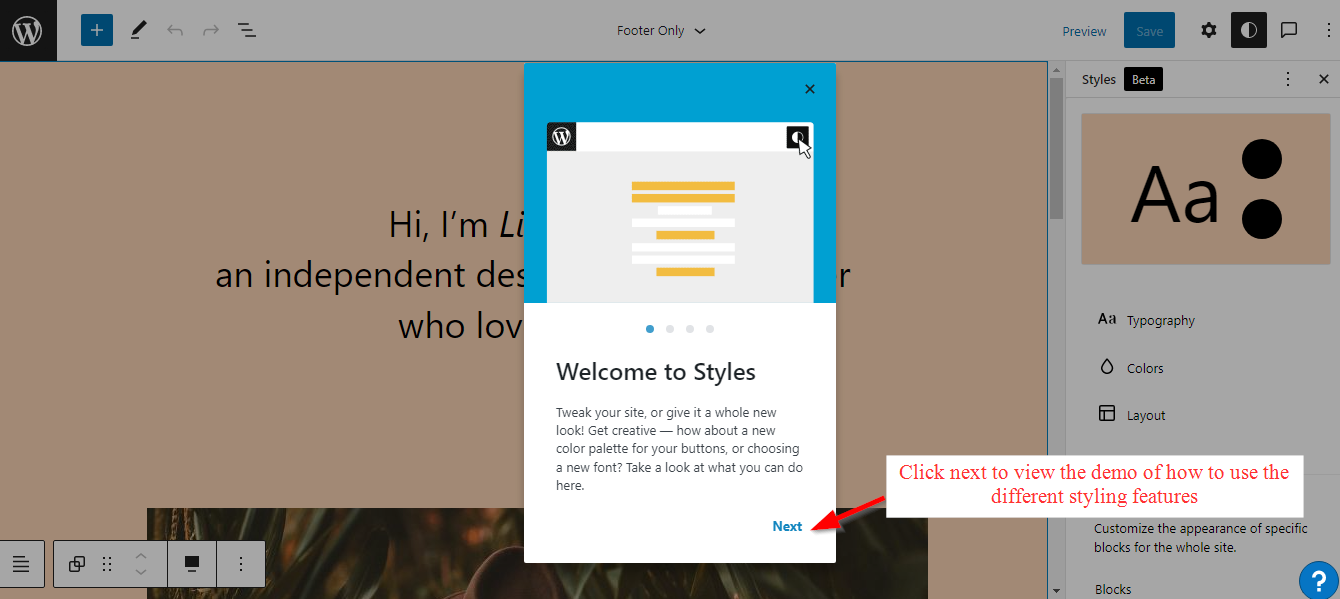 Once you have had a look at the styling options, and are familiar with how you can edit your template, you can upload images, create new pages, and add content to your website.
You can take the editor's tour to see how the different options work. Basically, most of the sections are just click to edit. It is a WYSIWYG editor, and you just have to make the changes at the front end which makes things a lot easier.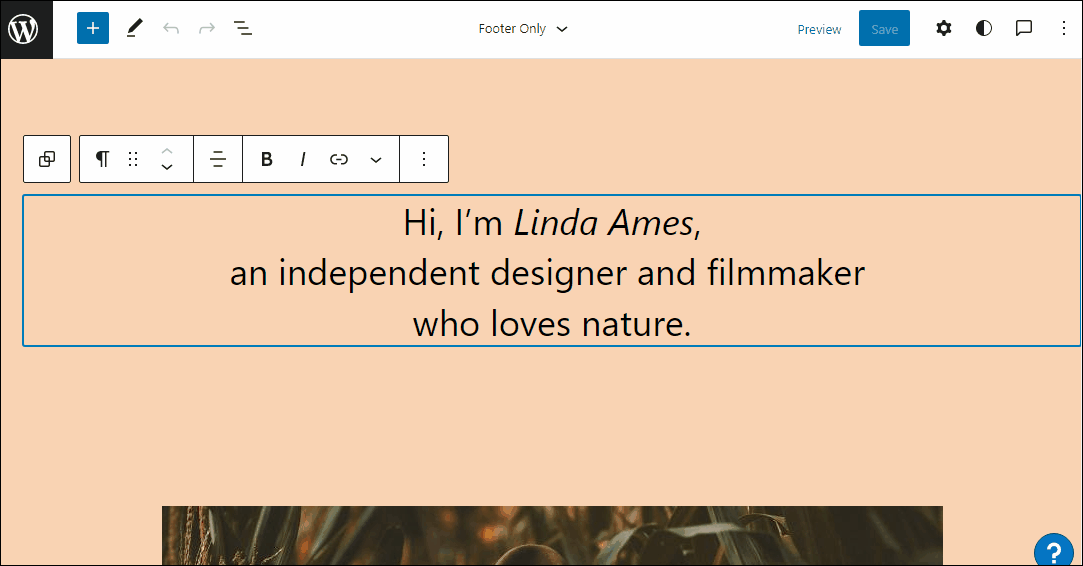 Whether it is a text section, or an image, you can easily click it and change it.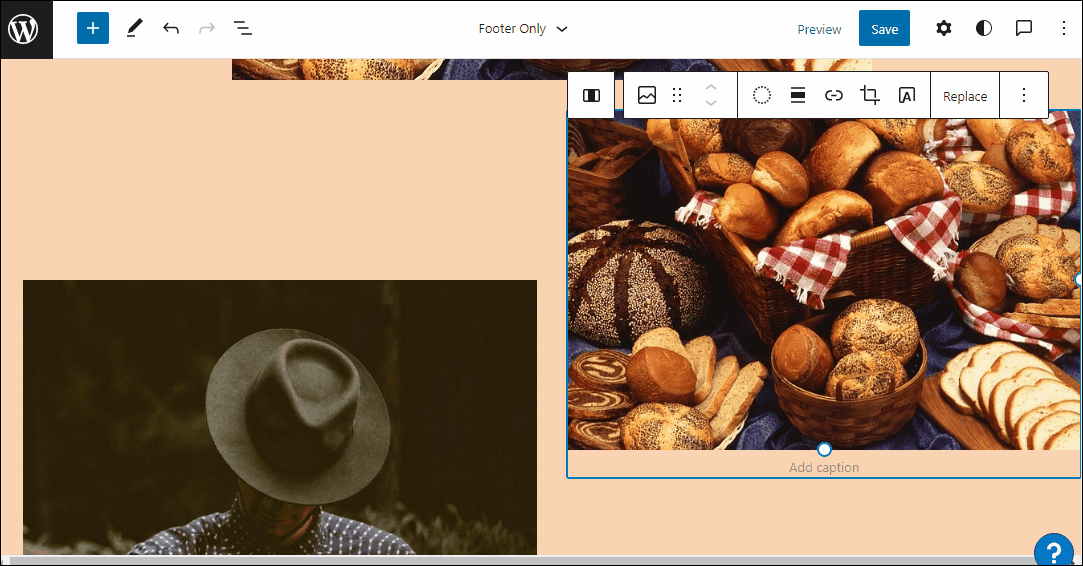 Accessing your WordPress.com dashboard
Just click the WordPress.com's icon on the top left corner of the screen to access more options for your WordPress.com site.

There are options to access the dashboard, to change or choose the templates, etc.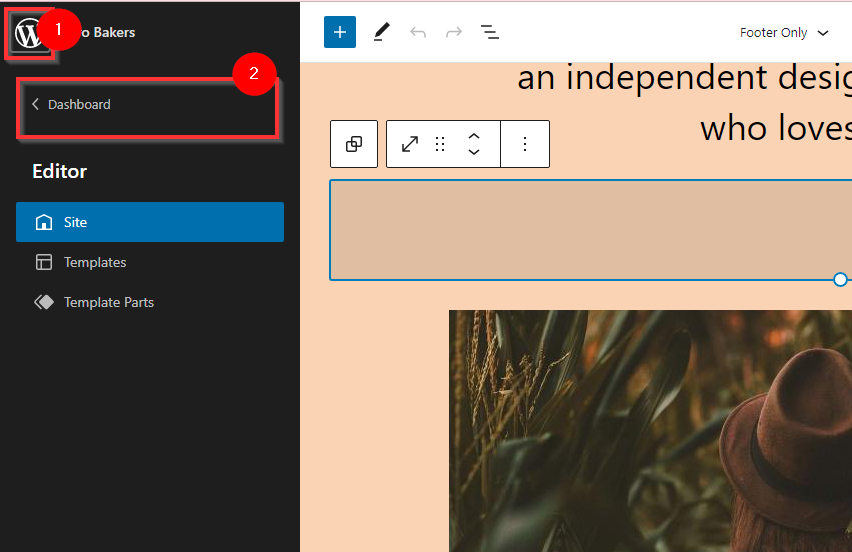 The dashboard options are the backend options for your WordPress.com, and it has options to control the look and feel of your site. You will need to access this page if you want to add new blogs, pages, manage comments, or the appearance of your site.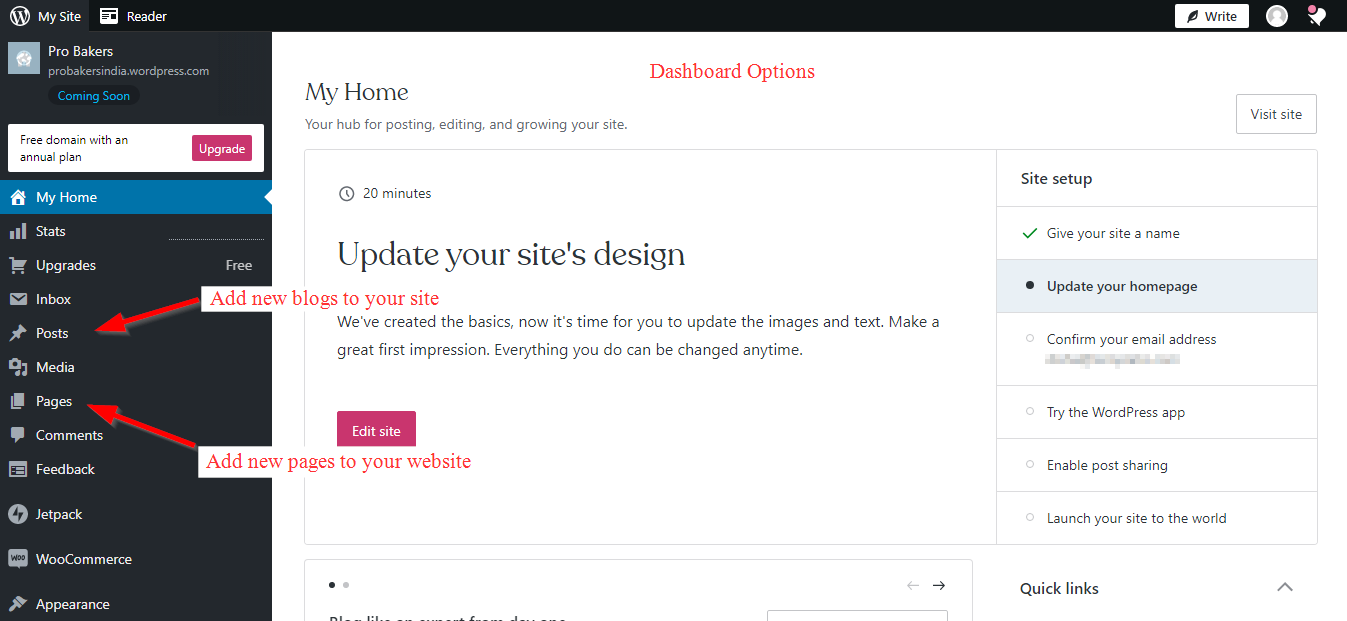 There are some quick links too to help you with the further editing of your WordPress.com website.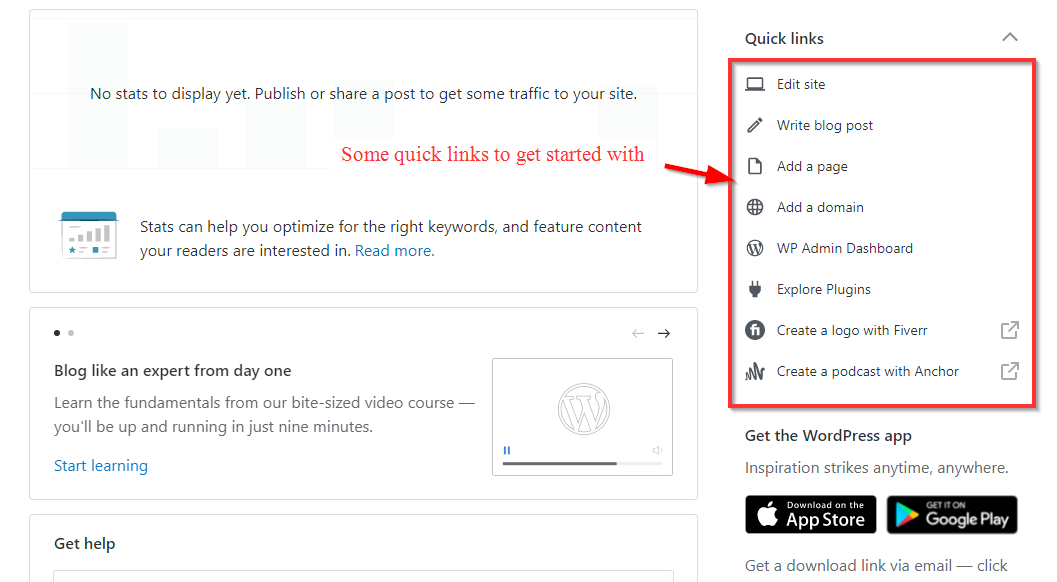 All these options will help you build an entire site with content, blogs, upload custom images, add plugins and so on. The next step would be launching your WordPress site.
Launching your site with WordPress
On the dashboard, you will find an option to launch the site (if your site isn't already live).
Just choose the option and click "Launch site" on the next screen.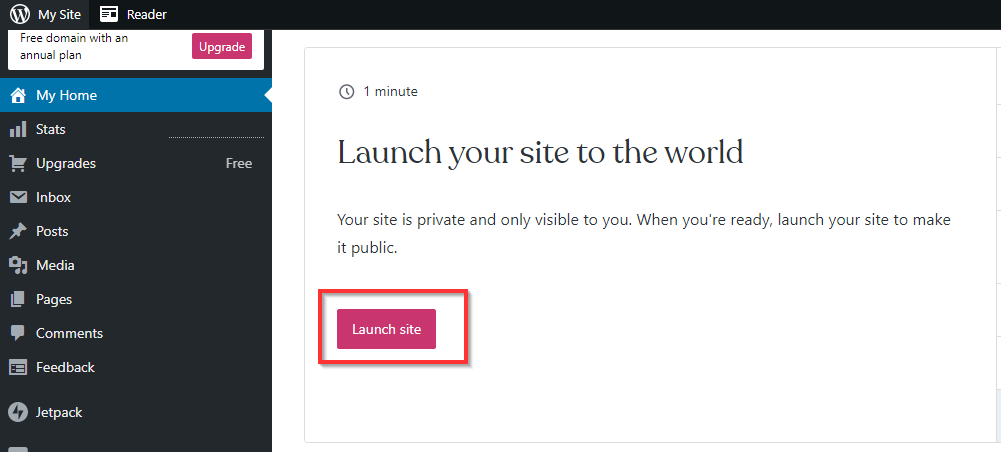 The next two steps is where you can determine if you want a free site or a paid one. You can choose a domain name (free or premium) and then a WordPress.com package for additional services or choose to go with a free site.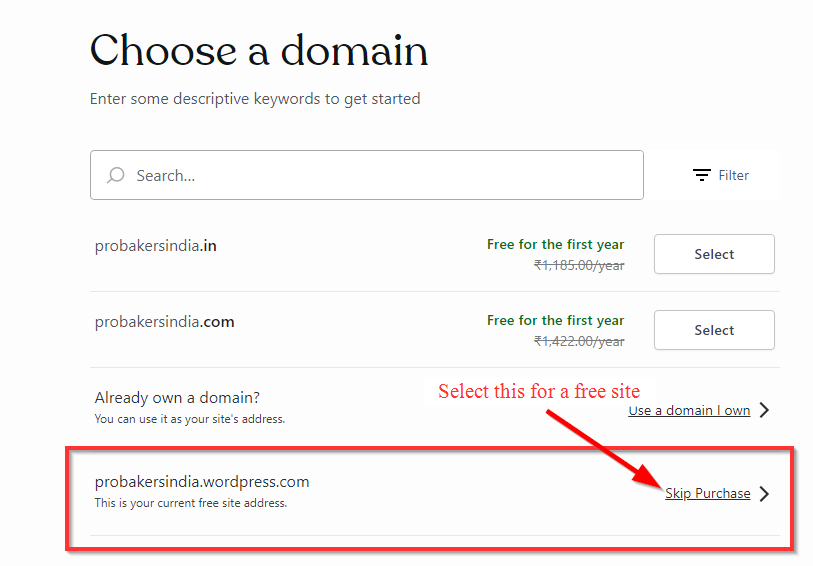 Select skip purchase, on the next screen, you will be shown different pricing plans where you can choose to start with a free site, or choose a plan according to your requirement, and click go to launch your site.

And your site will be live in just minutes with WordPress.com!
WordPress.com's paid plans: How affordable? and features..
WordPress.com lets you launch fully functional websites online, but there are some limitations to the free plan. For instance: you cannot have a custom domain name, the domain will be an extension to WordPress.com, it will display advertisement on your site (which you won't get the revenue for) and for other additional features too, you will need to upgrade to a premium plan.
If you are looking for paid alternatives to create a website with, we recommend going for WordPress.org. It is one of the most popular CMSs and powers a range of website from simple blogs to complex online directory websites.
And WordPress.org is free and open source, and the only price you pay is for the hosting and domain name as well as a premium WordPress theme.
WordPress.org is simply the best choice for WordPress website builders because of the following reasons:
Free and opensource (you only have to pay for hosting & domain name)
Easy to use
Available of the niche WordPress themes
Ease of adding new features with custom plugins
migration to host, and domains easy and simple
Ecommerce ready with the help of free WooCommerce plugin
Independent from the limitations of any platform
flexible and scalable
Building a blog with WordPress.org
WordPress.org is one of the easiest and most convenient alternative for creating a content based websites. That being said, it is also great for interactive multi-user websites like an online directory or a full blown eCommerce website.
You can create awesome WordPress sites and all you will need for building a WordPress site is a domain name and reliable host.
Listed below are some steps to build a brand new and feature packed website with WordPress.org
Acquire hosting and domain name for your website
The first step would be to procure a domain name and subscribe to a host. While WordPress.com is a free and self hosted platform, WordPress.org needs you to get host.
We recommend Bluehost as their plans are affordable and they offer the best uptime and great support service. However, you can subscribe to any host that you think offers the best services for you.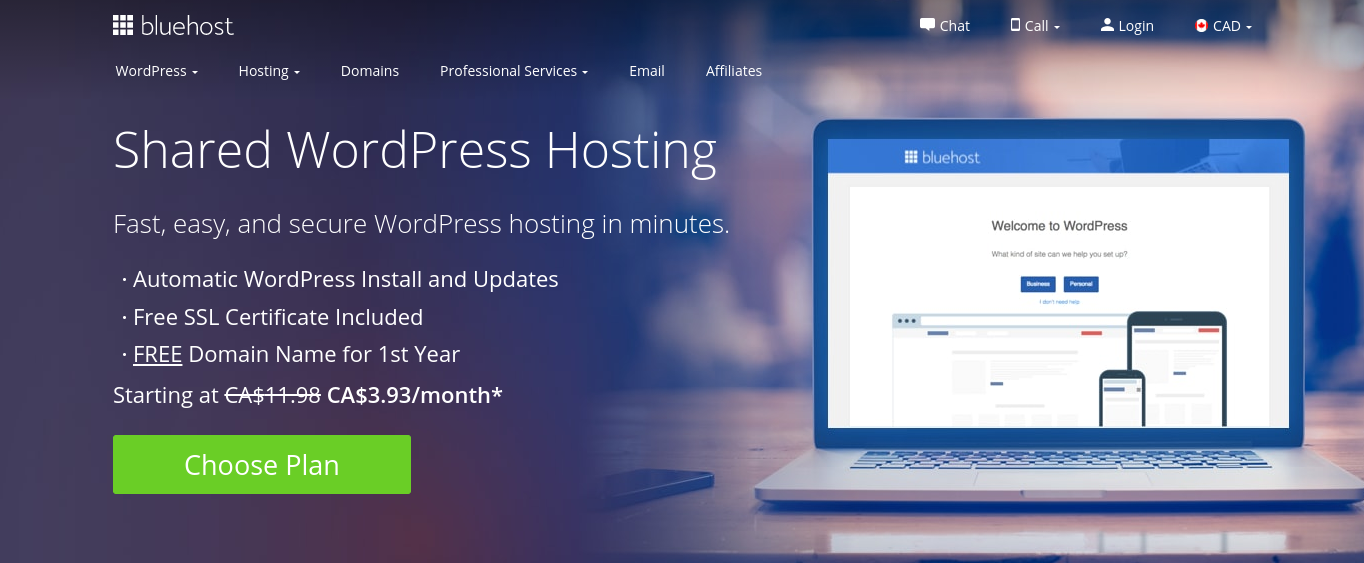 Alternatively, you can rely on WordPress hosting, that mostly all the premium hosts provide. These hosting packages will automatically download and install the latest version of WordPress for you. All you have to do is choose to build with WordPress.
Download WordPress:

You can download WordPress.org easily and use it for your projects without needing any further permissions or limitations. You get all the features for free unlike WordPress.com. Download it for free, and use it for as many websites as you can, and with all the features.
If your host comes with the option to let you choose WordPress as your website building platform, you will not need to download WordPress separately. It will automatically be setup with the latest version of WordPress installed and you can just start by starting with your site details.
WordPress themes and plugins
There are tons of free and paid WordPress themes and plugins. And you can choose one of them to setup your website and add features to it.
WordPress themes are much more than just design templates, they include features too, and the pre-programmed modules ensure that you can launch a fully functional website in just minutes.
Moreover, these WordPress themes are designed with the newbie website builders in mind. Most of the people that own such websites, aren't programmers or web designers. Therefore, the premium WordPress themes come with very intuitive options to let you easily manage your website.
There are feature rich and efficient themes with page builders, or front end editor, or running contact form, and so on to make your task of website building easier.
You can add features to your WordPress website in the form of plugins and add-ons. This gives you the flexibility of changing the scope and features of your site as and when you need.
For example – If you are looking to add eCommerce facilities to your site, you can use the Free WooCommerce plugin and start selling or accepting payments online.
All you need is to add a plugin for the feature that you want in your website. While some of the plugins are paid, there are tons of free and useful plugins for WordPress that can make your website more usable and reliable.
Setup your website
This is a wholesome guide on how to create a blog with WordPress.org which along with technical steps on how to build the site also includes tips and tricks to promote and maintain your WordPress site.
We also have a tutorial for blogging for beginners to help them understand the pre-requisites, pros, cons and how to make money blogging in 2023.
WordPress.com VS WordPress.org: Who wins?
WordPress.com and WordPress.org both work the same way, but they have different applications. The best choice for you can be determined based on what you want to build with WordPress.
For simple websites, where you just want to share you ideas with friends and acquaintances or build a social following, you can rely on WordPress.com.
WordPress.com is simple & free for personal blogs, where you don't care about having a custom domain (without wordpress.com included in it) and the advertisements. But if you want a website with better user experience, remove the unwanted advertisements and optimize your site for search engines, then you will need an upgrade to premium plan.
WordPress.org can prove to be a better alternative if you are looking at one of the premium WordPress.com plans. Because it has a lot to offer in terms of flexibility, and the availability and variation to choose from premium themes and plugins for different purposes are always a plus.