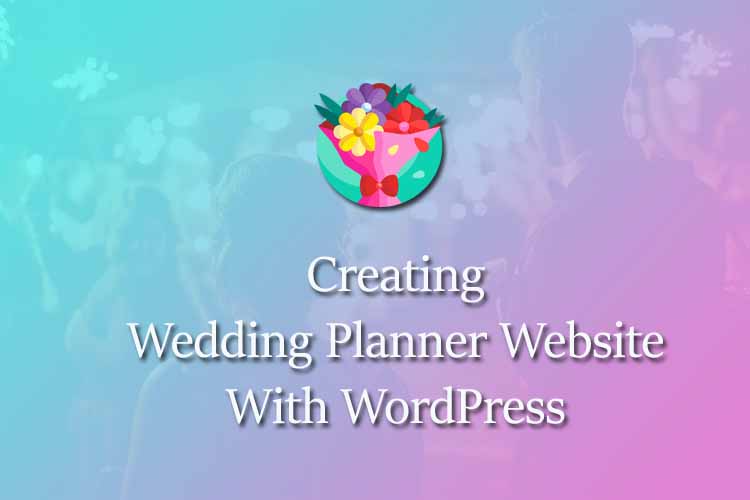 A wedding planner website that represents your business online can help you promote your services to a wider audience.
Such a website has many advantages: It's scope is beyond the physical boundaries, so clearly reaches more people and speaks on a broader level.
Your wedding planner website also helps the interested audience easily get in touch with you. Such a website can help you announce relocation of your premises, promote your new services, offers, discounts, etc.
Moreover, a website can deliver more details than an advertisement. Whether it is a paid social media advertisement, a banner advertisement, etc. Also, a web address attached to the advertisement will help the interested audience know more and get in touch.
There can be so many advantages of having a wedding planner website besides having a strong internet identity for wider coverage.
And since creating a website these days is so easy, in this article we will see how you can easily create a professional looking wedding planner website on your own.
1) Choose a WordPress Theme
WordPress is a free, open source and easy to use platform to create multi-functional websites. Especially for small business websites, using a CMS like WordPress makes website building and management easier.
When you are building with WordPress, updating and making minor changes in your website once it is live is very easy. Moreover, WordPress is an SEO friendly platform which is a big advantage for the visibility of your website.
It helps you save time, efforts and money. Here are the best reasons to use WordPress for your small business websites like the wedding planner website.
We will use WordPress to create the wedding planners website. And to begin with,  you shall look for a WordPress themes with different designs and features to fit your website.
WordPress Themes are nothing but the predesigned website templates that you can easily use to create professional looking websites without actually designing or programming it.
The following are a few WordPress Wedding themes that you can use for your wedding planner website:
Everline WordPress Theme For Wedding Events
Everline is a Wedding Event theme that you can use as a wedding event & planning theme. The theme has a modern and elegant design. Everline is a feature rich theme that lets you create a wedding website, events or a WooCommerce website.
You can choose from the 5 homepage versions and 9 color schemes for your website. Make use of Visual composer for building pages.It is compatible with the Events calendar for letting you add and display events. With the Gwolle-GB guest book you can integrate the guest book feature in your theme. If you wish to include ecommerce features into the theme, you can use the WooCommerce plugin. To create more intuitive content, you can use the font awesome icons. This theme supports RTL mode too.
BigDay WordPress Theme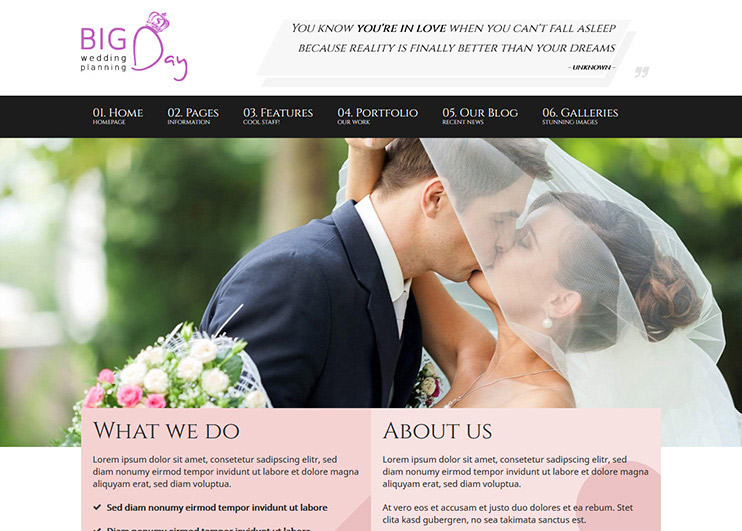 BigDay is a wedding planner's theme. It has a combination of useful features and unlimited customization options.
It is an SEO optimized theme. With this theme you get unlimited portfolio options, to showcase your stories and projects. The theme comes with beautiful parallax sliders. It has more than 500 options to let you customize the theme. You can display your team members with this theme. Big Day is compatible with the WooCommerce plugin for ecommerce features.
Together – WordPress Wedding theme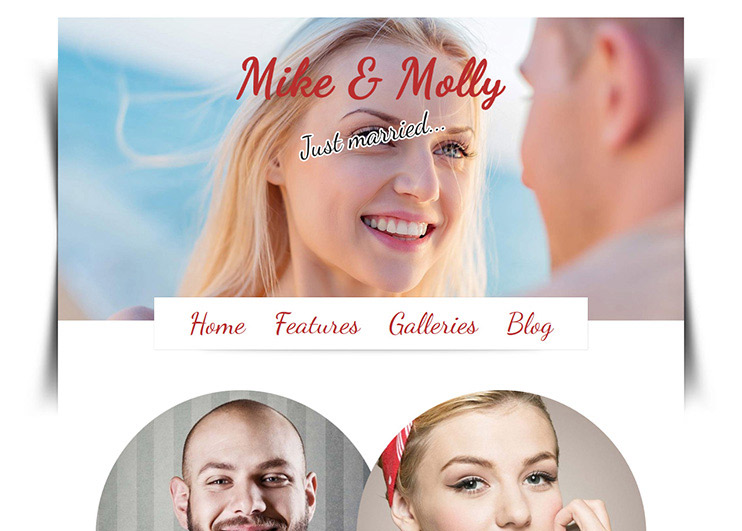 Together is a wedding WordPress theme. With this theme you can create a wedding website with easy options and various features. You can use this theme for wedding blog, wedding or a wedding planner's website .
It comes with a ready to use <strong>Ajax contact form</strong>. The theme also allows custom css for minor css changes. It also includes a countdown timer and photo gallery options. To include ecommerce features in the theme you can use the WooCommerce plugin. The theme includes custom post types for portfolio, team, clients and testimonials.
Besides, you can even check this list of the best WordPress wedding themes to get a beautiful theme for your wedding planner website.
2) Prepare for your website
Before you start building your website, you will need the domain name as well as the server space to host your website. These are easy to acquire.
Once ready with the host and domain setup, we will install WordPress and setup the theme. These are the basic steps when you choose WordPress to create your wedding planner website.
However, if you choose any other CMS, you can skip the first step in this article and continue with the site customization because the rest of the steps are common regardless of the website building platform you choose.
Hosting
When using WordPress, you will have to look for the server space where your website's system files will reside. This gives you a chance to choose the best hosting server for yourself.
Bluehost, is a reliable website for your domain and hosting requirements of small business. It is affordable and has a great up time and after sales support service to help you out when required.
Domain name
Since the domain name essentially represents your website's identity on the internet, it is one of the most important decisions of website building.
There are many things that you should consider while choosing a domain name for your website. First of all, you must choose a name that clearly represents your business.
WordPress setup
Setting up WordPress regardless of the hosting service you choose is very easy. Most of the modern hosting providers  offer WordPress Optimized hosting. This service will come with the feature to automatically install the latest WordPress version on your server.
Now all you need to do is to log in to your hosting cPanel. You can simply choose to create a website, and find the option "Build with WordPress".
Depending on the hosting service you choose, there may be different processes to install and use WordPress. It will always be a simple, easy process. There can be You will be If the above mentioned steps don't work for your hosting service, you can contact the hosting support or find the solution in their documentation/user guide.
When starting with WordPress, you will be allowed to choose the language, then fill the details about your website, choose your username and password, etc. This is a simple process with self explanatory steps, easy to understand and perform.
Once your WordPress website  is ready, you can log in using the chosen user name and password to access the dashboard.
Theme installation
WordPress themes are like ready to use websites with example data. You can easily install them and customize to fit your requirements.
This process to install a WordPress theme is simple. You can log in to your wp admin dashboard and navigate to Appearance >> Themes >> Add New >> Browse file & choose the theme zip you just downloaded.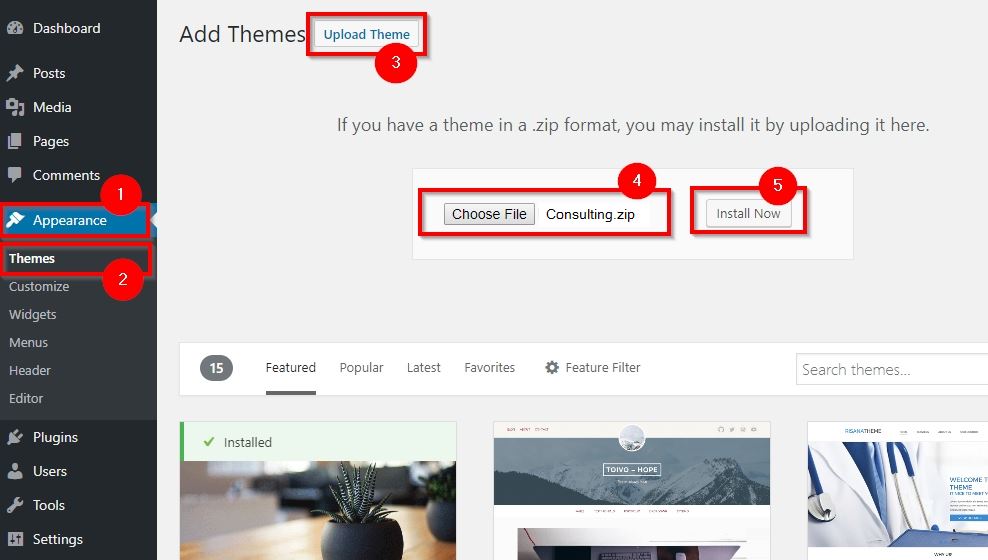 The installation process for a WordPress theme may vary from theme to theme. But with most of the premium WordPress themes like the consulting WordPress theme, you get a detailed documentation. It comprises of written steps that will help you with the installation and post-installation(if any) steps.
The consulting WordPress theme comes with an installation wizard that assists you and automatically installs the theme, the demo data and the plugins required for the theme to function.
With the completion of the the installation process and the end of the wizard, you will have a website with example data, that you can start editing right away.
3) Customize your website
WordPress themes are pre-designed and pre-programmed. They are very easy to customize so that you can create custom, professional looking websites in no time.
However, a WordPress theme can be customized by using the simple options available in the theme settings panel.
Generally the process will be really easy and you will be able to make changes just by looking at the options panel. And if not, WordPress themes come with a documentation and guide to explain how to use and customize the theme.
Some premium WordPress themes even offer tutorial videos to help you setup your website with WordPress. However, for an effective wedding planner website, you need to have a certain things sorted.
So, first of all:
Make a list of all things you want to show on your site
What is the purpose of your website? What kind of audience do you want to serve on your site? What do you want the visitors on your website to know about your wedding planning services?
The available website building platform makes creating a small business website really easy, but the real struggle is to decide the right content for your website.
And that can only be concluded by being clear about your objective. Once you have the right answers to these questions, you can even create a list of pages based on what you want to show.
Having a plan for your website's content makes it easier for you to actually create and implement the pages as you proceed.
Pick the most important ones and they go to menus
Once you have decided what you want to show and how to describe your services, you should focus on their priorities.
You may have all the content planned for your website, but if you don't organize it properly – it may lose it meaning.
Priority assignment and planning content structure & hierarchy is in fact the most important part of content planning. When the content of your website is properly planned, it ensures a smooth flow of information making browsing your website easier and enhancing the user experience.
Drafting your Pages
Your website is nothing but a collection of useful web pages that help visitors know about your wedding planning business.
With a content plan already at your hand, you can easily start drafting the pages for your website. WordPress lets you choose the available page template (according the availability) and create as many pages as you want.
We also recommend using a tool like Yoast for your WordPress website to optimize it at Page level. Yoast allows to optimize each page for a special keyword giving you a chance to rank well for different target keywords.
Creating a Contact form
With a wedding planning website, you cannot just promote your services but also start receiving business inquiries.
A contact form on your wedding planner website is one of it's most important elements. It helps your visitors quickly get in touch with you and raise inquiries.
Even a simple contact form with the contact information of the visitor like an email address can take you a long way and help generating a lot of leads.
Designing your WordPress wedding planner website
The following are some basic design changes that you would want for your WordPress wedding planner website:
Branding your website
To start with branding and personalization, you can first of all, change the logo and upload your own image.
If you don't already have a logo, you can go with 'site title' to set a title to your website. You should also update the footer credits that appear at the bottom of your web page.
Changing colors and images
Next, to make your website look more like your business website and less like a WordPress theme, you can change colors and background.
The customization options are generally very simple and you will have the steps mentioned in the theme documentation. Most of the themes support 'Live customization' using WordPress live customizer. You can simply use the panel on the left hand and see the changes live on the right hand screen.
Therefore, you can only save the changes after previewing them.
4) Promoting your wedding planner websites
Traffic acquisition is a very important part of your website building. When creating a wedding planner website with WordPress, there are many ways to promote your website:
Local channels
The easiest way to promote your party planning business website is by using the local mediums of advertising. Since we are talking about a party planning business, it's scope is mostly limited to the local city or two.
Here, the best way to reach people can be any common local advertising medium like a local television channel, a regional newspaper, banners or hoardings at popular locations, etc.
For different type of locations, the local advertising channels may differ. For example: The best advertising medium for your city can be a setting up a banner advertisement on a local party venue. While for some other place, it can be a local newspaper in regional language with massive subscription that could help.
Help from relevant small businesses
As a party planner, your relevant small businesses can be the trading agencies that sell party props and decoration items, or a matrimonial website, or a florist, or wedding dress rental business, etc.
These are the businesses that can help you promote your website because the target audience is nearly same or a subset of. You can easily look for a paid advertising opportunity or a reciprocal deal with such business to promote your business or website.
More about small business website promotions

5) Maintenance
A website once live and running needs proper maintenance to keep up the performance. The most common maintenance routines for any kind of website are:
software updation as and when the updates are available (WordPress, WordPress Themes, Plugins, if any)
Speed optimization of your website
Removing the unnecessary plugins, outdated pages, etc.
For your WordPress based wedding planner website, there can be the following maintenance routines.
Check the inquiries
When you have an active contact form on your website, you will have to keep a check and reply to every query that comes your way.
Once your website start receiving the deserved traction, and people start using your contact form to send you inquires, you must regularly check and respond to all these business inquiries.
Backups
Regular backups ensure that your site in never completely unavailable for a long period of time. If you have latest backups at the time of crisis. With a backup at hand, you can quickly restore the latest version and have the site live in just minutes, without affecting the traffic and user experience.
You can consider using a plugin like BlogVault for automatic backups & management on your fitness website.
Updating the content
You have to keep track of your pages to remove the invalid/outdated/obsolete content. You will also need to create new pages or remove them as required.
Besides that, you should also visit your plugins section, once in a while and remove any unnecessary plugin that is not used.
The other maintenance routines include
Checking and updating the web pages and dead links
Updating your website with latest news/blogs
Replying to user actions like contact request, comments, etc.
Analytics and performance check and optimization using a tool like Google Analytics
Checking and fixing security vulnerabilities, etc.
Are you ready to create your wedding planning website?
Once you start building your website, you will realize that creating the website is not difficult. But maintaining it and surviving the competition is.
The tips mentioned here can help you to create an efficient website that delivers its message easily.
However, with experience & persistence you will learn and get to know more about your website, the competition and keeping your website updated.
Further Reading – Blogging For Beginners: Everything you need to know about blogging with WordPress.