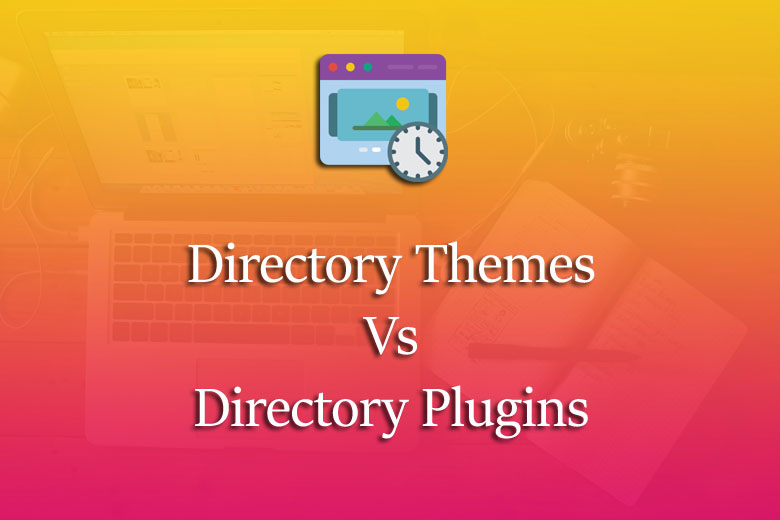 You can create an online directory website, that acts as a resource center as well as advertising platform for the local business. Such online directory websites can be your source to earn passive income through online listing submission, advertisement banner placement, etc.
Creating such directories have become easier because of the availability of tools and techniques. So even when you don't have the technical skills, you can create, manage and maintain your own website easily.
Two of the most important tools to create your online directory with WordPress are:
Directory Themes
Directory Plugins
Directory Themes & How they work?
One of the easiest ways to create a website is using WordPress. It is a free and easy to use platform and the WordPress niche theme make your task easier.
WordPress Themes are more than just design templates, they come with useful features and lots of inbuilt options to manage how your website looks as well as works.
The Directory themes therefore, are WordPress templates with a ready to use design and features to create amazing, fully functional websites in no time, without any technical expertise.
Therefore, directory themes are for those who want to create a niche directory, or a location based directory websites effortlessly.
Know more about Directory Themes
Directory Plugins & How they work?
Directory plugins have the features similar to the directory themes just that they are install-able in the theme of your choice.
These plugins can be installed and removed from your website anytime you want. However, the best practice is to create a test site and try installing the plugin to see if it works.
Because even though the plugins are designed with utmost care, sometimes some elements of a newly installed plugin may interfere with your theme files and cause it to crash or data loss.
Therefore, it is always recommended to take a backup of your website before making major changes like installing a new plugin into your website. Moreover, you can try out new features and major changes on a clone site.
List of best Directory plugins
Compatibility Issues
Since a WordPress directory theme does not require any extra plugin to perform, there are mostly no compatibility issues.
The WordPress themes are simple. They come with easy options. All you need to do is to update the theme with your original data and start adding and accepting the listings.
Compatibility issues may rarely arise when you are using a directory plugin. Therefore you must choose a plugin from a reliable source.
Also, it is a good practice to always try installing a plugin on a test site before you install it on a live website. If compatibility issues arise you can take professional help or try the same plugin with some other theme.
Pricing
A theme or a plugin may be charged based on the number of features offered. The pricing may vary.
Its obvious that when buying a WordPress directory theme, you pay for both – the theme as well as the directory features.  Whereas when you opt for a directory plugin, you will have to pay separately for the WordPress theme as well as the directory plugin.
Directory Features
The features you get with a directory theme, or a directory plugin depends on solely depends on what you choose.
There are simple directory themes, whereas feature packed directory themes with many other features.
Ease of Updating
We always recommend to keep your software updated. When it comes to WordPress, you should keep all your elements updated: WordPress, the WordPress theme as well as all the plugins you use in your WordPress website.
The Directory themes are very easier to update since you don't have to update the theme as well as plugin separately.
Flexibility
In terms of flexibility, both directory themes as well as plugins are mostly very flexible.
It depends very much on the theme or plugin you choose. The number of listings you can add, the number of features you can add or remove, etc. is your call.
The problem of flexibility usually arrives when you are building a website on a directory platform. For such platforms, the flexibility depends on the type of package you choose.
The directory plugins are definitely more flexible. Most of them come with export and import features to allow the portability of the listings.
A directory plugin can be easily installed into your WordPress website. It can be easily removed too, whenever you want.
Online Directory Design
The directory themes come with predesigned layouts and pages. It usually has many design options to make your website look the way you want.
On the other hand, the design of your website when using a directory plugin depends very much on your theme. However, the appearance of your listing, and directory data will be dependent on the directory plugin.
You can always browse the sales page, or ask the pre sales support and get a live demo before you buy any such tool.
Technical skills
Both Directory Themes as well as Directory Plugins are really easy to use. Both of these tools bring with them a set of features to create fully functional online directory websites effortlessly.
Even when you have never created a website before, you can easily use these tools to setup money making online directory websites.
They are easy to install, just like you install any other theme or plugin. Moreover, they come with technical guides and easy options to
Ease of Use
Both of the solutions, the WordPress themes as well as plugins, are really easy to use. They come with easy to use admin options to create fully functional directory websites.
The complexity of a theme or plugin also depends on the available features. There can be a simple directory theme that allows you to create beautiful online directories, whereas multipurpose directory themes with complex features.
The most complex form of a directory website will be the one that allows you to create custom post types for different types of listings. However, WordPress themes are designed to be easy for a website admin to build and manage.
You can easily create beautiful websites with the available internal options. Directory plugins are similar. They can be easily integrated and used.
Therefore, regardless of the level of your technical expertise, you can use a Directory theme, or a directory plugin for creating beautiful online directory websites.
Careful considerations
Whatever you choose, a WordPress theme, or a WordPress plugin, there are some things you should always keep in mind while choosing the tool.
What to consider while buying a WordPress directory theme?
There are a lot of WordPress directory themes with different designs and features available on the internet. This makes it a bit confusing on what theme you should go for.
When choosing a WordPress directory theme, you get the whole website template. The design, the features, and the available controls are just what the theme allows.
However, before you start browsing for themes on the internet, you should be sure of what features you want. When you are sure about what you want, it becomes automatically easy to shortlist the options.
Before buying the theme, you can properly read all the information available on the theme provider's site. When in doubt, you can always reach out to the pre sales team to ask whatever question you have in mind.
What to consider while buying a WordPress directory plugin?
When buying a WordPress directory plugin, you need to worry about both: features and compatibility. Most of the WordPress plugins will work fine with any WordPress theme of your choice.
But still you have to be careful and be prepared with a backup. As mentioned earlier, it is advisable to never deploy a new plugin directly into your live site. Create a clone/pilot site and test the plugin before it is actually implemented into your website.
What Should you Choose?
If you want to create a fully functional online directory with all the features and facilities, then you should opt for a Directory Theme. The directory themes are easy to use, manage and have all the features you need for such a website.
On the other hand, if you are someone who would like to create a small directory website in association with an already existing website, you can use a WordPress Directory Plugin. Such plugins are for you, when you want to have an additional feature – to be able to add listings to your already existing website.
Directory themes are ideal for creating feature packed WordPress websites. They help you create money making directory websites that can be your online business setup. The WordPress themes are ideal for anyone – business persons, students, or even the service class people who want to setup an online directory as an alternate source of income.
The Directory theme from Templatic is designed for the same. You can easily create a niche directory website easily using this theme, whether it is a job board directory, a city directory, a real estate directory, a hotel directory or any such directory website.