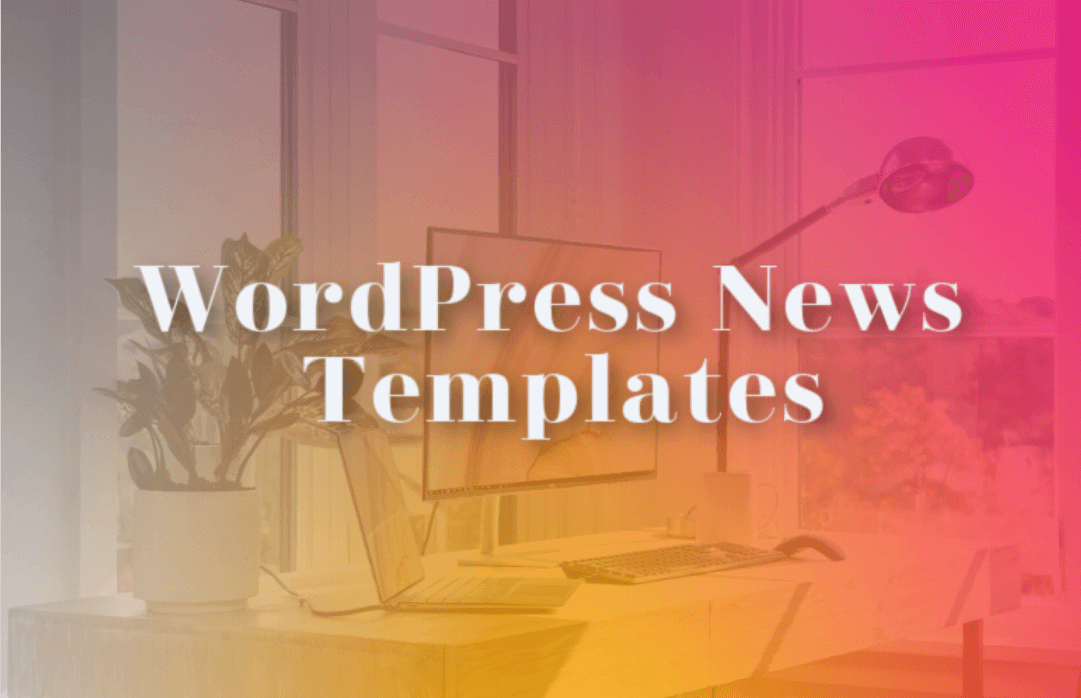 When it comes to choosing a news template for WordPress, the options are plenty. However, for an easy website building experience, you should make sure that the template you choose ideally fits your requirements and does not bombard you with unnecessary options to confuse you.
In this article we will see some tips and tricks to choose the best news template for your WordPress magazine website.
How to choose a news template?
You can use a WordPress news template to create different type of blogs. However, considering the variety of different types of blogs you can create, you must be sure of how exactly you want your news website to look.
The following are some tips and tricks to choose an ideal news template for your WordPress website:
Choose a responsive and mobile friendly news template
You always need a website that performs well regardless of the kind of device you use to access it. Therefore, always pick a theme that is not just responsive but looks great on different mobile devices also.
A responsive website also ensures that the user experience is not impacted because of the device's resolution. Nowadays, almost all the themes are designed to be responsive and mobile friendly to bring the best results. So when picking a WordPress news template, make sure to check it's demos on devices of different resolutions, like a mobile phone or a tablet.
A clean & modern design
What your website needs is a good design to showcase your content. Sure content is the most important element of your website's success, but the design also plays a very vital role.
What you need is a news magazine template that is well designed. You don't want a confusing design with too many screen elements that can distract your readers. At the same time you also don't want a boring design.
It is also important that the design of your website matches the purpose of your content. The colors, the font style, the layout, etc. should all complement the central idea of your website. An ideal news template theme will come with a content focused design with enough customization options to let you change the basic styling.
Effective homepage
Homepage is obviously one of the most important pages of your website. It is necessary to make sure that the homepage of your website is a reflection of all the qualities of your website.
Use the homepage of your website to display all the important categories of news on your site. Also, keep it interesting by adding different layout variations, images, and section designs to present your content and links in an interesting way.
Luckily, most of the premium WordPress themes come with variety of designs and customization options to make it possible to completely re-organize your homepage and make it look and work exactly the way you want.
Optimized sidebars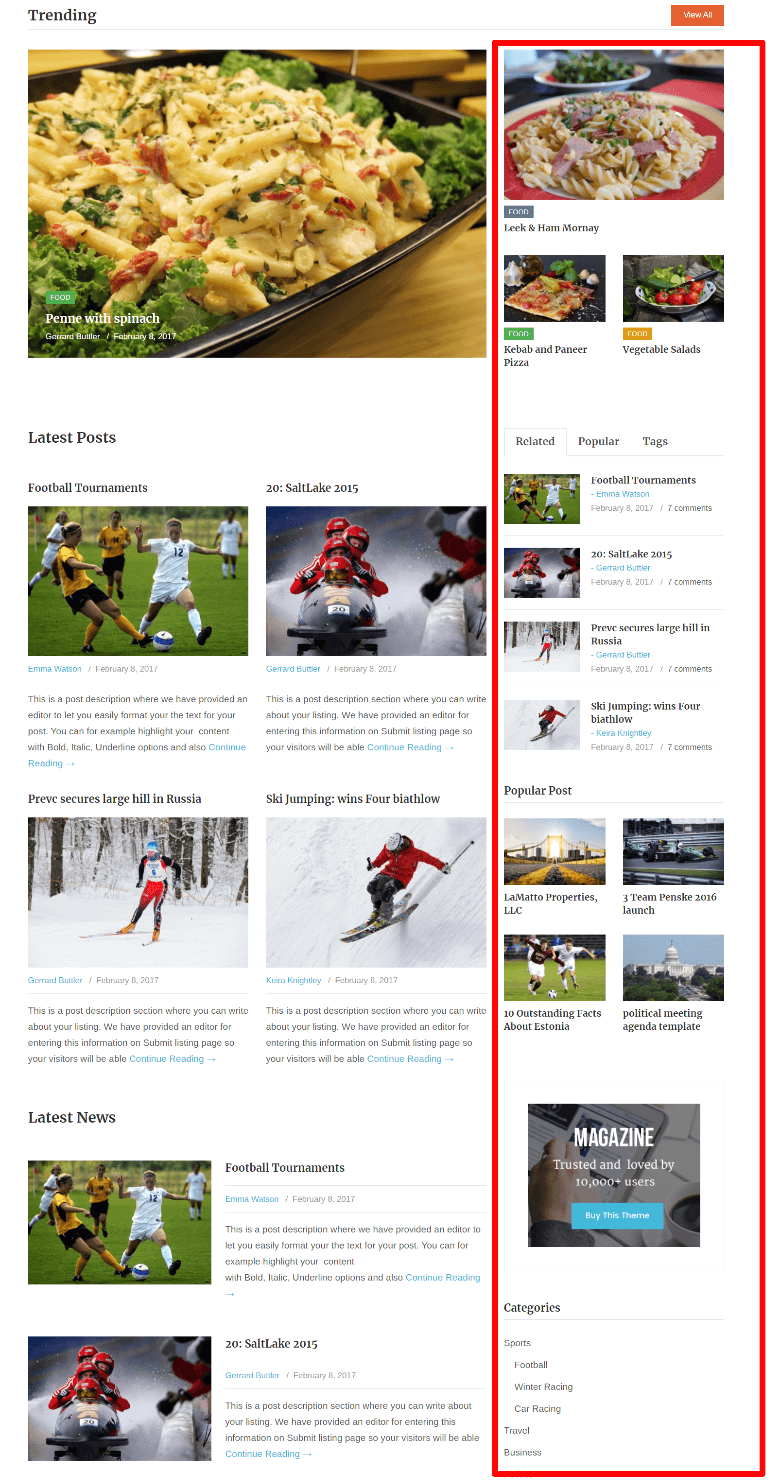 On your news blog, where content is most important, sidebar can act as a very simple way to navigate your readers to other important sections/posts on your website.
A flexible sidebar on your news template website lets you easily optimize your website with maximum advantages. The sidebar of your news website can be used to highlight related news, or other latest news and can thereby help you to decrease the exit rates, and improve the sessions duration on your website. Moreover, if you are thinking to monetize your website, it doesn't get easier than displaying advertisement banners on the sidebars of your website.
Be sure of what you want to do with your website
It is really important to have a clear picture of what type of website you want before you actually start building it. Even the very first decisions, like choosing the domain name, or even the hosting package, or picking an ideal news template can be decided based on what you want.
The best practice is to document all the requirements for your website. This will help you choose a theme based on the list of features. You can simply match your required features' set, to the features of a theme you are thinking to buy and decide if you should proceed or not.
Make sure the customer support is satisfactory
Whether you are a beginner or a technical expert, you may feel the need to contact the theme support at one point or the other. This may be to understand a feature of the theme, or to change it, or during technical mishaps, or any such crisis.
Check the reputation of the customer support service before buying a news template. You can even send them a pre-sales question to know what is included in their after sales support and what are the ways they can be contacted should you need their help.
Essentials to create a News Magazine website
A news style website is one of the most common forms of blogs. Even though with the available features and tools on the internet, creating and managing such websites has become easier than ever, there are a few must have features for an effective website.
Create proper categories for your WordPress magazine blogs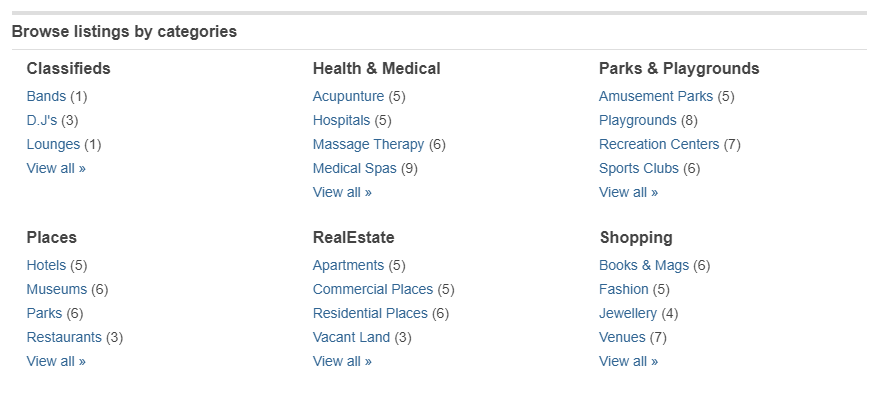 First and foremost, the content on your website needs to be well organized so that the visitors can find it easily. With categories on your website, the readers can directly get the list of relevant articles without having to browse through the posts irrelevant to them.
You can make a list of all the categories based on which you want your content to be categorized. The categories can be in hierarchical form where a single category can have multiple sub categories. For example: the category called "entertainment" can have different sub-categories like movies, music, theater, etc.
Make sure the advertisements do not overshadow the content
One of the most common ways to earn through your news website is by displaying sponsored advertisement banners or by integrating Google AdSense adverts into different sections of your website.
However, the question is how effectively you can place your advertisement banners in such a way that even though they get the reader's attention, they don't overlap with your website's content. Some advertisements on website may make it difficult for the readers to easily browse through your page, and this will result into a poor user experience on your website, it should be avoided.
Use high quality and relevant images
When we talk about content on a website, it is never complete without images and graphics. Ofcourse your website requires textual content paired with images, as well as different text forms like bullet point lists, block-quotes, tables, etc, wherever required.
Using relevant, good quality images into your content will make it more appealing for the readers. You can use free stock images or images from different sources.
Pick a relevant domain name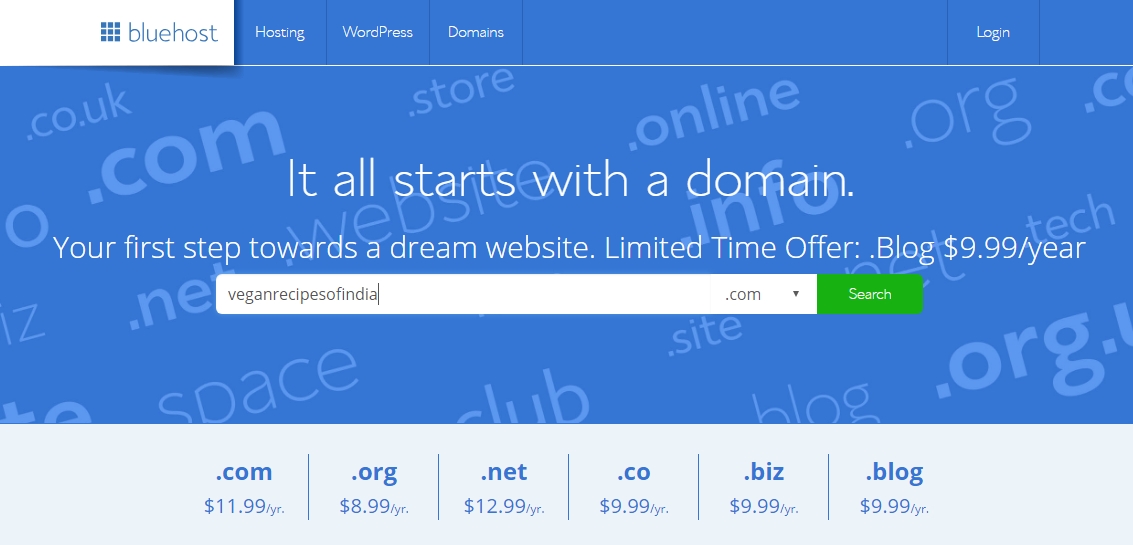 The domain name represents your website's identity on the world wide web. Therefore, pick a name for your website very carefully.
For your online news magazine or blog website, choose a name that is relevant to your niche, is easy to memorize. Also try to include keyword within that name if possible. The best practice is to choose a memorable, short and a word with simple spelling as your domain name.
Make sure that the hosting service is efficient enough
Hosting directly impacts your website's performance. A poor host may not just slow down your website, but also cause many other problems like frequently irresponsible servers,
Due to the intense competition, today we have a lot of hosting companies that provide the best hosting at an affordable price. We recommend Bluehost for hosting as it has some affordable hosting packages to let you choose from, and very reliable service.
How to create an online news magazine website?
Creating a website with WordPress requires only a few steps. WordPress provides you with some of the easiest options to build your news magazine website. You can start by choosing a news template and installing it.
But before that, you will need domain name and a proper hosting service to start with.
Get Domain and Hosting
Whether it is creating a simple news website or a multipurpose online directory, you will need a proper domain name as well as reliable hosting service to create your WordPress website.
Go to the website of your required domain name registrar and check out for your required domain name. Moreover, you can also sign up for the required hosting service.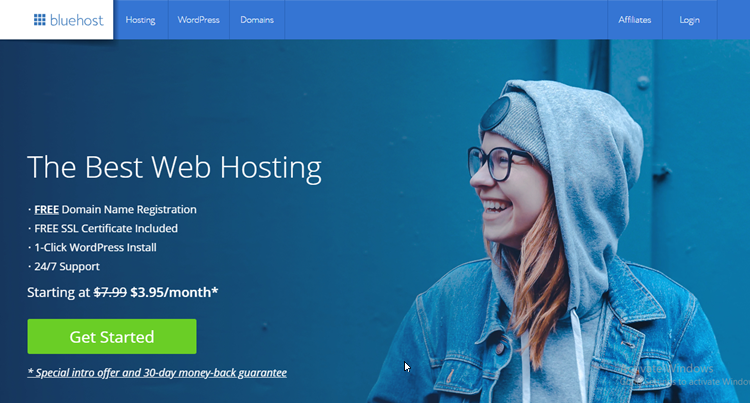 Find a suitable theme
The checklist for finding a suitable theme is already mentioned at the beginning of the post. And there are numerous different WordPress blog and news magazine themes available on the internet. You can easily pick one and start creating your website.
Choosing a news template for your online news magazine website is one of the most important parts. You need to choose a theme that not just provides you with all the features and options for creating your website, but is also easy to use.
A theme packed with features that you don't need will only confuse you with all the options and make it difficult for you to manage your website easily. On the other hand, a simpler theme will ensure that you get enough time to focus on your content.
Design effective menus
The menu of your website is the means of primary navigation for your website visitors. An effective menu means that the visitors are able to find all the important links right in the menus.
To create such menus, you can start by making a list of all the necessary pages/posts. Once the list is ready, you can arrange the items in hierarchical format so as to fit in the menus. WordPress lets you create menus very easily. All you will need to do is to rename the menu item and add a link to the page to create menu as well as sub menu items.
Customize your website
WordPress templates are pre-designed. Even when you thoughtfully choose a news template, they might need a little customization based on your preference.
Therefore, you should always ensure that your WordPress news template comes with enough customization options. Nowadays, these news templates come with mostly all the basic customization options for colors, fonts, and page templates to choose from.
If there's a specific requirement in your mind, you can reach out and contact the customer support to ask them if they have the specific customization feature. For instance, if you want to use the theme in a box layout, or if you want to use an image as the background.
Contact form
To keep your news business open for inquiries, make sure you have an active contact form on your website. Also make sure that you regularly check and respond to the contact form queries.
This will allow your readers to easily get in touch with you, to ask questions, to leave feedback, or to get in touch for any other purpose. You can always use a spam check feature to restrict all the spammy contact queries sent by bots.
Other important pages
Along with the primary pages like the homepage or the contact page, there can be several other pages that you might want to have on your WordPress news magazine website.
These pages can be custom pages to display an offer, to tell your story or to promote your brand. Based on your website's purpose, you can decide all the pages that you might want to create on your WordPress news website.
Install the important plugins into your website
Even though WordPress themes come with all the features built in, you can use different plugins to enhance the performance of your online news magazine website.
There can be different plugins like image optimizers, contact forms, or SEO plugins that you might want to include into your online news magazine website. Here's a list of the most useful WordPress plugins that you might want to include into your website for different purposes.
News Magazine Website Maintenance
When thinking of launching a news magazine website, you must be prepared for the constant efforts it needs to maintain such a website.
Whether it is a blog, or a news blog, fresh content is the prime requirement. Therefore, you should make sure that your website's content is fresh, useful and up to date. Moreover, there are several other maintenance routines that you will need to follow for a successfully running website built with a news template WP theme.
Keep your website updated with the latest content
The prime purpose of an online news website built with a news template is to provide the readers with reliable, interesting and latest news. For this reason, a news magazine website is one of the most frequently updated websites.
There will be different categories of news on your website and you will have to make sure that your news website regularly updates each of these categories with relevant current news items.
Remove the outdated content
As much as adding new content is important to your website, it is also vital to remove the unnecessary pages/posts. For instance: A post for information about the launch, venue and facilities at an event is useless once the event is complete. Or a sponsored post with a product that is not for sale anymore.
Such posts need to be removed from the website. The best practice is to keep checking for outdated content on a regular basis. This includes expired plugins, meaningless pages and posts.
Keep an eye out for the latest happening
You can only maintain your news magazine website if you are ready to keep it updated with the latest happenings and news articles. When it comes to news magazine blogs, only the most active websites survive.
There are a certain requirements for making sure your news website is always updated with the latest news. Firstly, try to organize your website with different types of relevant categories. With all the important categories of your niche included, you can be sure that you are covering all the parts of your niche.
Moreover, you need to keep publishing the all the recent news, covering the recent events and not miss a beat. This is the main requirement for a news magazine website to survive the intense competition.
Allow readers interaction with comment enabled
One of the ways to make your website more interesting to your readers is by allowing them to leave their opinion on their posts.
User generated content through comments is good for SEO as they become a source of unique and keyword relevant content for your post. The comments section can also add more readable content on your website for your readers. Moreover, it also helps the improve the user experience on your website.
Therefore, there are a number of advantages of keeping the comments enabled on your WordPress based news magazine website.
Maintain the authenticity
The competition among the news websites is intense, and you must do your best to get a spot among the best news website.
For a certain news piece there will be a lot of articles from different sites. The thumb rule is to be unique. Present information and data that is not available anywhere else. Of course, copying content from other websites is something you should avoid at all costs.
Some of the most popular online news templates for WordPress
WordPress is a CMS that you should opt for simple news magazine or blog websites. It comes with the set of intuitive dashboard options and a user interface that makes creating and managing content based websites very easy.
You can start by choosing a WordPress theme for blog or a news magazine theme for WordPress. Following are some example of news template that you can use for your online news or a magazine website.
Braxton – Magazine Blog Theme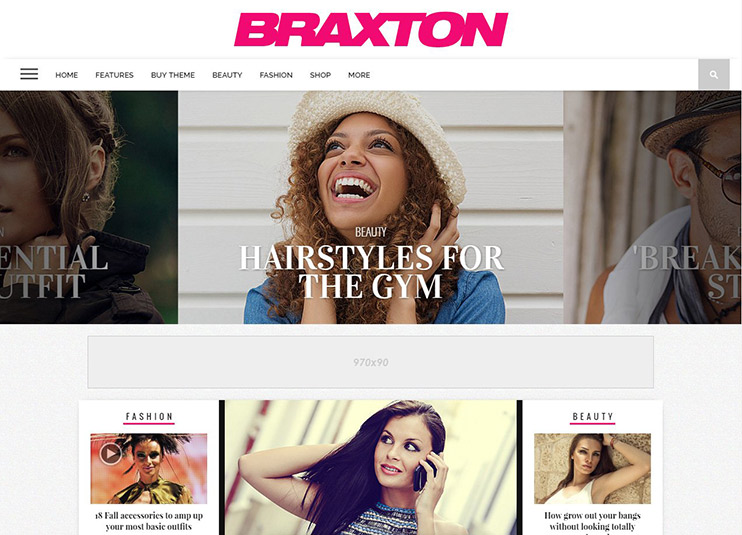 Braxton is a premium WordPress theme for magazine and news blog. The theme has numerous features and an elegant design.
Braxton is not just Responsive but crafted carefully for the Mobile phones and Tablets. The theme allows infinite scroll on the category page or the blog page to display all the post without the navigating to another page. The theme supports embedded video and audio into the posts.
For customizing the theme, there are unlimited options. These options can be accessed from the admin panel of the theme. To make changes in the theme appearance, no coding skill is required. Everything can be set as you want using the admin panel options. The homepage, which is the most important page of any website, can be built using drag and drop options. To allow the visitors to post their opinions Disqus comments is supported.
Braxton is SEO optimized theme and allows the integration of content from Youtube, Vimeo, and Soundcloud.
Hickory Premium WordPress Magazine Theme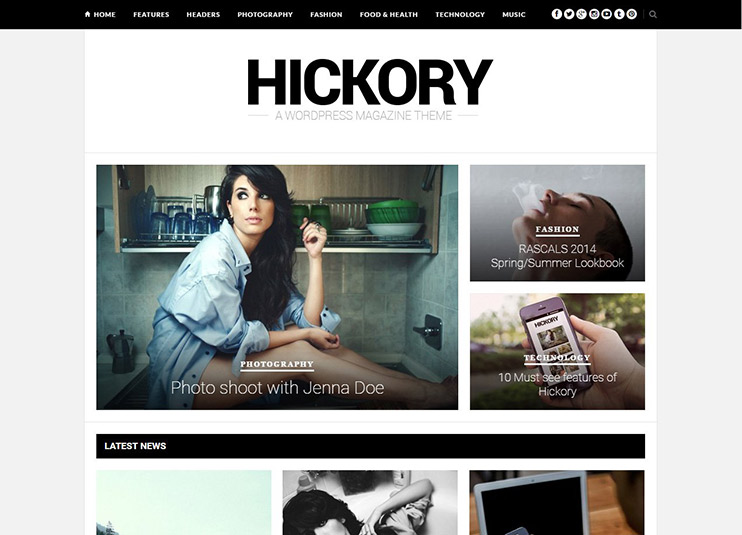 Hickory is a simple and beautiful theme for blog and magazines. The theme is flexible and highly customizable.
Hickory allows you to choose from the available homepage layout. You can decide which layout is best for you and set it for your website. Later, customize it with the widgets to make it work exactly as you want. With Hickory, you can create multipage posts too. The blog page has four layout styles – Regular, Video, Gallery and review.
The theme is easily customizable. There are lots of options to change the theme appearance. There are lots of custom widgets available with Hickory. These widgets can be used as and where required. The theme can also be used to create a website in any language.
15Zine Magazine Blog Theme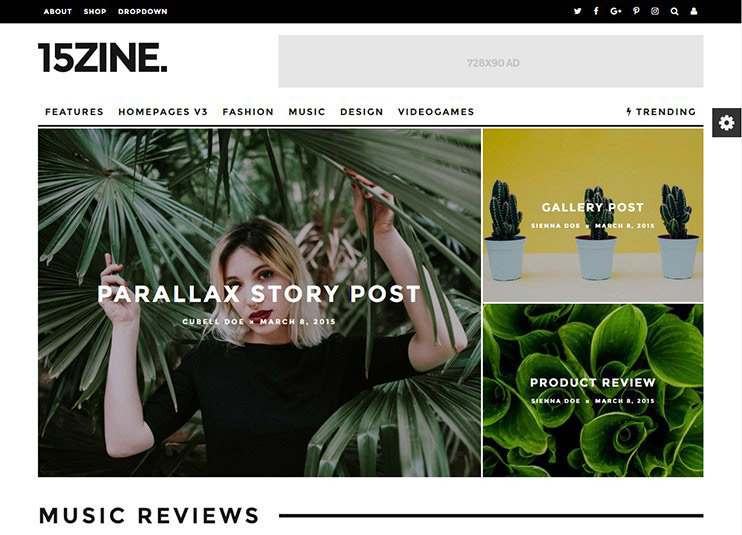 15Zine is a responsive and retina ready news magazine WordPress theme. The theme has a light and a dark version to choose from.
15Zine theme ensures that you won't need any coding skill to customize the theme. All the customization options are provided through the intuitive admin panel. It supports mega menu that used ajax for the interactive design and transition effects. The theme supports infinite scroll, and infinite page load. You get the choice to choose from the different layouts for your pages, colors, icons, and fonts.
To lets your visitors search freely through the website, the theme supports ajax based search. This feature ensures that the visitors get instant and relevant search results. The theme can be translated into the desired language. It can also be used to create a website in RTL orientation. To extend the theme functionality and use, a Child theme can be added.
Max Mag Magazine WP Theme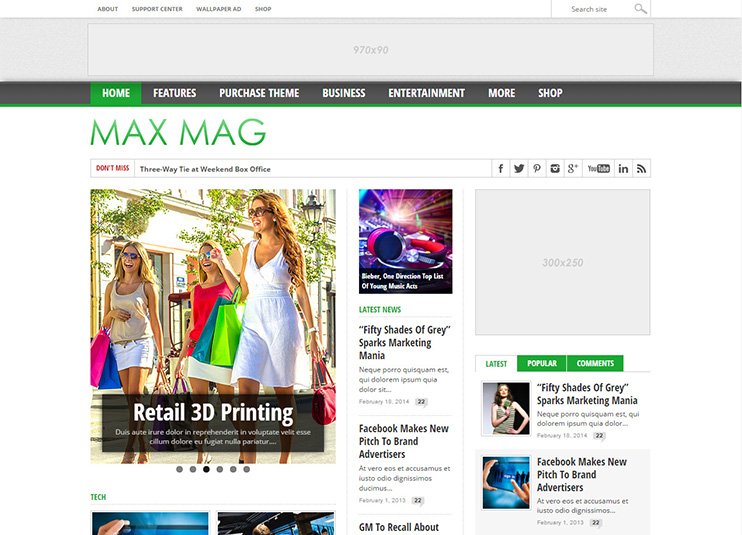 Max Mag is a responsive and retina ready news magazine WordPress theme that can also be used for blogging.
The homepage can be set using the easy drag and drop options. Max Mag has a unique feature to display the recent posts on the category page using an attractive slider. The Max Mag theme has an advanced admin control panel to let you choose from the options and customize the theme. With this theme, you can choose the color scheme of the background.
SEO optimized theme ensures that the website has a positive impression on the search engines. The Max Mag theme is translation ready and makes it possible to create a website in the desired language. To display your news highlights a news ticker option is there in the theme. NewsMag has two navigation areas so that you can display all the important links in the menus. NewsMag is also compatible with WooCommerce. So, if you ever want your blog site to sell some products for you, it is possible too.
Browse for some more premium news templates for WordPress or you can opt for a free news magazine website template from a reliable source.
News templates for WordPress do not require very advanced programming functions or features. All they need is a good design that presents your content effectively. Therefore, there are many such news magazine templates available online for free download. This list comprises of some of the best free WordPress themes and you can use almost any design for your news magazine website.
We also recommend having a look at our free Live Magazine news template. No conditions, simply click the download button and start using the theme on your WordPress based online news website.
About Live Magazine WordPress Theme
The Live Magazine WordPress theme is a simple yet fully functional news template for WordPress to create amazing online news blogs. You can either use it for an online magazine, a news channel website or other similar projects, or even use it for personal or professional blogs.
Know more about the news magazine WordPress Theme
Further reading: