The popularity of online directories is increasing and it's turning out to be one of the most popular forms of online business. And one of the best forms of monetized websites are online directories, that can be easily created using the free or premium WordPress Directory Plugins.
However, the challenge is to select an efficient directory software that makes your task easier. Because online directories with enormous traffic and data are not so easy to manage and maintain.
To create a directory website you can go for a WordPress directory theme, or rely on these Directory plugins for WordPress. Here, we have the list of best free and paid directory plugins 2020 that can help you create exclusive directories on your WordPress website.
This is a Directory WordPress theme with plugin – Tevolution Directory to create a powerful directory software. Tevolution directory is an directory WordPress plugin, that you won't have to purchase separately but comes bundled with the Directory WordPress theme.
This directory plugin comes with options to let you create custom fields for your listings. Create custom post types for different types of listings. Besides, it has some monetization options and a transaction management system. With this WordPress directory plugin, you can allow front-end listing submission and manage the listing on your directory website.
As the name suggests, the simple directory is a simple yet straightforward WordPress directory plugin for WordPress websites. It is a WordPress business listing based plugin that you can use for yellow pages, real estates, contact directory or any kind of business directory website.
This directory plugin is translation ready and comes with some advanced search options to enhance the searchability of your online directory website. This directory plugin is free to download. However, there is a pro version of this Plugin with some advanced listings features available on codecanyon.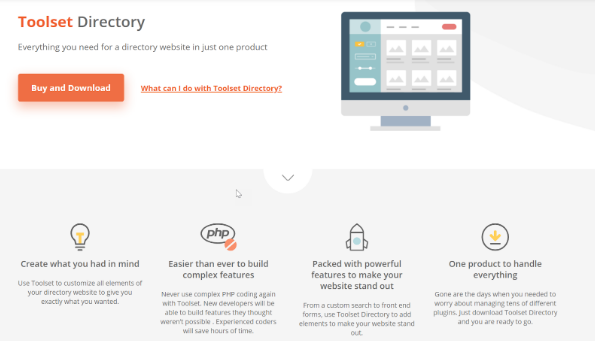 Toolset Directory is a flexible solution for whatever type of directory website you're hoping to create. You can use Toolset Directory to add some of the most important features that every directory website needs including custom post types, a custom search and maps.
Not only that but you don't need to use PHP coding to create these features. And you can customize exactly how you want them to look. Non-coders will be able to create an advanced directory website easily while experienced programmers will save a lot of time which would have been spent on complex coding.
Sabai is a feature rich, and one of the paid and best WordPress directory plugins. It easily allows you to turn your WordPress website into a directory or review website.
Sabai directory plugin is a simple and powerful directory plugin for WordPress with a fully configured directory module that encompasses all the important directory features. It allows location-based features and allows displaying listings in grid, list or map view. This WordPress business listing plugin has it all you need to create a directory website. It comes with PayPal integrated and supports RTL. Check out all the features now!
Gravity forms directory is an interesting directory plugin for WordPress. The idea is to create forms with shortcodes and accept data from the visitors through simple gravity forms. But then display the data as directory listings.
Basically, this WordPress Directory plugin is just like the simple gravity forms plugin which displays the submitted data in the form of a listing. Since the whole concept is based on gravity forms, it's really easy to use. Besides, it has some clever searching and sorting features.
web 2.0 directory plugin for WordPress lets you create feature rich multipurpose directory websites easily. This plugin comes with location based features for an enhanced user experience.
web 2.0 WordPress directory plugin comes with a "Download listing as PDF" option. Moreover, it is compatible with WooCommerce payments systems to allow you to easily accept the payments. It comes with import and export features and is RTL ready. Besides, there are many advanced features. Click read more to know all that it has to offer.
Geo Directory – Directory Plugin for WordPress
Geo directory is a WordPress directory plugin that you can download for free. It is multisite compatible and comes with the features to import and export the WordPress listings.
The Geo Directory business directory plugins for WordPress is highly flexible and lightweight. However, for added features into your directory website, like advanced search, events, affiliate program, etc., there are paid add-ons you can use.
Connections business directory WordPress plugin is one of the free and easy to use business listings plugin.This is a WordPress directory plugin that is very useful when you are creating a contact directory website. With repeatable fields for phone numbers or email address, etc, it gives you the freedom to add as much information as you want. However, it can also perform efficiently as a WordPress directory listing plugin to let you create a business directory. The theme is SEO friendly and comes with import-export features. This web directory WordPress plugin supports some premium extensions that you can include into your site for added features.
Business directory plugin for WordPress, as the name says it all, is an easy to use directory plugin. It is a free WordPress directory listings plugin that you can use to allow business listings on your WordPress website.
This business Listings Business Directory plugin allows customizations of the submission form fields so that you can create listings of your choice. It is SEO friendly and supports Yoast SEO. It also has the ability to easily import/export business listings in CSV format. Like any other free directory plugin, Business directory too has some paid addons that you can integrate for advanced features in your directory website.
BePro listings is a free WordPress directory plugin for WordPress that can turn your WordPress website into a fully functional online directory.
With this web directory WordPress plugin, you can offer front end submission. You can create listings related to classifieds, real estate or general business listings. This plugin comes with location-based features to let you create location-aware WordPress web directory software. BePro listing Directory plugin provides compatibility with many popular WordPress plugins.
Directory Pro is a premium directory plugin for WordPress. It is a straightforward directory plugin for WordPress.
Directory Pro supports Visual composer and comes with Stripe and PayPal integrated. This directory WordPress plugin has many features that you can use to earn through your directory website. The directory plugin is SEO friendly.
If you wish to create a name/address directory, try this directory plugin for WordPress. You can basically use this directory WordPress plugin to create a dictionary based website, or a contact directory.
The listings will be presented in the form of glossaries. The options for editing this WP directory plugins are easy and intuitive. This WordPress plugin for building online directories is free to download.
A Few Important resources for creating a directory website:
But before we see the excellent list of directory plugins for WordPress, here are a few points that can help you choose the best for your online web directories.
There are Different directory plugins for different users
…and you can choose the one, based on the type of web directory you want to create.
Different directory websites have different features and requirements. And If you want to create a custom web directory, it's difficult to find a perfect Directory theme or a WordPress directory plugin.
There are multiple directory plugins for WordPress. Each of them are designed for specific purposes. For instance, there is real estate directory plugin that you can use to create a real estate website.
Just a click and you can turn your WordPress website into a ready to go real estate listing directory site. Also, there are Simple Link Directory WordPress plugin, to create simple online directories. So, you can choose a directory WordPress plugin based on your requirements.
Besides, there are directory plugins, that can let you create restaurant directory, WooCommerce product directories, a directory of products, places, people, links, etc. You can search for one and find out the best directory plugin for your online web directory.
How to choose a directory plugin for your WordPress website?
As we know, there are multiple directory plugins with different features. Now the question is, How do you pick up an ideal directory plugin for WordPress?
Well, when it comes to pre-programmed directory plugins, it's difficult to find one that exactly fits your requirements. But you should try finding a good directory plugin that is most flexible and easy to use.
So before you decide upon a Business directory plugin, Make sure you read reviews and use all the pre-sales facilities. You can try out the demos or free trials, whatever the WordPress plugin provider offers. Also, make sure you try out the directory plugin into your website, only after securing a complete backup of your website. So just in case, the plugin messes up your website, you have the backup to restore your online directory.
If your motive to create a web directory is to earn through it, check if there are enough monetization features. Because directory websites are not like ordinary business or eCommerce websites. They need more efforts to manage and maintain. And therefore, it should provide you enough incentive worth your time and efforts.
Besides, there can be many other features that a directory plugin must have. The responsiveness and compatibility with different themes, geo-location features, maps, custom fields, ad monetization options and a good front end submission system. If your directory website has a scope greater than a city, you should look for a directory plugin that has the multiple city functions. Also, a good directory plugin needs to have maps, and listings searchable by Map.
Just make sure your Biz Directory plugin has all that you need, to create a global or local business directory in WordPress, effortlessly.
What should I choose: Directory plugin or A WordPress directory theme?
Unfortunately, there's no specific answer to this question. What WordPress directory system works for you, solely depends on what type of directory website you want to create.
If you want to create a massive web directory, focused just on listings, with lots of monetization features, you must choose a WordPress Directory theme.
For beginners, the Directory themes are easy to use and robust. They come with intuitive options and you can get started on your website in minutes. On the other hand, if you want some simple directory features on your existing website, you can use a directory WordPress  plugin.
Choose from the premium, well-reputed Directory Plugins that integrate seamlessly into your website. Especially when you want to create a simple directory website, on your existing website, a directory plugin is perfect. Just install a plugin, and get started with your online directory.
When you use the plugins on your existing website, you get to keep your website design and your content as it is.
So, you can choose from among Web directory software, based on your site's requirements.
Directory plugin with front-end submission system and easy ad monetization
Online business directories are generally a form of an online business website. Here, the directory owners find a way to make money by allowing business a portal to advertise their business. While the business owners find a platform to present their business features and contact details.
However, in order to let the businesses submit their own listings on your online directory website, you need a front-end admin system. Choose a WordPress directory plug-in that comes with a front-end submission form and all the features that allow the visitors to submit their listings and the admin to manage the submitted listings.
Besides, an active online directory may have hundreds or even thousands of visitors per day. Therefore you can easily earn through advertisement services like Google Adsense or simply by displaying advertisement banners on your site.
Most of the premium directory WordPress plugins come with the above-mentioned abilities. Besides, it must have location Based Search, filters, maps, galleries, and lots of similar features. You can just install them on your site, and start allowing business to submit their listing on your website.
Go for a directory plugin that lets you create and manage custom fields
There are so many different types of directory websites that you can create. Based on a different niche, and the business idea behind an online directory, the listings can have totally different fields.
Generally, you will find a niche directory plugin, based on your web directory's requirements. But still, your business listings may or may not have all the fields you have in your mind.
To try your directory plugin and it's features, you can install a free WordPress theme and try integrating the directory plugin and test its features before you use it on your live website. And we highly recommend backing up your live website before you try installing a new directory plugin, or try installing the plugin in a test environment before pushing it live.
Even when the directory niche remains same, you definitely need the flexibility of adding more fields to your listings. Therefore, the ability to add custom fields to your listings, adds extensiblility to your site.
However, here we have a list of some of the best Directory plugins. You can use these directory plugins create your web directory website or a member directory. This list contains premium and free plugins that can help you start a WP Business Directory in no time.
Multi-Language Support
You can show totally different details than what your competitors do. For example, go for a directory theme/plugin that allows you to go multi-lingual.
Especially when it is a global directory that covers different regions with different linguistic preferences, you should make sure that your theme supports multiple languages.
Security
One of the most important parts of your Directory website is it's security. When you download a directory plugin from the internet, make sure it comes from a reliable source.
You should check to ensure that there aren't any security glitches in the plugin you add to your website. A Directory website involves a lot a user data and financial transactions and sensitive user data. A slight carelessness can cause a lot of problems for you. Therefore, take every step to ensure the security of your WordPress website.
Choose your favorite Directory Plugin now…
So these were the most popular, versatile and widely-installed directory plugins to get started with your online web directory in minutes.
For the free WP directory plugins, you can try the free downloadable version and check the admin interface to make sure that it has all the features and ease of use that you are looking for.
While if you want to go for a premium wp directory plugin, you must study the sales page properly to find out if it has all the desired features that you want your online directory to have. Alternately, you can try contacting the support team of your WordPress Directory plugin and ask them to help you out.
The easiest way to create a directory is by using a directory theme.
You can use this plugin to create single page or multi page business directory website. The free version comes with all the required features and is ideal for creating a small business directory website.
This plugin is ideal for creating directory listings like store locator, restaurant directory, etc. You can directly embed the listings into your website from the internet to create a useful information directory for your visitors. You can even create an employee or staff directory for your visitors. For the front end users, it provides the best search and filter options to make sure that they find the relevant listings easily. Moreover, the tabbed display of categories make browsing even easier.
View More
Free theme install
A bit different from the other plugins in this list, but this is your easy option to create a resource page, or an informational page with useful links. It is very lightweight and easy to use.
It lets you allow paid link submission to your website and even claim Listing feature for the link owners to get access to edit the link on your website. The plugin is ideal for creating resource pages like a single page directory, a link directory, video or image directory, affiliate directory, etc. Such plugin can help the bloggers create link directory pages for affiliate marketing and SEO purposes. There are a few monetization features too that can help you make money through your website.
View More
Free theme install