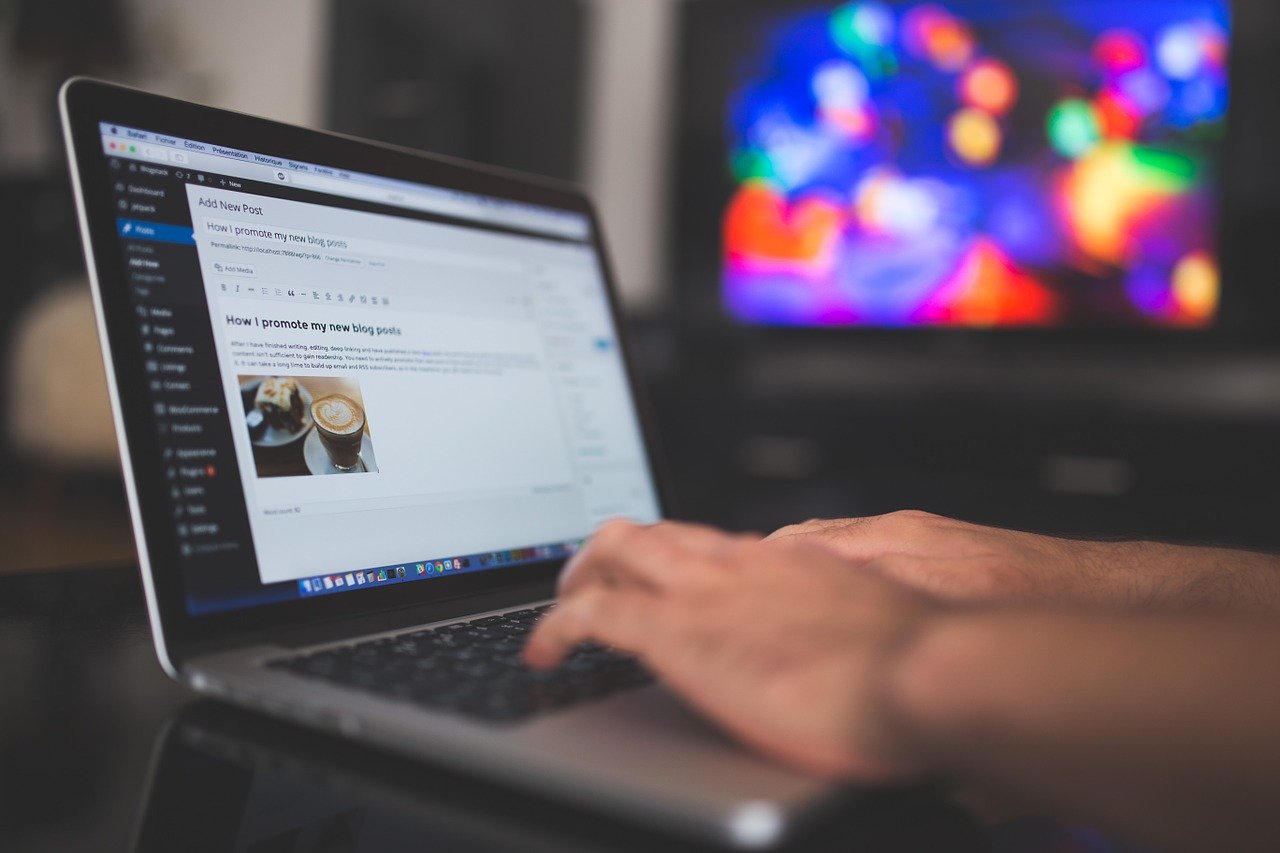 WordPress has a reputation as the most popular website builder globally. WordPress powers over 33% of all the websites on the Internet. This translates to millions of sites worldwide. The website builder has two platforms. These include WordPress.com (blog hosting service), and WordPress.org (content management system – CMS). But what is WordPress pricing and is WordPress free?
WordPress.org is the most popular self-hosted software amongst many users as it offers all WordPress features for your website. Since its launch in 2003 as a simple blogging platform, WordPress has grown to be a CMS and development framework.
It is open-source software for anyone out there, but eventually, you must register a web hosting and domain name. WordPress pricing premium purchase options depend on your needs. They may include extra costs for extensions or themes for your website.
WordPress is a flexible platform such that you can create nearly every kind of website you admire. From blogs, small business sites, online stores, running marketplaces, to creating membership websites.
What Are the Various Components for a WordPress Site?
Every WordPress site includes a structured set of components that form the fundamental building blocks of a website. When you are familiar with the functions of each component, the platform is both user-friendly and rewarding.
In this section, we shall dig deep into these components for a complete guide on how to use them.
1) Admin Dashboard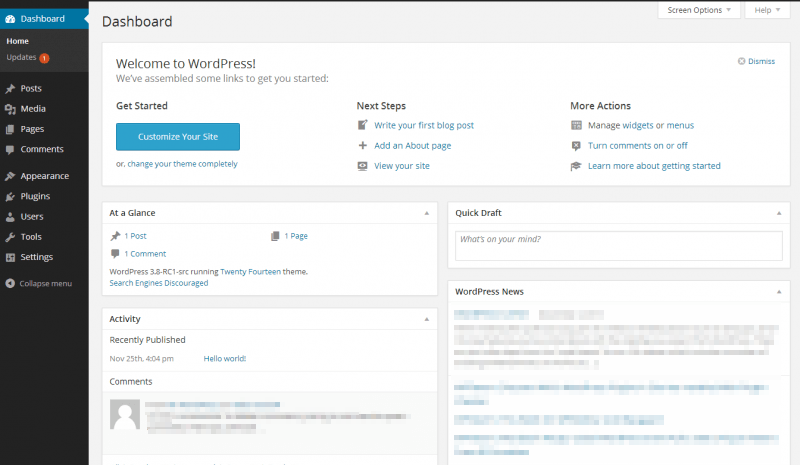 The Admin Dashboard refers to the interface you use to manage nearly all your website's features. From building content to modifying the look and feel of your pages to adding new functionality, you will use your Admin Dashboard.
The Dashboard will offer easy access to the Admin Interface's key areas.
Some screens include options that are hidden by default. To view them, there is a 'Screen Options' menu on the screen's top-right corner. When a section expands, you can see the enable or disable options. You can also get more info on your current screen using the Help option next to the Screen Options.
2) Pages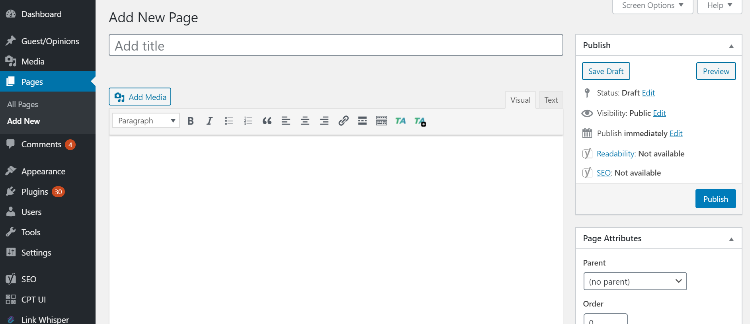 Pages are created and edited using the WordPress Editor and contain enduring content that is unlikely to change frequently. Such information may include the company info. They are also the frame that constitutes your website's structure.
Therefore, you will need 'a blog archive' or 'a home page'. However, depending on the purpose of your site, you can add more pages that suit your needs. A typical example of unchanging pages includes 'About Us' that contains your company privacy policy, and a 'Contact Page' for clients to reach you.
3) Posts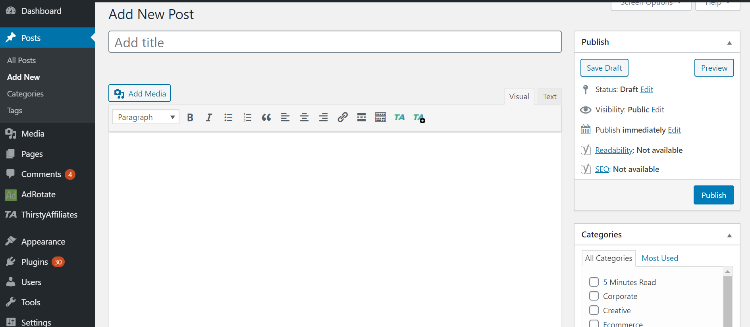 Posts are WordPress critical component that is used to build several types of content. Most commonly, posts are used for blogs with every post representing an update. Unlike 'Pages' (above), posts can be intended for regular or timely content like image galleries.
Like pages, posts are created and edited via the WordPress Editor (such as the Gutenberg editor). Most of the options on the classic editor are self-explanatory, where you can add a title and enter your content.
If you switch between the Visual interface that displays your post, it will appear on the live site. The Text editor allows you to add custom code. When editing the post is complete, you can either save it via 'Save Draft' for later editing (if any) or not post. Alternatively, you can click on 'Publish' to post it.
4) Plugins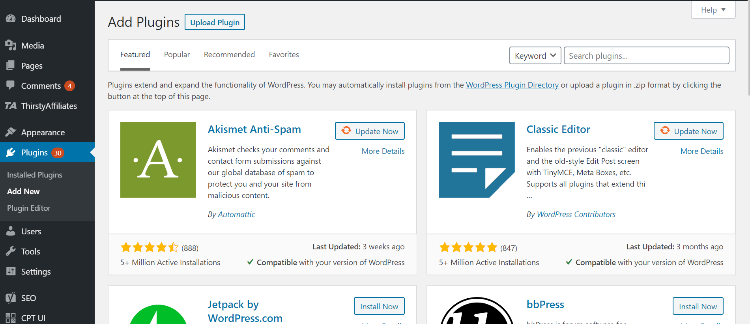 To view your recently installed plugins, click on your dashboard's Plugins screen. Some hosting plans, such as DreamHost WordPress come with plugins that add more functionality to your site. For instance, the Varnish HTTP Purge plugin gives you access to manual control of your website's cache.
Your dashboard also includes free plugins that you can add by clicking 'Add New'. This option opens the WordPress Plugin Directory that you can look through for solutions. To add a plugin, click 'Install Now', and the button will change to 'Activate', and the plugin will enable its functionality. Also browse this list of some of the best WordPress plugins to enhance your website's features.
5) Categories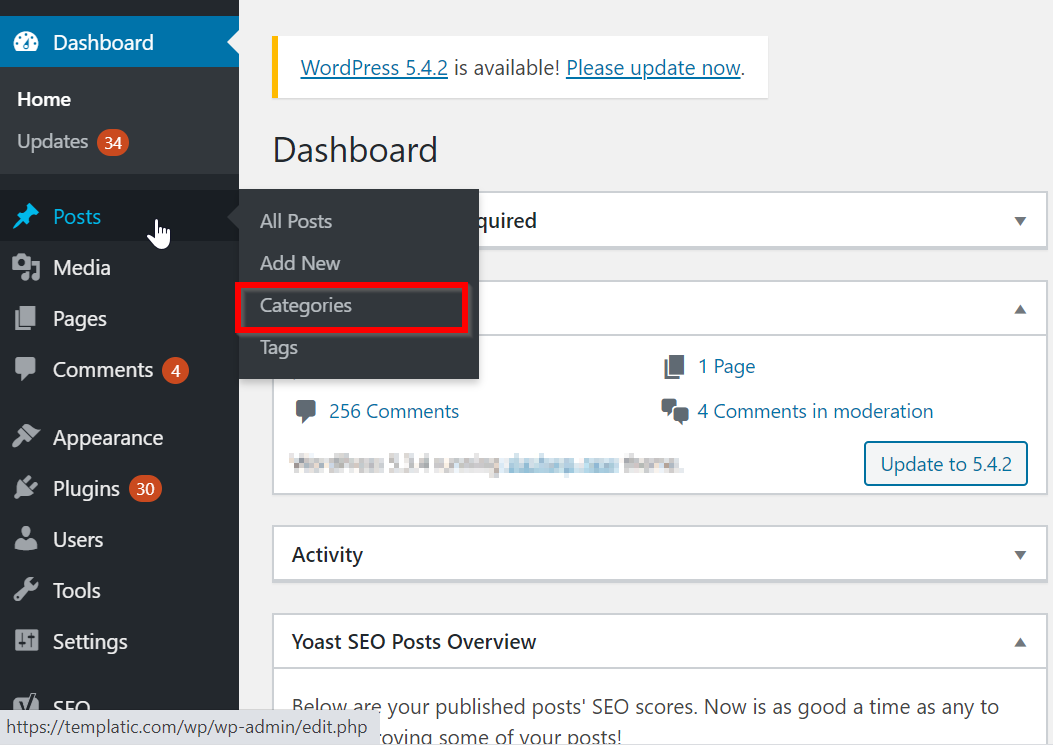 This option, in WordPress, is used to make your website easier to navigate for visitors by labeling and arranging content. Categories can either be general or more specific.
You can use the WordPress Editor to allocate categories to a post or create new categories by clicking on 'Add New Category' and include a name. If you are creating a sub-category, you can select a 'Parent Category.' To see, edit, or delete your categories, go to 'Posts' > 'Categories.'
6) Themes
WordPress themes are useful in changing your site's appearance by influencing the front-end display of your content. The web builder has default themes that are ideal for novices. As you advance, you can change from the generic themes.
Current WordPress themes can be obtained directly via the dashboard using this path 'Appearance' > 'Themes.' You can 'Activate' them and utilize them on your website. But if you want more options, select 'Add New' and browse the WordPress theme directory. You can try out these themes and see your site's look and feel.
You can add and install a theme of your choice, then configure it by selecting 'Appearance > Customize'. The WordPress interface enables you to modify your theme and view its effects on your website. If you are satisfied, select Publish to save the changes.
7) Tags
Just like categories, Tags are intended to label content. However, this happens with slightly different usage. Unlike categories that are general in describing the content, tags tend to be more specific. They can show keywords and subjects that are more relevant to a post.
For instance, let's say your post is Starting a Dog Training Business. The post can be categorized under either Tutorials or Business, with some descriptive tags like animals, dog training, and starting a business.
8) Menus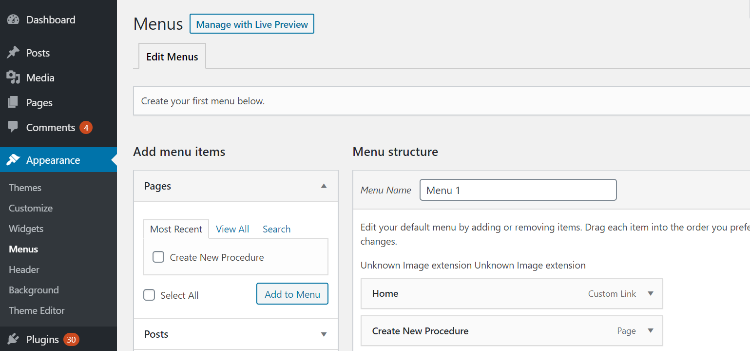 Menus are the key navigation types on your website. Other than depending on one menu, there is an option for creating multiple menus and inserting them in separate locations. For instance, one menu can appear on your website's header, one in the sidebar, and another in the footer.
You can manage your menus by clicking 'Appearance > Menus'. To create a new menu, enter its name/title and click 'Create Menu,' and choose the pages to include in the menu and their location. Alternatively, you can add menus via a widget (discussed below).
9) Media Library
Media is a decent supplement for texts on a website, with images being the most popular form. However, it is not limited to such. This is because of the fact that you can also include documents, videos, and audios. That's where the media library comes in handy as storage for media files.
To upload a file or more, WordPress allows the drag-and-drop function to your library. If you wish to include them in your pages and posts, click on 'Add Media' in any content editor. The option will open the library (pop-up window), and you can insert your preferred files.
10) Widgets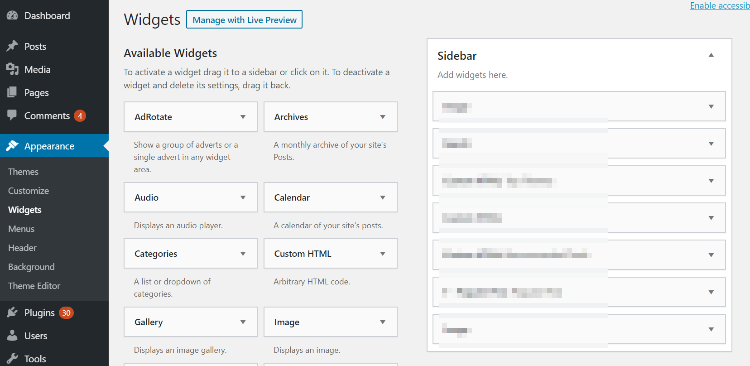 A widget refers to a form of content that you can include in specific places (widget areas) on your website. Usually, these areas will be the footer and the sidebar. Widgets add minor helpful features by default, like a list of recent posts, an RSS feed, or a search bar.
If you wish to replace a current widget on your website, click on 'Appearance > Widgets' and view the available widgets on the left, then drag-and-drop it. Once you're done, configure your widgets, and they will automatically be saved.
11) Users
This refers to the person with access to your dashboard, each with a profile and role. The user role determines what each person has permission to do. An Admin, for instance, has full access to all, while a Subscriber can manage and view their profile.
To manage this info, click on 'Users > All Users' page to create new users or edit current ones.
12) Comments
Comments are the ideal technique for allowing visitors to directly engage with your site's content. It's enabled by default on posts but disabled on pages. To regulate your comments, manage them on the 'Comments' screen.
13) Database
The WordPress database is where data and contents are stored, including users, comments, tags, pages, categories, and more.
14) Settings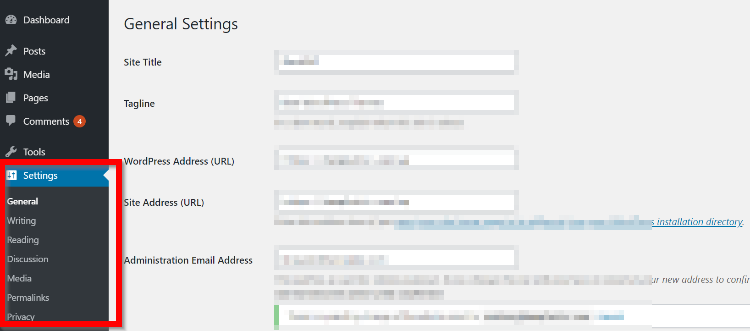 The settings feature lets you configure specific key options on your website and includes numerous sub-pages for each of your site's features. 'Permalinks' settings help you determine the structure of your site's URLs. 'Writing' settings, on the other hand, lets you set your blog post's default configuration.
15) Tools
The 'Tools' section comprises of many different features that aren't commonly used but are useful to some clients. Mostly, they involve data import and export between platforms in WordPress. This feature helps WordPress websites to conform with the GDPR.

Is WordPress Free and Why Should One Use WordPress?
There is WordPress free option. However, it doesn't offer many benefits. There are many benefits associated with using the world's famous website builder, free WordPress. Below are the details:
 User-friendliness
WordPress user-friendliness has made it overcome rivals such as Joomla. This has made it a go-to for web developers globally. It covers all user categories, including the non-techs. You can choose between their templates or web developers for complicated sites.
Therefore, you spend more time on things that matter for enhanced productivity.
 Impressive design options
WordPress pricing includes lots of dedicated themes, which you can use to customize your website creativity. Some themes are available for free.
 Robust and Inventive
WordPress keeps you up-to-date with the latest tech, user needs, and trends. Thanks to the platform, the function and drive of a site can change over time. The CMS also offers practical solutions to stay relevant and upgrades its features regularly.
 Flexibility
WordPress pricing offers you over 22k plugins and themes that you can choose from to increase your site's appearance.
SEO, for instance, install the Yoast plugin, or PixelYourSite plugin for Facebook remarketing. These plugins are included in the WordPress plugin library and are straightforward to install.
 Structure
WordPress structure makes the platform SEO ready with its speeds and other vital features. You can create XML sitemaps to tell Google bots the location of your site pages and the hierarchy of significance.
 SEO (Search Engine Optimization)
WordPress makes SEO easy by ensuring that your site is visible to your clients. It simplifies the use of keywords and support plugins such as Yoast, SEO Ultimate, and more. Read: WordPress SEO tips.
 Easy Content Management
WordPress offers you features such as editors to simplify content management on your site. It also assigns different roles to specific people, such as admins and authors. Content editing in WordPress is as easy as editing a Word document.
 Sharing Capacity
WordPress includes widgets for sharing content on its site, making things much more manageable. You will find widgets for plugins, social media, and other vitals for connecting to your accounts to share content on different platforms.
 Open Source
WordPress is open-source software and receives improvements from many pro web developers globally for increased performance and functionality. Therefore, developers are always contributing new features to create advanced plugins that make WordPress more useful and convenient each day.
 Functionality
WordPress provides you with plugins and themes to personalize your site and enhance user experience. When you sign up here, there are no restrictions on how to create a site or use features.
You can create a site for all kinds of businesses, including eCommerce.
 Responsive
WordPress sites can be adjusted to the device of choice, including phones, tablets, and desktops, without sacrificing responsiveness and functionality.
 Efficiency and Speed
WordPress allows you to create your site in less than 24 hours. You will only need content and images. Yes, there are a few proprietary software options on the market with most of the mentioned benefits. Yet, none of this software matches the speed and efficiency in WordPress.
 Scalability
At first, you might need a fast and functional site, but things might change as your business develops and thrives. Using WordPress, you can build your site's network quickly as your business grows, saving resources and time.
 APIs (application programming interfaces)
Social media networks provide APIs that allow the integration of third-party services with client sites. WordPress pricing offers you thousands of APIs so you can have the freedom to integrate external resources into your site.
 Support
WordPress has an active community with many technicians and client support that are ready and willing to help you out on several platforms. You just need to contact the support team, pose your question, and wait for an answer.

Hosts and Hosting Providers
Picking the precise hosting for your WordPress is crucial, as your site's potency will heavily rely on it. The million-dollar question here is, is WordPress free, and how do you know how to find the best host? The market floods with hosts who claim to be the best. However, whatever your choice is, I will give you three factors to always keep in mind:
Speed (load time)
Uptime (at least 99%)
Customer support (reliable)
While uptime and speed factors depend on the hosting plan you choose, it is hard to guarantee that it'll be similar across all providers. Other contributing factors include the number of visitors to your site and the size of your website. Here we shall discuss whether is WordPress free or not depending on the various hosts.
Here are Our ten best WordPress Pricing Hosts and Hosting Providers: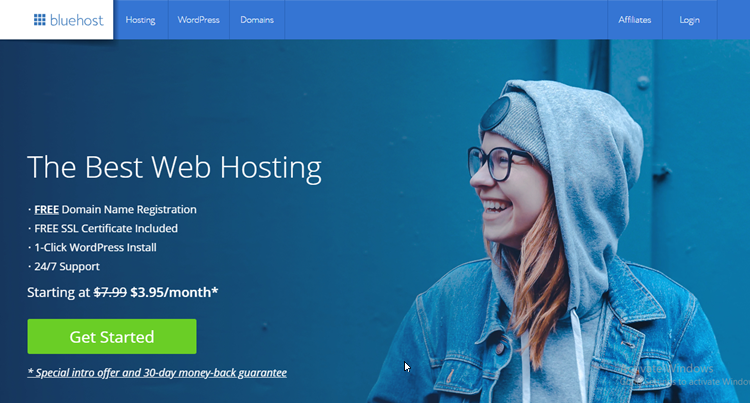 Statistics:
Support: 24/7 Live chat
Speed: 390 ms
Uptime: 99.99%
Features: WordPress installation in one click, SSL, one-year free domain
Recognized for its low initial prices, at $2.75/month, Bluehost has become the best hosting service for bloggers and many small business owners who use WordPress. Bluehost is also popular due to its reliable performance.
Among the eight hosting services in our list today, Bluehost indicates the best value or cost ratio. With an average uptime of 99.99% and few outages, it has an average page loading speed of 390 ms.
Bluehost is amongst the few web host providers that the WordPress community officially recommends. All the hosting plans include a free SSL, easy to install WordPress features, 24/7 customer support, and WordPress staging environment. They also provide WordPress tutorials.
Pros:
WordPress recommendation
Strong load-time and uptime
Site transfer is free.
One-year free domain name
Cons: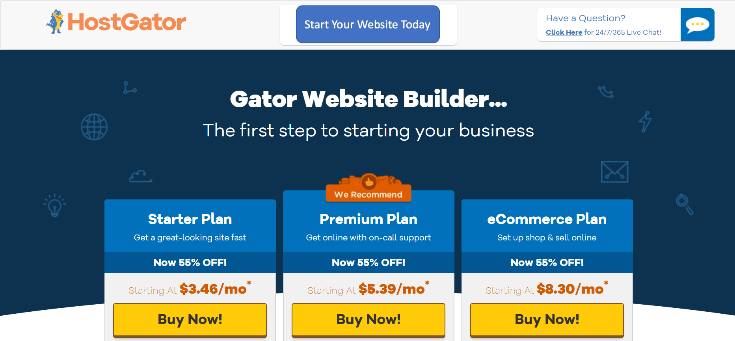 Statistics:
Support: 24/7 live chat
Speed: 369 ms
Uptime: 99.99%
What makes HostGator a popular web hosting provider is that it hosts over ten million domains. They offer dedicated WordPress hosting solutions and are the best choice for high traffic sites that need speedy loading times.
HostGator WordPress pricing plan speeds up your site across different areas, particularly for mobile users. With a 369 ms average speed and 99.99% uptime, many WordPress users consider such to be an outstanding performance. All their plans offer free site migrations, email accounts, storage, and unlimited bandwidth.
While their initial costs are low (at $5.95), renewal prices shoot up to $9.95/m.
Pros:
Free site migration
Reliable speeds
Easy installation
Cons: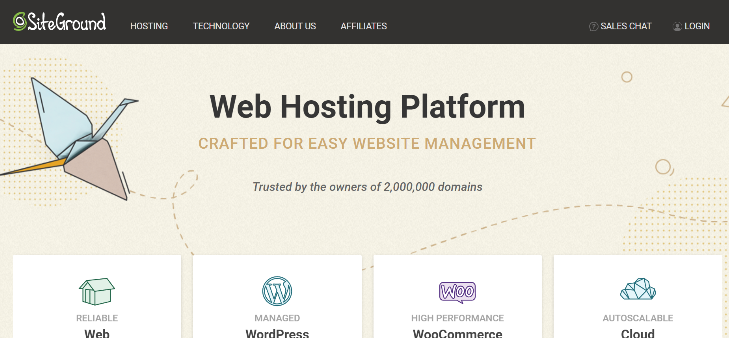 Statistics:
Support: 24/7 live chat
Speed: 629 ms
Uptime: 99.98%
Yet another WordPress recommended hosting service, SiteGround is accessible and has grown to a vast network of 800k+ domain names globally. They are among the few hosts who allow data location changing from Europe to the US.
Other services include WordPress site relocation, free CDN, and image optimization for increased web speed. SiteGround maintains a 99.98% uptime and a steady 629 ms speed. Their plans start at $3.95/m, but like many hosting providers, their renewal costs are higher (at $9.95/m).
Pros:
Reliable speed and uptime
Free SSL and site transfer
Official recommendation
Email accounts
Cons:
Higher renewal costs
No free domain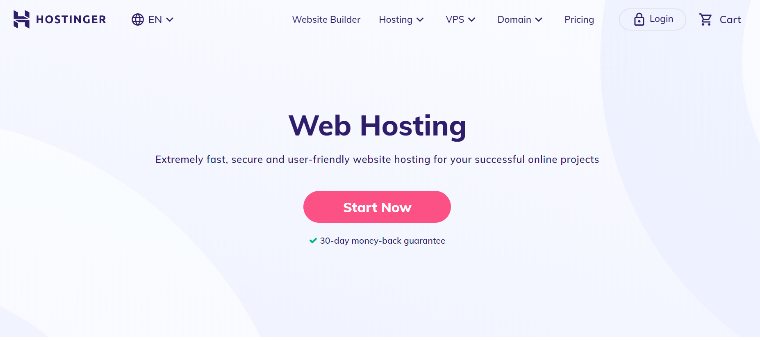 Originally from Europe with data centers in the US, Europe, and Asia, Hostinger is another reliable hosting provider. What makes it different is that, once you are signed up, you can request their support to change your server locations to where you want.
Hostinger offers a standard WordPress web builder that is useful, especially to beginners. Other than 24/7 live support, they also have WordPress tutorials and guides that you can use. While being the low-priced WordPress hosts, they have excellent performance, with 339 ms in speed and 99.93% uptime.
Their cheapest hosting plan for WordPress starts at $2.15/m, renewals at $3.49, and 100GB bandwidth (ideal for a small site). You also get one email account and an SSL certificate and have a 100% 30-day money-back guarantee.
Pros:
Reliable speed
Low-priced
Easy WordPress installation
Cons:
5. A2 Hosting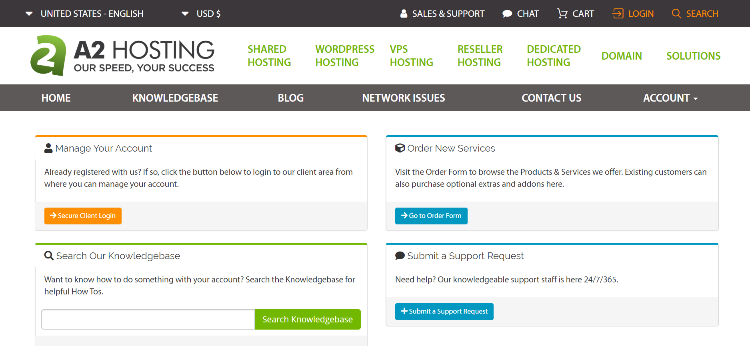 Statistics:
Support: 24/7 live chat
Speed: 295 ms
Uptime: 99.93%
Yet another cheap WordPress hosting provider is A2 Hosting. All their pricing plans include SSL, unlimited bandwidth, and SSD storage, plus free Cloudflare CDN. With data centers in the Netherlands, Singapore, and the US, A2 Hosting also allows changing your server locations.
Their 24/7 customer support can also be reached via the phone. In terms of performance, A2 Hosting has the fastest WordPress optimized servers at 295 ms and 99.94% uptime. The hosting's cheapest plan comes at $3.92/m but renews shoots up to $7.99/m.
The plan also includes twenty-five email accounts and unrestricted site transfers, and a 30-day money-back guarantee.
Pros:
WordPress optimized servers
High-speed WordPress hosting
Cons: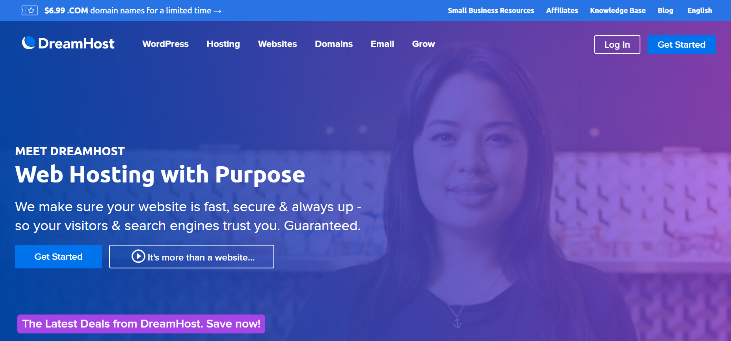 Statistics:
Support: 24/7 live chat
Speed: 569 ms
Uptime: 99.92%
A US-based hosting service, DreamHost is an engrained WordPress recommended hosting with 340k clients. Their WordPress plans include VPS, Managed, and Shared, and all include free SSL, unlimited storage on SSD, and a WordPress web builder.
Unlike others, site transfers come at a cost ($99). However, if you pick their DreamPress plan (at $16.95/m), you will have free site transfers. There's no 24/7 support. DreamHost's live support is only available from 5:30 am to 9:30 pm 24/7.
DreamHost has reliable speeds of 569 ms and 99.92% uptime. However, you cannot choose server locations outside the US. The low-priced plan starts at $2.59/m or $4.95 monthly and includes a 97-day money-back guarantee.
DreamHost managed WordPress plans have excellent performance, which means that they are costly ($16.95/m). Email accounts come at $19.99 annually, plus $15.99/year on domain renewal.
Pros:
Monthly pay option
Ability to scale
Reliable support
Cons: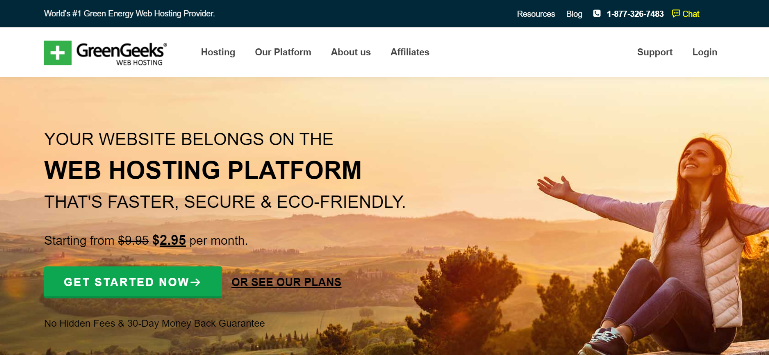 Statistics:
Support: 24/7 live chat
Speed: 375 ms
Uptime: 99.99%
GreenGeeks is a quick, safe, and scalable hosting for WordPress clients.
All their hosting plans include unlimited bandwidth and storage, SSL, and free CDN. Once you sign up, you can select your server location from the US, Europe, and Canada. They also offer free WordPress site transfer.
In terms of support, they offer WordPress tutorials, phone and email, and a 24/7 live chat. GreenGeeks has consistent speeds and uptime, at 375 ms and 99.99%, simultaneously.
Their cheapest plan starts at $2.95, but renewal escalates to $9.95/m. If you pick the free domain name offer, they will deduct your refund by $13.95 for domain registration.
Pros:
Free site transfer
Solid uptime
Reliable hosting
Cons: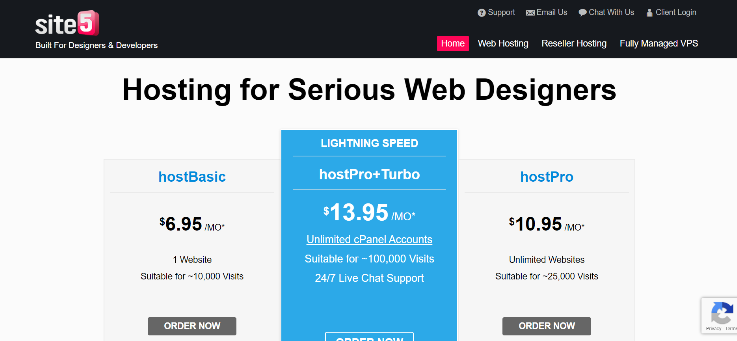 Statistics:
Support: 24/7 live chat
Speed: 575 ms
Uptime: 99.99%
Site5 is not the cheapest shared WordPress hosting service. However, they have an excellent customer service, reliable hosting, and a flexible control panel. They offer site transfers, free Cloudflare CDN, and 24/7 live chat.
There's a guaranteed uptime of 99.99% and an average speed of 575 ms. Yet, their cheapest WordPress plan is the US set by default, and it doesn't allow choosing data centers. With its most affordable plan at $6.95/m, Site5 is a costly web hosting provider. The renewal cost is $8.95/m.
While they offer a 30-day money-back guarantee, your hosting auto-renews up to fifteen days before your current term ends.
Pros:
Reliable uptime
Decent speed
Cons: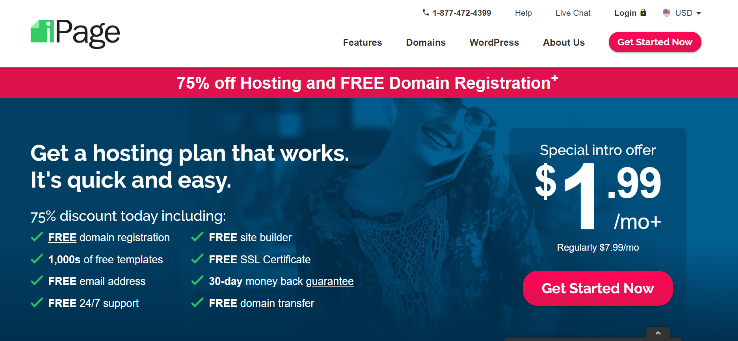 Statistics:
 Support: 24/7 live chat
Speed: 709 ms
Uptime: 99.99%
iPage offers two WordPress hosting plans, including the $3.75/m ($6.95/m renewal), and $7.49/m ($10.49/m renewal). Both plans include a one-year free domain name and SSL certificate and an unlimited bandwidth and storage.
They offer 24/7 live chat and phone support and one-click WordPress installation. However, iPage doesn't offer CDN, data centers are US-centered, and paid-for site transfers (extra $150).
Their performance is stable, with speeds of 709 ms and 99.94% uptime. WordPress's cheapest hosting plan costs $3.75/m for one, twelve, twenty-four, and thirty-six months, monthly and annual plans renewal at $9.94/m, 24-month plan at $8.49, and the 36-month at $7.49.
All plans include a 30-day money-back guarantee, backups cost $1.00/m, and email addresses via Google suite at $6/m.
Pros:
Excellent features
Unlimited bandwidth and storage
Cons:
Low customer support
High renewal costs
Statistics:
Support: 24/7 live chat
Speed: 767 ms
Uptime: 99.99%
InMotion is a US-based WordPress hosting provider with over 350k domain names. All plans have free SSL and CDN, 200 free WP themes, and unlimited email accounts.
InMotion has 24/7 live chat and phone (US) support, free site transfers, and an option for BoldGrid pre-installed site builder. Unfortunately, account access isn't instant, especially for distant users, you might have to wait.
In performance, they are average but reliable, with 99.95% uptime and speeds of 767 ms. InMotion includes several plans: WordPress, WP VPS, and Dedicated WP plans from $4.99 (renewal $8.99) to $248.99. prices vary with maximum sites, storage, bandwidth, and storage size.
They also provide dedicated WP solutions.
Pros:
Reliable
Decent customer support
Fast
Cons:
Delayed account access for distant clients (outside the US)
Average speed
Is WordPress Free, and If Not, what Might a Low-Cost Personal Option Be?
Many existing and prospective website owners often ask the question, is WordPress free? It isn't easy to find a low-cost web hosting provider for a personal website. That's because most big web hosting firms use industry-standard pricing plans to attract new clients with low initial costs. After that, renewal costs either double or triple. So, ensure you check that and other features before signing up.
However, we would recommend Bluehost, as all their plans include a free one-year domain name and one-click WordPress site builder. They charge $2.75/m, but on a 36-month commitment.
Alternatively, you can pick Hostinger, which plans include unlimited storage, SSL, and a 30-day money-back guarantee at $0.99/m (48 months, renewal $2.15).
What Might a Medium Cost Personal Option be?
Just like we mentioned above, it is not easy to categorize given the fluctuated costs, especially in renewing a plan. In my opinion, for a medium cost personal option, I'd recommend DreamHost. You can pick DreamHost, which has plans that include unlimited traffic, SSL, and a 97-day money-back guarantee at $2.59/m (36 months, renewal $2.59).
The monthly plan costs $4.95/m.
What Might a Small Business Website Cost?
The answer to this question depends on the amount of work involved in building the site, based on two key factors: your site's size and complexity. Building an impressive ten-page informational site using standard customization costs less than a complex one.
In real money, the price range for a small business site can be between $1k to $10k.

Discussions about Themes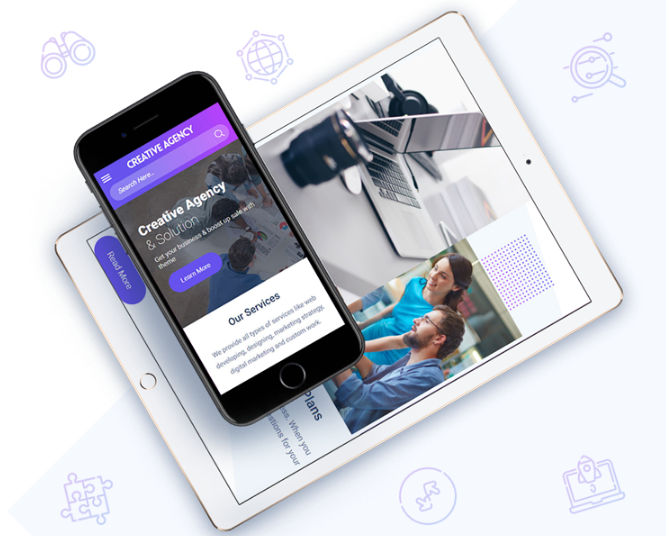 A theme in WordPress refers to set stylesheets and templates used to define a WP powered site's display and appearance. Themes can be modified, managed, and added from the WP Admin section ('Appearance > Themes'). They are available as both free and premium.
Each theme includes a different layout, features, and design. This allows a user to select those that suit their website needs, such as WP Photography Themes for photography sites. Themes can be changed by adding code to the functions.php file, plugins, or in the child theme form.
Typically, themes contain three sections, style.css file (unique), functions.php file (optional), and the WP template files, besides JavaScript files and images. The uniqueness in the style.css file doesn't mean that styling can't be similar. The distinguishing info in the header must be different to ease installation.
If it's not a child theme, it at least should have an index.php template file for controlling the content display.
Why Are Themes Important?
Many people overlook the significance of a theme in a site. As seen above, themes determine the layout and styling of your site for an impressive appearance. If not done right, people might disregard your website from first sight.
Let's see what makes WordPress themes important.
i. Make your Site Impressive
Honestly speaking, WordPress themes are a windfall for non-techs and novices. They can simply drag-and-drop the most impressive themes into their site as they design. The best thing is that they are available based on your business domain to suit your needs.
ii. Several Website Usability
Themes allow for competence and comfortability when building several sites simultaneously. This means that you don't need to purchase individual themes for developing multiple sites. You get usability and budgeting under one roof.
iii. Extendable Functionality
Most people like WordPress plugins, for they can manage them to make their site more responsible and efficient. The type of theme you choose determines the kind of plugins that you can install to achieve the desired design.
iv. Quick Results
Themes play a crucial role in building a site quickly and excellently. WordPress themes include a demo that shows you the result of the site you are creating. You can modify your demo to suit the requirements of your site,
v. Updated Websites
Internet standards are frequently changing, and so is WordPress free on its themes and other features. State-of-the-art themes ensure that you are always shining bright in a competitive world. Another advantage is that, as themes update features upgrade, which means website security also increases.
vi. Premium-Level Quality
WordPress themes are well-coded to ensure that you do not experience code errors regularly. Some of these themes include features such as SEO optimized codes to ensure that your site ranks well on search engines.
vii. Useful Features
Both free and premium themes from WordPress include an abundance of features and functionality. These features will help you build your desired site quickly, offer free plugins for outstanding performance.
viii. Reliable Support
WordPress theme developers offer optimal support to make sure that you get the most out of their features as you build your website. Whether a personal website or for business purposes, you can be assured of tech support.
ix. Browser Support
When designing, you will come across themes that offer support to different browsers all at once. This is good for your customers as they all have different platforms and devices when accessing your website. You achieve both competence and excellent user experience.
Where can Themes be Purchased?
When building a website for your needs, you probably skipped the option for shopping WordPress themes and moved on to free themes. However, as the use for your site grows, you find that free themes become obsolete.
When you decide to buy WP themes, the market will overwhelm you, and the next question will be, where do I purchase my themes? We have selected a few providers that you can buy genuine themes to make it easy for you.
Templatic has a collection of WordPress themes that match different niches to help you build an impressive professional site. They are straightforward to use, affordable and saves on time when creating your website.
When you purchase a theme from Templatic, you get a striking design, unlimited support, pro code, and theme updates for a year. They will also give you access to theme guides and an exceptional user community.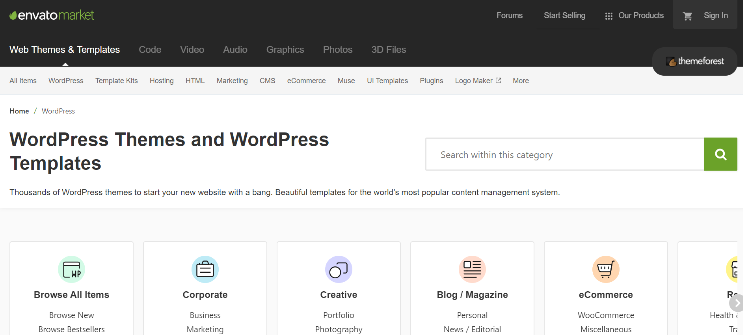 ThemeForest has a reputation as a theme marketplace that offers 6,400+ themes products to select from. On average, prices vary from $48 to $68, with designs that fit all business types, several niche blogs, and mags.
Buyers like ThemeForest's products as they stand out in terms of design, attractiveness, and affordability. It is the favorite last stop for quality designers that sell masterworks at an excellent price.
If you are a beginner looking for simple and quality WordPress themes, ThemeFuse would be a fantastic place for you. Their list currently has 45 different themes that are enabled with crucial website elements and clear redundant clutter.
ThemeFuse has impressive themes that include trendy styles and color patterns.
Their themes are highly customizable to match up your site's specifications and allow you to use your backgrounds and large images for aesthetic value.
This is yet another strong theme base with over 5,500 independent models to consider. They also offer themes for other platforms, fonts, images, and graphics.

Key Items/Plugins that Should be Added to any WordPress Site
The number of plugins for WordPress out there is overwhelming and with useful features and niche solutions. Yet, only a few of them are must-have plugins for your WordPress site. Here are our five top picks that we know must be considered and included.

So far, Yoast SEO is the most popular WordPress SEO tool. While it improves your SEO, this plugin can even evaluate the readability of your content. Nearly 79% of visitors scan through your site pages and posts. So, the more the accessibility, the better it is for your site. Yoast SEO optimizes your WP posts and pages with meta descriptions and keywords. It's completely free.
Over 50% of the standard is consumed by images, which makes optimizing them increase the page load time. Optimole takes each WordPress uploaded graphic and optimizes it to take less space. It speeds up your website via a cloud-based system.
The plugin is free for 5k visits/month, the premium version costs $22.52/m, billed annually.
This plugin integrates with several cloud storage options to protect your backups from hackers. You can also use it to automate your WordPress site backups with a frequent schedule.
It's a robust caching plugin that aids to speed up your loading time by making cached copies of every dynamically-made site page to reduce your server's workload. The price starts at $49 per site per year.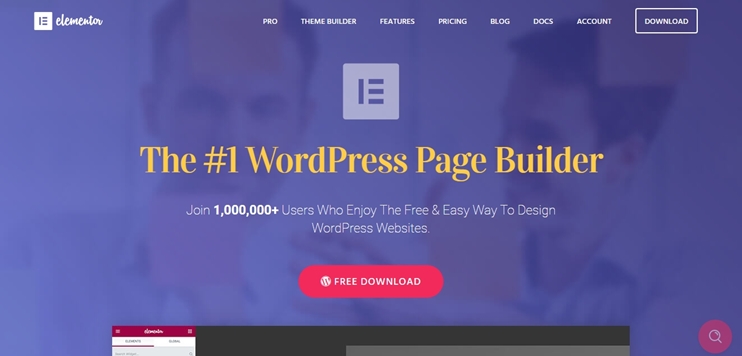 This theme creator plugin enables you to customize any of your site's elements. This means that you can edit your site with a simple drag-and-drop feature. Elementor works well with the Gutenberg editor and other WP plugins. Plans include Personal ($49/year/site), Plus ($99/year/three sites), and Expert ($199/year/1k sites).
What Add-ons Would be Needed?
Traffic remains the most crucial element of any site-monetization plan. I know that perhaps you do everything you can to attract traffic to your site. But are you doing all it takes? Regardless of the current number of visitors on your site, there are various techniques that you can employ to enhance customer engagement.
Use these add-ons:
1) Social Media Integration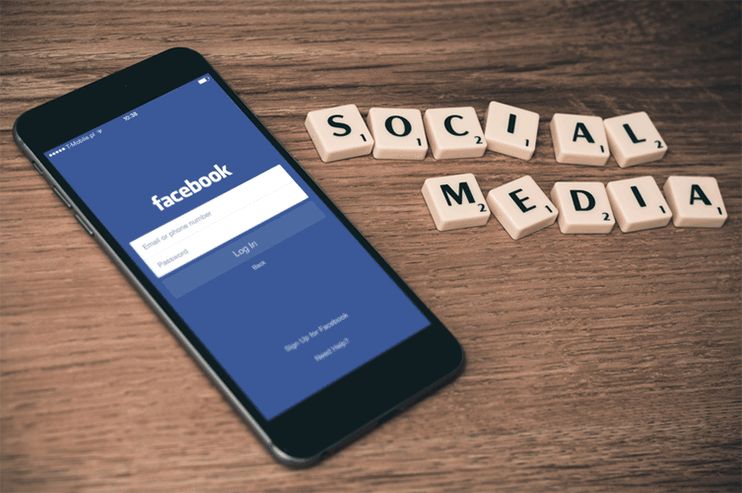 This is an essential add-on requirement for modern sites, as it enables clients to share something they are attracted to quickly to their followers. In WordPress, it is an in-built feature. If your site is custom, the functionality has to be coded using 'AddThis' to copy and paste.
2) Carousels
With this add-on, you can upload images from your device, Google Photos, Facebook, Instagram, and more. Then you can customize the appearance of your slideshow with multiple templates to select from, copy and paste the code on your site, and enjoy.
3) Online Forms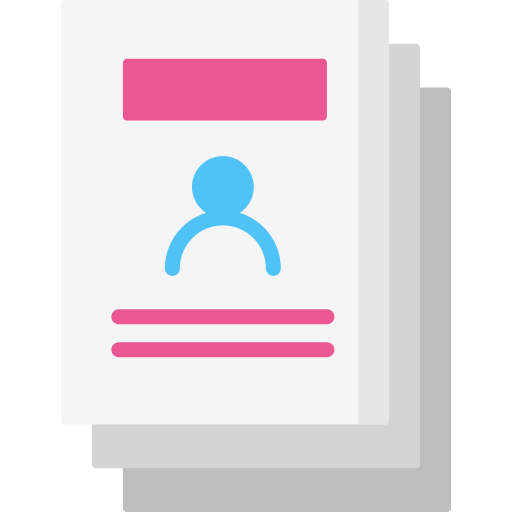 These are offered by default for WordPress sites, where you edit and share them with no time. WPForms is a drag-and-drop online form creator that makes it the most comfortable form plugin for WP.
You can get WPForms Lite for free in the plugin directory and install it on your preferred sites.
4) Countdown Timer
A countdown timer add-on is vital for including on your site if you have an upcoming special event. You just need to key in the event name, specific time or date, and start it. Your visitors will see the remaining time to the event's kick-off or offer expiry.
5) Search Tool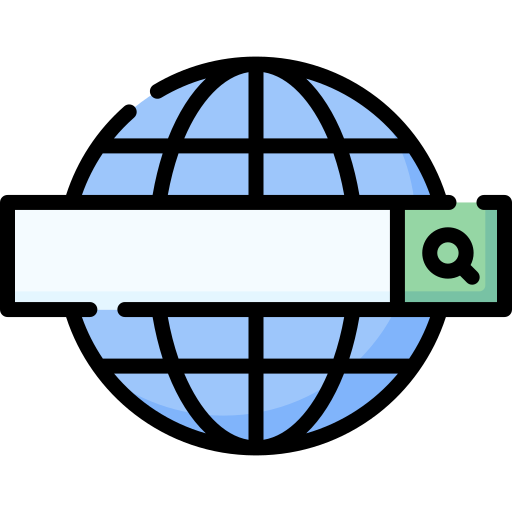 Having a search field on your website is necessary for new sites, especially for large sites.
It enables site visitors to search for specific items, information, and pages, saving the time they spend on your site for solutions.
6) Live Chat
The Live Chat add-on is essential for customer engagement other than creating a call center for client support, especially for businesses. With this tool in place, you can either handle it or employ a customer service rep.
7) eCommerce Abilities
WordPress includes WooCommerce that helps you to transform any site powered by WordPress into an online storefront. The add-on is user-friendly and offers a range of advanced functionality, such as subscription-based pricing models and more.
8) Booking & Reservations
This section includes multiple functions and comprises of more than one add-on. The necessary tools for this add-on enable you to take online reservations for a site or business, booking appointments and reservations, and more. It also should include a calendar for availability.

Backups

Owning a WordPress site is a crucial part of your business. This should be the case when most of your activities are primarily conducted online. While hosting services have upgraded their system redundancy and uptime, sometimes, your site can crash.
A severe system failure can make you lose your website files, and that is why a site backup is mandatory. With a backup for your WordPress site, you can quickly restore your site to full functionality, even when your files are lost.
You should ensure that you have a copy of the backup that you can copy and restore your site. WordPress and other hosts, such as Bluehost, have made this process easier. A backup refers to a copy of essential files for your WP website, including plugins, add-ons, and databases.
A WordPress backup ensures that you start from scratch in case your site has been compromised. It should be done regularly, like once a month. However, if your site has high traffic, you should do it more often.
There are many backup tools that you can use. You can confirm with your hosting provider to see if they offer the service. Some plugins can be used to create a file of your site's info and download it to your device or the cloud storage. The method is much quicker than doing it manually. If you don't prefer to use the tools your host provides, the plugins you choose should work on hosted websites.
Manual Backup:
Your web host provider should include a backup method for your site's info manually. If your host's dashboard is cPanel, the feature exists by default. You can access WordPress MySQL and PhpMyAdmin to download your database and site files manually.
Backup Plugins:
f you choose using a plugin, use the WordPress plugin installer on the plugins tab that will direct you to the plugins store, and you search for the plugin and download it. After installing the plugin, activate it, and follow the manufacturer's instructions.
These plugins can be utilized for auto-backups:
Security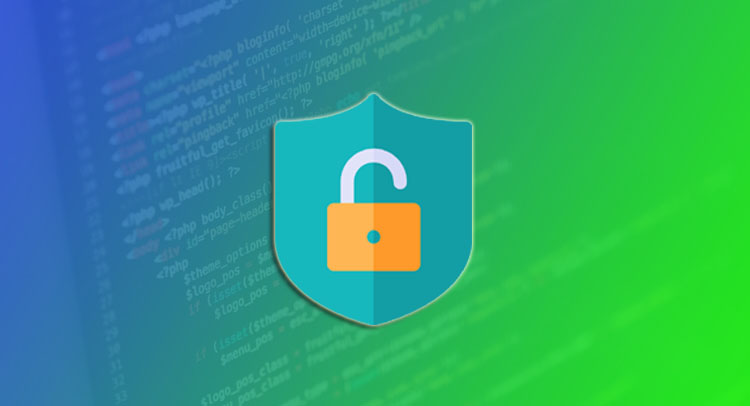 It's no brainer! The fact that WordPress is a popular CMS globally makes it a target for hackers. So, if you're wondering whether or not you need a WordPress security plugin, a short answer to that is, yes.
WordPress conducts a routine update to mend any existing and new security flaws. Yet, security must be a reactive procedure, since patches are done after a security susceptibility occurs. WordPress is extremely secure, but the flooding plugins and themes open security holes.
It is therefore wise to use WP security plugins, and you will gain access to extra features, including:
Website firewalls
File, website, and malware scanning
Security from brute force attacks
Complete security hardening
Regular security monitoring, notifications, and scans
Here are the best WordPress security plugins:
This plugin can be obtained in free and paid options for WP sites, with the paid-for version unlocking more full security measures. The free version has modest features, but the Pro version is much better. You can get it at $80/year.
This is the most user-friendly WP security plugin that is user-friendly, even for non-techs. It includes an exceptional grading system to display protected areas. The plugin secures you from blue force login attempts, databases, and blacklisting some IPs.
The plugin includes an in-built security scanner to ensure your safety.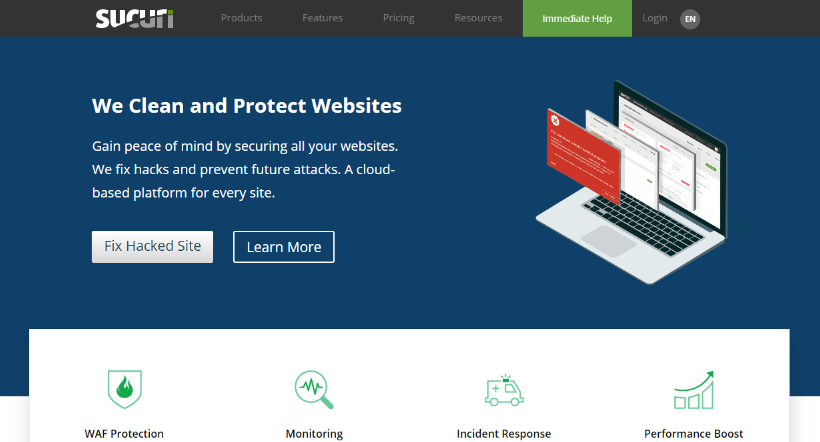 This entirely free plugin is excellent at site monitoring and reinforcing the existing security levels. When you install it, it auto-scans your website for susceptibilities so you can restore your site to full functionality.
This newest version has an intuitive user interface, available in both free and premium versions with an in-built security scanner for checking any vulnerabilities and fixing them. The premium version unlocks extra security features like auto site scans, auto backups, and anti-spam protection.
This plugin is the best free for WP on the market that is best for securing your site from actual security monitoring, brute force attacks, IP blacklisting, and more. It adds a firewall to your website and includes an extensive database of blocking your site from offending sites.
The premium version includes extra features like actual-time threat protection, improved firewall, dedicated support, enhanced spam protection, and more.
Developers
If you are searching for the best platforms to find a WordPress developer, you have come to the right place. As a popular platform, thousands will claim to offer WP developer services. While that's true, not all possess similar abilities or have the same expertise.
WordPress is user-friendly and doesn't require tech skills to build a website or run it. In the beginning, your site might be easy to manage. However, as your site develops, some modifications will require tech expertise. That's when you hire a WordPress developer.
Here are the best outsourcing places for WordPress developers:
1. Codeable – this is the leading outsourcing platform for WordPress works.
2. Upwork – the leading online work marketplace.
3. Toptal – the globe's hub for a high-class network of professional software developers, finance experts, and designers.
4. Freelancer – yet another top online work marketplace that includes WordPress developers.
5. WordPress Job – a job hub maintained by the minds behind WordPress.org, which means that they have the best WordPress developers.
6. WPhired – a WordPress explicit job board with a reputation of having among the best WordPress firms and freelancers.
We hope the list was helpful in your quest for the best WordPress developers' platforms.

What's the Difference between WordPress.org and WordPress.com?
Many WordPress users have no idea that WordPress.org and WordPress.com are two different platforms. First off, one key difference between the two is the one who hosts your website. I know you are still confused about the difference. We shall tackle this in detail to make you understand.
What's WordPress.org?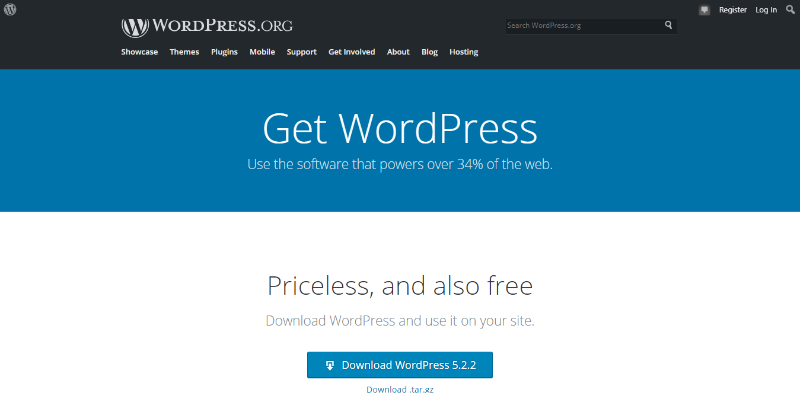 WordPress.org is where the free WordPress software you download and install on your website server when creating your site is found. When you use WordPress.org., you host your site or blog.
What's WordPress.com?
WordPress.com is responsible for all your web hosting, no software download is required, no paying for hosting, and no managing a web server. You will have to create a WP account on WordPress.com and pay for features upgrade.
Pros & Cons: WordPress.org vs. WordPress.com
Depending on your website needs, both platforms have their benefits and drawbacks.
WordPress.com
Pros:
Easy setup
Easy to personalize
100% free
Cons:
Paid-for upgrades for enhanced customization
No plugins upload
Restricted no. of themes for free
WordPress.org
Pros:
100% free download
Unlimited customization potential
Full control over your code and files
Unlimited themes
Upload custom themes option
Cons:
Paid-for hosting
WordPress installation and setup
Manage your site and server
WordPress Pricing: WordPress.org vs. WordPress.com
WordPress.com
If you need the site for commercial purposes, there's an $8/m cost (at least), plus $15/year for your custom domain name, totaling to an annual price of at least $111.
WordPress.org
With this platform, you can start a fully functional site at $35 for the initial year. After that, you will be paying $35 annually.
Further Reading: