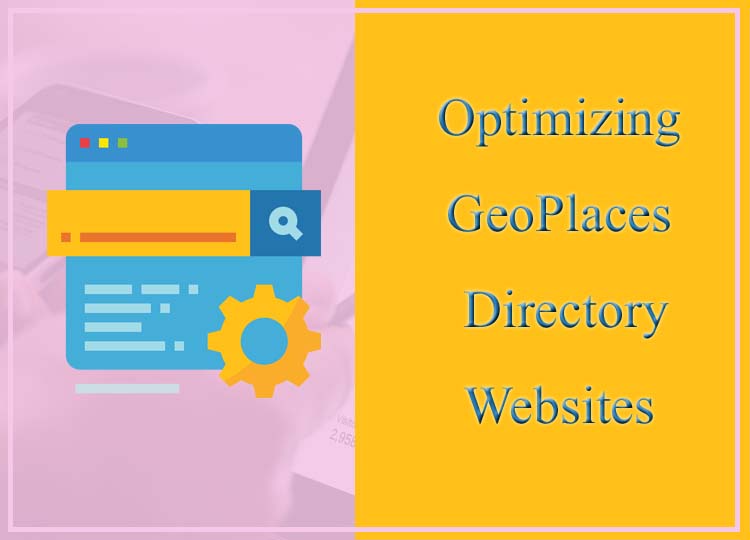 Creating a website is easy, with the different tools and techniques. But making sure it performs well for your users – no so easy!
A new website requires you to pay a lot of attention on different aspects, and perform certain tasks to make sure it performs well.
Especially when it is a location based directory website like GeoPlaces website.
While there can be a lot of small & big tasks associated with your directory website management and maintenance, here, we have shortlisted a few most important tasks that can help your website's performance.
1. Speed Optimization
One of the most important website optimization tasks is its speed optimization. Because a slow website is an inefficient website.
A slow website is bad for both: SEO and user experience. Therefore, you must create a website that is fast and has a good page loading speed.
However, the speed of your website is not just dependent on one thing or two. There can be multiple factors that affect the speed of your directory website.
The following are some of the things you can take care of to see that your website performs well:
Choose a WordPress directory theme that isn't slow
Get hosting from fast, reliable and secure hosting provider
Use CDN if necessary
Optimize the images on your directory website
Use caching plugins for faster performance
Clean-up your site to remove unnecessary junk
Remove plugins/data that you no longer need on your site
Besides, you can use the caching plugins, use CDN and other techniques to speed up your WordPress directory website made with Geoplaces.
2. Managing the Listings
When it comes to directory websites, listings on your website are the building blocks. The listings help make your website more useful.
And the listings on your directory website can be in large numbers, therefore – making your website more useful. But you have to be careful that the listings are properly managed on the site.
For managing listings on your WordPress based directory website – you can either choose to auto publish the front end submitted listings, or choose to hold them for moderation and till then a submitted listing is "saved as a draft".
We recommend you always choose to moderate the listing before publishing it. So you can check if the details are correct, check & correct grammatical and spelling errors, make sure that proper categories are chosen, etc.
Besides, you should remove the expired/invalid listings on your website, create new categories as and when required. You can check images & optimize them to optimize the speed of single website.
3. User experience management
There's no debate – User experience is supreme. Taking care of what your users actually want from your website, and whether they find it easily, can help you a lot.
Again, user experience is defined by a lot of different factors. And as a matter of fact, different factors work for different types of website. But listed below are a few of the simple things you can do to check the user experience.
Check the design of the theme
The design matters. The color combinations, the placement of the screen elements, the arrangement of menu items, everything matters.
With WordPress, when you use pre-designed themes like GeoPlaces to create your website, you can customize it to fit your requirements. It comes with enough options to personalize your websites and rearrange the elements to make it more effective.
Make sure that the advertisements and other banners don't affect the UX
Mostly, as a directory owner – you would like to earn extra through placing advertisements on your WordPress website. And one of the most common ways to make money through your GeoPlaces website is by displaying advertisement banners on your website.
But when you do so, make sure that the advertisement banners don't overshadow the content of your website. In Geoplaces theme, you can use the widget to place the advertisements on the page.
4. Blogs and Content Management
Content is the king! And good, properly planned content can help make your WordPress directory website more interesting.
When we talk about content – it includes everything. The content in form of static text, headings of the different sections, Call-to-action text & content, blog content, content as text, video, audio, etc.
Add new content
Consistently adding fresh, new and useful content in your website is good for both – SEO and user experience. This content can be new listings, new blogs, or a new page.
New content on your website increases the usability of your site and increases user engagement.
Check the validity of content
When it comes to city directory websites built with the Geo Places WordPress theme, mostly all the content is in the form of listings.
So one of your constant task will be to check the validity and usability of your content. Whether it is a listing or a blog. You must also remove unnecessary and old content, as and when required.
5. SEO Optimization
Working on the visibility and organic traffic of your website is an endless task. The SEO friendliness of your website directly impacts the success of your online venture.
To ensure that your website ranks well on the search engine, the basic points you can take care of are:
Always Use SEO friendly themes
The key is to use a theme that is crafted by following strict SEO standards. Such WordPress themes are easy to find as almost all the modern themes take care of SEO for you.
Geo Places is one of the SEO friendly WordPress theme to create online city directory website. It is flexible, easy to use and helps the SEO of your website.
Keyword optimizing your pages
When it comes to SEO, each and every page of your website counts. So you must work on each and every page so that they rank well.
For this you can use the SEO plugins for WordPress. Such plugins can be easily integrated into your WordPress website and work well with almost any theme.
Optimize images for better performance
Images on your WordPress website make it more meaningful and better to understand. Properly optimized images also helps the SEO.
And the listings on your city directory website will obviously have many images. So, it becomes mandatory to optimize the images on your directory website.
Well optimizing the images on your website is made easier with the image optimizer plugins. You can just integrate such plugins that will automatically optimize all the images uploaded on your website.
Others
You can use the other SEO techniques like link building and maintain blogs updated with fresh, relevant content on your site. There are many other SEO techniques to help the visibility of your site.
6. Plugins and Add-ons
When it comes to using plugins on your WordPress website, there are a few rules you must follow:
Use plugins that enhance user experience
Even though the modern themes are designed with all the features and optimizations included & implemented, you might need plugins for further enhancements.
These plugins can be caching plugins to speed up your site and optimize the performance, the image optimizing plugins, SEO plugins, backup and restore plugins, etc.
However, whenever you add new plugins to your site there are a few things to take care of:
The plugins should be from reliable source & not a security threat for your website
Check for the compatibility of the plugin by test install in local/test environment
Make sure that the plugin doesn't slow down your website and works well with the theme
Remove the unnecessary plugins that you no longer use
Insist on only adding the plugins into your website that you absolutely need
These plugins on your WordPress websites, when used thoughtfully can help your site a lot & make it perform better.
7. Google Analytics
What better tool than Google Analytics to find out about the traffic and demographics of your website. With the analytic data obtained from Google Analytics, you can find out the best and worst performing pages on your site and work on them accordingly.
You can optimize the pages with poor performance and utilize the pages with best performance for your advantage. Google Analytics helps us know the demographics, insights on quality of user engagement/session time, etc.
Wrap Up
The GeoPlaces WordPress City directory theme is one of  the easiest to use city directory theme. Since it comes with all the features included, you can just start using it out of the box, with a little personalization.
Maintaining online Geoplaces directories takes a lot of efforts. It's natural for you to expect something in return from your Geoplaces directory. Here are the top ways to monetize your directory website.