Looking for some yellow pages software to create your online yellow pages business listing website?
Moreover, we understand how important it is for a yellow pages website to be fast. So we've only included the performance-optimized yellow page directory software. Also, you must have a look at this yellow pages directory software website builder, to create your yellow pages directory website. Now, let's have a look at the best Yellow Pages Directory WordPress themes.
Also Read: How to create yellow pages website with WordPress?
The best Yellow pages script to get started now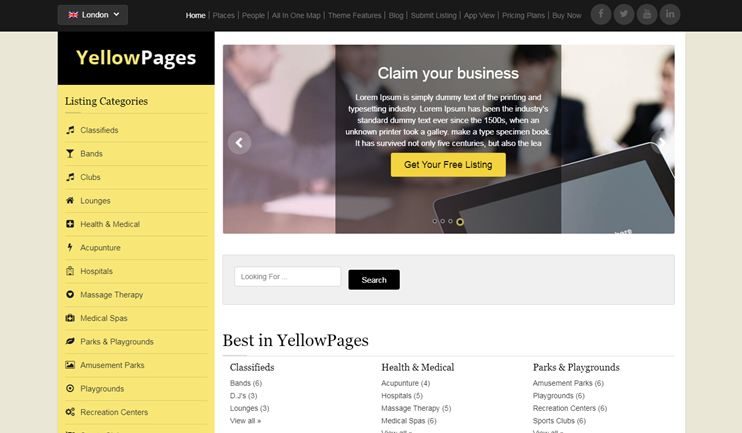 This yellow pages clone script allows you to create yelp like yellow pages website in minutes. It is a location aware WordPress template with maps and customizable listings. Also a front end submission module that is intuitive and easy to run. Also, the Yellow pages theme is highly customizable and with easiest options, you can make it look and work just the way you want.
Here's a niche yellow pages website template, that you can use for almost any purpose. Even though the theme is designed for babysitters listing, you can customize it for your subject.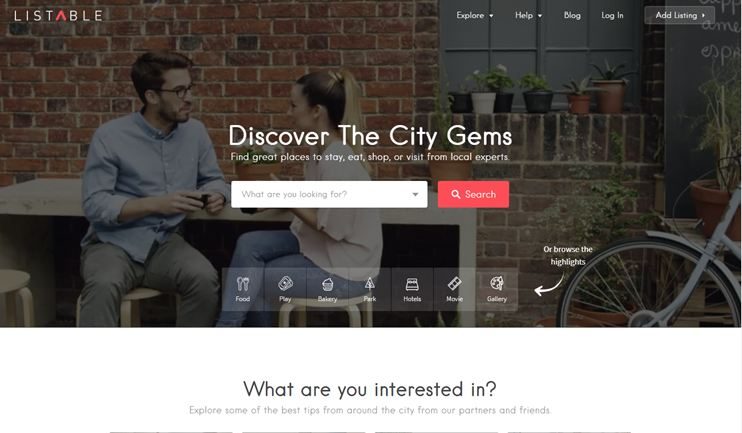 Listable is a listing based WordPress website that you can use to create your yellow pages online directory. The theme can be used to create a yellow pages directory of a specific niche like a real estate yellow pages or a multipurpose website like yelp.
The theme is flexible as well as customizable. Moreover, it comes with lots of monetization features through which you can earn. Also, it is WooCommerce compatible. You can even use the subscription feature. The Listable WordPress theme comes with an advanced search and filtering feature.
Directory is a multipurpose WordPress directory software that can very well be adapted as a yellow pages script. This directory template can be used to create local or global yellow pages website on the go. It is SEO friendly and is compatible with WooCommerce.
The theme is nothing but a listing system that allows you to post location based listings for various categories. The advanced search features in this directory script makes it easy for the visitors to find the listings. Also, it features a drag and drop page builder to let you create pages easily.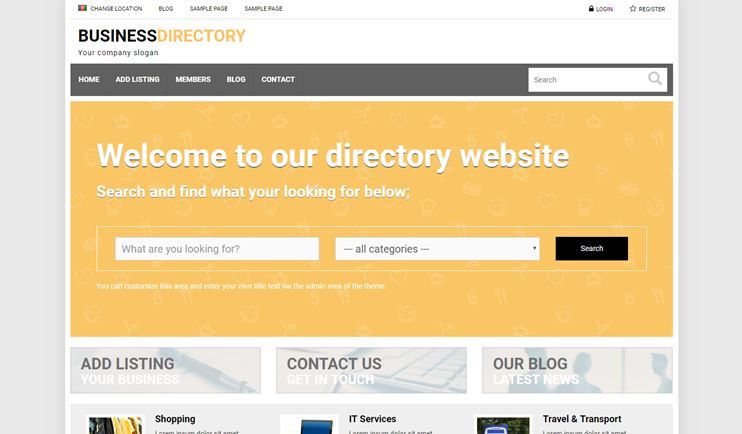 WordPress Business Directory Theme is a simple and SEO friendly directory template that can be used to create Online Yellow Pages script.
The yellow page directory software is highly customizable and comes with the power to let you create a website of your choice. The providers also offer a 30 days money back challenge and a full refund promise if you don't like their software.
You may also be interested in these articles
Conclusion
The ones listed here were some of the best yellow pages directory themes for WordPress.You can use one of these yellow pages software to get started with your business directory yellow pages in minutes. They all have the inbuilt features that will not only help you create a yellow pages business listing site but also help you do it professionally.Moreover, each of these yellow page directory WordPress templates come with the features to make money through your website. So are you ready to create your online yellow pages directory.