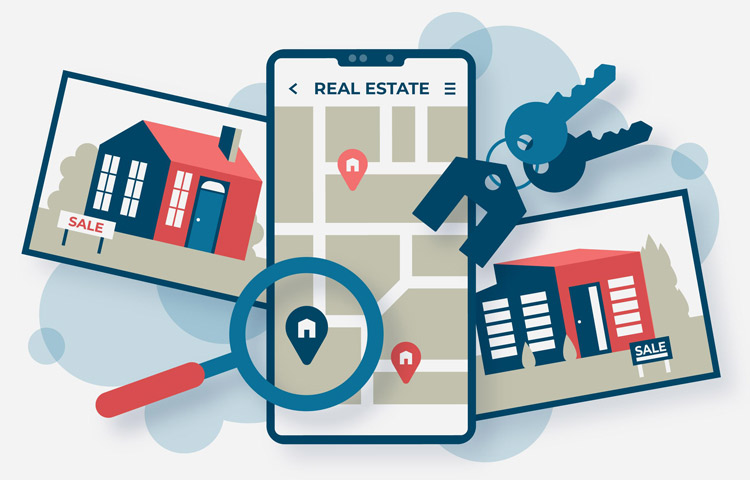 Advertising your property on a property portal, or a local real estate directory website is a good investment. However, it can only be as effective as the details, the property features you include in your property listing.
It not just about getting your real estate property listed on an online directory, but it is more about the details that listing gives away to the potential buyers to be sure about their real estate investment. You can find so many property management portals where you can pay and list your properties. And you can consider one that seems most profitable and convenient to you based on your target investors.
The presentation is important when you are advertising your listing on a platform like realtor.com, or Zillow.com.
However, the content you upload for describing your property matters a lot regardless of the property portal you choose. Here are a few of the qualities of a good property listing to ensure a great response from potential buyers.
1) Good Images/Videos/Virtual Tours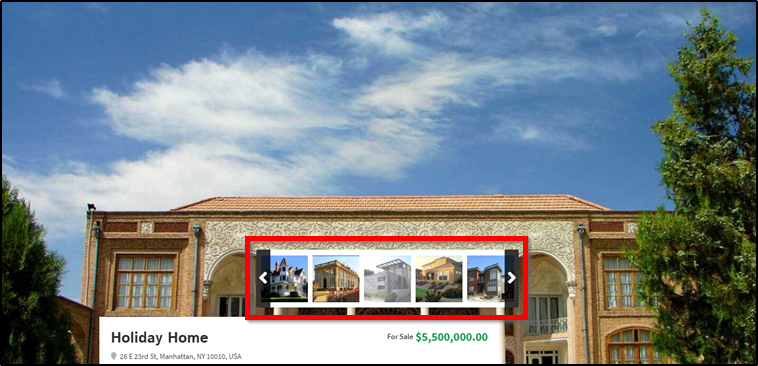 Images express better than words, especially when it is a residence or a real estate property. Good images and using videos or virtual tours of the properties will always help gain the confidence of the prospective buyers.
The importance of proper, relevant images on a real estate website can be emphasized by the fact that the interested visitors will first scan through the images. Instead of reading the description of the property, it is easier to browse through graphics. Therefore, when listing your property on a real estate portal, you should make sure that different dimensions and parts of the property are visually represented through visual media like images or videos.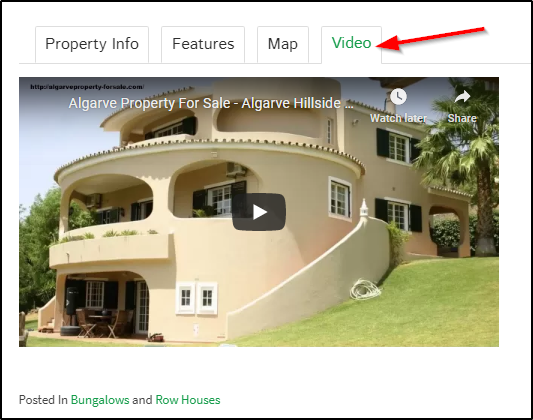 First of all, instead of using only a few images, you should use only high-quality images. You can even create a gallery of images on real estate property.
These days virtual tours are more popular with real estate sellers and buyers. It's almost equivalent to visiting the premises personally.
As the name suggests, it is a digital tour where you can watch the rooms. So the visitors can have a virtual experience of visiting the property while sitting at your desk at your home.
Moreover, you can even compile interesting videos of the property. For example A video of different areas of the home, a testimonial video, etc.
2) Location Details
It is very important that you include proper address and location details about your property in a real estate listing. This includes the exact location, a valid address, the nearby landmarks, and even guidelines on how to reach the place.
For instance: A line that says "The apartment is just 10 minutes south to the XYZ football stadium" or "It takes 10 minutes by car to reach the location from the railway station" will help the interested property searchers give a precise insight into the location of the property.
To create an impactful listing, you can include a map into your property listing. Most of the real estate directory websites these days come with the property listing on Google Maps. It makes your whole property listing even more convenient because of the navigation features.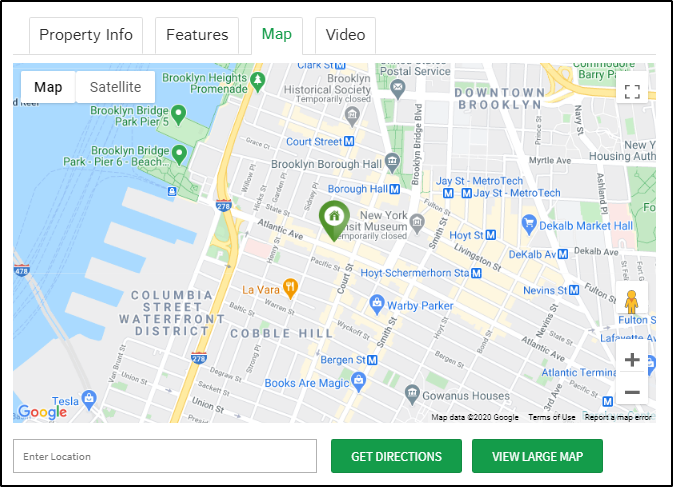 Our real estate listing directory theme has a similar feature.  It is used by many of our clients who are real estate agents or online directory business owners to earn online. Based on the address keyed in by the property listing owner, the theme will automatically display the area and the exact location with the help of a map marker.
Google maps also come with navigation features and will help people calculate the accurate distance, time, and routes to reach the property from their own location.
Are you are a real estate website owner?
If so, here's an interesting article about all the features that you should include in your real estate website to attract more buyers and sellers to advertise on your platform.
3) Owner Information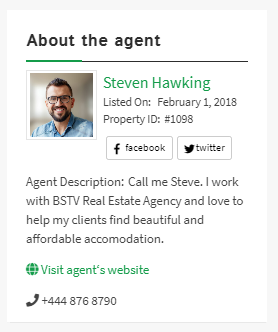 It is very important to ensure that the interested visitors are able to contact the property owner easily. This is exactly why most real estate listing websites come with a separate highlighted section for owner information.
Whether you are a private property owner or work for a real estate agency or a property broker, you should provide the correct contact information.
The basic information includes your name, phone number, and email address. This applies whether you are selling the property or trying to let it.
It should not be hard for interested visitors to find you how to contact you.
Even before making a decision regarding any kind of property investment, the buying party would like to know about the seller. And therefore, you should always make it easy for potential buyers to contact you.
4) Details about Neighborhood & Amenities
Whether it is a rental property or a new house on sale, people are always curious about the neighborhood. It is almost as important as mentioning the rent, or other quality of the home. And even other details about the neighborhood, the approximate area should be mention. Whether there's a furnished kitchen with lots of installed appliances, should also be mentioned. Also mention the quality of life in the area, and the size of the family it is best to fit for.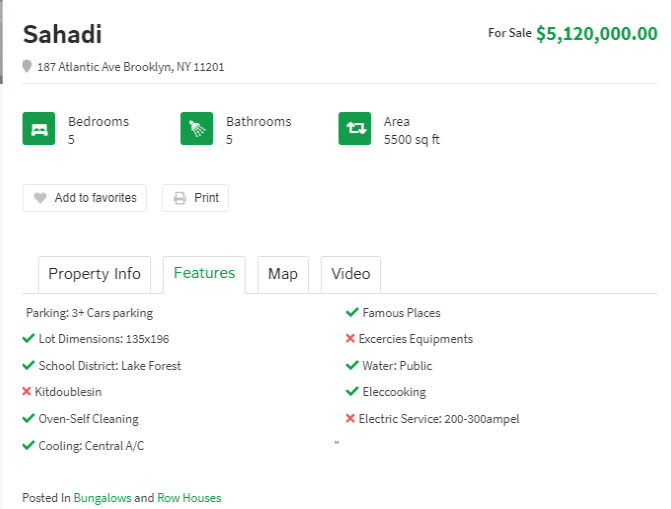 You should always try to include all the property features for rental property or house on sale for the sake of clarity. More information about the properties helps the visitors decide better. Even a small feature, that might not look like a highlight of your property to you, may attract a tenant or make your property look attractive to potential buyers.
People are often very curious about the neighborhood and the properties surrounding it. Because the quality of the life depends on the surroundings and the availability of basic amenities and ease of access to basic transportation services.
Therefore, a few lines about neighborhood areas should be added to add more meaning to your property listing.
5) Highlight Unique features
This is one of the quite obvious points. If your real estate properties happen to have some unique features, you should sure mention them.
It may look attractive to some people and not very special to others, but you should definitely mention the extra benefits or unique quality of your house/rental properties.
Someone interested in property investment would love to know all the unique and attractive qualities of the property before buying it. And there is no reason why you should not list all the small qualities and features of your property.
Include everything, if there is a sea view, if there is a good parking facility if there's a closet for storage purposes if there is a market nearby, or any popular location, if it is closer to a park, school, railway station, etc. Be as detailed about your property as possible to attract people.
Bonus: Rental property features
If you are looking for prospective tenants by listing your rental property on a real estate directory website, you should make sure that you are providing all the necessary details that a tenant would like to know.
This includes an approximate rent, the appliances that are included, the amenities included & whether they are supposed to pay extra for certain facilitates, the exact area of space they can rent, and what isn't. To make it more detailed, you can even mention the type of tenants that the homes are best suited for. For example, a rental property with multiple rooms is good for big families, while single rooms are great for students, etc.
Along with proper location details, you should also include other features of the home and a rental property that makes your offer look more attractive to the interested tenants.
Such property listings should also include images of the rental home to give an idea to the tenants of how their apartment/home looks like.
Last but not the least, a contact number or any other contact information about yourself so the interested people directly get in touch for further inquires.
Conclusion
When you pay for advertising your properties, it is important to make sure that your properties and their features are properly highlighted in the listings and they are properly represented. This will help the buyers get a satisfactory idea about whether they would want to proceed with further inquiries or not.
When using an online platform to advertise, try to make the best of all the options you have. Because it is not the quality or features of your property, but it is more about the presentation. A good real estate listing on a reputable property management portal can help you attract more investors and buyers, who rely on the web search instead of referring the offline platforms.
Also read: How to create a profitable real estate website to generate passive income through the internet?