Add your listing content on the listing detail page itself
The purpose of WYSIWYG Submission (WYSIWYG is an acronym for "What You See Is What You Get") is to completely revolutionize the way content is submitted on your site. Instead of submitting content using a classic submission form, visitors will add content in reverse. This means they will see the actual detail page of your site and submit content by editing the placeholders (sample data) on the page. This makes content entry more interesting and more practical since visitors can instantly see how their changes will affect the final listing.

How does this plugin work?
Once installed, WYSIWYG Submission plugin will create a new page on your website. To enable submissions, simply point your visitors to this page. On the first step of the submission process, visitors will be required to choose a category and a price package. On the second step, they'll be presented with a detail page filled with dummy content. They will add their own content by editing dummy values and adding their own. Another thing visitors can do is create drafts. Once a draft is created visitors can resume editing at any time from the front-end user dashboard.
To make it clear which parts of the page can be modified and which cannot, the plugin will highlight editable areas and fade sections such as the sidebar. Faded areas can only be modified by you (the admin) through the theme back-end.
Works with all your custom post types and custom fields
Along with the post types that are enabled by themes (like "listing" and "property"), the WYSIWYG Submission plugin is also compatible with any post types you create yourself (from Tevolution ? Custom Post Types section). This allows you to create separate frontend submission pages for each post type.
Integrates with Directory parent themes, child themes and plugins
WYSIWYG Submission is designed to work great with both the Directory and Real Estate Directory parent themes; including child themes for each. In other words, the frontend submission page you see will always look like the detail page for the theme you are currently using. What's more, plugins that customize the detail page (like Tabs Manager) will also integrate into the WYSIWYG Submission. If you added custom tabs using the Tabs Manager plugin or new header fields using the Header Fields plugin, your visitors will be able to see and edit them.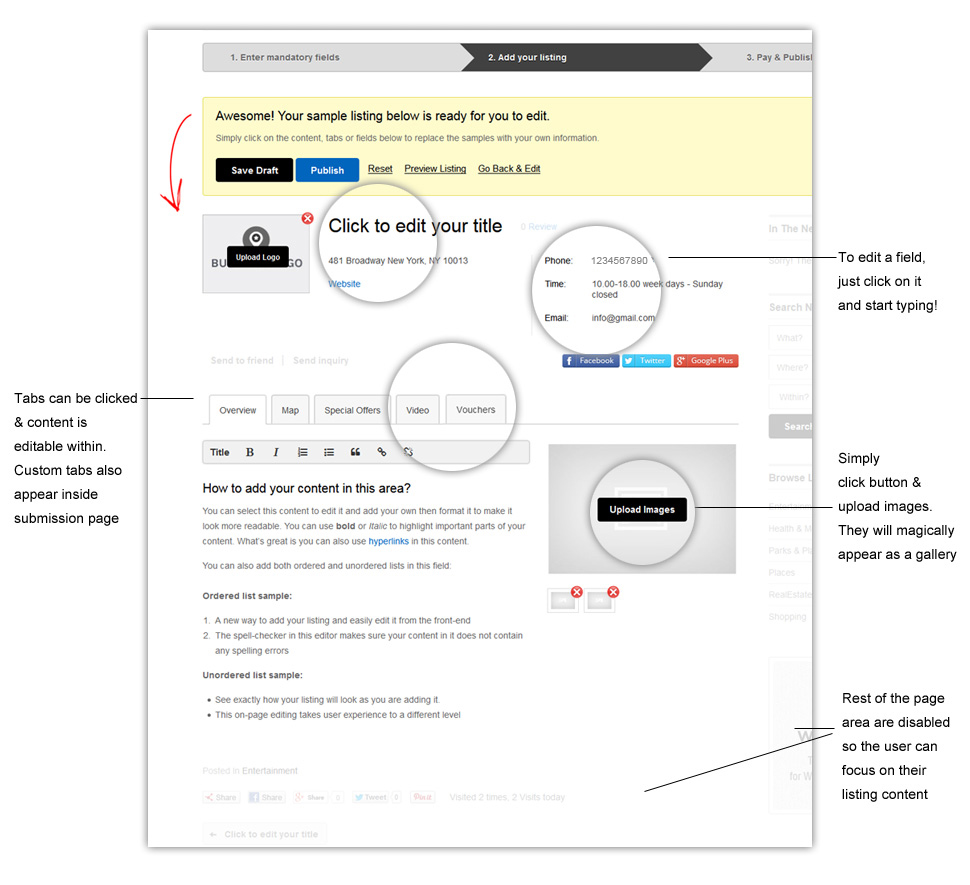 Use both submission types at the same time
Since WYSIWYG submission is available through a new page, you can have both this new submission type and the regular submission form active at the same time. Also, as price packages and custom fields are shared between both submission types you won't need to keep track of them individually. Make both submission types available and give each content author the ability to choose what works best for them.