Bulk import listings using CSV file on your Directory website
Bulk Import/Export WordPress plugin allows you to populate the site with a lot of content in a short amount of time. If you already have a lot of content on your website, this feature also allows you to export it. Both import and export work with CSV files.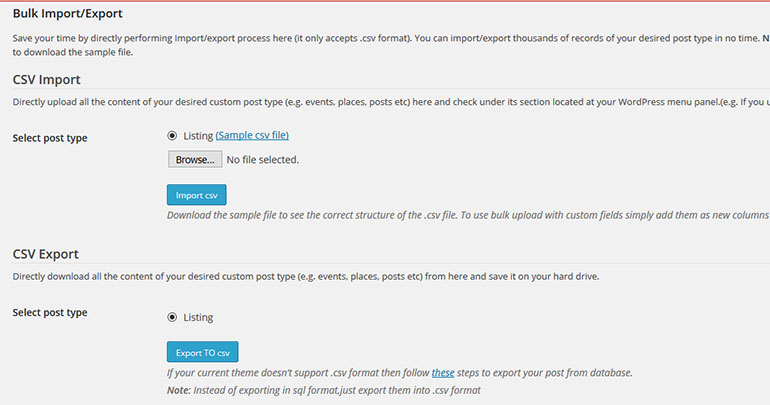 This plugin makes it absolutely easy to import huge amount of data on the website at a time. Suppose you have an excel sheet containing a list of a thousand restaurant listings in New York, you just need to make sure that you make the format of the sheet similar to the format which is compatible with the plugin and you can easily import thousand restaurant listings in minutes saving you lots of manual work that you will have to do otherwise.
Bulk Export feature Can be useful for
Taking regular backups of all your records.
Transferring content to a different site.
Lending/selling your data to someone.
Bulk Import/Export Cities
Along with listings data this plugin also allows you to import or export cities on your Directory website, you can add thousands of cities together using the Cities import feature. One awesome thing is we have ready made city CSV files for a few countries contributed by our customers for Directory theme. You can find download link to those city CSV files from Get City CSV files.