Create an ideal real estate portal using this add-on which includes property listing, custom property search and filters, unique property submission form, custom widgets and IDX/MLS compatibility.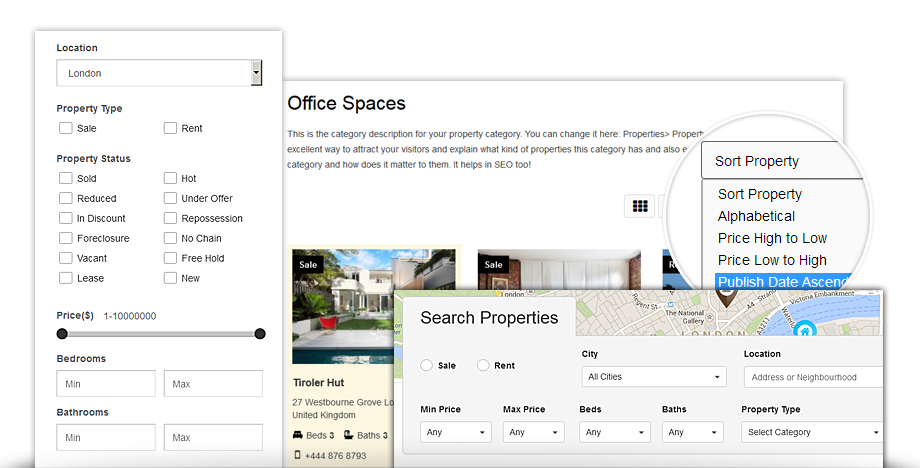 The best thing about the Real Estate add-on is that it works on top of the Directory theme, with or without directory features. In other words, you have the power of the Directory theme (child themes, payment gateways, add-ons) and the flexibility to build a real estate property and showcase it the way you want. And you always have the option open to extending your real estate portal to another niche in future.
Click here to see a Directory-powered real estate website in action!
Create a real estate portal
This add-on helps you create a Real Estate portal on top of our Directory theme. Once activated, it adds everything necessary to run a Real Estate portal on your site. A new "Property" post type, custom widgets, property search, property filter, property submission form etc.
Customizable property search
This add-on comes with a customizable, pre-built "property search" widget with necessary search fields. Any custom field you create inside Directory (for the Property post type) can also be added to the homepage search widget.
Instant property filter
Not only custom search but AJAX property filters are also available on all property list, property search results & property category pages. This will help your visitors narrowing down the results to very quickly to the property of exact kind they are looking for. The Real Estate add-on comes with built-in filters such as Price, Bedrooms, Bathrooms, Property Status, Property Type and more.
Filtering functionality can be extended with the List Filter add-on which allows custom fields to be included as filters inside the widget.
IDX/MLS compatibility
Along with the ability to manage properties created on your site, with the Real Estate add-on you will also be able to showcase IDX/MLS properties. This functionality is enabled using the dsIDXpress plugin. To see how IDX/MLS properties will look within the Directory theme.
Screenshot tour of RealEstate add-on
Home Page
Category Page Grid View
Category Page List View
Property Detail Page
Submit Property
IDX Single Property
Manage property status
Property statuses are essentially tags displayed within the property thumbnails on homepage and category pages. You can use these statuses to mark properties with tags such as "Hot", "On Sale", "Reduced price" etc. These tags also work as filters for category and search pages. The plugin comes with several useful pre-set tags but you can also add new ones. Each tag can be customized with a unique name and color.
Works with all directory child themes
This add-on allows you to quickly enable all of these property management features inside any existing Directory-powered website. This means any of the unique Directory child theme designs can be used for creating a real estate portal.
Free for club members, Yes this plugin is already available in your members area to download if you are a club member!
Homepage property widget
Real Estate add-on adds a "Homepage Display Properties" widget on your site. This widget showcases properties and comes with a number of grouping and sorting features. These include:
Sorting options: Featured first, Only featured, Random, Date, Property price low/high, By price package
Number of properties to show
View type (list or grid)
Filter by categories
By property type: Sale and Rent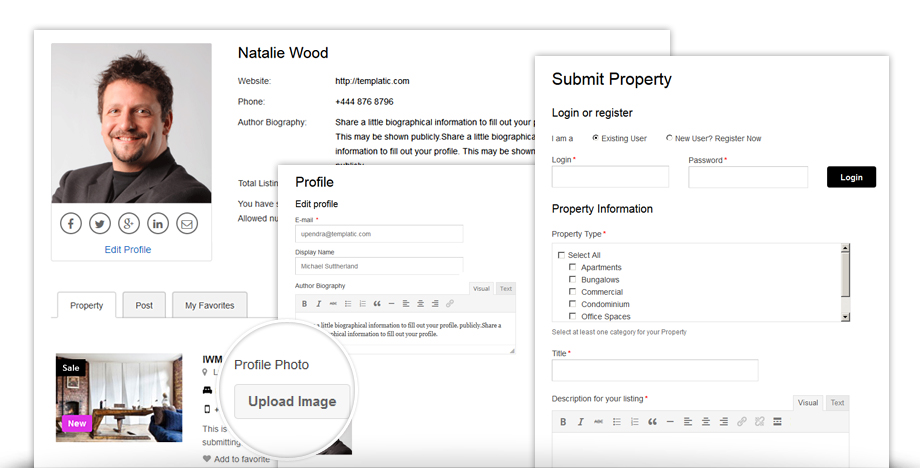 Create an all-inclusive directory
The Real Estate add-on works seamlessly with any existing Directory site. This allows you to manage a listings directory and a real estate directory both on one site!