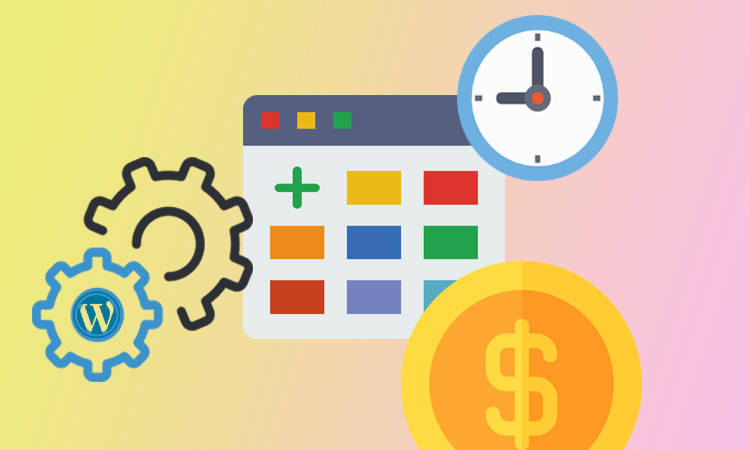 Want to integrate events into your WordPress website, it's easy. Choose one of these WordPress events plugins to get started now.
WordPress makes everything so easier with its ability to let you extend the features of your website. To add new features to your website, all you need to do is add a new plugin to the website.
If you want to display events on your website, all you need to do is to add a WordPress Events plugin and your site will be configured with the feature to show events.
However, there are different types of events plugins and they have different features. Each of these WordPress Events plugins has the ability to show events on your website in different ways.
Obviously, depending upon the type of events features you need on your website, you can choose the event plugin that best fits your requirement.
In this post, we will see two types of events plugins:
Free WordPress Events plugins:
That comes with very basic features to display events on your WordPress website. However, they are ideal for you if you just want to show events on a calendar on your site.
Premium Events plugin:
These plugins come with a bundle of events listing features to get started with events on your website. There are different features included for different event plugins in this category. However, these event features are advanced and let you do a lot more than just display events on your website.
You can choose an Events plugin for your website, or an events calendar, based on your requirements, and the features offered by the plugin. These plugins should work well with most of the WordPress themes to let you easily integrate the feature to showcase date & location-based events on your site.
---
Eventon – WordPress Events Calendar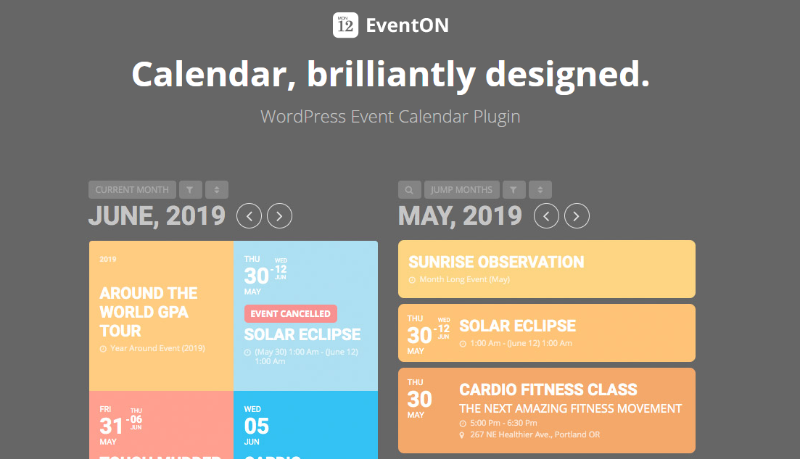 Eventon is an event calendar plugin that lets you add and show date and time based events on your WordPress website. With this plugin, you can display events with colorful and beautiful designs.
With EventOn, you can create an event listing with all the details you want the viewers to know. You can add unlimited events on your If you want to display location-based events, EventOn uses Google Maps to show event location.
This plugin lets you create event categories. You can even allow your visitors to add the events on your website directly to their Google Calendar, or download .ics. With the available options, you can change the event colors, and appearance easily.
If you want, you can even customize the date and time format for your website and included social share icons, and event organizers included too. Besides, you can create calendars with events from the specified event categories only.
Other features like auto-hide/delete past events, RTL support, add custom metadata, etc. You can even save locations and re-use them for events. EventOn also allows you to show multi-day events by specifying the start time as well as the end time.
It also has a feature for automatically recurring events. There is a shortcode generator that you can use to customize your event calendar. It allows integration of WooCommerce for eCommerce facilities.
Plugin Details Get Hosting Theme Store
Events Schedule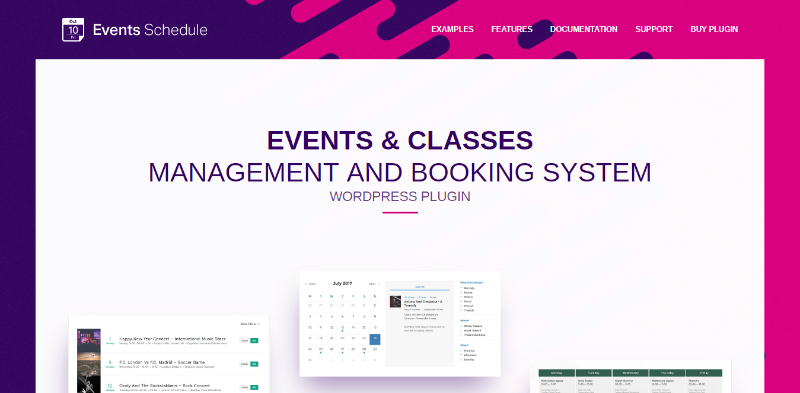 This is another Events Calendar Plugin that you can use to display events on your website.
You can show the events schedule by choosing from the 10 available schedule styles. The highlight of this plugin is the visual schedule builder that lets you create schedules with an intuitive and easy-to-customize interface.
With WooCommerce, you can easily sell tickets and event bookings. Besides the inbuilt designs, you can also change the appearance of the displayed events.
Events Schedule will work with most of the best WordPress themes. The Events Schedule supports Visual Composer too. It is a plugin that lets you show a schedule with all your events, the next weeks or just a few days.
Plugin Details Get Hosting Theme Store
Event widget for Elementor page builder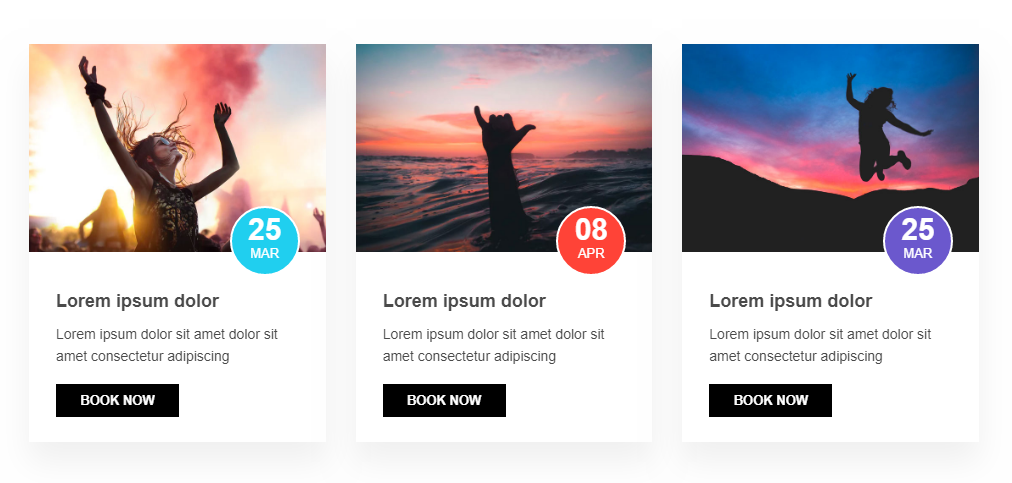 For your WordPress websites using the Elementor Page builder, you can use this plugin to show events on your website.
The Event widget plugin is slightly different than what we call an Events calendar. However, the role of this plugin is to display the upcoming events on any of your pages through a widget.
There are 10 Event Widget layouts that you can choose from. The display options are really beautiful. Besides, each of these layouts is highly customizable.
You have a lot of color options to choose from. Besides, you can easily use the Elementor options to manage how your event widget looks.
The event widget comes with editable Fields so that you can change what details the event widget shows. With this widget, you can show multiple events widgets on the same page too.
Plugin Details Get Hosting Theme Store
Eventer – Events Management Plugin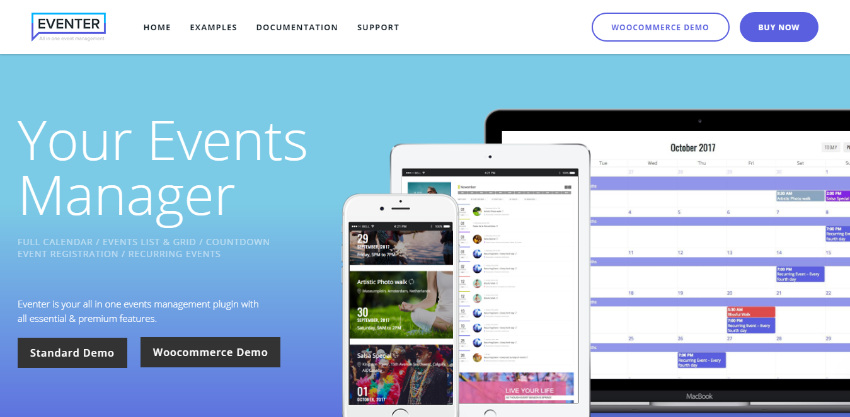 Eventer is an event management system to create and manage events on your website. It can be configured to show events from your Google Calendar too.
This plugin comes with a fully functional front-end event submission feature through which you can allow your users and event organizers to submit their events on your website. This way you can create a little events directory on your site with the Eventer plugin.
It has inbuilt PayPal and supports offline payments to accept payments through your website. It also supports recurring events as well as multi-day events. Besides, the inbuilt booking system allows you to accept registration from interested visitors.
Eventer makes managing the events on your website really easy with the available intuitive options. There's a drag and drop event-form builder to let you create an event listing submission form with the fields you need. This 'add new event' form will be displayed to the front-end visitors looking to submit the events on your website.
This plugin allows you to sell event tickets easily. The dashboard has easy options to view as well as managed the booked tickets. You can allow your visitors to print and download the tickets on your website. It supports WP Bakery Visual composer as well as WooCommerce along with sleek event management features.
Plugin Details Get Hosting Theme Store
Modern Events Calendar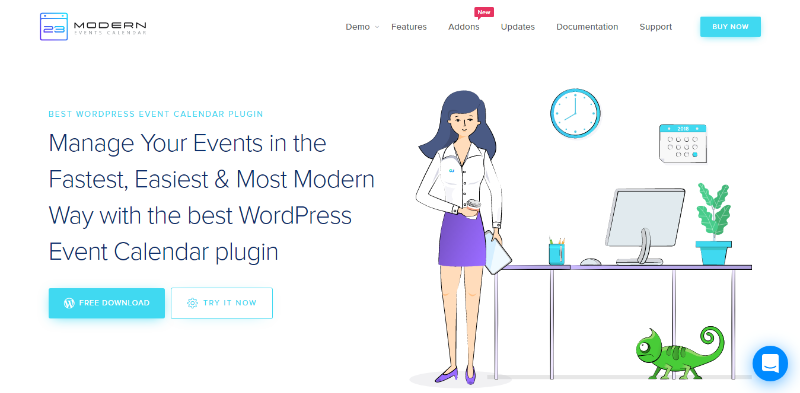 This is a premium Event calendar plugin to integrate an events section into your website. This plugin comes with a lot of beautiful options to let you choose how your events look on your website.
There is a free version of this plugin that comes with basic event calendar features for your WordPress website. However, for complete and advanced features, we recommend using the Modern Events Calendar Pro version.
If you are already using an event calendar and need to import the content from other event plugins like event calendar, calendarize it, EventOn, Events Schedule WP Plugin, etc. you can easily import it.
There are many useful features like 'date' based tickets. This feature allows you to set different ticket prices on different days. There can also be ticket variations.
Modern Events Calendar displays your visitors' tickets based on their location. The geo-location-based tickets allow the visitors to see the events in their locations easily and helps you increase engagement.
Modern Events Calendar pro
Besides, the pro version lets you integrate Google Calendar. It also allows front-end event listing submission and association of multiple organizers for each event.
There's also an integrated registration and booking system to receive information from your attendees and connect them to the event. There is also a shortcode generator, and Google Maps included. It supports recurring events and PayPal integration.
The Modern Events Calendar comes with event widgets you can use anywhere in your theme. The plugin is multi-site ready and is compatible with all the SEO plugins.
There are many other features- the ability to show the event timing as per the visitor's local timezone, QR code scanning module. You can even manage the sidebar as per your requirements.
To manage all of these, you have the dashboard, to view all events and manage them easily.
Plugin Details Get Hosting Theme Store
WP Pro Event Calendar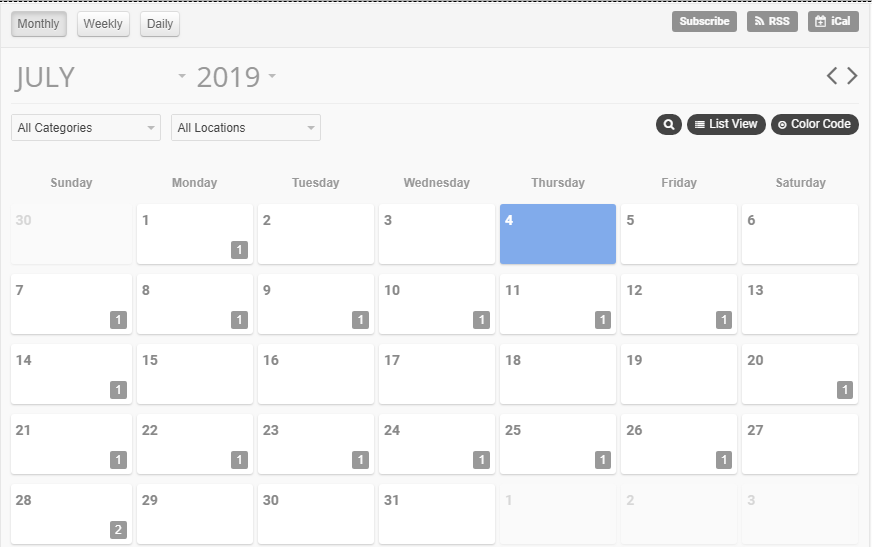 WordPress Pro Event Calendar is a flexible and feature-packed event calendar plugin for your WordPress website.
Since it integrates with almost any kind of WordPress theme, you can integrate and use it on your website.
With the available intuitive options, you can create useful events calendars on your WordPress websites. It has an inbuilt feature to let you import Facebook events. It also has a front-end submission module to allow website visitors to submit their events on your website.
WordPress Pro Event Calendar, with Google Map support as well as translation ready. Other features include a shortcode generator, bookmark manager, different date ranges, filters, and layout options.
You can also sync your ical feed with your website and easily import the events.
Plugin Details Get Hosting Theme Store
Events Manager WordPress Plugin

The free event manager plugin is a flexible and powerful plugin to add events to your WordPress website. While it has a pro(paid version) for advanced features, even the free version has some very adequate features to start with events on your website.
The basic features are of course, Event registration and booking management. The event registration feature supports adding events with the start date, end date, and even recurring events. With the included booking manager, you can approve the registration requests, or reject them, and also export the booking data in .csv format.
It also includes a basic front-end event submission feature, by the guest users or a registered users. It will also prepare your WordPress website with widgets for events & events calendar to let you easily show the data at different places in your website.
The premium version of this events plugin for WordPress comes with PayPal, Authorize.net, and Offline Payments support. It also allows you to design custom booking forms with the fields of your choice, coupon codes, and automated custom emails for event bookings.
Besides, you also get access to their premium support, and their private forums when you upgrade to pro.
However, the free Event manager plugin lets you use Google Maps to show the event location. You can create as many event categories as you want and even add custom event attributes for your events like food type, dress code, etc. It supports different timezones, iCal Feed and comes with easy to Add to Google Calendar options.
Plugin Details Get Hosting Theme Store
My Calendar

This Events Calendar plugin is recommended for anyone who wants to integrate simple events calendar into their WordPress website without spending extra on it.
This Events management plugin, like most others – has a free version as well as a premium. And the free version – lets you display multiple events calendar on different pages, posts, or widgets. It also supports displaying event calendars within WordPress Multisite.
My Calendar is really easy to use and can be customized easily by developers for creating custom calendars. You can use these calendars in any content area as a widget or through shortcodes.
This Events Calendar not only supports recurring events but also allows editing a single occurrence of a recurring event to add a variation to the event on a specific date. The features of this plugin are simple and its user interface is intuitive.
Therefore, anyone can include this calendar into their website and start displaying events right away!
Plugin Details Get Hosting Theme Store
The Events Calendar

The Events Calendar is a free solution for your WordPress Events theme that works out of the box. The settings panel lets you set up your events calendar to start displaying events right away.
It is one of the most popular as well as an 00000-easy-to-use plugin that you can download for free and integrate into your WordPress website. There is a premium version with extra features and one that offers premium support.
If you are a developer and want to build around this plugin, it is completely developer-friendly. The events calendar is completely responsive and has ajax for a smooth browsing experience. It allows day views for displaying events on a particular day, and Google maps to show the event's location on the maps. It also allows saving and quickly accessing and reusing venues & organizers used on previous events.
You can show the list of upcoming events with a widget anywhere on your website. It allows exporting to Google Calendar and iCal. There are many free and paid add-ons that work with this plugin to extend its features and add more features to your basic events calendar.
Plugin Details Get Hosting Theme Store
Or you can get an Event Directory Theme for WordPress
One of these events plugin will work for you if you want to add an events section on your existing website. We recommend choosing from the Free events plugins for WordPress if you want to display some simple event listing just to make the visitors aware of an event.
And for the advanced users, who want to create a dedicated section for displaying events, I recommend choosing from the premium events plugins for WordPress. These plugins come with the ultimate features you need to create a full fledged event listing facility on your website.
However, if you want to create a website completely dedicated to events, event listings – you must rely on a niche theme.
Check our Eventum Directory theme or browse this list of popular Events themes to create your events directory website.