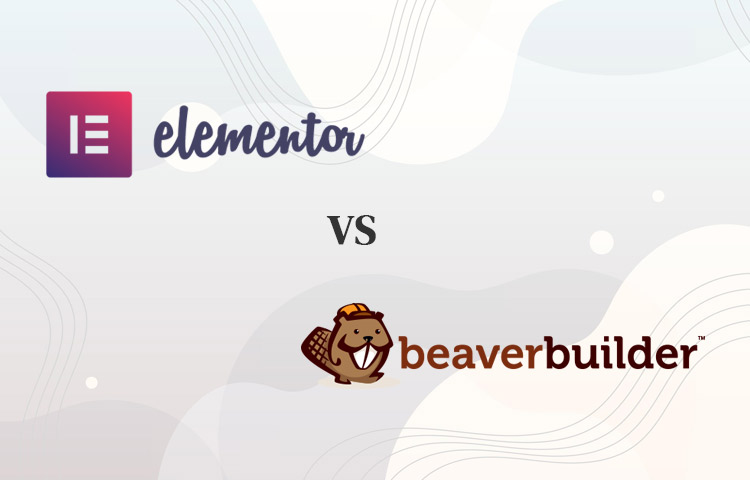 Are you trying to decide which WordPress page builder is best for you to use? It might take you some time trying to figure out how WordPress page builders work on your own. For that reason, in this review, we will have a look at and compare the Elementor vs Beaver Builder as two different front end page builders for WordPress.
Keep in mind that, once you start using the right page builder, you are going to stay with it for a very long time.
What is Elementor?
Elementor is a page building plugin that has the ability to replace the WordPress editor with a front end, live editor. With this, you can design different layouts and customize your website live.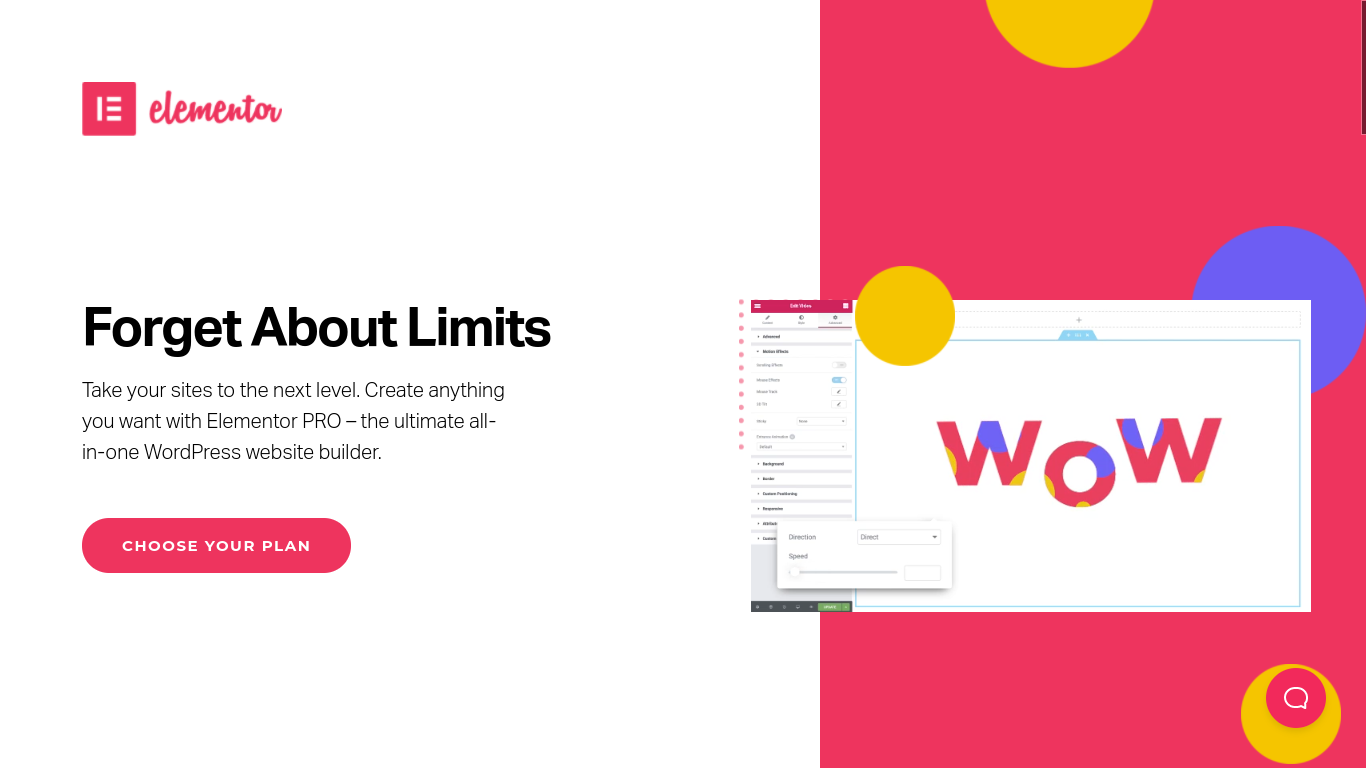 What do you need to understand?
Understanding how Elementor works as your theme and how Elementor works with WordPress is very important. It is also very important to know and be able to distinguish between the two Elementor versions: Elementor free version and Elementor Pro (paid version).
Why do you need Elementor (a theme) and what WordPress does?
A website is nothing more than a few pages that are connected with each other. A page consists of a menu, the content of the page, and the footer. The menu and the content remain the same on all the pages while the content is different. In order to edit these pages, you will need WordPress which is basically the interface where all of your pages are your theme, settings, and plugins.
Back in the past when you would download a theme from the internet that had a lot of options to edit your page or menu. To edit each page you would go to a specific edit page. After making the changes using this edit page you would save it and wait if the changes were properly implemented on the live page. Also, regardless of the large number of themes, no theme had all the options. This was how Elementor used to work for years.
With the rise of the page builders, the edit page can be skipped and you will be directed straight to the live page where you will get a sidebar with styling options to design your website. You can drag and drop the elements from the sidebar on the page. When you are done implying the changes you click the "save" button on the sidebar and your webpage will go live. This means the ease of use is not difficult anymore and you can actually develop your pages really fast and easy. You will, however still need your theme since Elementor cannot run without a theme. Also, you will need the Elementor theme to edit your footer and your menu.
If you are looking for inspiration for what to put on your page Elementor offers a whole set of pre-made templates that you can also insert into your page should the design suit your needs.
On the other hand, for those who want to make their own design, Elementor offers blocks. By using this option you can build-up your page fast since the blocks contain the sections for every page.
This works great for simple websites that do not change. Most websites (webshops, blogs) however, have sections that often change.
Elementor free comes with an editing theme to only edit simple pages. If you want to design dynamic pages on your website, you will need the Elementor Pro. In addition, with this page builder, you can design the menu and the footer.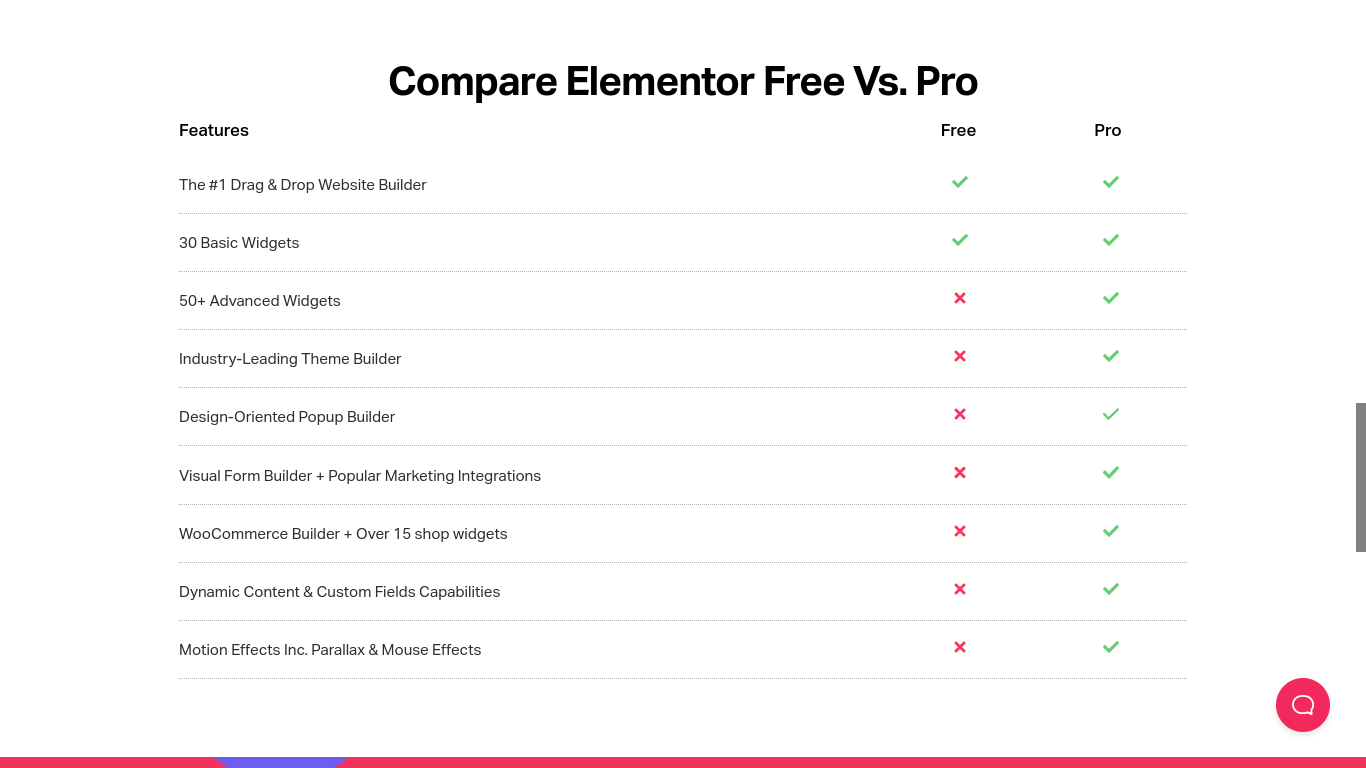 Additional benefits from using the Elementor Pro
A whole new section is added to the sidebar – with this new section you can, for example, insert an extra navigation menu, insert and design your blog posts, and so on;
Role manager – this allows you to limit what the client can do;
Another good benefit about Elementor pro is that this page builder has a lot more pre-made page templates.
If you are wanting to build bigger websites you would need the Elementor Pro instead.
What is Beaver Builder?
The Beaver Builder is a WordPress page builder. What can you expect from the Beaver Builder is that it is a really powerful builder.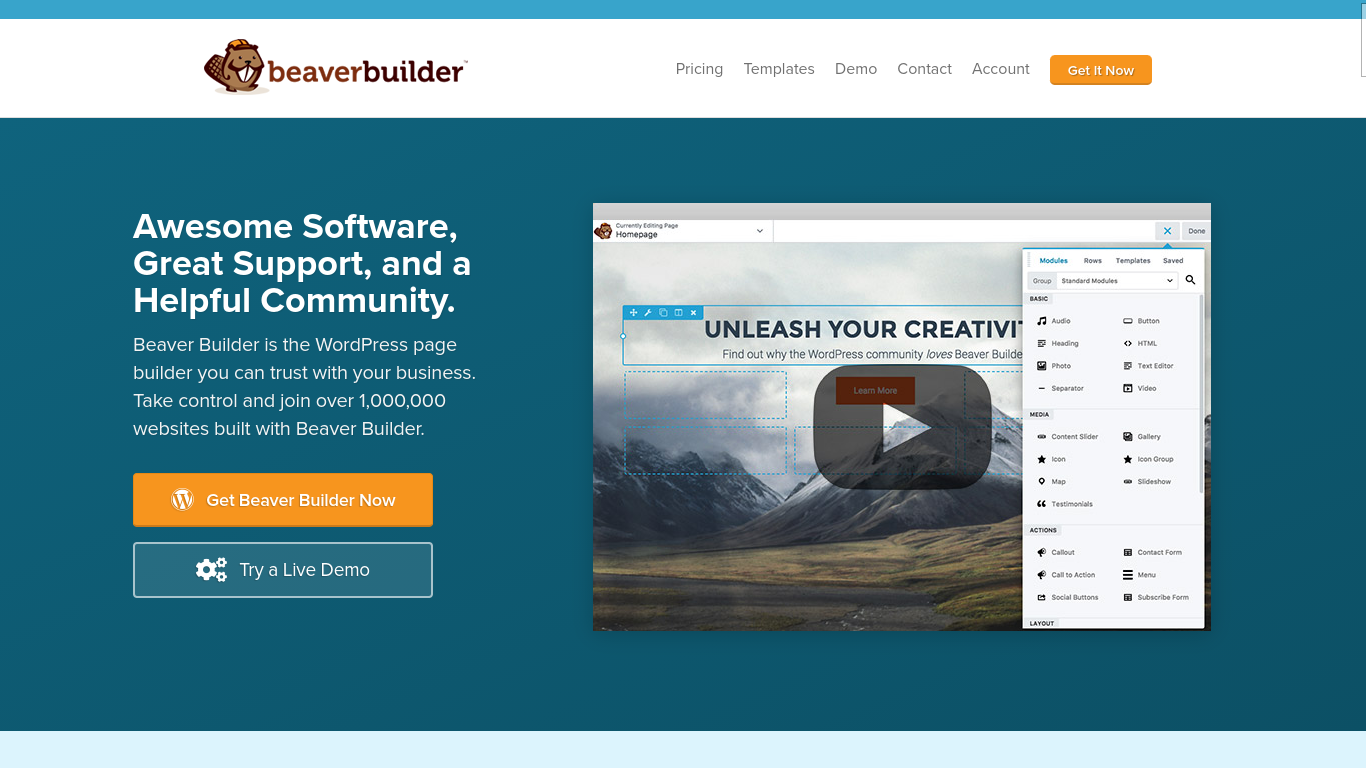 At the bottom of the Beaver Builder homepage you will come across the two significant Beaver Builder products: the Page Builder Plugin and the Beaver Builder theme.
Page Builder Plugin – can be used on any desirable theme. There are loads of free themes but they often come with limitations. This plugin is perfect for you, especially if you have a website and you need more customization.
There are paid versions and free versions of this plugin. If you use the free version, there are six basic modules that are more than enough to get you going for a simple website building. And if you need contact forms, subscription forms, sliders they come with the paid version.
There are three paid Beaver Builder versions:
The Standard version of Beaver Builder (plugin) – is essentially just the page builder plugin. Furthermore, the standard paid version comes with premium modules and templates;
Pro version of Beaver Builder (theme)– this Beaver theme is going to allow you to have a few more customization options including a multi-site. If you are creating the website for your business or yourself, you are going to want the pro version theme
Agency (white label)- this package comes with more customization options, networking, and multi-sites. In addition, the agency version has  white labeling. This is a really good tool and very useful especially if you are a web developer and are working with clients. With the white labeling you can change the name of the page builder you are using and in the WordPress admin area, you can replace or modify the core templates. You would basically be building websites by using your own page builder. The white labeling option makes this version so much more powerful. With your personal page builder, you would be able to go on and sell your services to other clients. The whole white labeling thing is really fast and the more you use this theme building plugin the faster you are going to get it right. The page builder can be also rented out.
Beaver Builder theme (also called Beaver themer) – If you want an all-in-one theme and one that is fully customizable you might want to have a look at this theme. This theme is specifically designed for the Beaver Builder. Also, you can use the WordPress customizer that will provide you with more customization options. If you are someone that finds joy in building websites with additional options, you are looking for the Beaver Builder theme.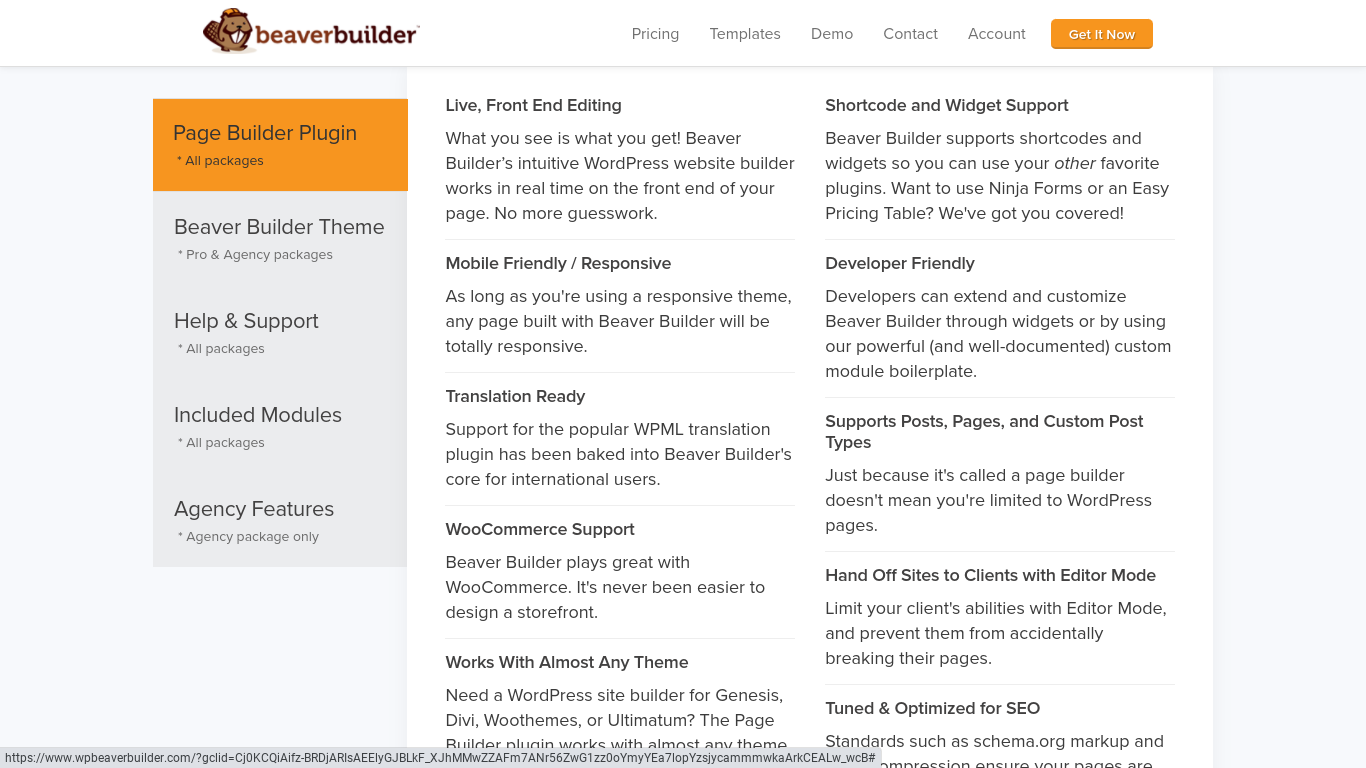 When the Beaver Builder is activated you will notice a tools tab on the top of your screen. The right side of the top bar has a "plus" button that gives users access to all the modules, rows (blocks), and templates that come with the version you decide to choose. On the left side of the bar, there is a section of different tools (different layout options, saving button, and so on).
Extra benefits from using the premium versions
More Beaver Builder styling options – Apart from the standard modules, in the premium versions, there is a lite version of UABB (Ultimate Add-Ons by Beaver Builder), your WordPress widgets, and a selection of your saved modules.
More page templates – You can always start with a premade template for any type of website build. You can always modify these templates to whatever your needs are. These templates are mainly designed to inspire you, if you need to be inspired.
Personal web design – If you want to create your own page design you can help yourself with the rows for each section which are incredibly easy to use. These rows are very good styling options especially to help optimize your website for mobile phones, tablets, etc.
Beaver Builder Pros and Cons
Let's take a look at the Beaver Builder pros and cons.
Pros
White label – the ability to have the white label is a great thing to have;
Very easy and simple to use;
Really quick speed usability (faster than other page builders);
Cons
Limited templates number –  The free version of Beaver Builder offers limited templates, just like Elementor or any other page builder. However, the free version of Elementor offers more page templates (around 350) than the free version of the Beaver Builder (around 30-40 templates).
Elementor and Beaver Builder comparison
Our intention in this comparison is if you are thinking of either using Beaver Builder or Elementor (free or pro) and want a deeper insight, to provide you with enough information in order for you to make the right buying choice. We will go through several things you would want to know before deciding which page builder to get so you don't buy something that you will want to return later or be upset with your purchase.
Elementor and Beaver Builder are both amazing front end builders. Although the Elementor is probably more recognized, the Beaver Builder compensates by providing you with white labeling options. This means that both builders, overall, can do the job that you are requiring to do but it depends on how many websites you want to create or how many options you want to have.
This detailed comparison will compare everything that you would want to know
Elementor vs Beaver Builder: pricing comparison
First, we will start off with the pricing since the pricing is the most important and it is probably going to have the most impact for most buyers.
Beaver Builder pricing
When we look at Beaver Builder we will come upon three different premium packages, standard, pro, and agency.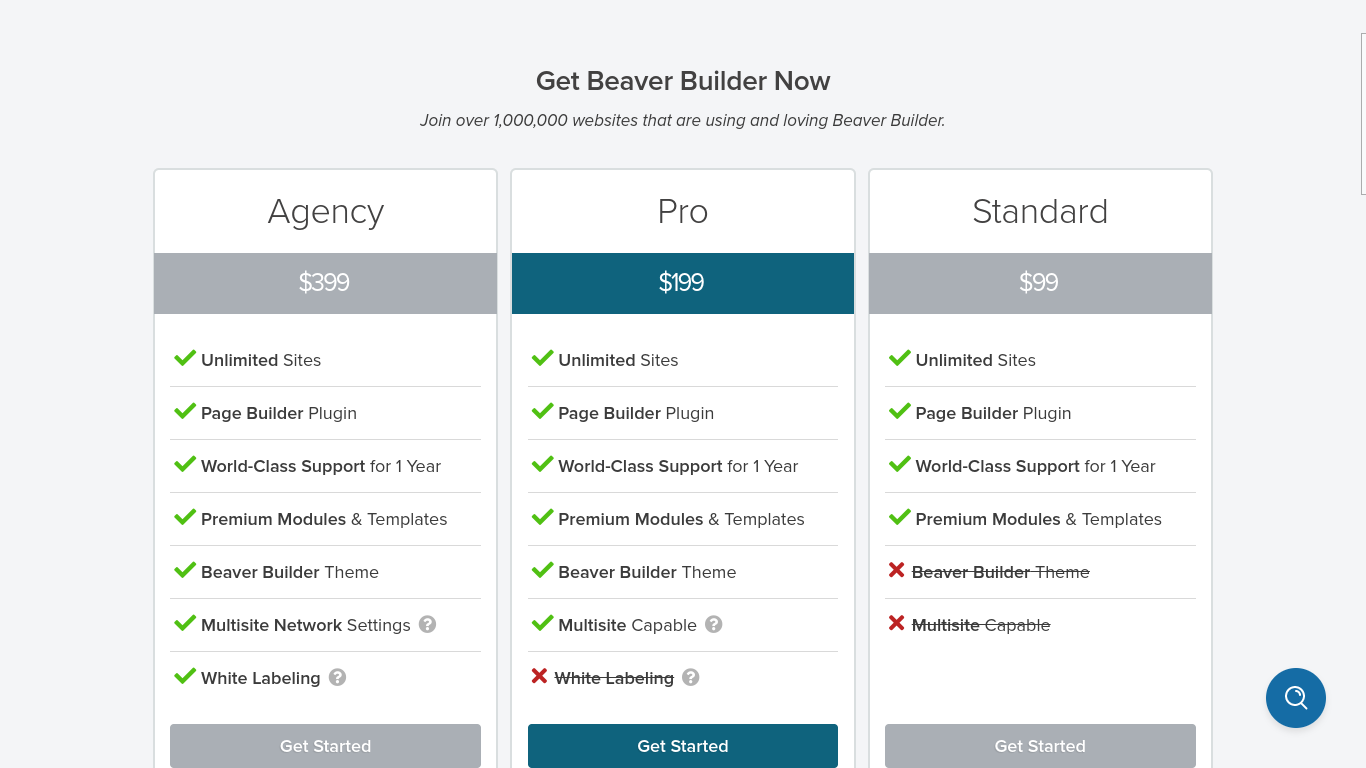 Standard version – for $99 a year, with this version you will get a page builder plugin (can be added to any of your own themes), unlimited sites, premium modules, as well as one-year support.
Pro version – for $199 a year, the Pro package comes with a builder plugin, unlimited sites, premium modules, one-year support, and in contrast to the standard version package, this version will additionally provide you with the Beaver Themer and Multisite capability.
Agency version – for an additional $200 or $399 in total for one year, with this version you will get all the features including white labeling.
Beaver Builder offers no lifetime plan option. Yearly payment is the only payment option for any given plan. Moreover, Beaver Builder offers a 30-day money-back guarantee to any user. Beaver Builder has a specific working method. It gives you the unlimited sites option while restricting some features depending on the plan you choose to select. The standard plan does not include multisite or Beaver Builder versions. The Pro and Agency versions, however, include these features. Also, if you want to buy the Beaver Themer you will get charged extra money for use on unlimited sites.
Elementor pricing
When we go to Elementor we have the: personal and cheapest package, plus package, and the most expensive expert package.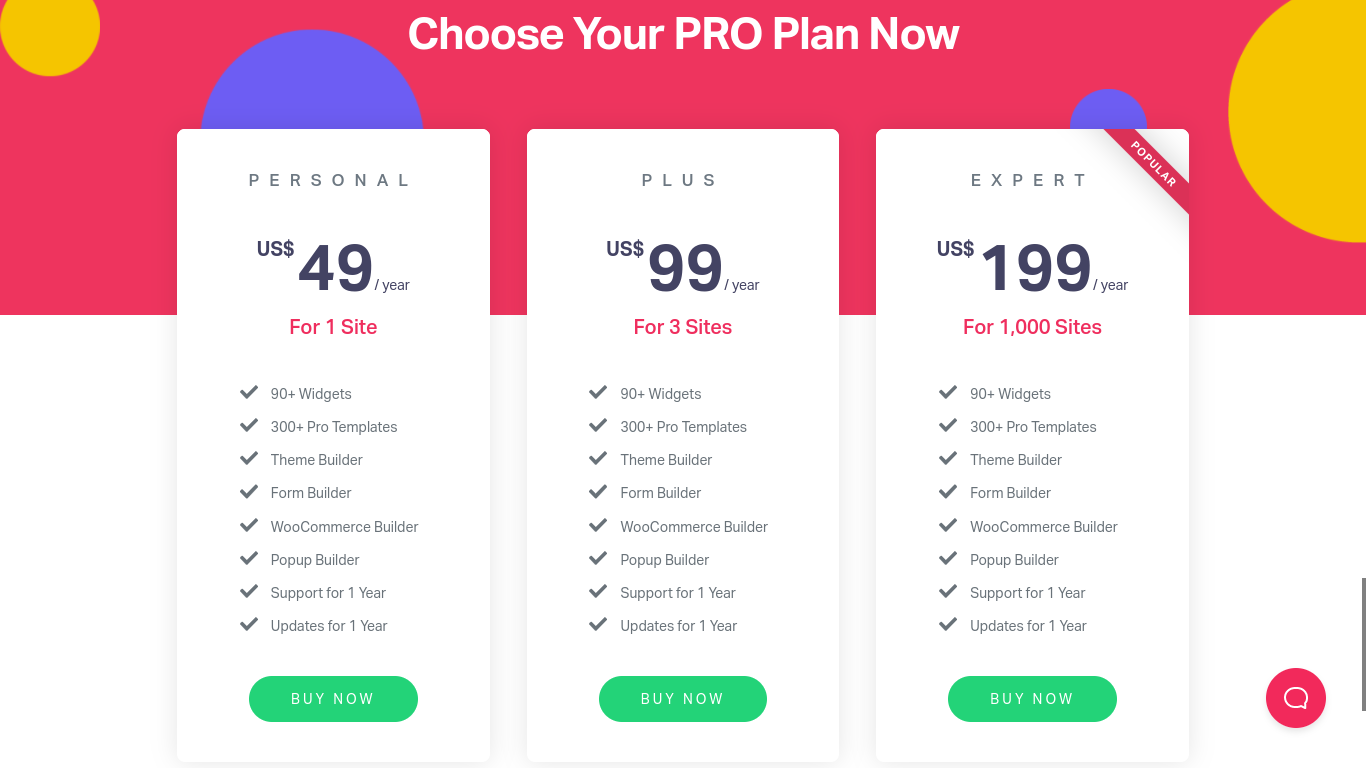 Personal version – for just $45 a year you will be getting a theme and pop-up builder, over 300 page templates, above 90 widgets, 10 + full template kits, and so on. This version is for 1 site only.
Plus package version – for $99 a year, the plus package comes with everything the personal version comes and as an addition, this version is for up to 3 sites.
Expert package version – Elementor's most expensive package will cost you $199 for a year. This package has the same features as the previous packages, but this version allows you to have up to 1000 sites. This version can be compared to the standard Beaver Builder version.
Elementor also does not offer lifetime plans. Yearly payment is the only method and each plan comes with a 30-day money-back guarantee.
Elementor vs Beaver Builder: Which pricing is best?
Both Elementor page builder and Beaver Builder offer free versions of their plugin. However, the only way to get the full set of options, from each page builder, is if you decide to buy a premium version.
Pricing wise, Beaver Builder is a little bit better than Elementor Pro since Elementor's strengths lay in other areas. This may be confusing since Elementor is actually cheaper, but the websites that can be used are very limited. Elementor's cheapest personal version comes with the option to use only 1 website. This is why Beaver Builder is a winner in this category.
Elementor vs Beaver Builder: Template comparison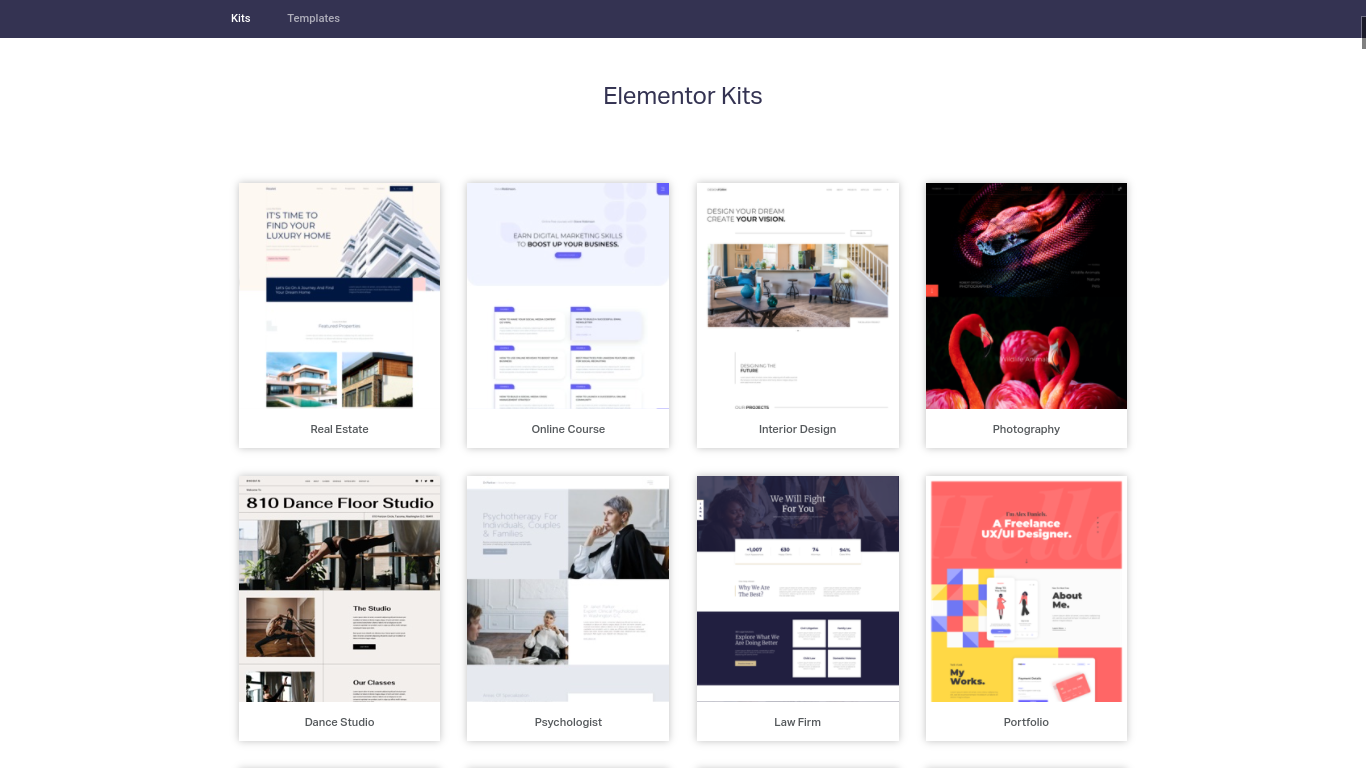 Both Elementor and Beaver Builder templates are different types of templates such as gym templates, fashion templates, small business templates, and so on. There are also full template packs like full flooring company or full real estate packs. The only difference is in the number of templates each page builder comes with. If you have been using either of these two builders, you would already be pretty familiar with creating your own pages anyway. But it is always a good option to be having all these basic templates. Coming with a bigger number of premade templates, Elementor wins this one over the Beaver Builder.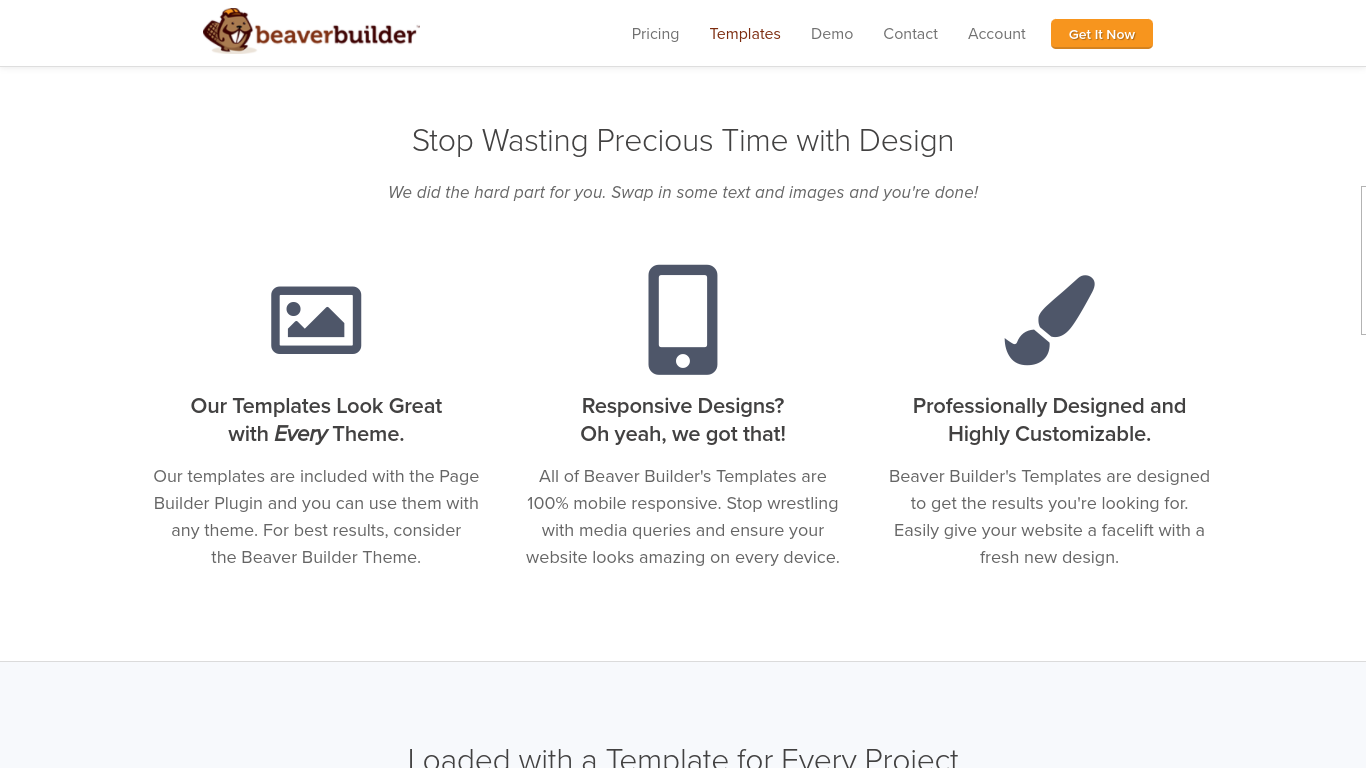 Elementor vs Beaver Builder: Interface
In this head to head comparison, the next thing we want to look at would be the page builders' interface.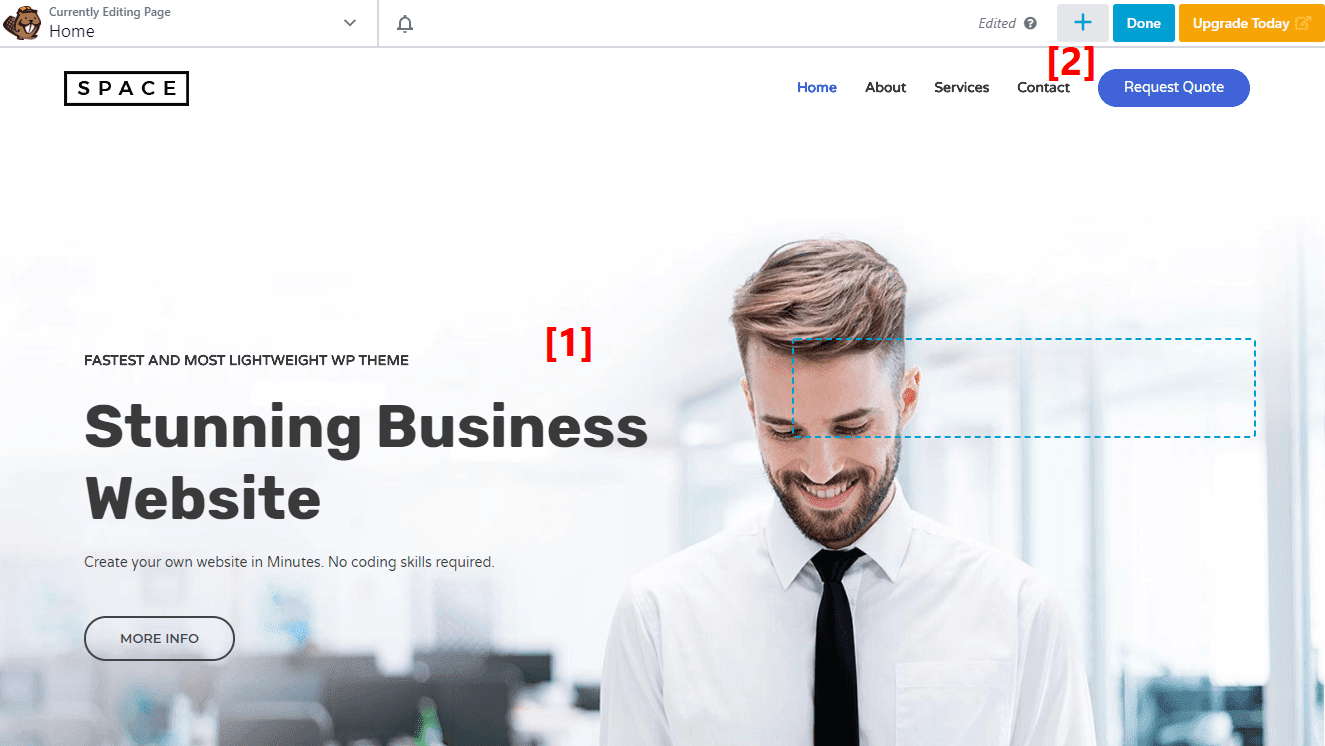 Beaver Builder's interface comes with a top bar and an appearing pop-up box whenever you want to edit a certain row or module. The "plus" button on the top bar will load all the page elements that are on offer. These elements, that you can drag and drop on the page, are placed on the left sidebar in Elementor's interface. The appearing module editing pop-up box of Elementor can be pinned to the sidebar.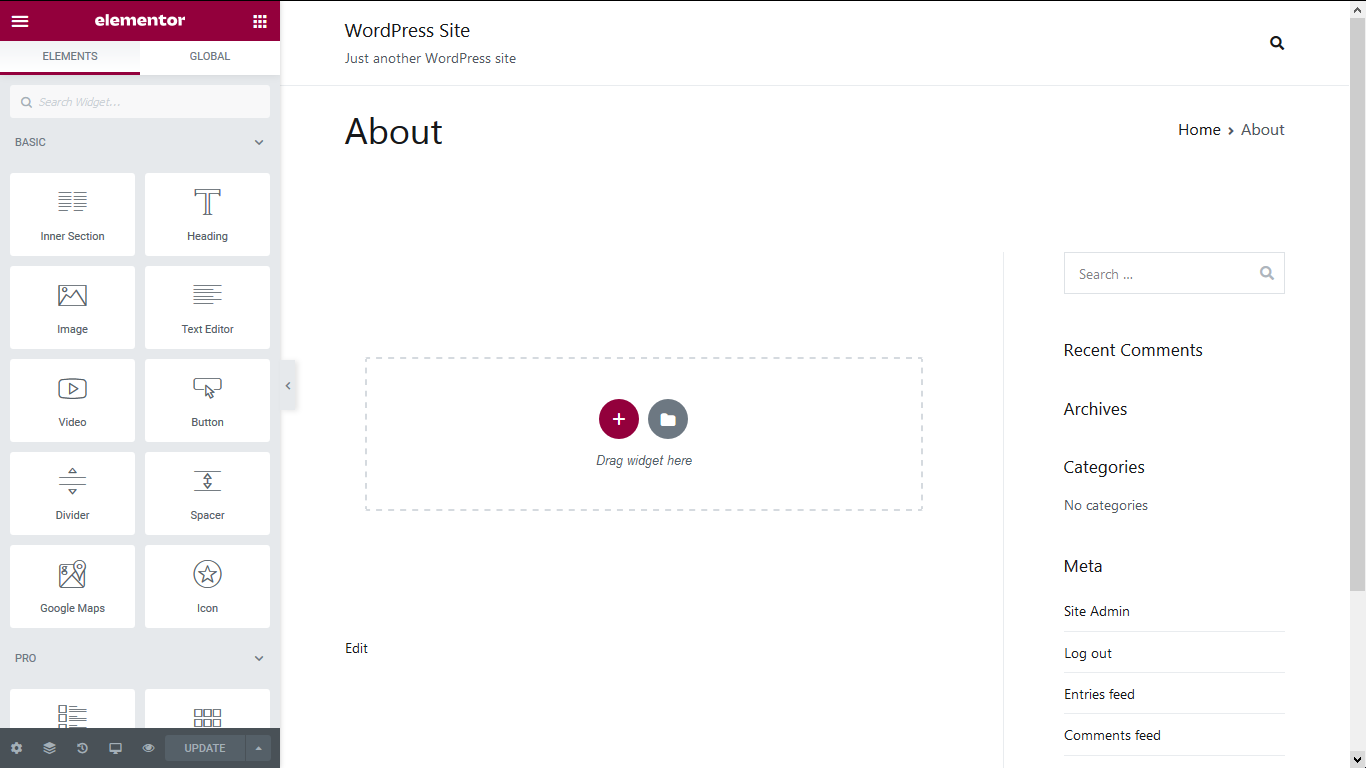 In addition, both page builders have included inline editing to the text, which puts Elementor and Beaver Builder on the same level.
The Beaver Builder has a clear code that accelerates the loading speed making this page builder slightly faster than the Elementor. However, in the grand scheme of things, a few seconds difference is not bad at all since both page builders offer speedy glitch-free interfaces.
Both are front page builders and visuals but the interface approach is different. If you are looking to decide between Elementor vs Beaver Builder, keep in mind that regarding the Interface, your judgment should be solely made based on your personal preferences.
Elementor vs Beaver Builder: modules and elements
The building blocks of your design contain widgets (also called modules) and sections (also called rows). In this case, the Beaver Builder prefers the term modules and rows while Elementor prefers using the opposite terms. These elements are used for creating a basic layout on your page. Then, based on your personal preference, you use the modules/widgets to add the content to your page.
Elementor: Modules and elements
Elementor's fixed module/admin tab is on the left of your screen. There you will find all the three-page building elements:
Sections – The sections will help you customize your website's content.
Columns – The columns will help you organize the content sections in a vertical order.
Widgets – The modules or widgets, are the images, text, or whichever other element that you will add within the content of your website. With the free Elementor version, you can build up your website's design by using 28 different widget options. In contrast, in the Elementor Pro version you will be given access to more than 50 premium modules and therefore, you will have more freedom in designing your page.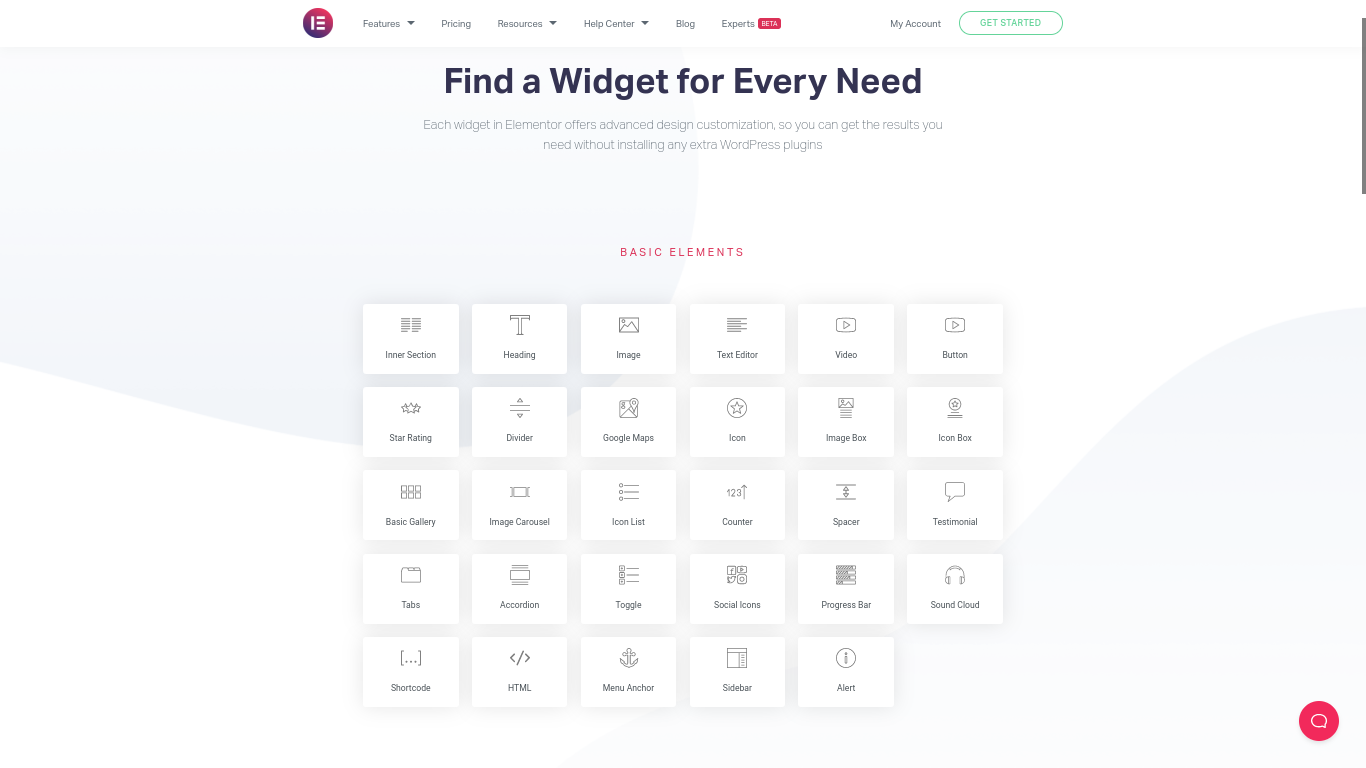 You can hide the sidebar to make a clearer view of your page and then bring it back and continue editing if necessary. At the bottom of each module, there is a "plus" button where you can add your own structure. If you want to add more to the section you always have the option to add another section that is also called an intersection.
With the Elementor Pro, you can get extra widgets through third-party plugins. This Elementor Pro version has extra modules along with the standard WordPress modules. Also, you have the woo-commerce functionality that has a slightly bigger number of options than the Beaver Builder.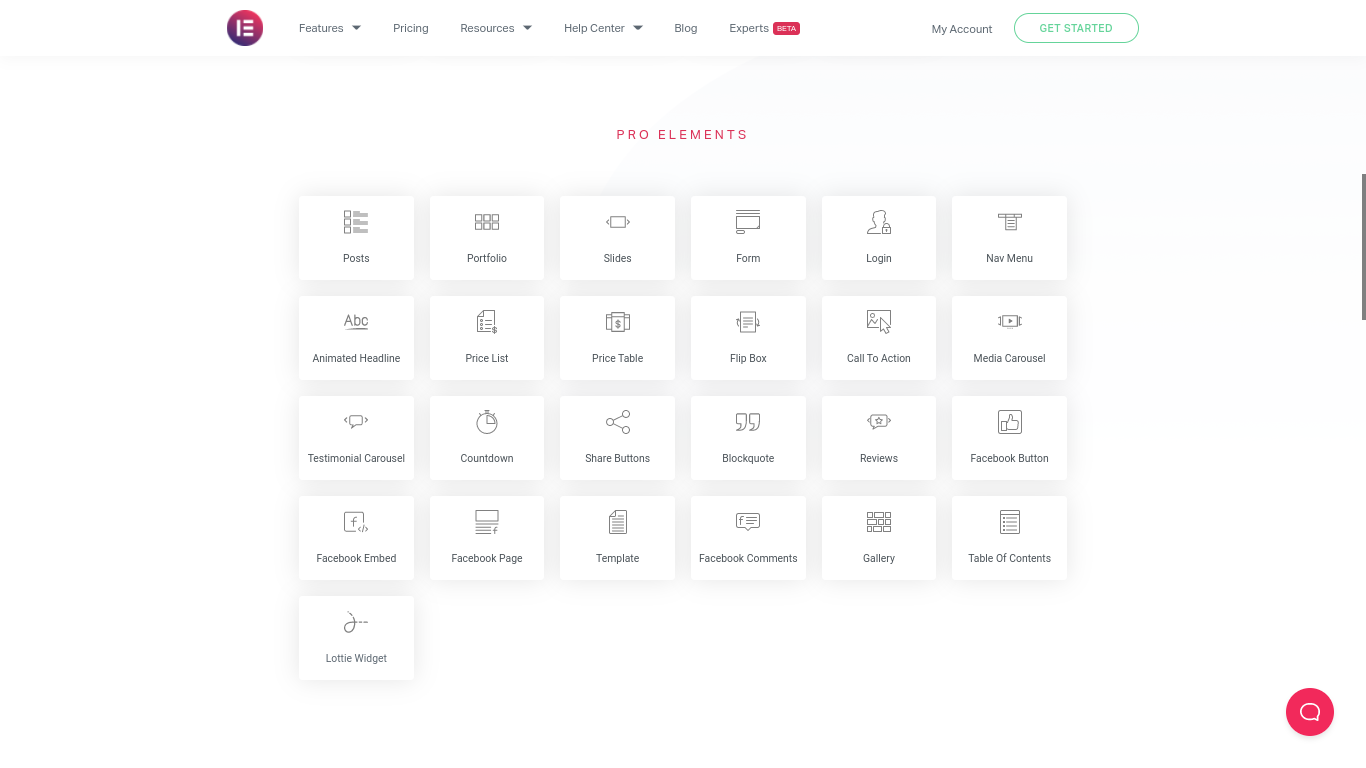 The good thing about the Elementor is that the customization settings makes it very easy to use.
Beaver Builder: Modules and elements
Regardless of using different terminology, the Beaver Builder has a similar approach to Elementor:
Rows – The top of the hierarchy are the rows, an equivalent to the Elementor's sections. By using these rows you can apply background and spacing to the content of your page.
Columns – Columns are used to vertically organize the rows within the content of your page.
Modules – As the active content of your website, Beaver Builder's modules typically contain text, images, buttons, or whatever element you insert in your page's content. With the free Beaver Builder version, you will only get 6 modules, which are basically more than enough to build your website. The premium versions, on the other hand, come with up to 50 modules.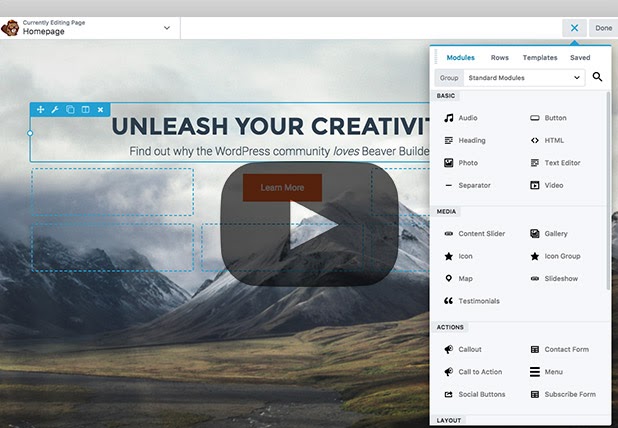 Just like Elementor, Beaver Builder can be extended to more modules by using a third-party plugin.
The customization settings box on the Beaver Builder is movable like a few other page builders. This will not make any difference, you will get used to whichever page builder you want to use the most.
Which page builder's modules and sections are the best?
Both WordPress page builders offer decent options in their free versions. In the premium versions, Elementor and Beaver Builder come with an even larger spectrum of options.
Whichever page builder you choose to use, you would not be making a mistake at all. It is important, however, to keep in mind that Elementor's free options offer more to the user than the Beaver Builder's free options. Also, Elementor's premium options will offer you even more.
Elementor vs Beaver Builder: Theme building
Another good feature that page builders have is the powerful theme building feature that allows you to design the WordPress site. Elementor and Beaver Builder, both offer you a full theme building. The difference here is that with the Beaver Builder you are required to buy a Beaver Themer extension, while Elementor has its full theme building included in the Elementor Pro add-on.
Elementor Theme builder
By using the "my templates" bar with Elementor, you can design and customize your theme. The whole process consists of creating a new template, naming it and then you are able to either start building your template from scratch or you can choose to use one of the premade blocks.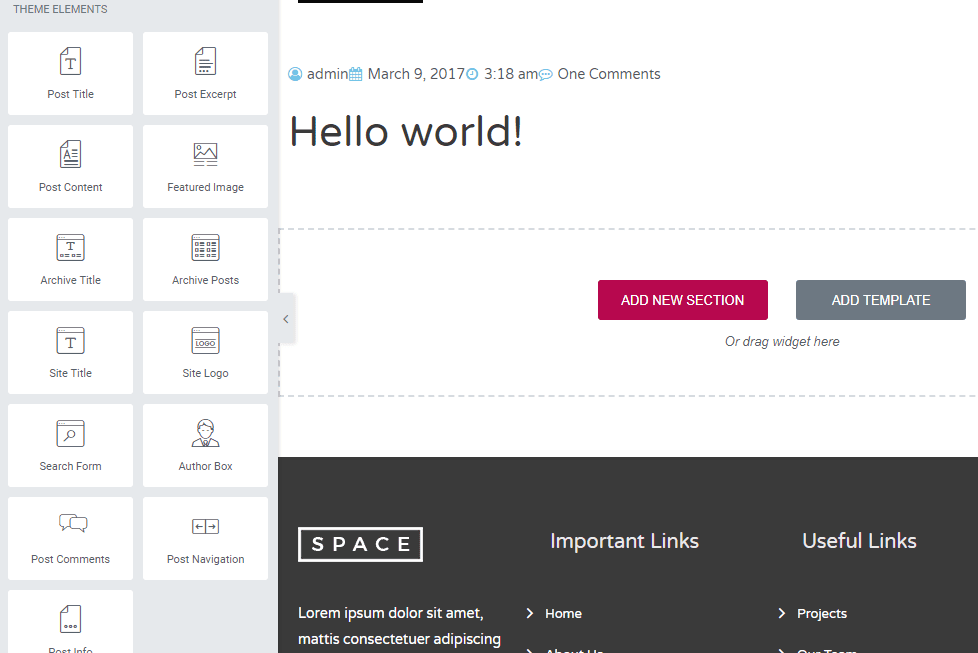 The interface of the theme building is the same as the main Elementor interface. The only difference now is that with the Elementor Pro add-on you get a whole new set of theme elements which gives more options to you when you do page building. Each coming set of theme elements depends on the type of your content. Once your design is built, you get to choose where you want to display it. You can either choose to use it everywhere or just at a specific page, post format, footer, and so on.
Beaver Builder: Theme builder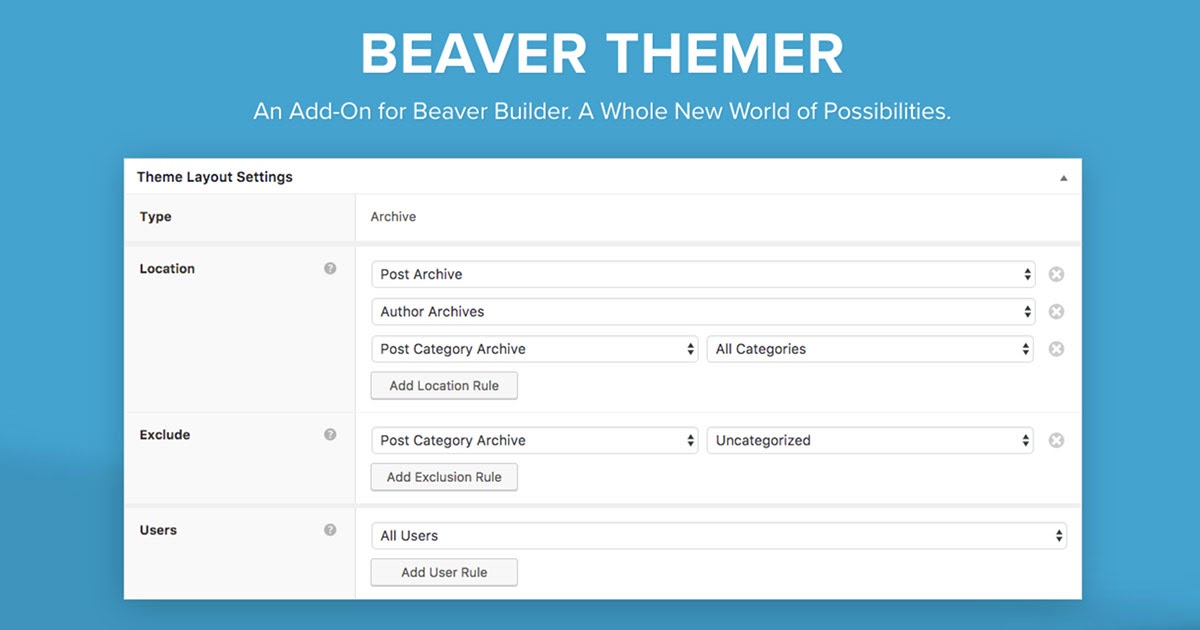 With the Beaver Themer extension, you are given the option to design and modify your theme. By going to the Beaver Builder's Themer layouts you can actually use this particular extension. The newly created layout can be named and therefore, it is up to you which part of the theme is replaceable. With the Beaver Themer extension, you are able to create pages, headers, footers, single posts, etc. Then, by using the themer layout location and users' settings, you get to control where you want your design to be displayed. This tool would be very useful only in certain situations. For example, the rules-based tool is useful for websites that offer memberships, where you can actually control who sees what.
As soon as you are done, just click the "Launch Beaver Builder" button and your design will instantly go live.
Elementor vs Beaver Builder: Which Theme building is best?
Elementor theme builder would probably be a slightly better choice for you. This is because of the quality options that are included within the Elementor Pro add-on. Also, you might not want to pay an additional amount of money for theme building in Beaver Builder. On the other hand, however, the rules-based option in Beaver Builder could really make a big difference to certain websites.
Elementor vs Beaver Builder: Styling options comparison
When you have everything put in its right place, you would probably want to decorate your website in order to make it look good. You can definitely do this with the Elementor and the Beaver Builder since both page builders have different styling options for you. However, things that are basic, for example, the colors or the typography, are easier to style by using your theme.
Elementor: Styling options
Elementor has so many styling options that it makes it impossible for us to describe everything in detail. When it comes to styling options the first thing to remember is the Elementor will automatically apply its own style to your website's content, and therefore you can customize these styles based on your personal needs and preferences. If you don't want to use this feature, you can simply turn it off by accessing the plugin's settings, and then, you can continue using only WordPress' different theme styles. And if you have a sudden change of heart, you can simply go back to the settings and turn the global styles feature back on.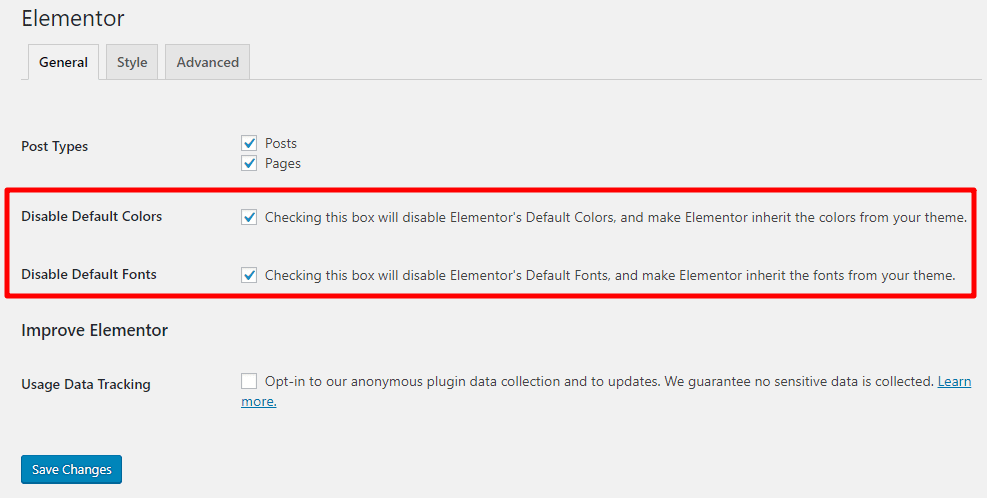 If you have a different idea of how to style your design or you simply don't want to use these styles, don't worry, for Elementor has always got your back. This particular page builder will provide you with three tabs that you can use to style your website's design.
The controlling tabs that apply to each row, column, or module are:
Style – Typography, colors, and so on.
Content – Customizing basic things such as font size and more.
Advanced style – Control responsiveness, custom padding, animation, etc.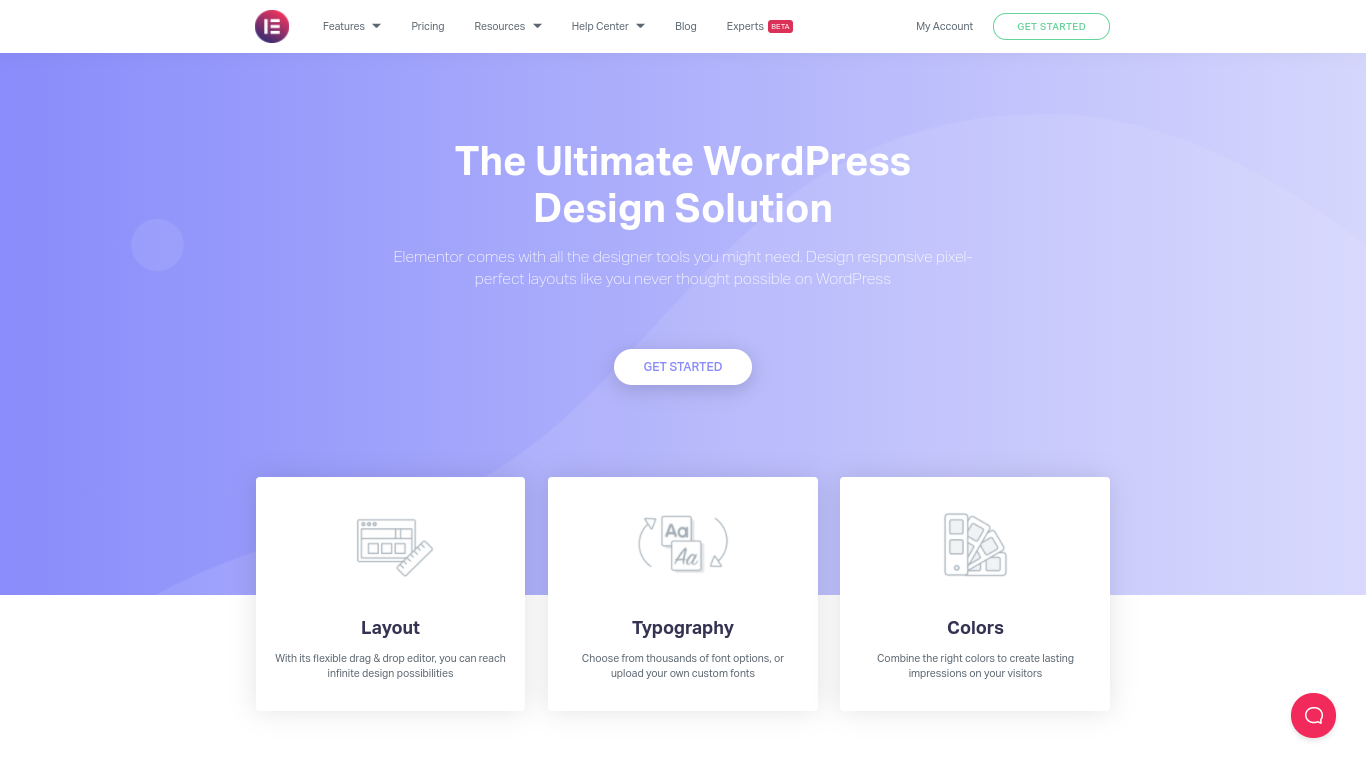 Two especially useful features from the "advanced" tab are:
The Custom CSS – You can insert these CSS styles straight to separate widgets or rows by using the Elementor Pro. In contrast, the free version of Elementor will only let you add a CSS class and not styles.
Responsive Controls – These controls allow you to hide content on certain device types like tablets or mobile phones.
Beaver Builder: Styling options
In contrast to Elementor, which applies its own styles to the content, the Beaver Builder, on the other hand, will adopt your theme's global styles. By clicking on any module or row, the pop-up box will appear and from thereon, you will be able to start styling your website's design.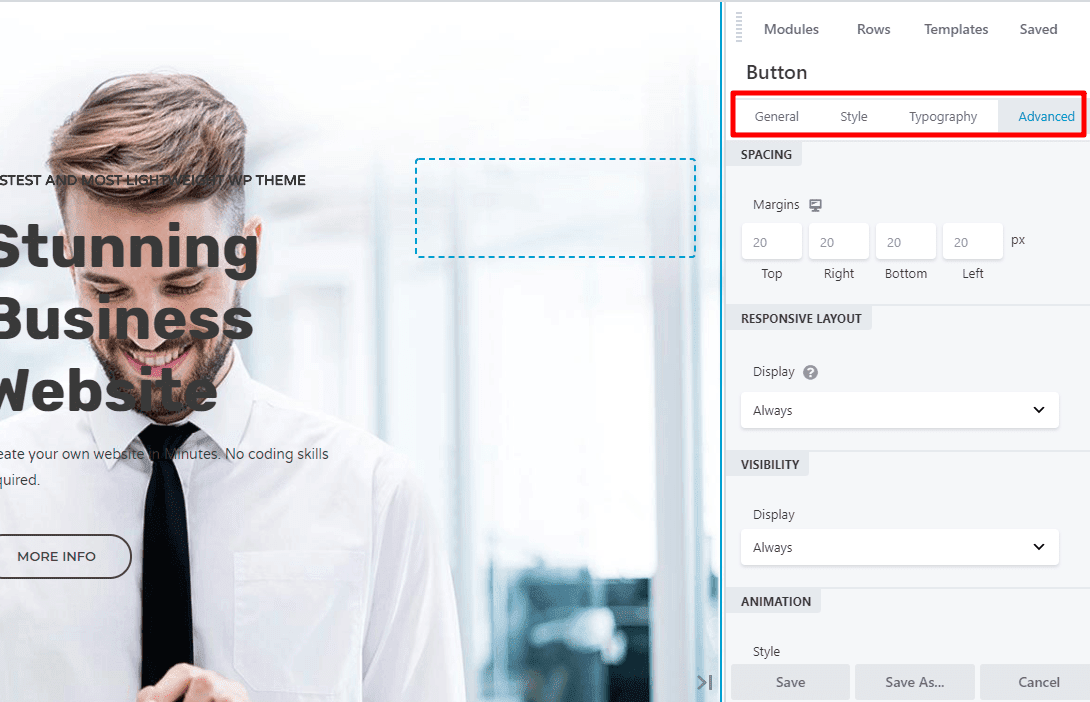 Like Elementor, Beaver Builder's tabs depend on the module. The three main options that you will always have with Beaver Builder are:
Typography – Modifies the colors, the size, as well as the font.
Style – Changes the height, width, color of the content, and more.
Advanced – Customizes responsive controls, responsive settings, animations, CSS styles, etc. By using the advanced style you can apply a number of different styles for different device types.
CSS classes may only be applied to each element individually. CSS styles, on the other hand, can be inserted only at a page-level.
Elementor vs Beaver Builder: Which styling options are best?
Option wise, both Elementor and Beaver Builder are very similar. These WordPress page builders offer a lot of control options for each page and element.
Elementor vs Beaver Builder: Conclusion
If you are quite new to website building and are willing to give webpage building a shot, Beaver Builder and Elementor's free versions would be more suitable for you at the start. But if you, for example, are an active blogger, you will definitely need to invest some money for the paid versions. The good thing is, that this will not cost you a lot and this investment will feel more like a planted seed destined to grow. If you play your cards right, your future profit will be inevitable.
Choose Elementor if…
Since both page builders are quite similar to each other, we have decided to provide you with a unique set of features that each page builder (Elementor and Beaver Builder) has. Knowing which unique features come with the given page builder would potentially be the key to your decision making.
Elementor would be the right choice for those who are looking for a page builder that comes with global widgets. These global widgets, as we mentioned above, can be used in many sections through your website, and then you can update every change at the same time.
Furthermore, another great unique feature that Elementor offers you is the option to fix Elementor templates with widgets or shortcodes and therefore, for example, create a Call to Action design on your sidebar.
Another reason why would Elementor page builder be the ideal choice for you is if you are the type that wants to have more template options by hand.  Although both page builders come with pre-made page templates, the free Elementor version has more template style options than the Beaver Builder's free version.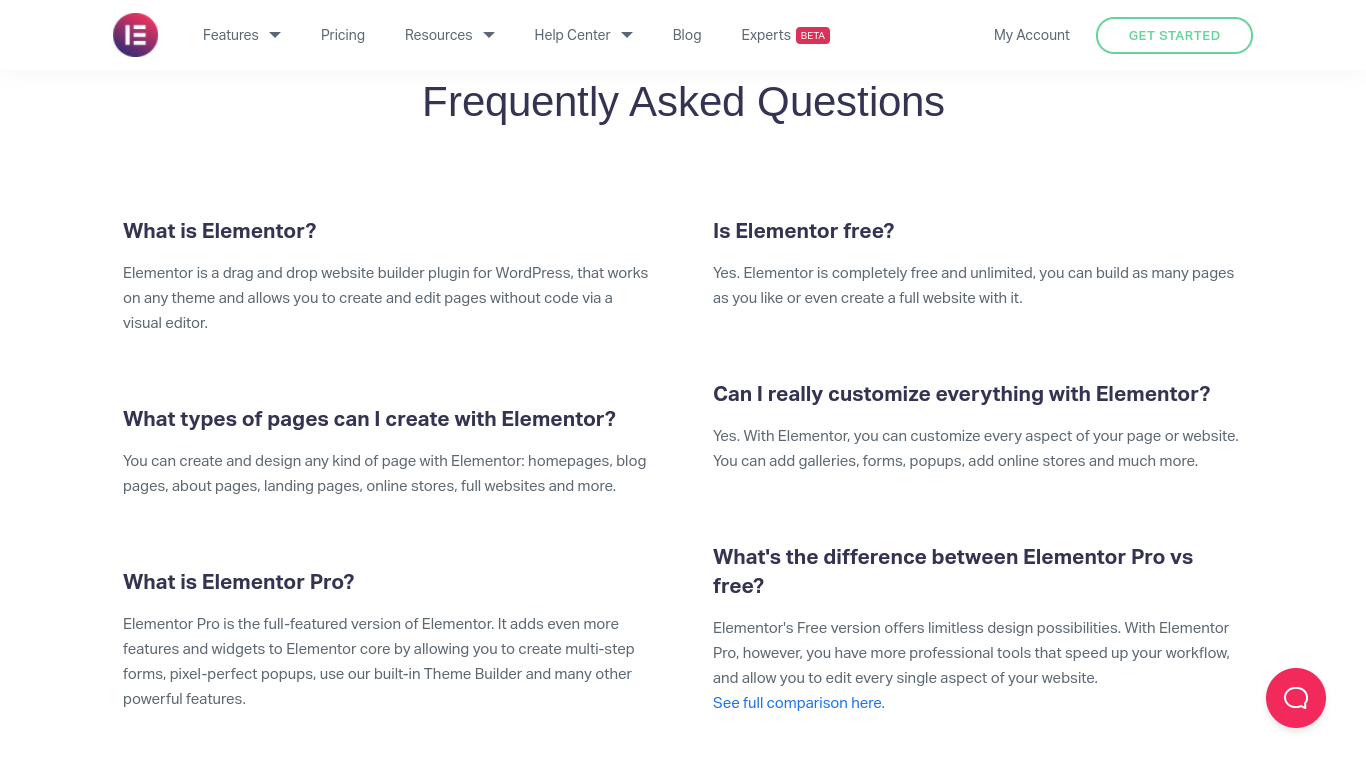 Choose  Beaver Builder if…
Beaver Builder offers styling options that are really easy to use. Overall, it is a really good and simple web-design builder. What makes this page builder worth choosing over the Elementor page builder are the unique features that Beaver Builder offer and the Elementor does not. Two things that make the Beaver Builder stand out from the rest are:
 The fast loading speeds – Loading speed time makes the Beaver Builder faster than most page builders including Elementor.
The white labeling options – If you want to create a web developing agency, the white labeling options would make perfect use of the Beaver Builder for all your websites.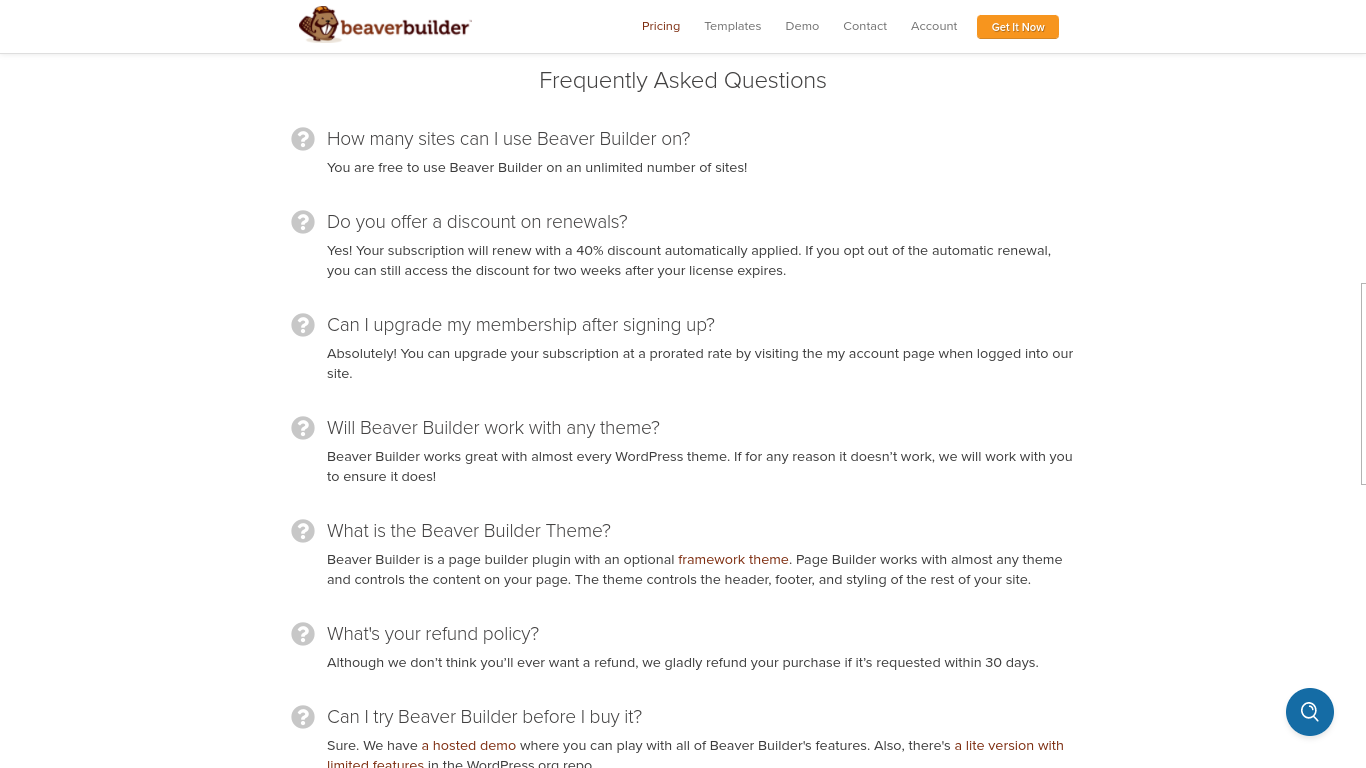 Beaver Builder also has a third-party plugin that has the ability to label the Elementor itself.
If you get the Beaver Builder you are going to be more than happy with it, since it does everything that you need. The only issue is the number of templates, but you can always do an upgrade with the ultimate add-ons plugin which will cost you a little bit extra money. In the end, if you did get it you would have no issues using Beaver Builder .
If you are thinking of choosing either one of these builders we hope that this Elementor vs Beaver Builder comparison will give you the information that you were looking for.
Further reading: