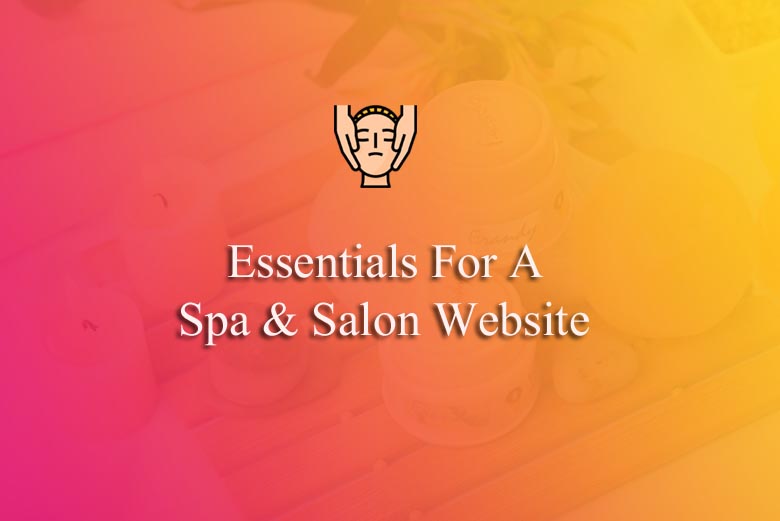 You can create a website for Salon and take your profession of spa, salon and wellness to next level.
A website for your Spa or wellness center will open up doors for many new opportunities for you. With the available platforms you can easily create a site of your choice.
In this article, we will discuss how to start and what exactly you need to create a salon website. But first of all, lets discuss if it is worth having a salon website
Why do you need a website for a Salon?
A website for your salon or wellness center can help you in more than one ways. Your salon website is not just your online presence but your way to connect with the prospect customers and deliver your message to them.
And since creating and maintaining a salon website is so easy and affordable, there's no reason why you shouldn't have one. Having the salon website can have the most important advantages for your business in the following ways:
Your salon website introduces you on the online space with the rest of your competitors
You can use different videos, images and testimonials to attract clients
If possible, you can even include booking features and manage appointments through your site
A prospect customer interested in your services can know more about you through your website
The contact form on your website makes it easy for them to contact you with just a click
With service page on your salon website, you can talk about your service, without any limitation of words
Can help new people in the area know about your salon through local search results
Your website can help you keep your visitors updated with the latest offers, and other important notifications. For example; when you move your salon to a new location, Or if you are opening another branch.
These are just the basic advantages of having a website for salon, spa, wellness center, beauty parlor, or any such institute. You can make the best of your website and use it for your advantage in a number of ways.
What will you need to build a website?
We live in a technologically advanced era and website building is no more the domain limited to technically skilled people. Most business persons today prefer to maintain their website on their own. A few of them, even prefer to built their sites on their own.
This is due to availability of such technologies and platforms, that enable even a person with zero programming or website building experience, to create a website on their own.
The platforms like WordPress, Wix, etc. make it possible to start a website, just by following some simple steps that don't involve any kind of coding, or programming. All you need to do is use the available options, and create a site that looks and works the way you want.
First, decide on a platform
There are so many different options to create a website with. But we recommend using WordPress for building your salon website. The reasons are
WordPress is Free, Open source and easy to use
Availability of WordPress themes and plugins for different purpose
All the themes and plugins are very affordable
No technical skill or knowledge programming language required
WordPress is an SEO friendly platform
A WordPress Salon website will be easy to customize and manage
With plugins, maintenance like backup, optimizing the database, speeding up, image optimization, will be easy
Therefore, with WordPress, you will be able to create a very effective, professional looking and fully functional website in just minutes. With little to no technical knowledge.
Domain name and hosting
When creating a salon website with WordPress, the first thing you will need is a domain name and host. The domain name will be the unique identifier for your salon website. Following are a few quick tips to choose an efficient domain name:
Must include the brand name: "kiaraspa.com", "danielgranger.com"
Can also include the keyword: "junaidhairsalon.in", "Mistwellnesscenter.com", "Mayaskinclinic.com"
Pay attention to the domain name extension. For local sites, go for country based extensions like .in for India, .ca for Canada, .fr for France, .nz for NewZealand, and so on.
Keep it short and easy to remember
Avoid difficult spellings & using symbols like hyphen, or numbers
Start by making a list of the domain names, and the alternatives that you will opt for if the domain name you choose is not available. Also make sure not to use the misspelled version, or differently spelled version of an existing domain name. That will only confuse your client.
So you can build a list like the one shown in the image below. You can try the names one by one with a reliable domain name provider like Bluehost.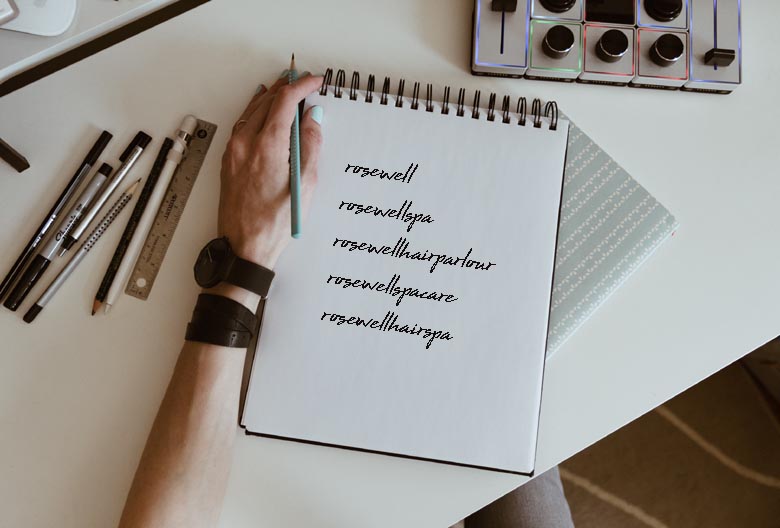 For hosting too, you can rely on Bluehost. The WordPress optimized hosting from Bluehost is affordable and helps you create efficient websites easily. It will automatically install the latest version of WordPress for you and all you need to do is create your own website by generating the password.
WordPress Theme
What you need next to create a salon website is
Five best WordPress Themes for Creating Salon Website
Spa Salon WordPress Theme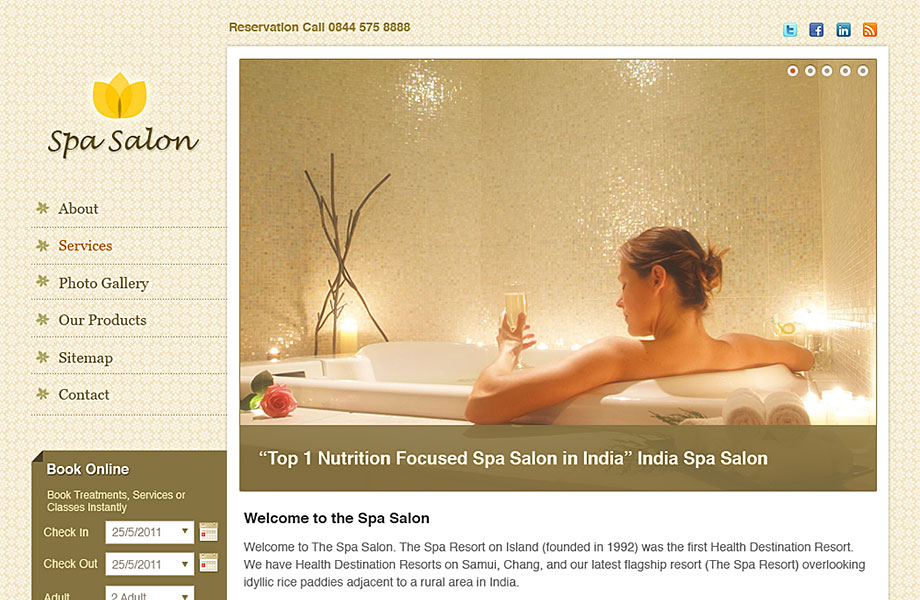 This is a very simple but professionally designed WordPress theme for creating a website for your health and beauty center. The theme is widget based and is very easy to customize.
The Spa Salon WordPress theme comes with an included appointment booking system if that's what you need for your website. It doesn't however include any drag and drop page builder. This theme is best for those who want to get started quickly and don't want to waste much time on creating new pages but just want to use the available settings to create an online presence with WordPress.
Kallyas WordPress Multipurpose Theme

Kallyas is a multipurpose theme, with multiple layout possibilities. Choose from one of the demos and create an amazing multi purpose website.
It provides compatibility with the Visual composer as well as WooCommerce eCommerce plugin.  Live customizer and Visual composer make customizing your website really easy. It also lets you integrate social communities in your website using the BuddyPress plugin.
Salon WordPress Theme
Salon is one of the WordPress themes for beauty salon. It can be used for building a spa, wellness center, or a beauty salon website in 2018. With the customization options available, you can create a website of your dreams with this theme.
Salon has been optimized for a speedier performance. There are available color schemes for the theme. Manage the homepage with drag and drop options. The whole homepage can be reconstructed by re-arranging the page modules.
The theme's option panel is called the almighty options panel. So, you can manage the theme elements, change color and logo. Content is the king, so you have 5 content types for the theme. There are numerous layout options in the theme.
Massive Dynamic: WordPress Multipurpose Theme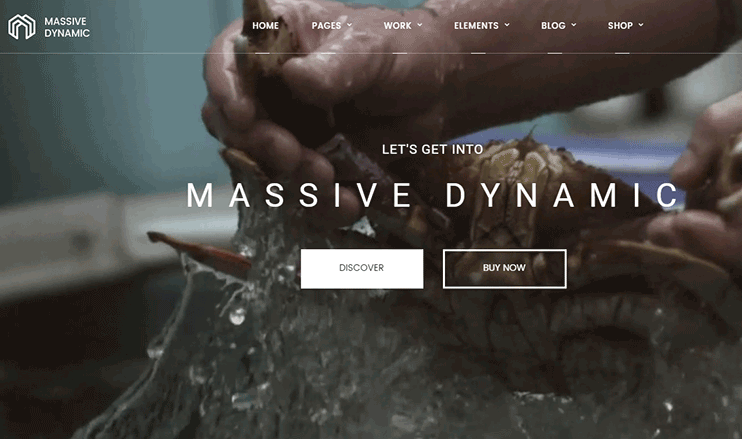 Massive Dynamic is a mega theme with a full-screen elegant video banner. With more than 60 pre designed demos, you have abundant options to choose from.
Additionally, Massive dynamic comes with many pre-designed theme in-bundled. Visual Composer, Go Pricing, Ninja popups, to name a few. The theme is performance and speed optimized to ensure that the burden of all the features does not hinder the performance of your website. It allows WooCommerce for eCommerce functionalities.
Ombrello Multipurpose Theme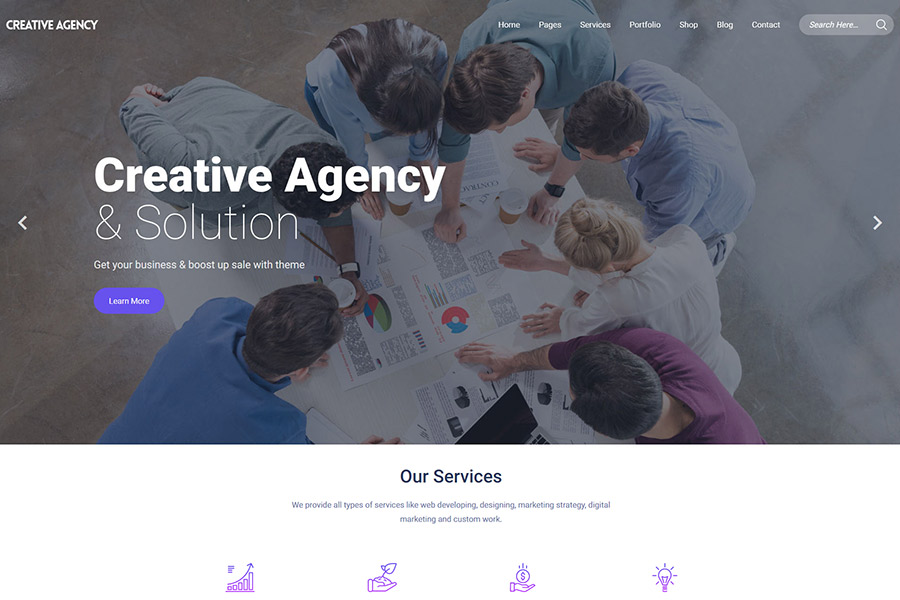 Rather than an appointment based website, if you want to create a business style website for your Spa Salon as a part of your online presence, you can use the very flexible Ombrello Theme.
The theme comes with pre-designed service pages, a customizable home page, and a working contact form. Moreover, with the Elementor page builder's support, creating wonderful designs on your own is easy. All the pre-designed pages too are built with the Elementor builder, so restructuring them is easy too. Moreover, Ombrello even supports WooCommerce for eCommerce features on your Salon website.
You can choose any of these themes to create your WordPress Salon website or see more of such themes Best Health Beauty WordPress themes.
Plugins to add more features (optional)
WordPress allows you to integrate more features into your existing website by adding new functions in form of plugins. There are so many WordPress plugins all with different features, that help you optimize your website.
There are a few plugins that we recommend for your salon website:
Contact form plugin: You will need a contact form plugin if your WordPress theme doesn't come with one. Generally, most of the premium WordPress themes come with a contact form plugin inbundled. But if it doesn't, or if you want to create a custom contact form with advanced features, there are many contact form plugins available.
Image optimizer: It is always recommended to use the image optimizer if you are using a large number of images on your website. It resizes and compresses the images to improve the page speed and save the server space.
An SEO plugin: An SEO plugin will help you optimize the content on your website for the search engine. A plugin like Yoast SEO will help you with several things: keyword optimization, meta details, titles, etc.
You can add unlimited number of plugins into your WordPress Salon website, just make sure that they are from reliable sources and are totally necessary. A large number of plugins on your website may result into its slowing down and inefficiency.
How to create your WordPress Salon website?
The technical steps to create your Salon website will be mentioned in your theme guide. The Theme provider should provide you with proper documentation that has all the steps and procedures mentioned. A proper documentation will guide you through installation, customization, tips & tricks and much more.
However, in this article, we intend to guide you with the logical aspects. There are a few things you should be sure about when designing your website.
Decide on what details you want to show?
Your Salon website will be your online presence. But what exactly do you want to convey through your salon website? What are the details you want to show. You should also decide their importance so that you can arrange the content accordingly.
There are a few things to list out:
All the titles of pages you want your website to have
A brief outline of content you want on your pages
The menu items
Call to Action: Content, location, action, etc.
Therefore, before you actually start with the technical part, you should actually create the list of things you want your website to display. With a salon website, there are so many things you can convey. But you will only be able to do it right if you have a plan in your mind and the important parts decided.
Decide what features you want
Another thing that you should decide before you start with your WordPress Salon website is the feature list. You should be sure of what you want your website to do.
Different websites may have different features and your salon website can have one or all the features mentioned below (or even additional ones).
This helps you find an appropriate theme and avoid future disappointments after buying a theme.
Appointment booking:  This will be one of the main feature of your Salon website if you want to offer bookings. If you want to offer online appointment booking website, you should try finding a WordPress theme that does that.
Service pages: These are the pages to describe the services you offer at your spa. There can be many different services you offer and you can explain it all to your prospect clients through the service pages.
Contact form: This is one of the most important features on your WordPress Salon website. Your visitors can easily contact you using the contact information, and the online form available on your website.
Blogs, Tips and tricks: Dedicate one section of your website for serving fresh content to your visitors. This helps improve your search engine visibility by covering more keywords and with better user engagement.
How to promote your Salon Website?
Creating a website is easy with the available platforms and tools. However, the real concern while maintaining websites is traffic.
The features and content of your salon website will only help you if you have the required traffic. At the initial stage, traffic acquisition may look a little difficult, but over time, with experience, it should only get better.
Use paid advertisements
At the very beginning, you can invest a little for promoting your website through the relevant mediums. For example: You can invest in Google AdWords, or sponsored advertisement placement on relevant website, or submitting a listing on your local directory website.
Create social media profiles
Social media does a great work of connecting people with similar interests. Start by creating a social account for your spa. Create a Facebook page, an instagram account for your spa and similarly for all other social media platforms.
Start sharing useful content, images and keep your visitors hooked and promote your website through social media.
Tell your existing customers about your website
You can promote your website by simply telling your visitors about it. Or in general, talk about your site to all your professional connections. It definitely won't bring a large amount of traffic, but at least helps you spread a word about your site.
SEO optimize your website
Optimize your salon website for search engines to gain natural traffic. This way you can  You can appoint an SEO firm to optimize your website with SEO and regularly conduct SEO audits to make sure your website is in compliance with the latest SEO norms.
How to maintain your Salon website?
Your website needs proper maintenance for a smooth functioning. While there can be multiple maintenance routines based on the features and kind of plugins you have integrated on your website.
However, the following are some of the common maintenance routines that are common for salon websites:
Update it frequently
This is a practice that can help you in multiple ways. By frequently updating your WordPress Salon website, your visitors get fresh content to look at. And updating your website with fresh content also has some SEO advantages.
You can keep your website updated with new pages, or by changing the relevant content in the existing pages. Make sure you make the best use to promote your offers too.
Pay attention at the contact queries
The contact form on your website must bring you some contact queries. Make sure they are attended. Check the form entries and make sure all the answers are provided for all the contact inquiries.
Backups
Regular backups help you in times of need. For making sure your website is backed up regularly, we recommend using a plugin for regularly backing up your WordPress website
More about website maintenance
Conclusion
Creating a website with WordPress is not difficult at all. It's the content and how you maintain it that matters the most. You can pick on of the beauty or even a multipurpose theme to create such a website.
This website will not just be your online identity but also help bridge the communication gap between you and your customers with the help of contact forms. The salon website will also help you promote your service to a larger group of people. You can even use this traffic to promote offers, offer online booking or even start selling products online.
Further reading: