This is a tutorial on a law firm website design, with tips and tricks, lists of tools, and other information that can help you if you are trying to build your own law firm/lawyer's website.
But before you start with the process to create a website, it is best to know the advantages of having a website for your law firm.
Below listed are few of the best reasons to create a law firm website:
Is it necessary to create a website for your law firm?
Yes, it is!
There can be a number of advantages of having an online identity, mentioned below are a few of them:
Makes it easier for the visitors to find you and know about you
Online presence for your law office can bring you a lot of new opportunities
24*7 availability of your website, a great promotional platform
No geographical boundaries for a law website on internet
Makes it easier for a prospect client to contact you
You can create an online portfolio to let the visitors know more about you
Helps you deliver a large amount of information to your visitors
Increases the outreach of your law business
Helps you establish an identity as a private lawyer
Can help you reach more clients through social media
What to look for in a Law Firm Website Template:
Should be responsive
Easy to use
Flexible enough to create a highly personalized website
Clutter free and professional looking design
SEO friendly template
How to create a Law firm website?
With the available tools and techniques, you can get your website live in mere minutes. Today, you can create fully functional websites on your own, without touching a line of code.
Here are the law firm website design steps to create a beautiful and functional website in no time:
Choose a platform
Today we have plenty of tools to create a websites without even touching a line of code.
So you have a lot of options to choose from. And since many things depend on the type of platform you choose, it is a decision you should make very thoughtfully.
In this article we will use WordPress to create a law business website. It is simple, easy to use and there are a number of other reasons to recommend WordPress:
It is free, easy to use & open source
You can create fully functional responsive website with the available themes
There are plugins to let you easily add new features to your site
It is an SEO friendly platform
Abundant and easily available tools for promotions
Easy to update and customize
If you already have an experience in building with some other website building platform,  than you can choose that.
Regardless of the platform you choose,  the logical steps will remain the same.
Choosing the best website platform
Get the domain, hosting, and WordPress Theme You will definitely need a domain name for your website.  So make a list of the domain names you would like to have and then go to a domain name register of your choice to see if the name you wish to have is available.
Once you sign up for a domain name, you can start looking for host. You will  not have to look for a separate hosting service if you choose a self hosted platform.
However,  with WordPress you will need to look for a good hosting service. And there are a few advantages of choosing a platform that allows you to choose your own host. For example,  you can change hosting service whenever you are not satisfied. Moreover,  you can choose from different packages with different services.
Anyways, for hosting your WordPress based law websites, we recommend using Bluehost. Its provides you excellent services at an affordable price and great support.
Choosing the domain name & host
WordPress Themes
There are different types of WordPress Law Themes you can choose from. These themes are pre-designed, pre programmed and can help you get your website live in just minutes:
Consulting WordPress Theme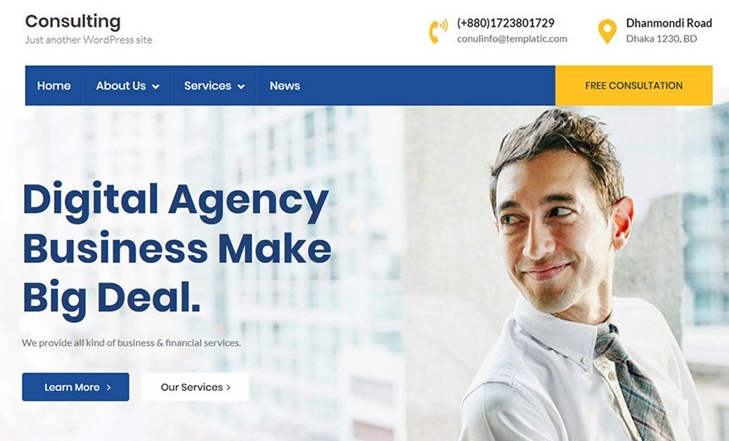 The consulting theme is a simple, easy to use and page builder based WordPress theme that you can use to create a website for your law business. Its pages are built with the Elementor page builder making it absolutely easy to completely restructure them.
It is a theme you can use to create simple websites that talk about your business and provide a contact form for your visitors to consult you.
Laywer Theme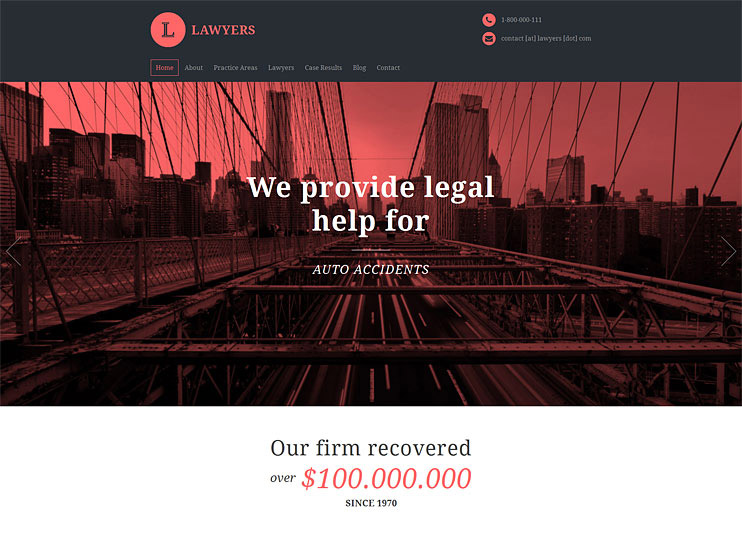 This theme is for anyone who wants to establish an internet identity as a private lawyer. It is a WordPress theme specially designed for the purpose and lets you create a website for yourself very easily.
This themes lets you choose from different page templates and header and footer variations. It also comes with dedicated post types for cases, practice areas and team, etc. for
Install and get started
Installing and using a WordPress Theme is very simple. With a premium WordPress theme, you are sure to get documentation and video tutorials on how to install and use the chosen theme.
The process to install the theme is to login to your WordPress dashboard and go to Appearance >> Themes >> and upload the zipped installation file for the Law theme.
With the theme installed, you can follow the steps mentioned in the documentation, or the setup wizard(whatever the theme is configured for) – to start with your website.
Customize your website
Branding & Logo: To start with the customization of your law business website, you can upload your own logo, or set your site title and change the footer credits.
Most of the premium WordPress themes should provide you with easy options to do so.
Drafting the About and Service pages:
Your website can have as many pages as you want. But for a law firm website or a website for a lawyer, there are a few must have pages.
People looking to hire you to handle their legal issues would surely love to know about you.  Therefore, an About page on your website should be like a personal introduction.
You can talk about how you started? Your specializations,  etc. It can be as elaborate as you wish to make it.
One another important page is the service page. It is in fact the most important part of your law firm website.
This page/pages as the name suggests,  tells about the services you offer.
It can be a single page where you brief about all the services you offer or it can be a group of interlinked pages to describe the different services you offer.
For a law firm website,  it all depends on clarity. How easily your visitors get their questions answered, how easily they find the page they came looking for. So proper navigation,  interlinking and clear descriptions can help a lot.
Homepage optimization
The homepage of your website should  reflect exactly what your website is about. It must have all the important links and details.
A clean and organized design
Must have all the important links
should clearly depict what the website is about
Logically structured as per the anticipated user action
Try including relevant, good quality, and pleasant images
Include CTA if you need to
With premium Law WordPress theme, you will have professionally designed and organized page, that will need minimal customization, to personalize your page.
Contact form plugins for law firm website
The most important plugin for a law website can be the contact form plugin. Since a contact form is one of the most important component of your law website, you can easily create useful contact form using one of these contact form plugins.
Contact form plugin
A contact form is the easiest way for the interested clients to reach you. A law firm website without a proper contact form is incomplete.
Fortunately, creating contact form on your WordPress law firm website is so simple. There are these contact form WordPress plugins that let you easily create useful contact forms on your website.
Makes building contact forms really easy. You can use the drag and drop form builder to quickly build forms and start receiving messages from your visitors.
This plugin can be installed into your WordPress based law business website to create simple and complex forms. It comes with more than 30 different form fields for you to choose from.
Gravity forms supports file upload, auto calculations, save as draft as well as spam protection features. There are many other features too, for example: If you want to create a web form for user-generated content than you can do that too.
Contact forms is easiest to use, it can let you instantly create useful contact forms to collect user data. The free version comes with simple fields and options to create fully functional contact forms.
Speed optimization plugin for your Law Firm Website
Smush It: This is an image optimization plugin to speed up your website and save memory on your law business website. It completely eliminates the requirement to upload each image after optimizing it, since it automatically does so. This plugin also helps with bulk smush and resizing.
WP Super Minifier:  This plugin will help speed up your website by combining and compressing the Javascript, CSS, and HTML.
GTMetrix for WordPress: This tool analyzes and tracks the performance of your WordPress law business website. It provides you with scheduled reports on daily, weekly and monthly basis, right into your WordPress dashboard. Based on these reports, you can plan your optimization of your website.
LightSpeed Cache:  As the name suggests, this is a caching plugin. It also includes a server level cache and optimization features to speed up your law business website. There are many other features like image optimizing, minifying and combining files, import-export settings, etc.
Backups
BlogVault: This is a premium backup and migration facility for automatic backups and restoration. With this plugin, you can forget about backing up your website regularly, since it automatically backs up your website.
Setup a contact form for your visitors
Promoting your law firm website
Once you have your law firm website ready and running, the next important task is to make sure it gets the deserved attention. At initial stage for any website, it looks a bit difficult for
There are several ways to promote your law firm website:
1) Paid Promotions
Other promotional methods might take a while to get you traffic. So at the very initial stage when nothing else would work, you can rely on paid advertisements to promote your WordPress based law website. Services like Google AdWords can help.
2) SEO Optimization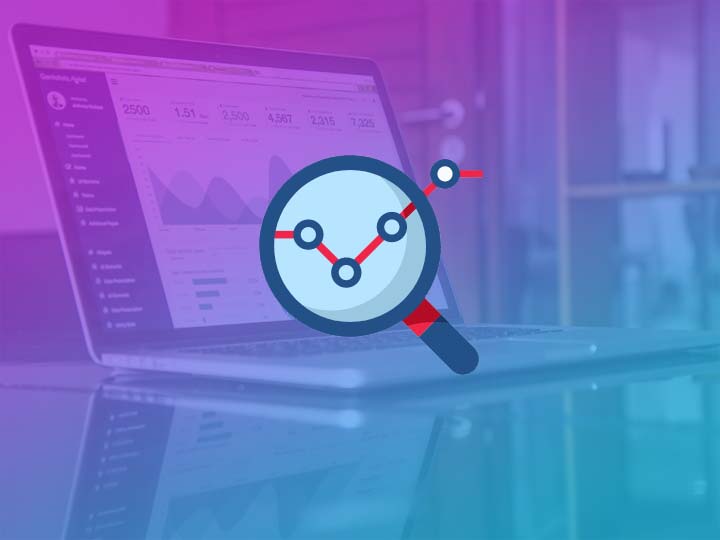 Optimizing your website for SEO is good for the visibility of your website and surviving the competition on the internet. There are a lot of tools and tricks to check the search engine friendliness of your website. This article will help you with the basic information on what to do to SEO optimize your small business website.
3) Social Media
One of the easiest way to make people aware of your website is by sharing it on your social media. Social Media Marketing is a very interesting subject, with very wide scope. You can easily start promoting your website by targeting the right audience, using the right hashtags, and joining the right groups.
4) Others
There are many other ways to promote your law firm website. For example, you can get back links by guest posting on relevant and popular websites, you can advertise your website on local channels, direct mail marketing campaigns, press releases, etc.
5 ways to promote your website
Maintenance routines for your law office website
A website will only maintain it's score on the internet if it is properly and regularly updated. You cannot just create a website, make it live on the internet and forget about it. A regular maintenance is essential.
For a law business website, there can be only a few maintenance routines:
Backups

What if your website is hacked and the important files are removed, or what if your website crashes? A backup, in these situations can be life saver.
Regular backing up your website is must. You can rely on a plugin like BlogVault for automatic backups and restore.
Other maintenance tasks:
Regular security monitoring
Adding new content in form of pages, posts, widgets
Updating service pages whenever required
Replying to the contact form queries
Removing old outdated content from your website
Keeping a check on the SEO aspects with regular SEO audits
Speed monitoring & optimization with tools like Google Page speed insights
Are you ready to create your website now?
Once you start building your website, you will realize that creating the website is not difficult, but maintaining it and surviving the competition is.
The tips mentioned here can help you to create an efficient website that delivers its message easily. These are just some basic tips that drive you towards better results.
Further reading: