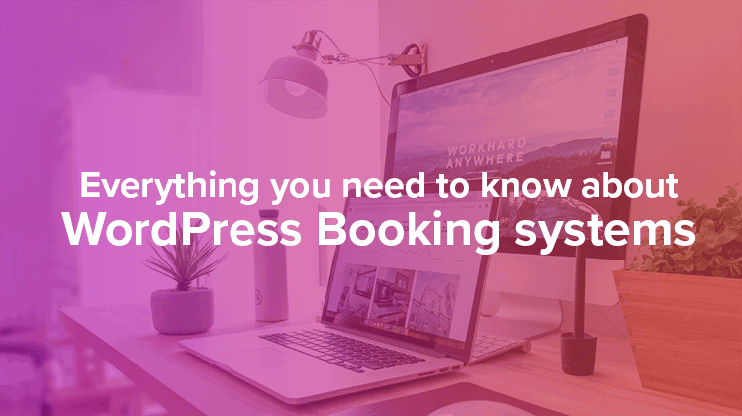 With the modern tools and techniques, you can create a website in hours (if not minutes). Using them, now you can create amazing online booking websites too. Even when you're not a programmer, you can create websites with incredible features and facilities. But actually, the real job starts after the website is created. Maintaining the website and surviving the competition takes more than you think.
However, with very small changes and features in your website, you can totally change the response for your website. The following are some of the must have features for online booking websites. The features are simple, but once they are incorporated into your website, they are sure to give you great results.
Easy search
Let user's convenience be your goal, everything else will take care of itself. Focus on how you can make your website easy to use for your visitors. Make sure that they always get what they came for. Also take care that they are able to find their interests easily.
An easy to search website has the following features that makes it easy for the visitors to reach their goals.
Intuitive navigation
Proper categorization
Search box for keyword search
Categorize your website well. Think about all the categories and sub-categories that will be a part of your website. Once the categories are decided, add the bookable products under the relevant categories.
The name that you choose for the menu items and the various links on your website should be intuitive and relevant. So that the visitors can get idea on exactly where they want to click. Confusing link structure and poor naming conventions often confuse the visitors and make it difficult to search through your website.
The key here is a properly organized website. Create a site with properly categorized content so the users can directly choose the category and get the results filtered based on their choice. Also allow search box where the users can key in their search keywords and get the relevant result.
Responsive and cross browser compatibility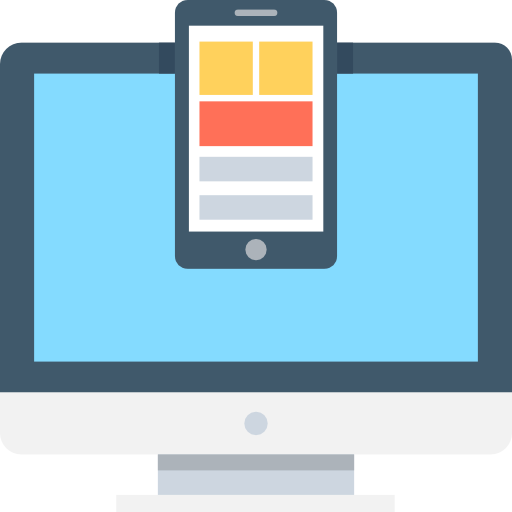 The visitors will try to access your websites with different devices, so create a website that is completely responsive. With the advanced technology, and the development of the feature rich smart phones and other mobile devices like ipad, etc. it has become essential to design websites that renders well in every screen size.
You can never be sure of what device a visitor may use to access your website, so the best way is to create a website with elegantly responsive design. Also test your website to make sure it is cross browser compatible.
Most of the popular online booking websites comes with a mobile app feature. So their visitors can install the mobile app and get access to all the booking features on their phone. The mobile apps can help the users to easily search and book. It can also send important updates through notifications.
You might also like:
Availability Calendar
Even though it is not mandatory to have the availability calendar and the booking systems can work just fine without it, having an availability calendar can act as the cherry on the top. Below is a glimpse of a typical booking calendar :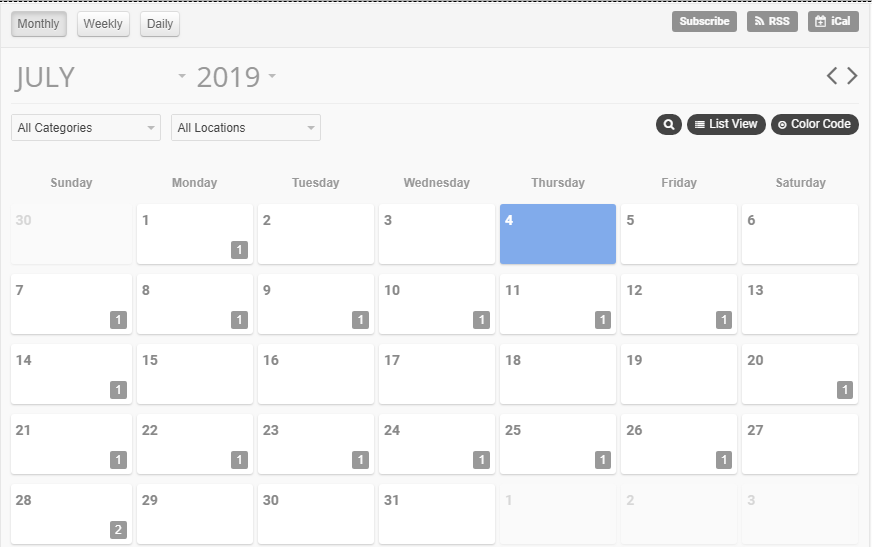 An availability checker calendar is a visual depiction of the booked status of a room for a particular month. This makes it very easy for the visitors to verify if the booking is available on their desired dates.
With the availability checker calendar, it is easier for the visitors to evaluate the availability of the rooms.
Complete verified details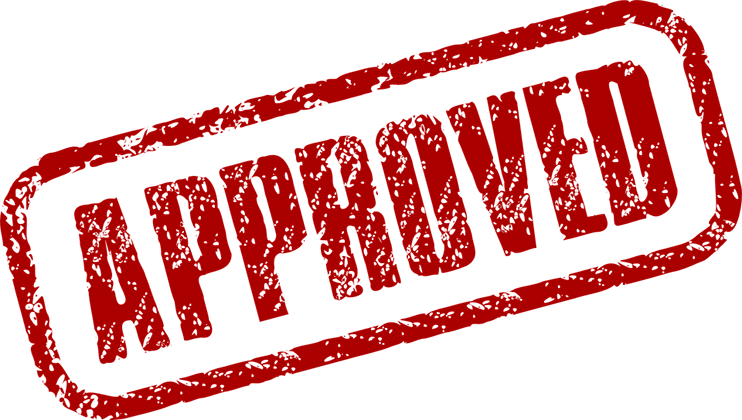 When the users find what they want, they expect you to provide full details about a listing. All the details that are verified and true.
Whether you create an online booking directory where you allow different hotels to list themselves or a hotels website that allows booking different rooms, it is important to provide precise and detailed information about each and every bookable product on your website.
Ideally, if you're allowing booking for the hotel rooms, you should mention about each and every amenity that the hotel provides. For example – Mention every detail like – Whether the hotel allows you to keep pets, whether there's arrangement for parking, if the hotel has the a gym or a swimming pool or a club, etc. Also mention the features and facilities you provide for each bookable product on your website.
Relevant images of the bookable product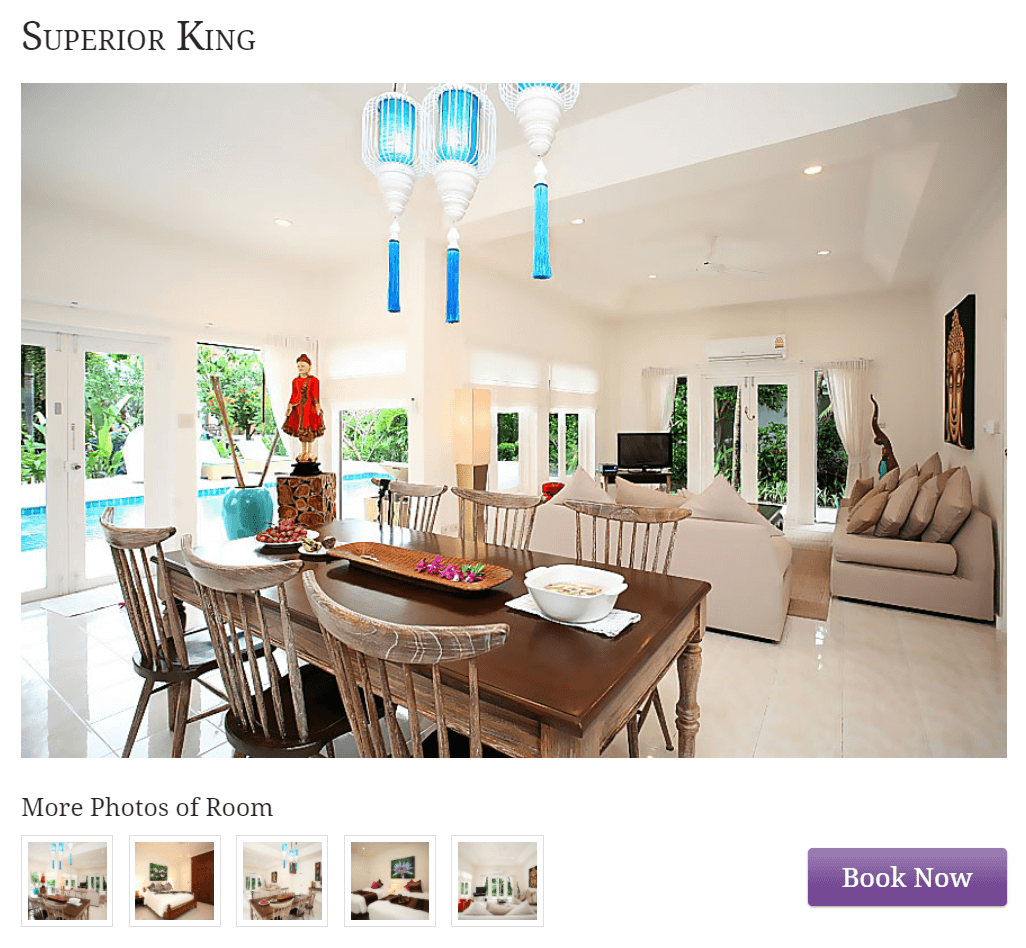 Visuals leave more impact than words. When booking a hotel room, people would surely love to have a look at a few pictures of how the room actually looks. Using original images of the rooms certainly helps. Have a look at the image below. The website uses multiple, high resolution for their hotel room listing.
When using images, make sure that you use relevant and real images and SEO optimized. Where real images help to win trust of the visitors, misleading or irrelevant images leave a negative impact on the user's mind. So you have to be careful about the choice of images you display with a listing.
Cancellation service and clear refund terms
Most of the best booking websites allows the visitors to cancel their booking.Cancellation feature works favorably for most of the booking websites. Visitors appreciate it when they are allowed to book with the assurance that they can cancel it. However, you can always specify the cancellation time period.
For instance – For a therapy center, the appointments can be booked a month ago, and if you wish to cancel the appointment, you can cancel it at least a week prior to the appointment date. So the user won't be allowed to cancel an appointment when it is just a week away. Tools like WooCommerce bookings allows you to specify when and how the visitors can ask for cancellation.
With cancellation the websites also needs to provide refunds. Always mention your refund policy very clearly on your website. This is necessary to avoid any future conflicts and disappointing the users asking for refund. For example – If you are going to charge a cancellation penalty of 2% of the booking amount, you should mention it clearly on your booking policy to avoid any misconceptions by the visitors.
Telephonic support
When it comes to booking appointment and hotels, some visitors may like to cross check the references. In this situation, it is advisable to mention the correct contact details of the listings, so that the visitors can check for themselves.
This makes it possible for the visitors to contact the listing owner and then once assured, they can continue to book through your website.
When it is easy for your users to contact the listing owner and talk to some real person to resolve his/her query, it really helps. Browse the contact form plugins to easily build contact forms on your website.
Easy to use, Easy to pay
The people who book hotels and appointments online, aren't necessarily technical experts. Make your website so convenient to use that even a person who haven't ever booked online can come to your website and easily checkout. The following are a few points that should be taken care of to create an easy to use website
Easy to search and find
Proper navigation and labeling
Organized, well-aligned pages
Relevant images wherever possible
Easy checkout
Easy cancellation
Well designed Contact form and support
The very basic idea is to create a user-friendly website. Along with creating proper bookable products, you need to make sure that the visitors can stroll through your website effortlessly. And when they find what they came for, they are able to book easily. Use a payment gateway for smooth and error-free transaction processing. Even when a visitor tries to cancel a booked product, let them do it effortlessly. Also make sure that the refunding process is flawless.
Upto you..
With the above mentioned features and facilities, you can create a user-friendly and efficient website. There are innumerable tools available on the internet that you can use to create your online booking website. Thanks to the advanced technology and the smarter tools that lets you create amazing websites without writing a line of code or spending days on designing.
Choose a platform that is suitable to the subject of your website and allows you to create each and every feature that you wish to have in your website. Once you have all these feature and a smooth running website, you can start providing online booking facilities.