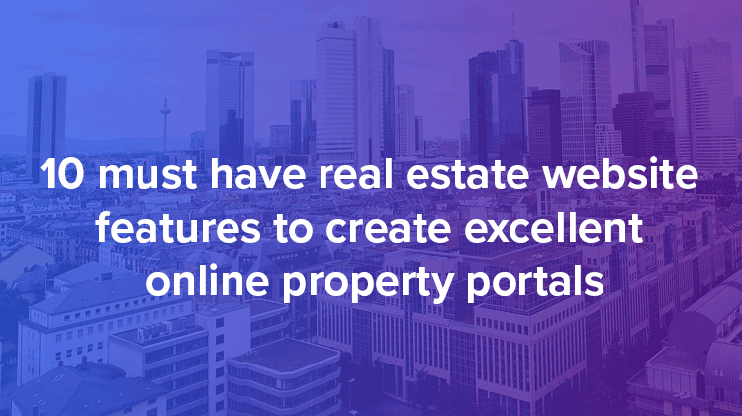 The evolution of newer technologies and techniques has made it possible for the real estate agents and the brokers to create a website of their own.
Creating real estate websites have become easier than ever and you'll observe that there are many real estate directories that you will have to compete with. To stand apart from the crowd, you must create a website that is feature rich and convenient to use.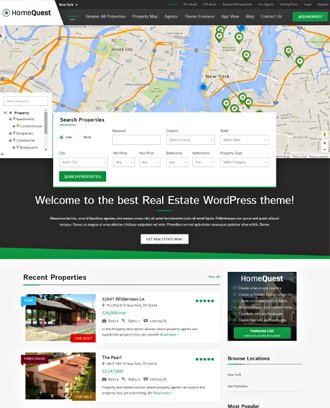 The Must Have Real Estate Directory Theme
Crafted professionally, by consulting real estate agents, brokers and realtors, the HomeQuest theme is all you need for you real estate website.
Easy to install & use, you have the full control over your site. Get this theme in a fraction of price. Save More, Get More!!

Here is a list of all the best real estate website features that you can integrate into your website to impress your users and make your mark. Following are the features that your website should have:
Front end listing submission
Front end listing submission on a real estate website is not a compulsory feature, but it is one of the most popular as well as beneficial. It is one of the best ways to make money through your directory website.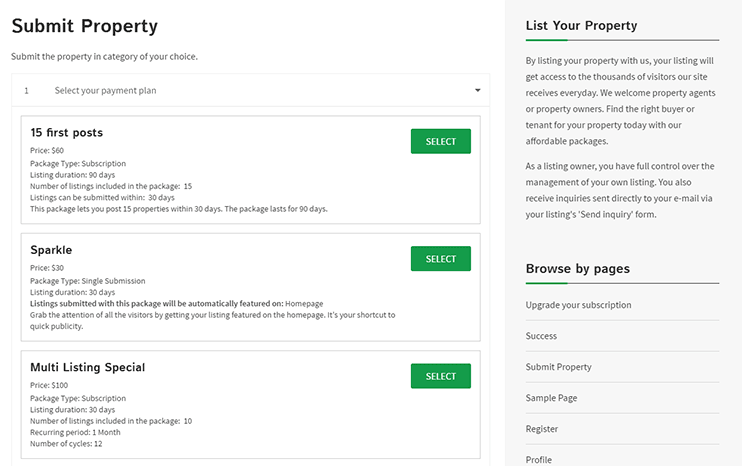 Enabling your front end visitors to post their property listings improves the usability of your website for them. Besides this is one of the features of a real estate website through which you can make money.
Once your website starts gaining enough traffic, you can start allowing front end property submissions. People would want to post their properties on a popular website where their listings will get the deserved attention. And when people want to advertise their property on your website, you can charge the revenue to do so.

Signup now to get our discount – only $2.95/month.
Templatic Themes fans get a special low price when hosting with Bluehost. Click here to signup and claim this deal.
Another great advantage of using the front end listing submission is that it increases the amount of useful content on your website. Moreover, with more properties, there's a greater chance for the visitors to find the result they've been looking for.
With front end submission enabled, your website becomes useful for the ones who are looking for a platform to advertise their listings too. And then, your audience is not just the one's who want to search for property, but also the one's who want to promote their listings and looking for a platform to do so. Here are a few tips on how you can get a potential customer to list on your directory website.
Proper images for each real estate listing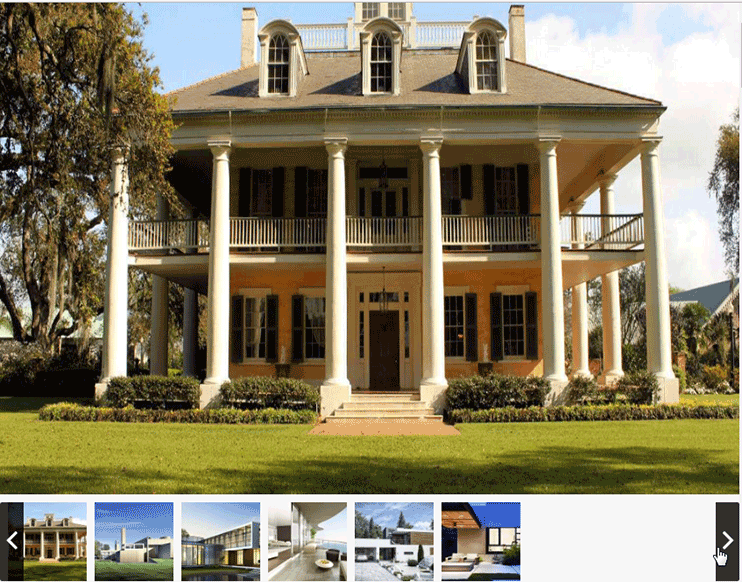 Images speak louder than words. They're pleasant to eyes, and easy to understand. Adding relevant, optimized and high quality images is always going to benefit you.
Obviously, associated with every property listing, there's going to be an image of that property. However, you can use multiple images for the same property. How nice it is to show the picture of the property from different dimensions. It helps make your listing more interesting and beautiful.
A good design
Content is undoubtedly the king, but design too is important. An eye catching design helps you gain more visitors and persuades them to stay and explore the options.
It is always nice to have some decorative design for your website, at the same time, it is vital that your website is not over-adorned. The design elements should not over shadow the actual content of your website.
Again, the design of your website must complement the content and the central idea of your website. If you are creating website with CMS like WordPress, you can choose from plenty of themes and go with a design that appeals you the most.
The design of your website should not undermine the most important functionalities of your site. For instance – Always go for a design that focuses on CTA, a design that highlights the buttons, important links and an attractive, efficient menu.
Besides design, there are a few other features that can help you make a killer real estate website.
An easy to search website
All your visitors will come to your website for one clear intent. To search the properties on your website. But when yours is a massive real estate directory website with thousands of different listings on it, finding the relevant property for a user becomes difficult.
The ultimate intention of your website is met when the visitors find what they want. And so we need a system that is easy to  search through. An online property portal should be capable of providing quick, filtered and relevant results based on the user's search query. For enabling this, you can create a filtered search feature like the one shown in the image below.

The ultimate goal of your website should be that the visitors find relevant results effortlessly. No one likes to waste their time on a website, especially when there are tons of other websites providing you the same service efficiently. So let your website be quick to respond to the user request and efficient to find out the type of results to show to the visitors based on their searches.
You might also like:
Flawless navigation
Navigation includes all the links dispersed over the web-page, CTAs as well as the menu.  For any kind of website, a proper navigation is important. The navigation system of your website should ensure that the visitors are smoothly redirected to the pages of their interest, without having to click different links.
An efficient navigation system includes a beautiful and interactive menu. The menu needs to be very well-organized with the links classified as the main menu titles and the sub-menus. The main menu titles should be carefully picked because they ought to reflect what kind of sub-menus are under them.
Also, when your site is live and you are making changes into your pages, keep a check that all the linked pages redirect properly. We never want to send a valuable user to a "Page not found" page. Also make the best use of the Call to Action section. Use the most efficient text label, attractive colors and screen elements so as to encourage your users to take the action.
Contact the listing owner
A real estate listings directory is all about the properties. The visitors coming to your website will be the people on property hunt. So when they find any property that they are interested in, there should be a way for them to communicate with the owner. For this purpose, we need a contact the listing owner form on the listing page.
This form can be placed in the sidebar region or near the footer, below the listing description. So any person who wants to get in touch with the owner of a property can immediately key in their message and send an inquiry message to the listing owner.
Also, don't forget to include a solid contact form, with one of these contact form plugins, to make it easy for any visitor to contact the site admin, whatever their concern may be.
Idx listings
Integrating MLS listings into your website using IDX makes your website more feature rich. You can show your visitors a large range of MLS properties on your website using IDX.
With IDX facility, you can show a part of the MLS listing on your website. With the MLS listings on your website, the amount of searchable and usable content increases. It increases the probability of a visitor to find the home.
Also read: What is MLX/IDX for real estate websites?
Listing locations based on Maps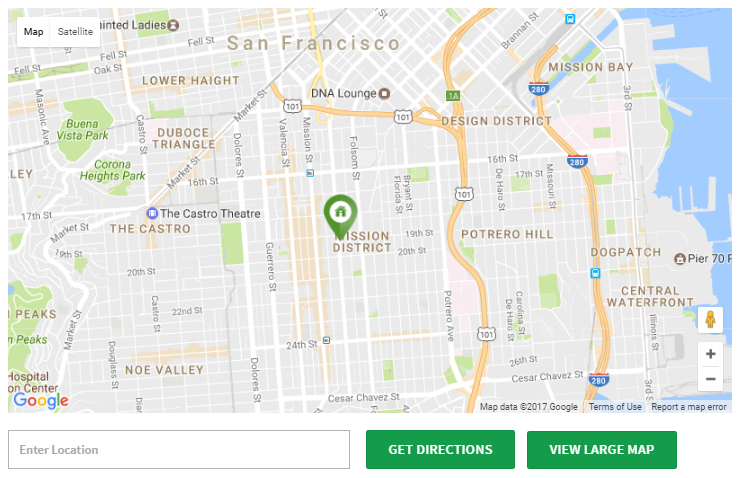 Most of the real estate directories on the internet are now location aware and map based. Maps make it easy for the users to identify the location. Also a map will help them find all the properties of a certain area at once.
There are maps that can help the visitors with navigation and directions. Maps are useful and they make your website look prettier too. Moreover, maps are a convenient way to display address on a website. So using maps for your real estate directory is always a good idea.
Detailed listing
The listings on a real estate website are the main pages through which the visitors can know the details about a property they are interested in. Also, a property owner wishing to sell his property would like to provide more and more detail about it when advertising it.
So you must always ensure that the design you choose for your real estate website allows you to display a very detailed listing.
For instance, below is the screen capture of the listing detail page and it shows all the important details about the property "Level 6 Shredding". It describes the rent, the area, the address, maps, floor style, etc.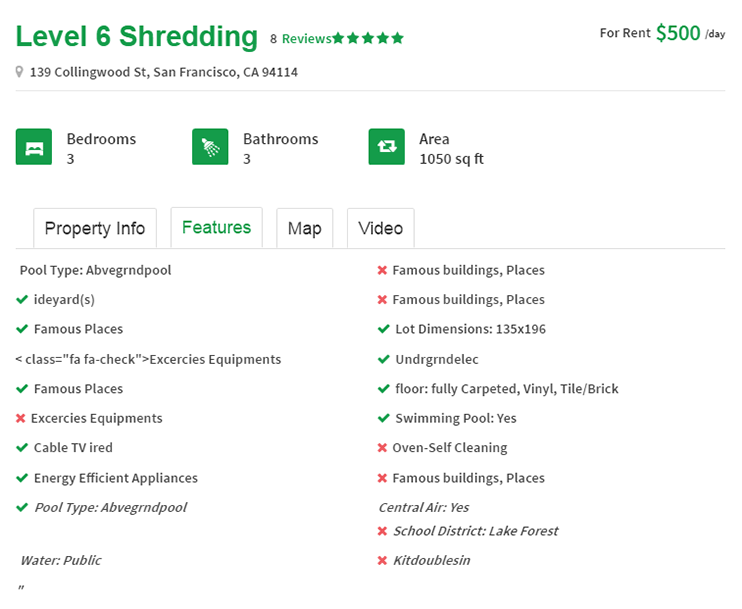 Owner's info
A complete, useful and verified information about the owner of the listing can be provided to the visitors, in case they want to know. Some visitors are just curious to know about, why the others would like to use the provided information and contact the broker/owner. So, the owner's information about a listing is important too.
Even though the owner's information is not as important field as a property image or a property description, but it surely adds value to a property listings.
If you don't wish to highlight owner's information, you can keep the prominent areas on your page for important elements and place the owner's information near footer.
Conclusion
All of the features we've talked above are not compulsory, but if you pay attention to them, they can be very beneficial for your website.
Besides them, many other factors like the quality of content you publish on your website, the scope or the area the listings cover, the SEO, the competition, etc play their role in the success of your online real estate dealing website.
Additionally, there are various WordPress plugins that can help you improve the overall performance of your WordPress based website.
Creating and managing such website takes in lot of hardwork, dedication and persistence. With the changing time and situations, you might need to change the things. Experience tells better!! And you can make changes and modifications as your website keeps performing better!
PS: The screenshots are from our real estate directory theme – Homequest!