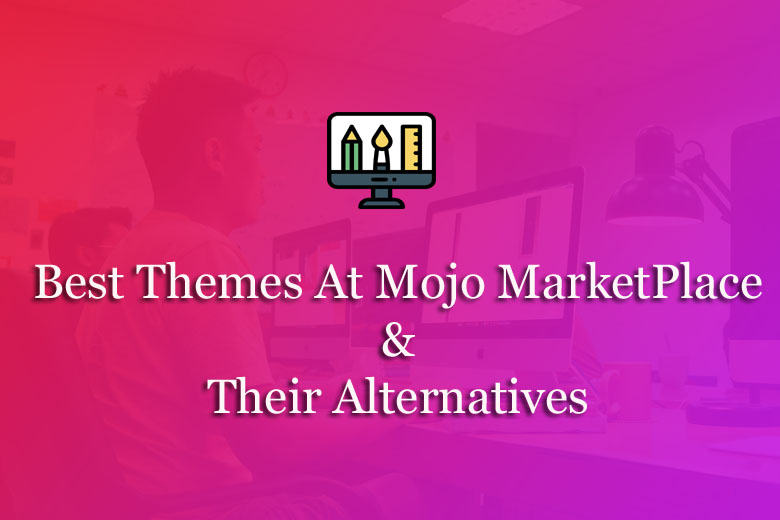 Looking for professionally designed themes for WordPress? You have many theme stores and popular WordPress theme marketplaces like Themeforest, Mojo Marketplace, etc.
In this post, we have created a list of some of the best WordPress themes at Mojo Marketplace and their replacements. 
The themes compared here have nearly similar features and you can choose either one of them to create a professional looking WordPress website:
BeTone Creative Multipurpose Theme 
BeTone is a multipurpose Theme available on Mojo Marketplace. It can be used by creatives, artists, professionals as well as business owners to create their website with WordPress. There are different demos to choose from. The demos range from default business demo, to wedding, from construction to music band, etc. These demos can be imported with single click and turned into live websites easily.
BeTone is optimized for speed and comes with easy customization options to create professional looking websites in minutes.
Alternative: Ombrello WordPress Theme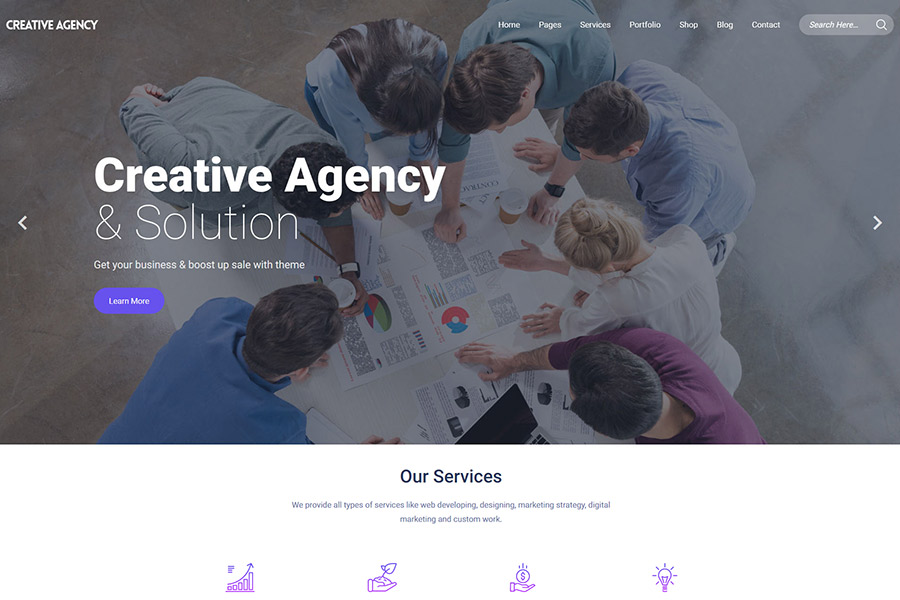 The Ombrello WordPress Theme is a perfect choice for creating a creative website with WordPress. This theme can be used by any professional or business owner to create their website. It is suitable for creating a website for a business, corporate offices, small scale industries, design studios, creative agencies and almost any type of business you like.
The pre designed pages that you get with this theme are all professional looking and are easy to edit. These pages are built with the drag and drop Elementor page builder which is free and makes website building and editing fun.
Therefore, you can easily restructure the pages of your website, re arrange the screen elements and create a design of your choice using this WordPress theme and the page builder.
Ombrello allows you to include eCommerce features using the WooCommerce plugin, is translation ready and can be used by anyone to create their website without touching a line of code, all with intuitive backend options.
Consultus Finance WordPress Theme
This is a simple yet effective consulting WordPress theme that you can use to create multipurpose websites using WordPress. The theme comes with Elementor support and its pages are crafted with the elementor page builder so that it is easy to edit and manage.
Consultus is Gutenberg ready, and optimized for speed. This responsive consulting theme looks good with the animations and comes with a working contact form.
Alternative:
Consulting WordPress Theme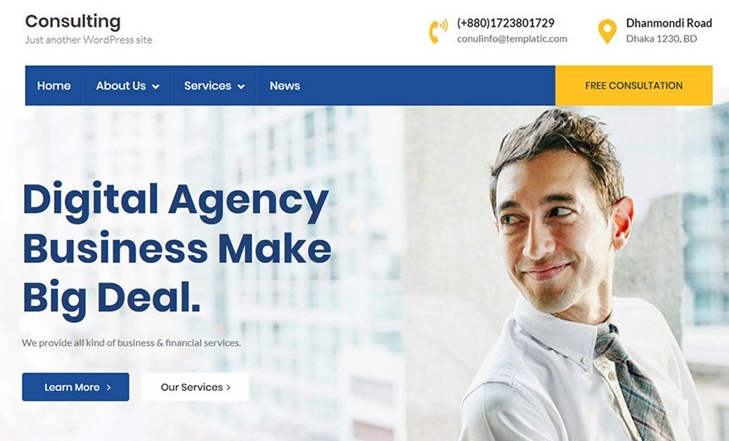 Consulting is an elegant, easy to use and manage theme. It too supports the Elementor page builder for easy drag and drop page building.
This consulting theme comes with pre designed pages for explaining your services to the prospect clients. There are several other pre designed page templates that makes website building process easier and faster. The consulting theme has a professional and logical page design for maximum conversions. It is simple and great for creating websites for law consultancies, tax firms, finance agencies, Insurance companies, etc.
Arezzo Theme on Mojo MarketPlace
This is a WordPress theme on Mojo Marketplace for eCommerce and blogging. This theme can be used by creatives, the artists to create their online presence and even an eCommerce shop.
The Arezzo theme has many interesting features. It allows eCommerce features through WooCommerce. There are so many design options: blog layouts, navigation, header styles, post styles, etc. You can use the live customizer for quick personalization of your website, as per your requirements. There's also portfolio page designs to create attractive portfolios in minutes.
Alternative: eCommerce Theme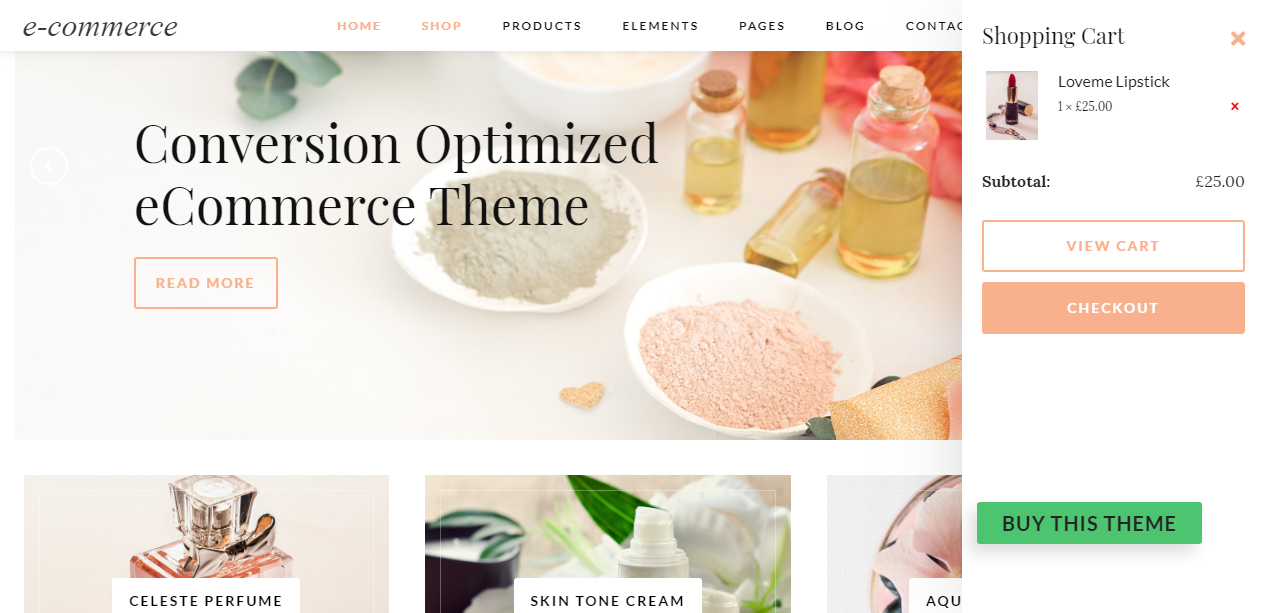 eCommerce is a feature packed WooCommerce theme with the modern design and clean looks. It is a multipurpose theme where you can create a business website, with an eCommerce section and even blogs on the same website.
The theme is designed with Elementor so you can easily change how your website looks and works. The drag and drop page builder lets you restructure and adjust the page elements with an intuitive front end editor. The eCommerce theme is ideal for business owners who want to be able to quickly sell online, without any technical assistance.
MyCity GeoLocation Directory & Events Theme
MyCity is a complete directory package for creating location based city directory with places and event listings. It supports google maps and has options to let you choose from skins, layouts and grid options.
To sell tickets on your WordPress directory website, it comes with the tickera plugin included. You can even create a membership based directory website with MyCity. It has the bulk import and export features for the data portability. 
Alternative: Directory WordPress Theme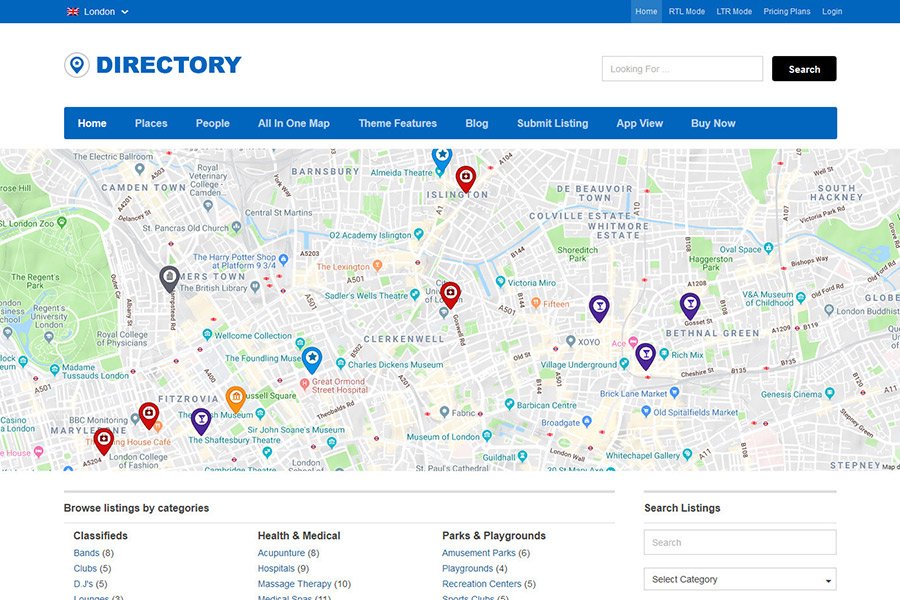 Directory is a fully functional WordPress theme for creating beautiful and location aware directory websites easily. The theme can be used by anyone without any technical knowledge to make it possible to create online directory websites on their own.
The Directory theme comes with a ready to use and flexible online listing submission system. There are geo location based features for meaningful and targeted results. With the available features you can create a city or a multi city directory website as per your requirements.
Elara Pro Recipe and Food Blog Theme
If you wish to create a food and recipe blog on WordPress, you can use a theme like Elara Pro. The theme comes with inbuilt recipe blogging features that you can start using right away. There are different page designs for you to choose from.
Alternative: Food Blogger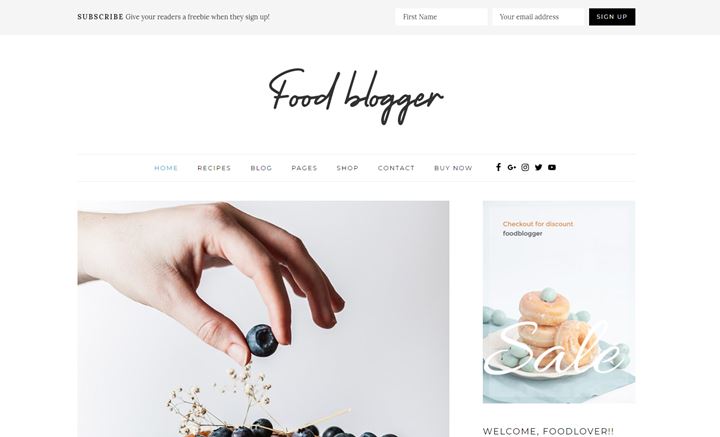 This is a sleek and stylish WordPress theme for Food Bloggers to talk about their love for food and share their interesting recipes. The theme is built with the Elementor page builder. 
This gives you all the flexibility to easily edit the pages and adjust how your website looks. The soft colors and clean design ensures user engagement and a good browsing experience. The distraction free look of the blog page is designed by professionals. The Food Blogger theme makes it really easy to start and maintain a recipe blog, as it is easy to use and maintain. What more? You can sell Online too as this theme supports WooCommerce.
Ristorante Restaurant Theme
To create a website for your restaurant, bar, club or a cafe, you can use a WordPress Theme like Ristorante and get started easily. 
This theme also has an option to include the menu for your restaurant. It even allows you to display the events that are taking place in the coming dates. For eCommerce features on your restaurant website, you can easily integrate WooCommerce and start selling physical as well as downloadable products like coupons, pass, or tickets.
Alternative: Restaurant WordPress Theme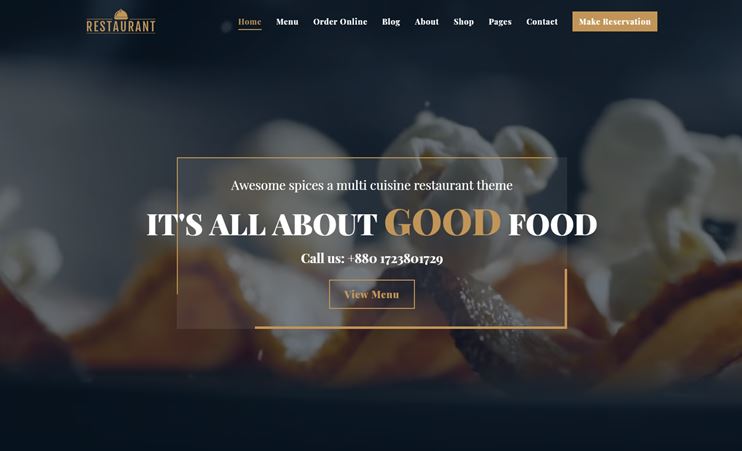 You can create a beautiful website for your restaurant, bistro, cafe or any such food spot, effortlessly using the Restaurant WordPress Theme. It has a modern and clean look allowing your visitors to focus on what matters the most.
The main attraction of this theme is the full screen video banner to make your website look more attractive and interactive. The restaurant theme supports the Elementor Page builder for easy drag and drop page building. It even supports WooCommerce for eCommerce facilities on your restaurant website. 
Reel Story Video Portfolio Theme
This theme on the MojoMarketplace is for videographers or the artists to create their video portfolio. You have multiple layouts to choose from, to begin with.
You have multiple options to choose from when it comes to customization.It is WooCommerce ready and supports Events, WooCommere and BuddyPress too.This theme is flexible but there are certain features like front end submission, etc, that you might want into your video website. 
Alternative: Video Theme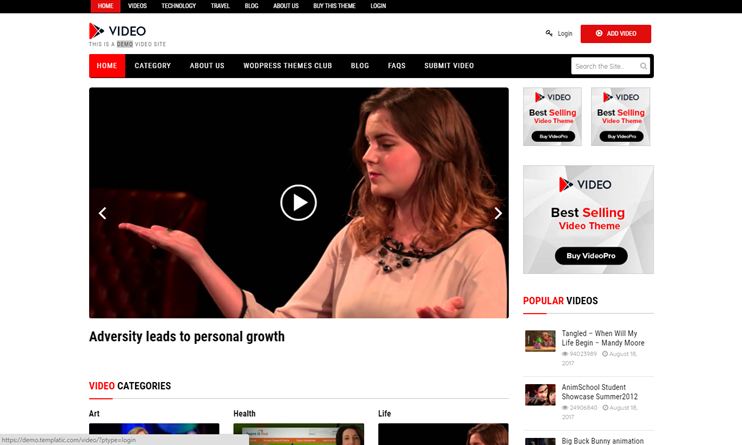 The Video WordPress theme is a totally multipurpose WordPress theme. It can be used a video portfolio, or to create any other kind of video websites. The theme has a simple design and awesome features, to create a performance optimized video website with WordPress. 
It can be used to create a video website that even allows the front end video submission. The video can be uploaded or embedded using the URLs. It is a great way to create a video channel website. The theme is easy to customize. The widget based design makes it easy to change the screen elements of the important part of the pages easily. 
Wedding Theme at Mojo Marketplace
To create a WordPress based wedding website, this is one of the wedding themes. It is a single column and simple theme for creating basic wedding websites. 
It includes the RSVP features, about page, and gallery to showcase the photographs. The theme is easy to use and can help you setup your own wedding website.
Alternative: Wedding Theme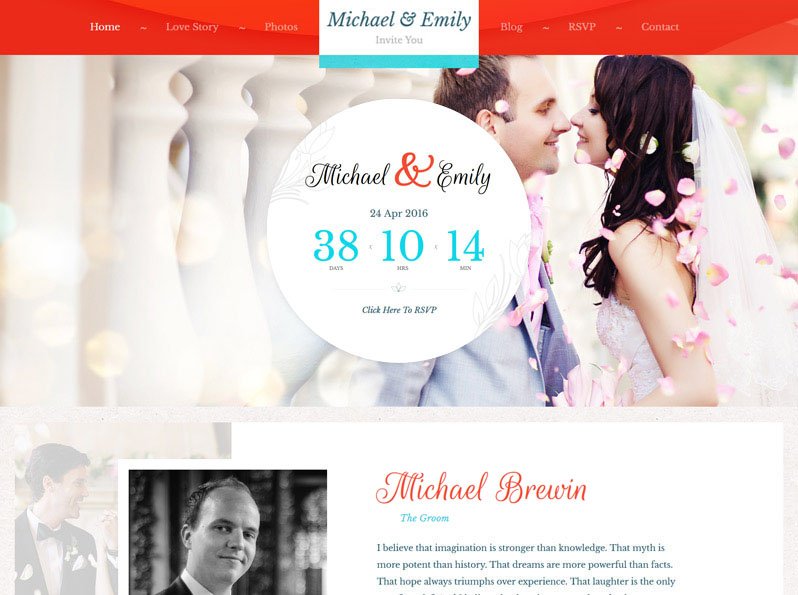 This is a beautiful, simple yet all inclusive wedding theme to create attractive and feature packed wedding websites. The dashboard options are intuitive and can be used by anyone to create and manage the website very easily.
There's a story page that you can use to tell the visitors your story. You can use the Gallery page to showcase your pictures and make your website more interesting. There's also an RSVP page that helps the users let you know that they will be attending. Moreover, the header, the countdown timer, etc. are all designed to make the whole wedding website more exciting. 
Employment WordPress Theme
Employment Job board Theme at MojoMarketplace is a WordPress theme to help you create online job search platforms. 
It includes the visual composer drag and drop page builder to let you build the pages of your choice. There are header and other layout options to choose from. 
Alternative: Job Board WordPress Theme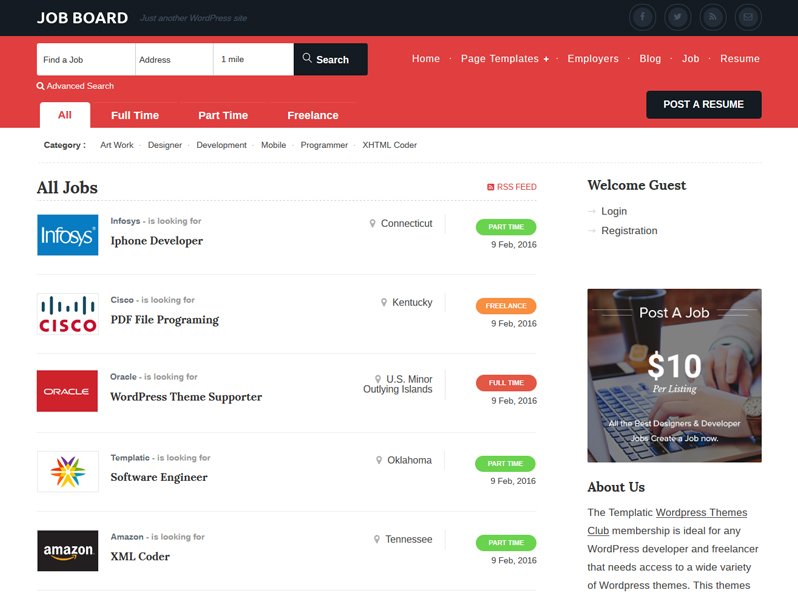 The Job Board Theme from Templatic is a complete package to create feature packed Job Search websites in minutes. Using this theme you can create a website for an institution, a staff hiring websites for small and big industries, or a job search portal like Indeed, etc. 
The Job Board WordPress theme is really easy to use. The best feature of this theme is that it includes some awesome money making features. You can allow paid job posting on your job board and many other features that can help you make money through an employment based website. This theme has enough customization options to let you edit how your website looks. 
Graha Real Estate on Mojo MarketPlace
The Graha WordPress theme is a real estate listing website on Mojo Marketplace. The theme can be used by realtors, agents and real estate developing companies to display their real estate listings based on locations. 
It supports front end listing submission and idxpress support for creating useful real estate websites. There are customization options too.
Alternative: The HomeQuest Theme
The HomeQuest theme, is one of the most popular real estate themes. The theme follows a directory format with maps, and location based listing for creating a real estate directory website that can do it all.
There's a flawless front end submission system that includes user registration, payment processing, listing submission and management features. Moreover, there are abundant money making options, through which you can earn online. And what more, all of these features with a beautiful and professional design. The advanced search and filters helps the visitors find quickly find the results of their choice, promising a better user experience. 
Final Words
When it comes to choosing a WordPress theme, you should only choose a theme that has all the features you want in your website.
With the availability of all the niche themes in the WordPress market, you can easily find a theme that can fulfil most of your requirements. 
If you are looking for some WordPress theme, here are a few popular categories we have built niche and professionally designed themes for: