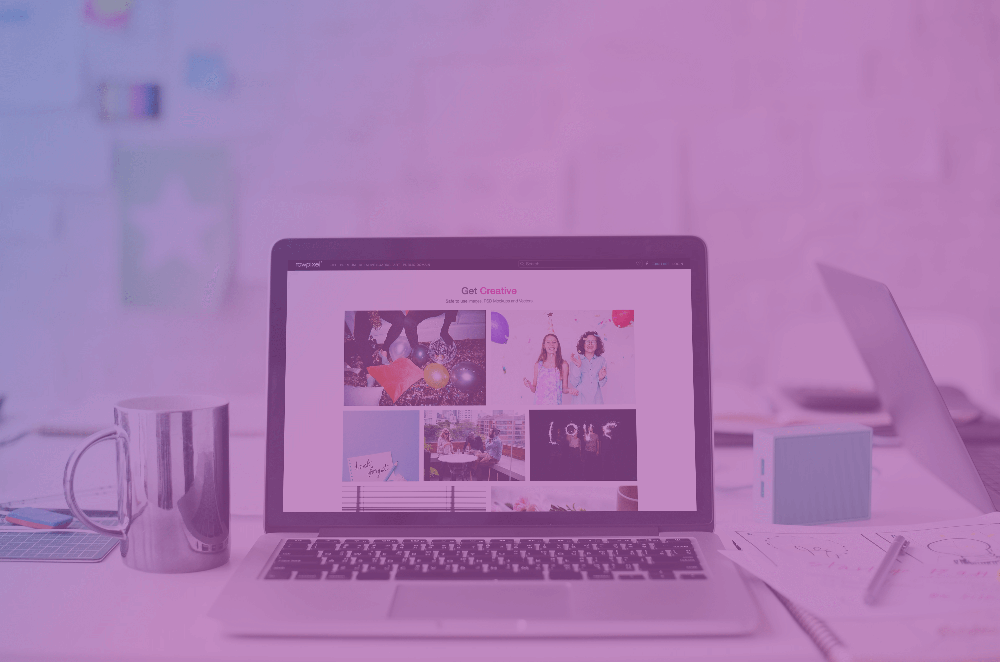 Creating directories have become easier with the availability of technologies like WordPress and other easy web development alternatives.
One of the best WordPress themes for creating online directories is the MyListing Directory theme, which lets you create fully functional online directory websites in minutes.
If you are too thinking about creating a commercial online directory with the MyListing WordPress theme, here is an in-depth review and feature evaluation of the theme.
MyListing: Introduction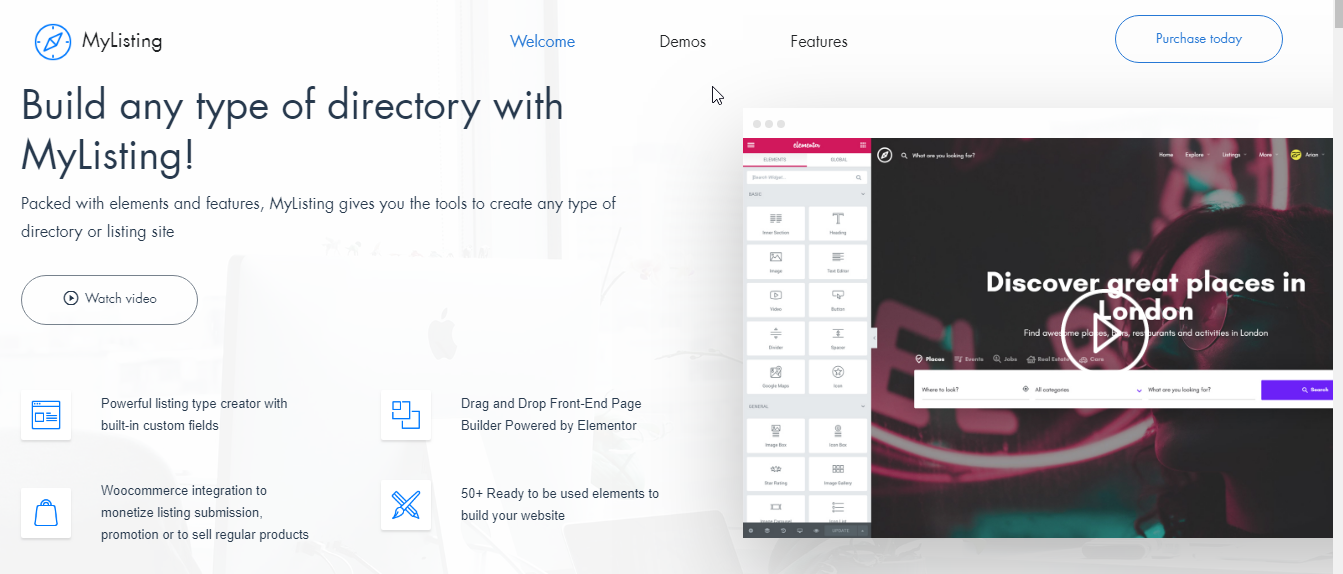 This is a premium Directory & Listing theme by 27collective, to create a multipurpose online directory. You can use it to create a business directory, a real estate directory, a city guide website, or an events portal.
It supports custom fields, drag, and drop page builders, eCommerce compatibility with WooCommerce support, map support, and monetization features to help you make money through your online directory.
MyListing helps you create a beautiful responsive directory website that will work well regardless of the device it is viewed on. Moreover, the theme is SEO-friendly to create a directory website that ranks well.

What can you do with the MyListing Directory Theme?
MyListing theme is a multipurpose WordPress theme that can be used to create any kind of directory website. You can create a commercial directory website with this theme that can help you earn.
Since this Directory WordPress theme is highly customizable and supports custom fields and listing types, you can bend it as per your niche.
Create a listing type with the fields you want and use the MyListing theme for any subject. To name a few, here are the niches you can use your directory theme for:
Multipurpose directory website
Events portal
Job Board website
Real Estate website
City guide or location search website
Car/auto directory
Business listing directory
Review website
MyListing Theme demo
On installing your MyListing WordPress theme, you can set up your WordPress Directory website in minutes. To make your website look exactly like the theme demo, you will have to install the sample data.
You can choose from 4 available demo designs.
Mylisting theme main demo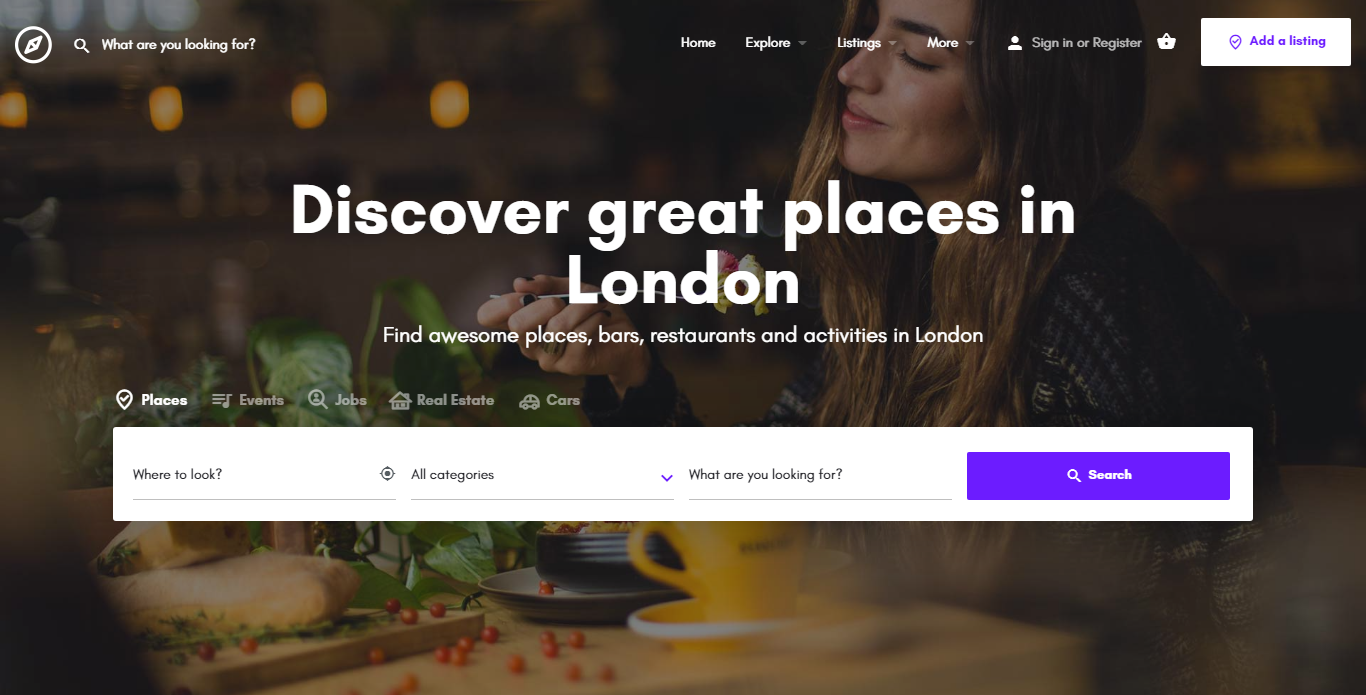 This is a multipurpose design that you can use to create any kind of directory website. This demo has an interactive design that can be easily turned into any kind of directory.
It comes with a pre-made section for displaying all the important categories on your website's homepage, right below the banner area.
Besides, there are also snippets of listings for places, real estate, jobs, & cars. Besides, you can easily add or remove the sections into your website.
This is a beautiful design with parallax scrolling, filtered search features, smooth scrolling, and much more. This is a classic design that you can use for a multipurpose directory or any niche-specific directory website.
MyListing My home demo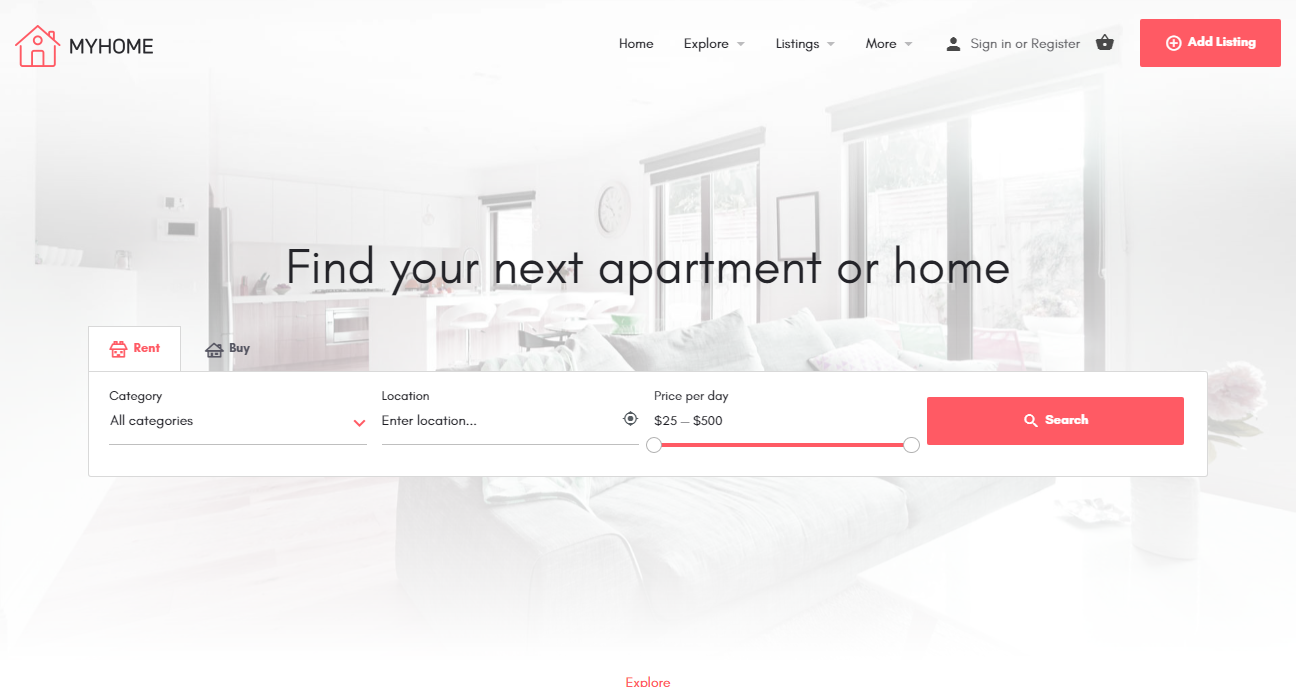 This is a WordPress directory theme that is perfect to start your real estate directory website. It is a unique design with wonderful parallax scrolling sections.
It comes with a search bar to help the visitors easily find the locations/estates of their choice. This demo too, has the property category display right below the banner area.
This demo is ideal for you to start your property listing portal with a front-end submission feature. However, you can customize this MyListing theme demo and make it look & work exactly the way you want.
Therefore, you can easily customize it for your niche using the directory listing type and custom fields.
MyCity Theme demo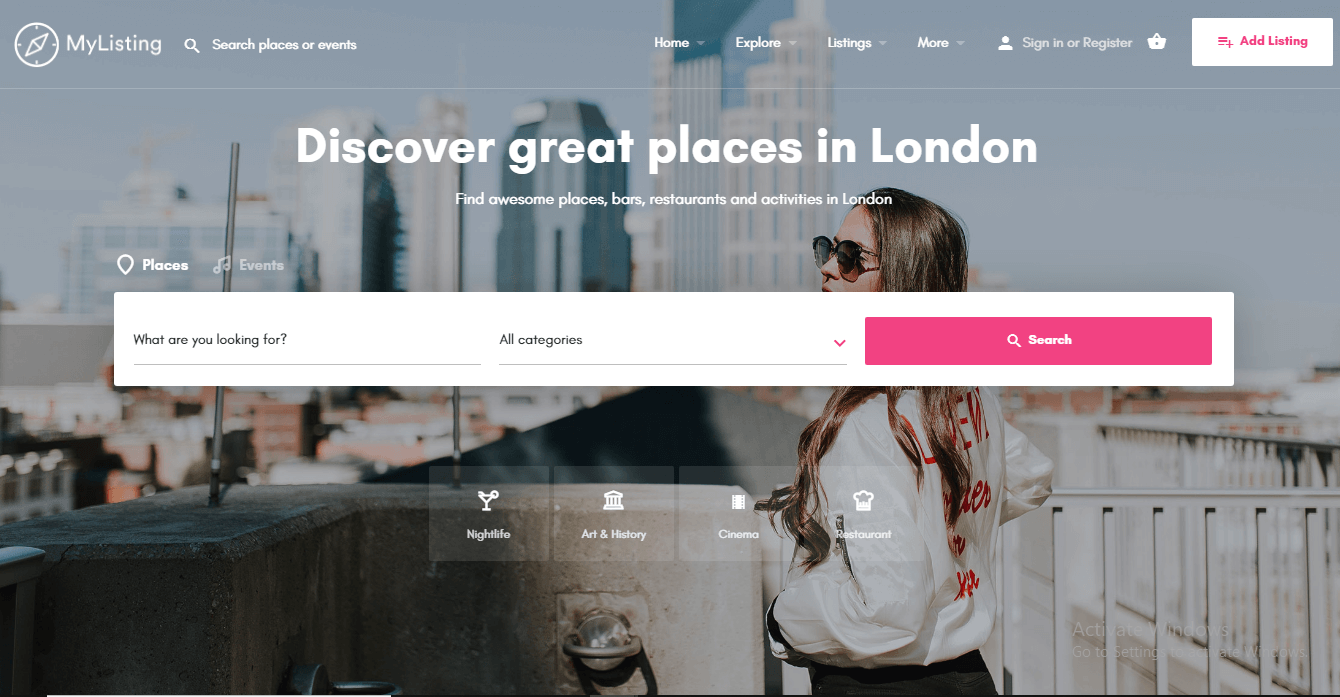 If you want to create a city guide website, this is the demo for you.
This demo has a clean and flat design with awesome parallax scrolling. It also has a map section to show you listings on your homepage.
It also has an interesting section "explore by city" where you can display different cities with beautiful animation effects.
Besides, there are events, advanced search facilities, and much more. You can even use this demo to create a multi-city directory website.
MyCity Theme demo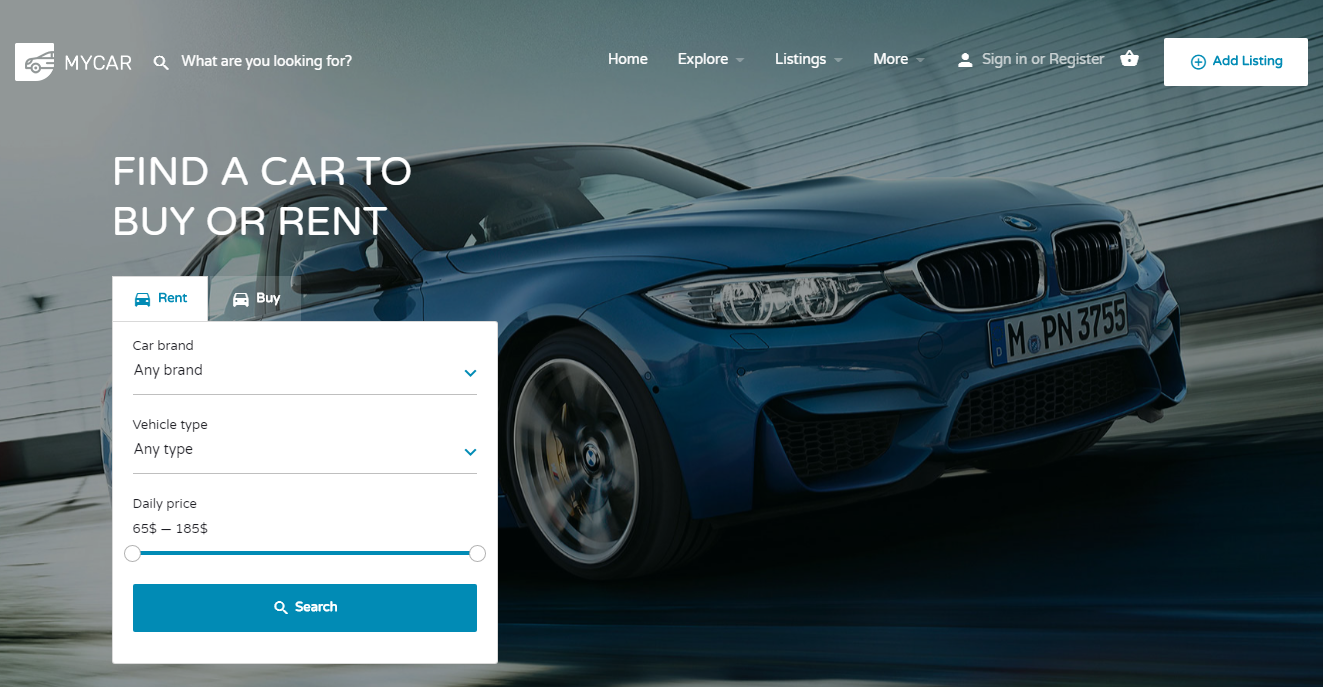 This theme demo can be used to create a car rental or an auto directory website. This demo design has beautiful sections to show car types, pricing plans, detailed car listings, and advanced search facilities.
The parallax banner, simple yet attractive design, and a clean interface that highlights your listings.

Customization and page building
MyListing theme is fully customization-ready. The requirements of different website owners are different and therefore, this directory theme comes with unlimited customization options.
You can use the theme options to change the appearance of your website and enable and disable the features. There are also some customization settings on your dashboard.
Besides, the theme allows compatibility with the Elementor Page Builder to create beautiful pages. You can use the page building elements to create professional-looking designs just by drag and drop options.
Therefore, when it comes to customization and page building, there's no limit to what you could do with the MyListing theme.

MyListing features
This MyListing theme comes with so many incredible features to create attractive and feature-packed online directory websites.
While this theme is loaded with many features, below listed are some of the best features of the MyListing Directory theme that makes it one of the best WordPress directory themes.
Beautiful design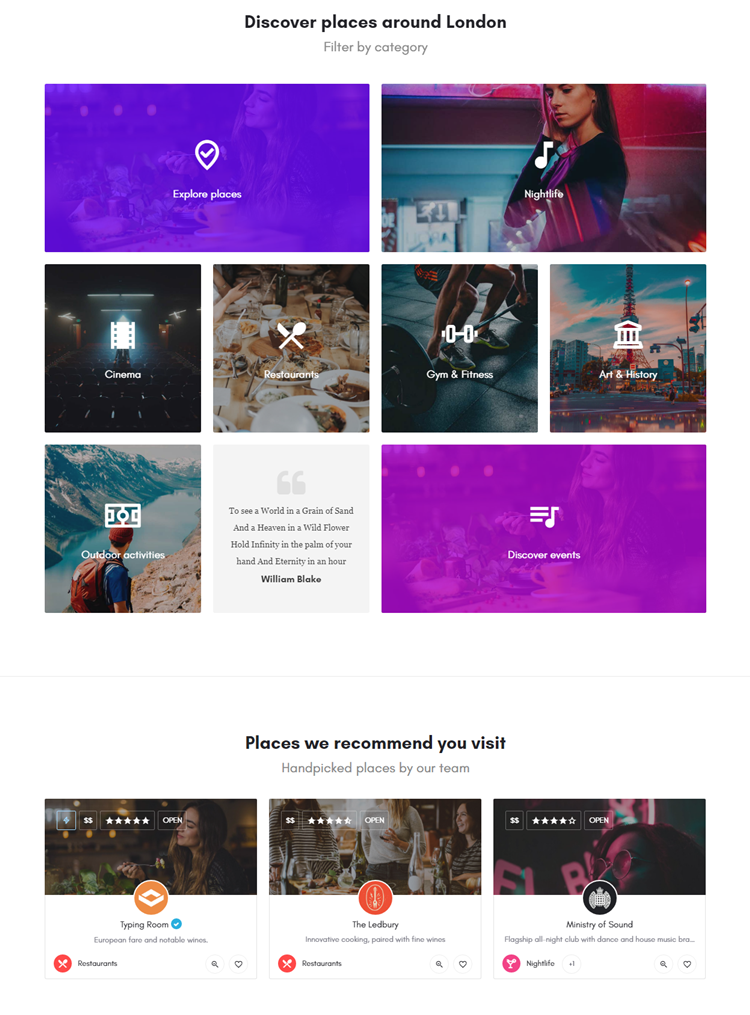 The MyListing theme is designed with simplicity and care to focus on your listings. The theme has beautiful parallax scrolling & systematically designed sections.
Moreover, the MyListing theme is totally customizable and you can change it to fit your requirements. It is also compatible with the Elementor page builder so that you can use the page building options to create pages of your imaginations.
Monetization features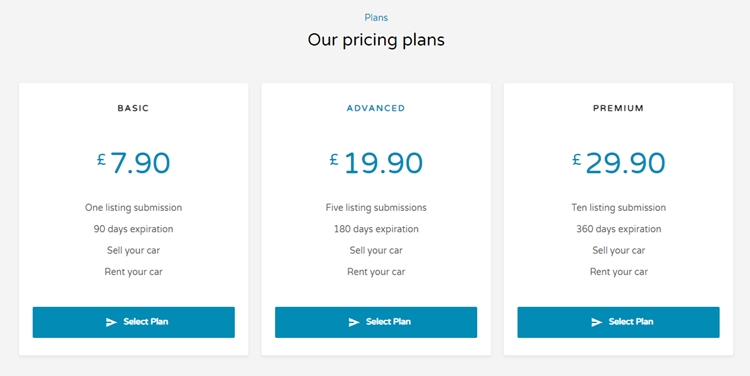 There are many features to help you earn through your directory website. The main being able to display advertising banners as well as allowing paid listing submission.
You can create pricing clauses and implement them as pricing packages into your directory website. Your visitors can choose the package of their choice and submit their listing on your website.
Moreover, you can even earn through the claim listing feature.
Listing type and custom fields
Create the type of listings you want with the custom listing type & custom field support. So if you want to create a custom listing type called "churches", you can easily do so. For the listing type church, you can create unlimited custom fields.
This makes it possible for you to use your WordPress directory theme for any purpose of your choice.
Moreover, you can create and use the listing type and custom fields without any technical expertise. You can even edit the existing fields as and when you need.
Maps
Maps are very important for directories and the MyListing theme comes with integrated maps.
For the maps on your website, you can use the custom map markers, to make the maps and your listings more interesting. It also supports Custom Google maps location previews.
Claim and verify the listing
For the already added listings on your WordPress website, you can allow your visitors to claim the business listings.
If the claim is granted, they have full ownership of the listing and can edit it and have additional information appended as per their requirement.
The claim listing feature is one of the important money-making features of the ListingPro theme. It helps you use your existing listings to earn through your website.
Advanced search
The advanced search options are generally present in the banner area. So your visitors can directly indulge in the listings of their choice.

Importing the demo data will automatically create these search filters for you but you can easily edit them.
Moreover, you can place the instant search widget that you can use at different places on your website.
eCommerce with WooCommerce
The MyListing theme comes with WooCommerce support to let you create an eCommerce shop along with the directory website.
There can be other applications of WooCommerce. You can use it to sell event tickets, etc. In short, any kind of eCommerce facility accepts payments through your website.
Review facility
This listing directory theme can be used to create a review website through WordPress. Besides, there are review and rating features for every listing.
The review and ratings feature help you to create
Social login

Social login is one of the most desirable features of an eCommerce website. It allows your visitor to easily log in to your website.
With this inbuilt feature in your WordPress directory website, you can allow your users to log in through their social media accounts like Facebook or Gmail. This puts them to ease and eliminates the requirement of remembering the username and password to get access to your website.
Other features
Field visibility based on package
Option-packed admin panel
translation ready
Layout options
BuddyPress compatibility
CSS3 animation and parallax scrolling
Smooth scroll
Performance optimized
Contact form 7 ready
Font and icons options
Shortcode generator
MyListing Theme documentation & Support
Even if you are a WordPress expert, you will need the documentation of the theme as it explains the individual elements and the working of your theme.
MyListing WordPress theme comes with documentation with more than 200 articles on different subjects. This knowledge base can help you find answers and to understand the functionalities of your theme.
Also, you can rely on theme support if the documentation doesn't help. The engineers at their help center will respond to your queries with relevant and useful answers to your questions.
So if you have any doubts or confusion, the support will help you understand better. And above all, are the video tutorials and help to make it easier for their users.
Therefore, as far as documentation and support are considered, the MyListing theme's help channels are well up to the mark.

MyListing Pricing
The MyListing theme is one of the top-selling WordPress themes on the ThemeForest marketplace. This product is available for download at a nominal price of $59 and is available to download from ThemeForest.
It is quality checked by the Envato studio and comes with free future updates, whenever they are released.
At $59, you get 6 months of free technical support. If you want additional support, you can pay an additional $18 and get support extended for up to 12 months.
What else will you need to create a website with MyListing?
Besides a great WordPress theme that comes with all the required features for your directory website, there are several other things that you will need to create a fully functional directory website with WordPress.
Domain name
You will definitely need a strong domain name that serves as the permanent identity of your online directory website. There are certain conventions that you should follow while choosing a domain name. Some of them are:
Keep it short and simple
Avoid using complex spelling, numbers, or symbols
Choose a name that represents your brand and is easy to remember
Use proper keywords if possible
You can acquire a domain name from any domain name registrar and start by making a list of all the preferred domain names that you would like to have. use their search bar to see if it is available and sign up for the one that you need and is available.
Hosting
Besides domain name, your website built with the MyListing theme will also require hosting space. There is a lot of competition among the hosting providers and therefore you can get the best hosting, at an affordable price.
We recommend Bluehost for hosting. It has some of the most affordable pricing policies for all levels of users. Bluehost's WordPress hosting is best for you if you want to launch an online directory website. Even the aftersales services are best to get you through the initial setup and troubleshooting, should you ever face a problem.
WordPress plugins
WordPress plugins are generally added to include new features or enhancing the existing functions of your WordPress website. The directory is a complex website and therefore using the right plugins can help you make your website more effective.
However, while including new plugins into your website, you must always be careful that you are not overloading your website with useless plugins and that all the tools that you use are from verified sources and don't possess a security threat to your website.
For a directory website with lots of listings, we recommend using several plugins like the image optimizer, which will automatically optimize the images that are uploaded to your website. You can also include contact forms or any such plugin to make sure that your website serves the best.
MyListing will generally support most of the WordPress themes from credible sources but still, you have to be careful while installing a plugin on your live directory site. You should always backup your website before installing the plugin. Also, we recommend trying the plugin on a test site/clone of your website before actually implementing it on your main website.
Promotions
Your website will require efforts to make people aware of your website. There are a number of different ways through which you can promote your WordPress website. You can rely on free services to promote your website or invest in paid advertisements for promoting your online directory. Moreover, you should work on your SEO Plans to make sure that Google is listing your website for the relevant keywords and optimize it.
Here are a few SEO optimization tips for your WordPress website.
Maintenance
No matter what theme or platform you use to create a directory website, without proper maintenance, it is all in vain. You can only maintain the credibility of your website and keep your audience interested by frequently updating your WordPress website.
keeping your website updated with the latest content
Making sure the outdated content is removed regularly
Replying to customer's queries through the contact form
Removing the extra plugins and unused files
SEO as well as security audits
Regular speed analysis and performance optimizations
Making sure the listings have the correct information
Besides, there can be a lot of other maintenance tasks depending upon the type of directory website you are maintaining.
Final Word
There are many listings for WordPress themes for you to choose from. You can choose a directory theme for your website as per your requirements.
MyListing has all the features that you will need for an online directory website. Moreover, it has a modern and clean design and demo options that make it possible for you to create professional-looking online directories without touching a line of code.
Also, this theme is one of the most affordable directory templates. So if that is what you are looking for, look no further.
Alternately, you should have a look at our
Directory WordPress theme
and our
directory child themes
for creating multipurpose or niche directory websites. The feature-packed directory theme is ideal to start an online commercial directory that is flexible and manageable.
Further reading