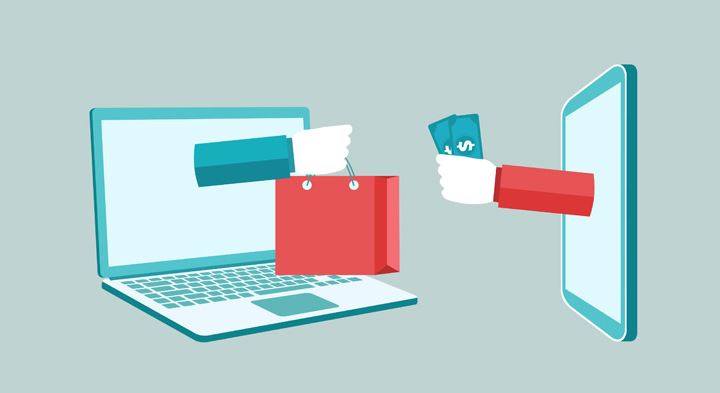 One of the things that the COVID-19 pandemic taught us is that eCommerce is an industry that can thrive in almost all situations. So if you are thinking of starting an online store, you can rest assured that it is a viable idea.
Although there are 7.1 million online stores globally, you can still have your own space online and thrive.
However, it's one thing to have an online store, and it's another thing to optimize it. Most online stores go out of business in the first year with little or no profit. The primary reason for this is poor optimization.
This article will discuss all you need to know before starting a successful online store and optimizing it.
Practical Steps to Start an Online Store in 2023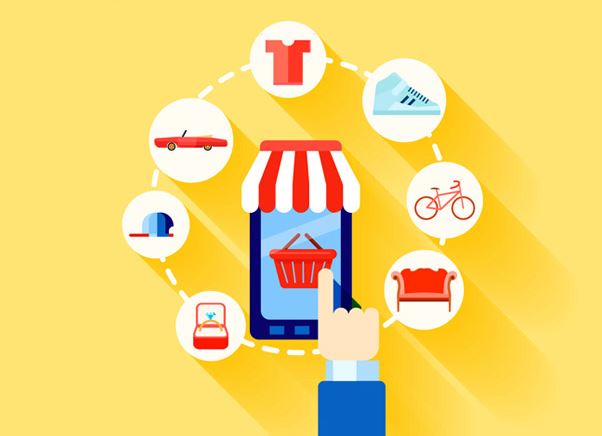 Starting a new online business comes with a lot of processes, challenges, and thrills. In addition to the passion for starting your business, you should have everything you need as well.
The same applies when you want to start an online store. Here are some practical steps you need to take to start an online store in 2023
#1. Set the Right Foundation
The first step to take when you want to start an online store and start selling online involves laying the right and lasting foundations. To begin with this step, you need to make a proper business plan to guide your future business online and offline.
You don't necessarily have to be a business administration guru to build a comprehensive business plan. Here are some of the components and questions your business plan should have:
Before you start an online store, you need to figure out your online store or company's description. Is it a sole proprietorship, who is responsible for running it, and if you have partners, what are their obligations to the business?
What products will your online store be selling online? Where will you source these products from? What are their prices? What are the main product lines? How long does your product last or take to expire?
In addition to your online store address and domain name, what physical locations will you operate from? Who are your management and staff? Who supplies your products? What are your storage spaces and shipping providers?
Conduct a thorough market analysis to know how often people buy your chosen products. The three main sub-analysis to conduct are competitive analysis on your rivals; audience segmentation to know their demographics; industry analysis to figure out its growth history and potential.
What are your marketing strategies before and right after you start your eCommerce website? This should cover public relations, SEO, social media, email marketing, customer loyalty, and promotions. All of this should be studied and enhanced on time to improve patronage.
What are your financial strategies for the business? And how do you intend to pay for web-hosting, warehouse rents, shipping fees, advertising costs, marketing services, employee wages, and every production cost?
What is your executive summary? It involves stating the objectives, mission statement, summary of growth, product information, and founding date of your online store.
When you're done giving answers to these questions, you could always go back to your business plan for guidance as you build your online store!
#2. Find the platform to host your online store
Once you've set the right foundation for your online store, the next step is finding an e-commerce platform to host it on. Since this is a very critical step to take before you start selling online, you've got to review your choices and weigh all alternatives.
There are many great platforms to choose from when starting an online store; it all depends on your needs. While some are dedicated to fast-growing businesses, others are there if you need to keep things modest. Some online store builders offer paid plans and a free trial to assist you to build your site right. However, a good e-commerce platform should have the following:
A comprehensive library of professional but aesthetically looking appearance
Shopping cart add-ons to add products while shopping, and useful plugins
Good mobile support for responsive design
Technical Help and support that come on time.
In all, your choice should come down to the type of product you sell, and whatever platforms give you the most freedom in customization.
#3. Get a befitting hosting plan for your online store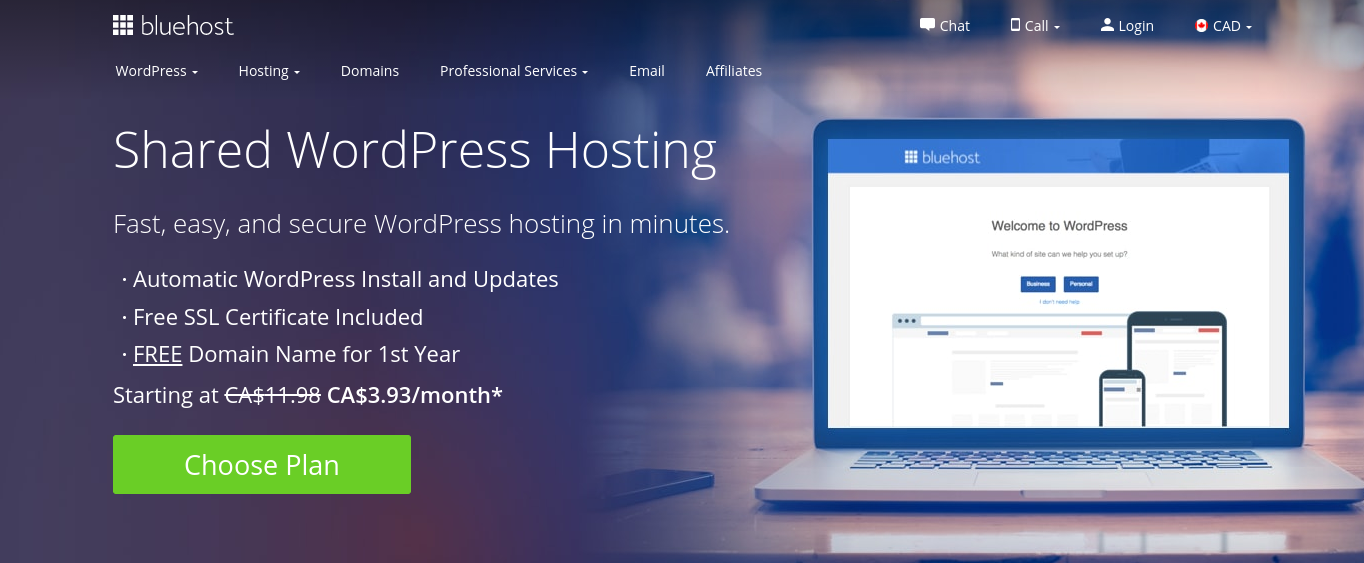 Your online store will need a customer database, shopping cart software to add products to while shopping, and your product catalogue. For this reason, your hosting plan needs to have the right bandwidth and enough storage space. Also, make sure it supports whatever shopping cart software you use on your site.
As a good starting point, try to choose plans with at least 10 GB monthly bandwidth and 2 GB worth of disk space. This will give enough space to store all your data and make customers' access to your products seamless. We recommend using Bluehost for hosting your websites. It has a reputation of being a reliable service provider over the years, and has some very affordable pricing packages to let you choose from.
#4. Buy a domain name
A domain name is whatever address people type on their browser to get to your online store. Every online store or an online business should have a unique, short, and catchy domain name. With around 366.8 million registered domain names in the world currently, you'd have to make yours pretty unique.
A domain name is gotten for a fee, and this fee varies with the extension. The best domain you should look out for is the ".coms." Your customers will find them easy to recall. Some site-building platforms can also help you pick a unique domain name.
#5. Build Your eCommerce website
After buying your unique domain name, you should look to set up your eCommerce website. Some eCommerce store builder offers you the option of automatically designing your online store with artificial intelligence.
You could also begin with a pre-set template and customize it to your taste. Some templates may have almost everything you need to start your store. Whatever choice you go with, ensure you don't go overboard by following these guidelines:
Simple and Neat: Do not make the mistake of cluttering your eCommerce website with all your products. From your homepage, theme down to your product pages, they all should be kept simple. Make the layouts in such a way that potential customers are first exposed to your more popular products.
Product Names and Description: Add a unique product name and product description for each of your products on your online store. Keep them simple, straight to the point, and unique with clear and bright images to match.
A Contact and About Us page: Your contact page is there for customers to reach you quickly when they have enquiries. Make sure it is simple and concise to start with. Add an email address, contact forms, phone number, and physical address. Your site's bio should be brief and interesting enough that it resonates with your customers.
After that is done, you should connect your unique domain name to your eCommerce website site. Next, you need to start adding certain components that will allow you to sell products on the internet. Some of these components are:
Your products: In adding your product to your eCommerce platform, you will need to name them. If available, you can add them to a collection, write their product description, prices they sell for, and add images.
Payment methods: Here, you can decide the acceptable payment methods that your customers can use when buying products on your online store.
Shipping regions: This involves determining the regions you can ship your product to and their corresponding shipping fares.
#6. Add Secure Socket Layer (SSL) certificate to your website
Securing your eCommerce website is a crucial part of setting it up. Every day, an average of 30,000 new websites are hacked on the internet, with most of them belonging to small business owners. Your customers will trust you with their private details, like their credit card numbers. This is why you must protect them from internet hackers and eavesdroppers.
Adding an SSL certificate to your eCommerce website is a great way to restrict these internet bad guys from accessing customer's information. SSL certificates are internet connections that secure your internet connections and protects sensitive data sent between two computers.
Data sent from your customer's browser to your eCommerce website will be scramble by encrypted algorithms. This makes it impossible to read by hackers. Adding an SSL certificate attaches HTTPS to the URL of your online store. You will usually see a lock symbol on the browser bar, next to a protected website.
#7. Set up payment gateways
Setting up payment gateways will help make the customer experience smoother on your website. With covid-19 re-enforcing the need for more contactless purchases, your online store definitely needs a payment gateway.
A payment gateway is a technology that online stores use to accept debit or credit card payments from their customers. A POS can act as a payment gateway for a physical store when you sell your product online.
However, in eCommerce, they are checkout portals your customers can use to enter their credit or debit card details. When you integrate payment gateways into your eCommerce website, it also helps protect your customers during transactions. It encrypts sensitive and personal credit card details, keeping you far from the risk of fraud.
Asides from credit and debit card options, you should also make sure third-party payment methods are available. Most of your customers, especially those overseas, may prefer making payments with alternate paying methods like PayPal, Amazon Pay, and Stripe.
#8. Start selling
The next step involves you to start selling. If you've customized your website, set up security and payment gateways, uploaded your products, the next step should involve making sales. This is where you decide when to launch your online store and when you need to start taking orders.
But before your online business goes live, you need to go through your website one more time. Doing this helps you find out typographical errors, mistakes in your links, and any other error from uploading your product. It would generally help if you looked out for anything that may cause issues for your customer's shopping experience in your store.
Subsequently, you may want to take out time to run some tests through the eyes of a customer. Navigate through your pages, place orders, try to use the payment gateways and shopping carts, and fix whatever faults you find on the site.
The final thing to do, to start making hitch-free sales is to open your eCommerce website to potential customers by going live. Changes made to your domain name system (DNS) settings will help set your online store to appear live. Once such changes have been made, depending on your hosting company, it may take up to twenty-four or even forty-eight hours for the changes to show.
#9. Promote your eCommerce website
The next step requires you to grow your business online. A great looking eCommerce website with lots of nice products will mean nothing if potential buyers don't know it exists. This is why you need to promote your eCommerce website and grow your business with diverse online marketing campaigns. Some of the marketing tools you can use as you start selling include:
1.Promotions Like Group and Daily Deals:
You can use this marketing tool to offer your customers great deals. Group deals allow you to set specific purchase goals that must be achieved to open the deal for all customers. Interested customers will share your links to their friends and family, prompting more traffic and patronage for your business online.
3. Paid Adverts:
Search engine advertising is another great way to get your site up to the first page when people search for the product you sell. There are some great search engine ads like Google Ads that you can choose from. Some eCommerce platforms may also offer free ads that you could consider using to get started.
4. Search Engine Optimization (SEO):
SEO is one marketing tool that, if applied well, can give your site more visibility on search engines. Having more visibility on search engines will help your store grow and attract more visitors and potential customers. The way to do this is to optimize every page on your eCommerce website with an SEO tool. Include relevant keywords that people tend to search more so that your website ranks higher on search engines.
5. Blogs:
Another useful marketing tool for business that some online stores neglect is blogs. Having an online store blog can serve several useful marketing and PR purposes for your business. For one, you could use it to show your visitors and customers your level of expertise in your niche or line of business. Well written blog posts optimized for SEO can offer your online store more visibility on search engines. Blogs can also help educate your customers about the products you sell and how best they can handle them. You could also utilize your online store blog to keep customers updated on your products, industry, and business changes. In all, blogs are a unique way to maintain your online presence and keep customers. As a best practice, make sure you link your blog to your eCommerce website via links.
6. Social Media Campaigns:
Social media marketing is considered much cheaper and easier to use than most traditional marketing. With lots of following and great consistent content, you can use social networks to pull traffic and potential customers to your online store business. But first, you need to make sure you have a separate page for your online store and connect it via links to your eCommerce platform. You can then decide to run paid, targeted ads like Facebook ads, YouTube Advertising, or Instagram For Business. You can offer promotions as well. Remember that the purpose is to communicate with your existing and potential customers and increase interest in your products.
7. Email Marketing:
Emails are one of the most effective marketing tools in recent times. As a best practice, your emails need to be as conversational and well-written as possible. It should be frequent, useful, and creative enough to keep the customer interested. These are some of the tools you can utilize in email marketing:
8. Emails For Abandoned Carts:
Abandoned cart emails are used as simple reminders to customers who forget to purchase items they placed in their shopping carts. To stimulate more purchases, you could offer special one-time discounts for such items.
9. Autoresponders:
It sends out already prepared and customized emails, like a welcome note when a new customer buys from you or a thank you note for every purchase made.
10. Online Newsletters:
These are a great way to send entertaining and informative articles and facts about your products. Once you give customers a choice to subscribe to it, make sure to send informative newsletters on specific intervals to their email address.
Top 8 Platform to Choose for Your eCommerce Website
#1. Wix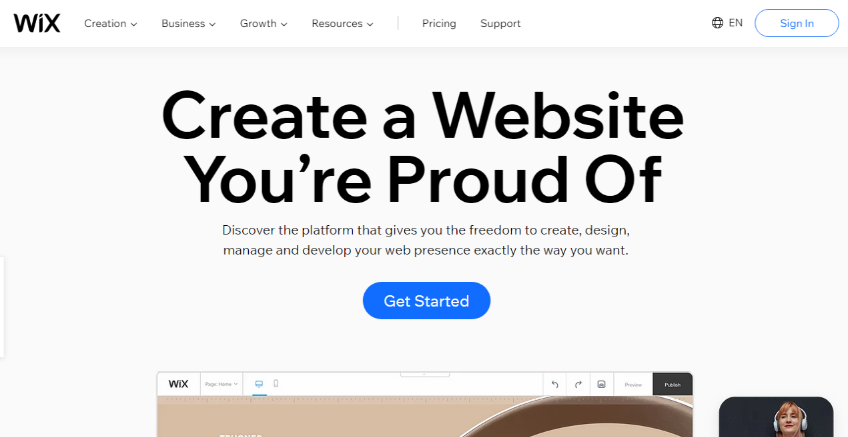 A simple ranking search online will show that Wix is arguably the best eCommerce store builder. With over 110 million subscribers around the world, surely they must know how to satisfy their users. If you're new to the whole eCommerce website building, starting with Wix is a great choice.
Their platform is user friendly, fully-customizable, and you're guaranteed to own an SEO friendly site. You can choose from at least 500 free eCommerce themes optimized for mobile. Wix also offers multiple languages to users to create their store; as much as 90 languages are available. Let's get down to some of their main features:
Adding to Cart from a gallery and abandoned cart recovery feature.
Instant purchase button
A customizable checkout page
Discount codes
Wishlist
Multichannel sales through eBay, Instagram, and Facebook
100% commission-free
Global shipping, discounts and coupons
Outstanding SEO tools
In terms of pricing, Wix offers three plans that users can choose from.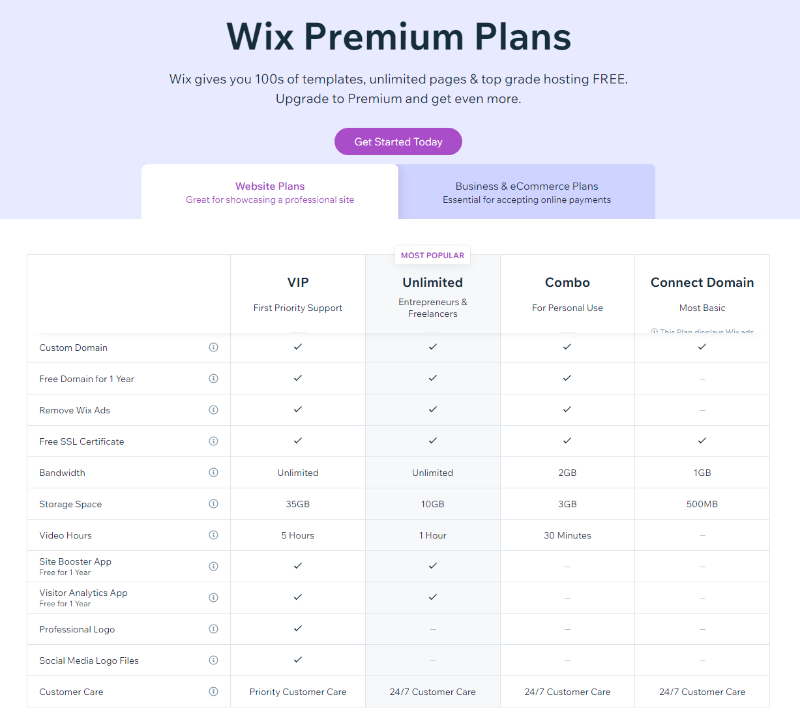 #1. Business VIP Plan
Starting at $49 per month. The following added features come with this plan when you purchase it.
You get 50GB worth of storage space.
Automated sales tax (500 transactions/month)
Customized reports for your online store.
A loyalty program is available.
Priority support
It contains features of the Business Unlimited plan.
#2. Business Unlimited Plan
Is priced at $27 per month.
You get as much as 35GB worth of storage space
Automated sales tax (100 transactions/month)
Currency converter
Facebook, Instagram, and eBay integrations
More advanced shipping options
Subscription selling
It contains features of the Business Basic plan.
#3. Business Basic Plan
Priced at $23 every month
Users get as much as 20GB worth of storage space.
Free and available eCommerce templates
Integration with Google Analytics
Unlimited accounts and products
Pros
Wix has great customer help and support available 24/7
The site speed is good.
Great drag and drop interface
A large collection of different templates to choose from
Cons
Its basic analytics systems and inventory requires a paid plan.
The templates are not interchangeable.
Their premium plans are single-site only.
#2. Shopify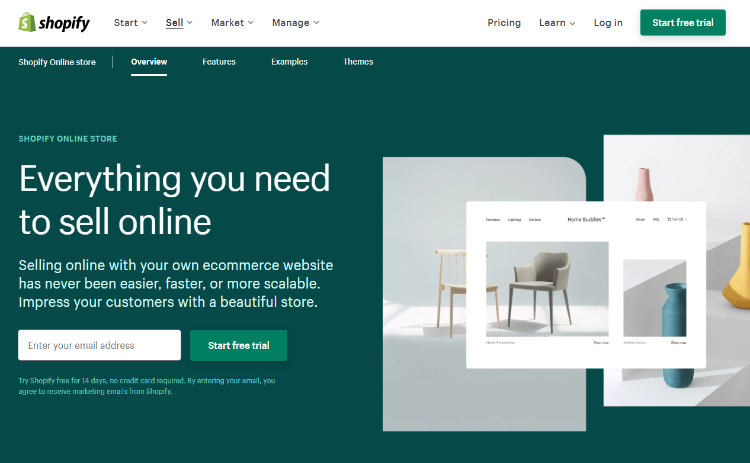 With 2 million active users, eCommerce giants Shopify are among the most popular platforms in the website building business. Also, they have a market share of 31% in the U.S for eCommerce websites, helping thousands build their online business.
In just a matter of minutes, online store owners can begin designing and customizing their sites. You can choose from custom templates or apply your creativity and feel to the Shopify designing process.
All Shopify plans come with unlimited email forwarding and bandwidth, web hosting, and a good content delivery network. Here are some of the different features you can find when you go with Shopify
Storage space and bandwidths are unlimited.
Good customer support.
Gift cards and discount codes
There are different tools for marketing, like SEO and email marketing.
Multiple channels for making online sales
In-built fraud analysis
Staff accounts for members of your staff to complete vital tasks.
Pros
You can sell both physical and digital products on Shopify.
Their site boasts of excellent performance.
You can sell on diverse channels and platforms like Facebook, Amazon, and mobile applications you develop.
You can apply the recovery feature for your customer's abandoned carts.
Shopify supports more than a hundred worldwide paying processors.
It has exceptional self-help tools, and everything you need as regards assistance.
Cons
Advanced features are a bit pricey.
You can only get nine free themes.
They don't offer email hosting services; you'd have to set up email forwarding.
To customize, you will need to do so using their own PHP language – Liquid.
#3. Squarespace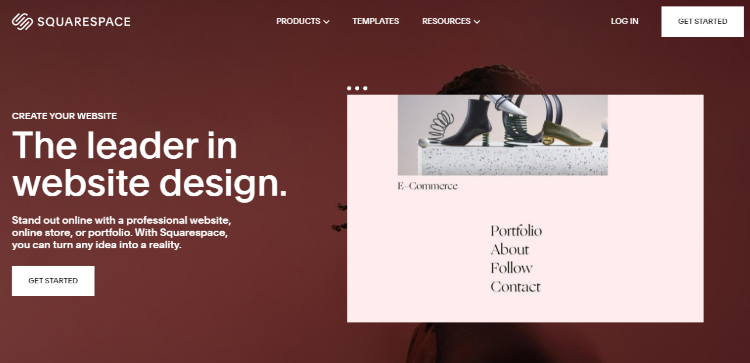 If you're looking for a site builder with drag-drop functionality, Squarespace is one of those. Squarespace is ideal for creatives who want to make their sites as visually effective as possible. Although some users claim it is harder to operate than most eCommerce website builders, Squarespace has great design flexibility and strong inventory to compensate.
Navigation on the software is easy with a reviewer and unique editing tools to make the process quick. Some of the main features of Squarespace include the following:
An Audio Collection
Built-in Mobile Websites
Content Downloading
Custom CSS
Direct Editing, Style Editor, and Custom WYSIWYG (What You See Is What You Get) Editor
Drag-and-Drop Management and Dropbox File Synchronization
Responsive Image Loader, Gallery Blocks, and Automatic Image Scaling
Mobile Information Bar
Modern Templates and Template Switching are available.
Site Annotations
Social Links
In terms of plans and pricing, Squarespace offers three plans you can choose from.
Online Stores: Advanced $40 per month, while Basic goes for $26 monthly.
Business Plan, at $26 monthly.
Personal Plan, with a price of $12 monthly.
Pros
They offer two weeks of a free trial.
As far as you are subscribed to any of their commerce plans, they do not charge transaction fees.
There are over a hundred themes and templates optimized for mobile phones and tablets.
Their live chat gives support to your user issues.
Squarespace will get you a good range of import tools with which you can import from other platforms.
A built-in email marketing tool.
Excellent user interface.
Cons
With just Stripe and PayPal, Squarespace has limited gateways for paying.
The only location where a point of sale is available in the US.
Absence of autosave for posts and pages.
No automatic calculation of taxes.
Cannot cater to a global audience with limited multi-currency features.
It's SEO features can be a little complicated.
Absence of content versioning.
Inadequate compliance with General Data Protection Regulation (GDPR) as regards consent to cookies.
#4. Square Online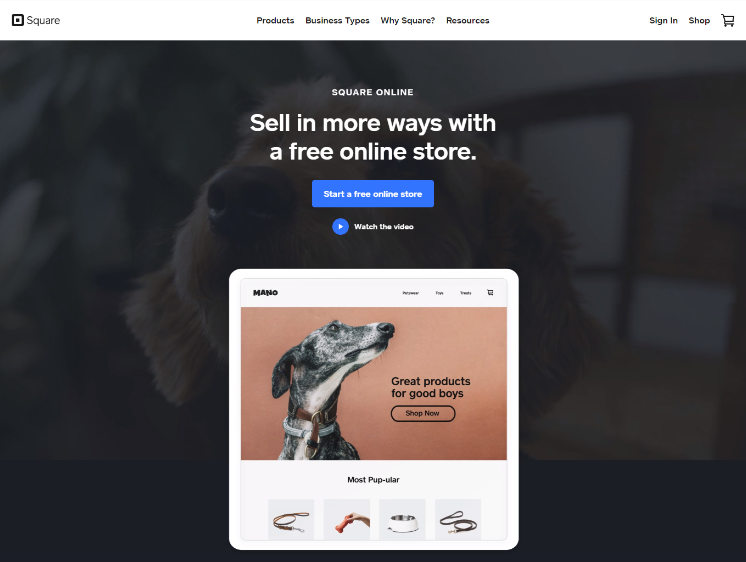 If you're in the market for a site builder with offline payments functionality and POS systems, Square Online is your best pick. Square brings a lot of simplicity to the eCommerce game with straightforward digital plans.
You can start designing and building your online store with no design or coding experience! They're ideal for small business websites and freelancers. Here are some of its best tools and features:
Lots of shipping options
Automatic Tax Calculator.
Pop-ups
Automatically configured emails for items cancelled, shipped, or refunded, and order confirmation.
SEO and marketing tools
Unrestricted product and inventory management.
Pros
It integrates easily with social platforms.
Perfect synchronization with Square's POS features
Designs are easy to understand.
Fantastic and sound reporting tools.
Great tools for social platforms and email marketing.
Square Online has a large app store; you can use it to add features to your site.
No restrictions on support options to specific pricing ranges
Cons
The absence of an 'undo' button makes it hard to unpublish.
Its transaction fees are expensive.
Its SEO tools could be seriously improved.
The designs for online stores are largely generic.
Payment processing is limited to gateways, like PayPal and Square.
#5. BigCommerce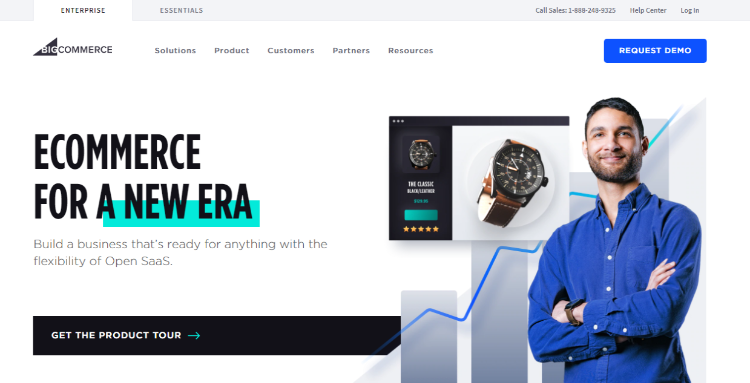 BigCommerce is another eCommerce hosting service for people with limited web designing skills who want to build the site themselves and sell online. It offers a comprehensive list of features that you can employ to customize your online store and build your business.
With their lowest plan priced at $29.95, they offer one of the cheapest rates for more features than most sites. In addition to a selection of 12 free templates available, BigCommerce has the following general features common with all its paid plans:
Suitable SEO features to help your eCommerce website rank higher on search engines.
Freedom to make changes to HTML and CSS as you please.
Akamai Image Manager for your automated image optimization needs.
A product review feature.
A Try Before You Buy feature via a free trial.
The choice to categorize and sell an unlimited number of goods and pick their shipping rates.
Drag and drop page builder functionality.
An unlimited number of staff accounts.
A full content management feature.
Integration with email marketing services.
Integration with multiple paying gateways like PayPal, Stripe, and Paymetric.
Gift vouchers and discount coupons are available.
In addition to these common features, BigCommerce has three plans with its unique features, according to your needs. If you decide to go with BigCommerce to host your domain to start an online store, here are some of the plans they offer that you can choose from:
BigCommerce Pro comes with all the features of the plus plans. Besides, you also get Google customer reviews, custom SSL, product filtering, and online sales per, up to $400,000.
Plus Plan starts at $79.95 a month. Plus plan has all the features of the standard plan. Also, it offers abandon cart saver, stored credit cards, and customer groups.
Standard Plan, at $29.95 a month. This plan is the cheapest of the BigCommerce plans and has the following features: responsive web design (RWD); POS features; gift cards, discounts and coupons; unlimited bandwidths, storage, and products; connection to Instagram and Facebook; Blog; Product review with rating; and a yearly online sales for up to $50,000.
Pros
BigCommerce offers great SEO.
Considering its plenty of available features, it is relatively easy to operate.
It is suitable for fast-growing businesses that will grow soon. BigCommerce gives the right environment for scalability.
There's no limit to the product variants you can add when you sell online.
No transaction charges are attached to any of their plans.
Cons
Its editing interface can be a bit tricky. Newbies may find it a little challenging.
There is no built-in multilingual feature. You can only do so via code.
There's a yearly sales level that if you exceed, your plan will automatically be upgraded. This may bring more unbudgeted costs.
#6. WooCommerce
Since it opened up in 2011, WooCommerce has helped thousands of online stores sell online with their powerful but simple hosting services. They're considered the best online shop plugins by most online store owners.
WooCommerce is an eCommerce plugin that easily integrates with WordPress sites. It is open-source software, meaning anyone can enhance, inspect or modify it when you create.
Some parts of their services are free to users. However, creating your own online store may require more advanced, paid features. WooCommerce comes equipped with these features and functionalities you can apply to create your online store:
Round the clock customer support to help customers with user issues.
Free SSL certificates.
You get effective SEO tools.
Lots of built-in plugins to manage orders and shipping.
A cart calculator.
Geo-location support.
Sales report for your store, and a panel for product data.
WordPress themes and user interface.
Store management and Stock level tracking.
Alerts and Automatic Tax calculations.
Overall, WooCommerce is free to download and operate. However, to gain access to advanced features and more plugins, you may need to pay.
Pros
WooCommerce is committed to growing your store's online presence, making sure you don't encounter scaling issues.
Being open-source makes customization and creative input easy.
The core software is free of cost, and you will find it relatively cost-effective.
WooCommerce offers much flexibility in selling digital and physical goods and the number of themes you can apply to customization.
It is very organized, and the neat arrangement of tools makes it easy to utilize and create.
WooCommerce is secure to use when you sell online. Regular updates remove errors like bugs and other user issues.
The SEO needs of customers are handled with several WooCommerce plugins.
Cons
To use WooCommerce, you may need prior knowledge of WordPress.
WooCommerce annual subscription can be expensive for small and new stores.
Its many plugins slow the download speed and affect the overall performance.
Features like payment gateways and inventory management will require prompt pay to access them.
#7. Volusion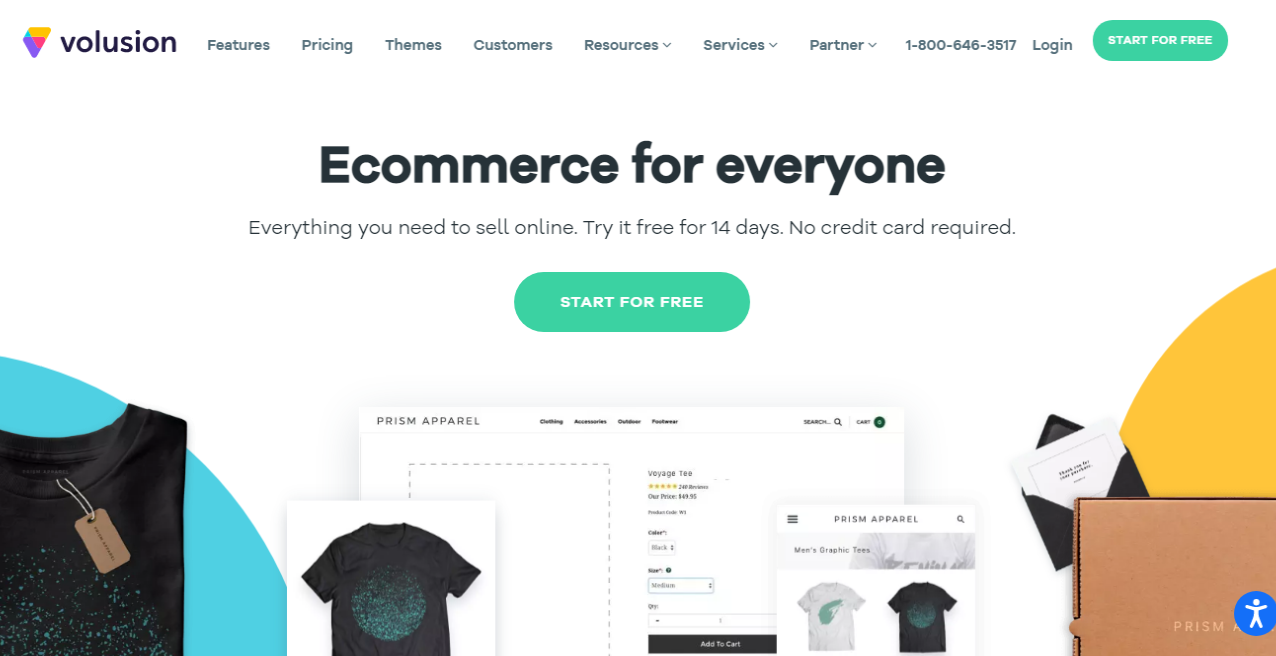 One of the oldest eCommerce builders founded in 1999, Volusion, currently offers its services to more than 30,000 online business. Volusion offers several responsive templates if you create an online store, and you can follow your online store on your mobile devices.
Equipped with the right smart systems, Volusion helps track your inventory as you sell online. Although ideal for users with eCommerce building experience, beginners will find it complex.
There are five plans available to you to choose from, depending on your online store's need for them.
Volusion Business, priced at $299 per month, will get you access to 15 staff accounts. Also, you get unlimited bandwidth and product listing.
Volusion Professional can be gotten with a monthly fee of $79. Abandoned cart feature, email marketing newsletters, customer relationship management (CRM) system, import and export of data via CSV files are some of the available features.
Volusion Personal, which is the least costly, goes for a $29 fee every month, comes with access to up to 11 free responsive themes. Also, you get social network integration, built-in SEO tools, and inventory management tools.
Volusion Prime is charged based on annual sales. It is designed for stores raking in more than $500,000 annually in sales. It offers access to support agents and a dedicated account manager.
Pros
Volusion comes with no transaction fee when you sell a product. You don't need to pay commissions to them after selling online.
With four plans to choose from, and the cheapest starting at $15, Volusion offers one of the most affordable plans.
There are more than 300 device responsive templates to choose from for your eCommerce website.
Extensive and helpful customer support via chat, email, and phone round the clock to keep your store running and selling.
Cons
Volusion has limited templates making creative designing harder.
There are sales limits to each of its plans.
There are no systems to integrate blogs.
It may be less intuitive and complex.
#8. Zyro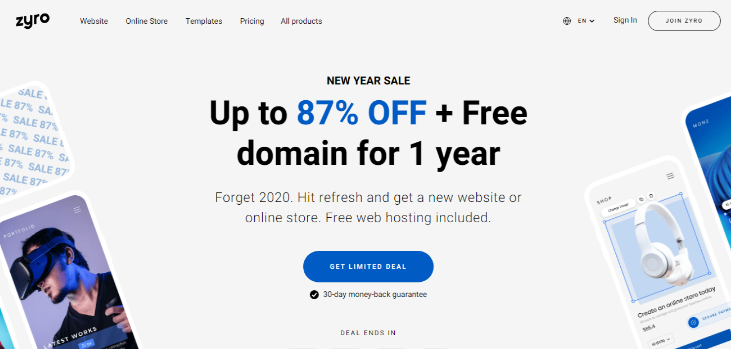 Zyro is a website building tool that also offers site hosting services to users who create an online store. They are one of the newest eCommerce builders, having been found in 2019.
It is more popular for the ease it gives newbies in eCommerce building. All of their templates are customizable. Although Zyro offers some free templates, some of the paid ones do not come with advanced features. Some of Zyro's main features include the following:
A.I Heatmap
A.I Writer
Multiple payment methods to help you sell.
SEO management
A.I generator for business names.
Logo and slogan maker.
Content exporting and importing.
A free website builder.
In terms of pricing, Zyro is one of the cheapest website builders, with plans starting as low as $4.49 per month. Although Zyro is currently offering discounts, here are the plans that they offer:
Basic Plan for personal brands, with a price of $4.99, 1GB web storage and 3GB worth of bandwidth. However, it has no free domain name, basic, advanced eCommerce features. There are also no advanced marketing features.
Unleashed, right for businesses, is priced at $6.29 a month with a free domain name, unlimited web storage and bandwidth. Although you get some advanced marketing features, there are neither basic nor advanced eCommerce features.
The eCommerce Plan is priced at $19.99. It comes equipped with all of Unleashed's features, except that it has basic eCommerce features.
eCommerce+ is priced at $28.99 and has all the features of the eCommerce plan and more advanced eCommerce features.
Pros
Zyro is quite intuitive and easy to use.
They offer free accounts you can begin with before committing to a paid plan.
By offering AI maker, AI heatmap and Logo builder, Zyro is your all-in-one solution.
It is beginner-friendly; you don't need coding or designing skills.
Zyro is affordable to use, and it helps users with a free plan and a free trial.
Free SSL certificate to beef up your site's security.
Cons
Difficulty in switching templates will require you to create a new website if you want a different design.
Its features could be a little more advanced compared to competitors.
From Q&A to emails, their technical help and support are quite limited and slow.
Relatively harder to connect domain names when using Zyro.
Ads are much on the free plans.
#9. Magneto Commerce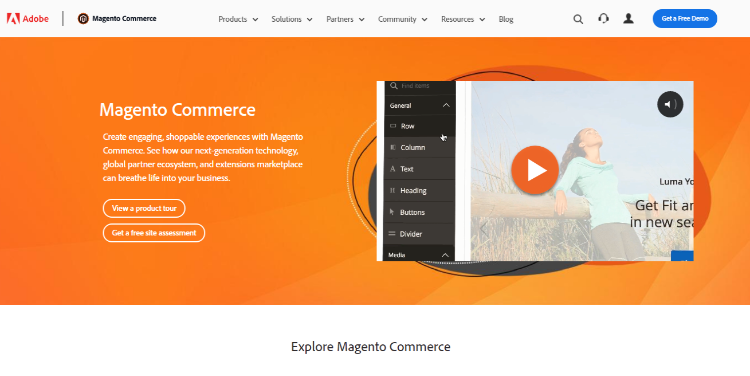 Magneto is an eCommerce platform that functions as open-source software that helps thousands of online stores sell online. Being an open-source platform means they have a huge community of developers and designers.
In fact, you will find that the Magneto Community has at least 360,000 active users and 1,500 members. This makes it really easy for members to get support and advice to help take their business to the next level. They list Ford, Nike, and Coca-Cola as some of their major users.
These are some of the unique features you can get when you use Magneto Commerce to create an online store:
Merchandising.
Customer personalization and
An instant purchase feature.
Page builder.
Option to make quick checkout.
It is optimized for SEO with built-in tools.
Content preview and content staging
Product recommendations
Amazon sales channel
Mobile commerce
Multilingual and multicurrency features are available.
Inventory management and shipping for your products.
Pros
You have the freedom to customize almost anything with Magneto Commerce.
Great scalability assistance.
It is easy to integrate some additional services like order tracking, shipping and logistics, and payment gateways.
It is quite SEO-friendly.
As an open-source, Magneto has support from thousands of designers and developers.
Magneto is innovative and flexible when it comes to the websites' backend.
Cons
Magneto can be complex for beginners to use and difficult to navigate.
Technical help and support might be too slow in responding to complaints.
It runs slower on smaller servers, disrupting the sound user experience.
#10. PrestaShop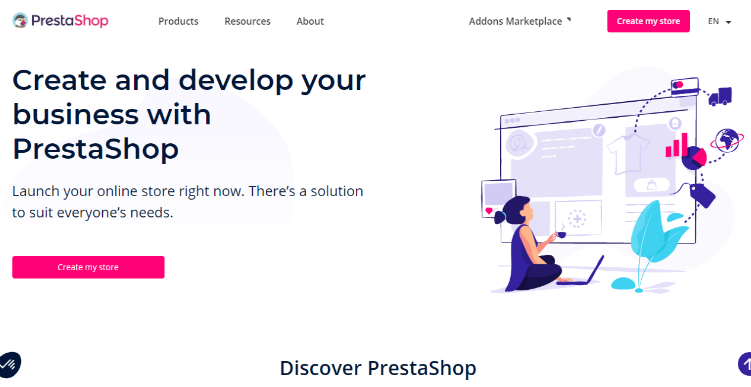 PrestaShop is another open-source online store builder that thousands of users and businesses depend on since it started in 2007. As open-source software, PrestaShop has 800,000 members globally who are dedicated to using and supporting the platform. They offer a free trial if you like to create an online store with them from time to time. PrestaShop is quite easy to use despite offering a wide range of features that include the following:
Customizable themes
An eCommerce SEO tool.
More than 50 reputable payment gateways.
Tax rules subject to configuration.
A great store builder to guide you to create with ease.
A solid set of integrations
configurable shipping.
An intuitive interface
PrestaShop is available in more than 60 languages globally. In terms of pricing, PrestaShop is totally free to use. However, it offers a support plan where users can get expert support and advice while building. Although most users consider this plan expensive, there are still several advantages to this platform.
Pros
PrestaShop is pocket friendly and largely free from cost.
It offers ease and simplicity in the customization of your online store.
There are convenient and reliable payment gateways available to curb fraudulent methods.
With about 700,000 active members, new users have a go-to when they face confusion.
Easy and free to download and install.
Cons
PrestaShop offers little in the area of scalability for an online store looking to expand.
Limited support from PrestaShop when users face issues using the platform.
PrestaShop designs are largely lacking in professional touch.
#11. OpenCart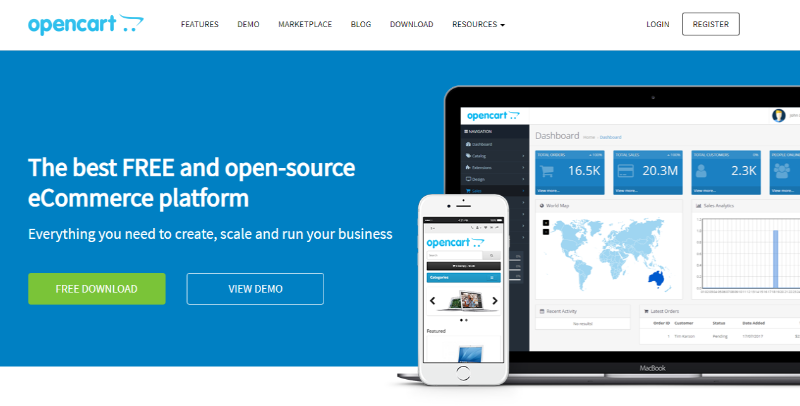 If you're looking to use a free, open-source platform to build your online store, you should consider OpenCart. OpenCart gives a modern approach when you create an online store with them. They have lots of flexibility and customizable features.
The platform has a pool of about 13,000 extensions to help you build your business online. OpenCart also provides users with a support plan that is priced at $99 every month. There's a one-time-fix plan going for the same price as well. These are some of its main features:
Addition of price to each table and definition of a pricing cycle.
Free one theme compatibility.
Manage CSS from back-end
Managing language translations via back-end
Linking the pricing table with the product or any external link.
URLs that are SEO friendly.
Enabling or disabling pricing table and pricing page.
Using drag and drop to manage the order of features list.
Installation support to help customers understand and use the extension.
Pros
Numerous add-ons are available for free.
OpenCart's store builder makes it easy to manage your online store with thousands of themes and social media integration.
With multilingual features, your online store can become an international brand, no matter how small.
Freedom to use your desired method of shipping
Cons
Customizing some features can be really difficult.
The cost of commercial features is high, especially for a smaller store.
Importing an inventory list for your products can be challenging because the SQL database isn't easily amendable once you upload goods.
There's the issue of canonization for SEO as OpenCart may create several duplicate pages during designing.
Checking out is really slow.
Best SEO Practices For Your eCommerce Site
Having a well-built eCommerce website may not be valuable if you don't utilize the various pages' SEO potential. However, should you choose to DIY, there are some useful tips and SEO best practices to follow:
The first thing to know about SEO is that it uses important keywords that are frequently searched in your niche or line of business. There should be relevant keywords placed strategically from the URL of your pages down to every page on your online store. However, you may be writing for the search engine to optimize. It is equally important you write what your customers will understand. Avoid what is known as keyword stuffing; placing too many keywords on a page to increase SEO ranking.
Make sure whatever content you put out on your website is of superior quality and free from fluff. You should also take out time to study and understand your audience and potential customer's needs.
Connecting your eCommerce platform's different pages through internal links will keep your visitors engaged and longer on your online store. Doing this will make each page relevant to your users and visitors. You could also use links to direct users to your more important and priority pages.
Conclusion
If you've ever wanted to start an eCommerce business, now is the time. 2023 is a new beginning for everyone who survived the pandemic. And new beginnings come with new opportunities.
The market is fresh and all the tips provided in the article are viable to get you started. It's time to choose a niche and launch your business online.
Further Reading: